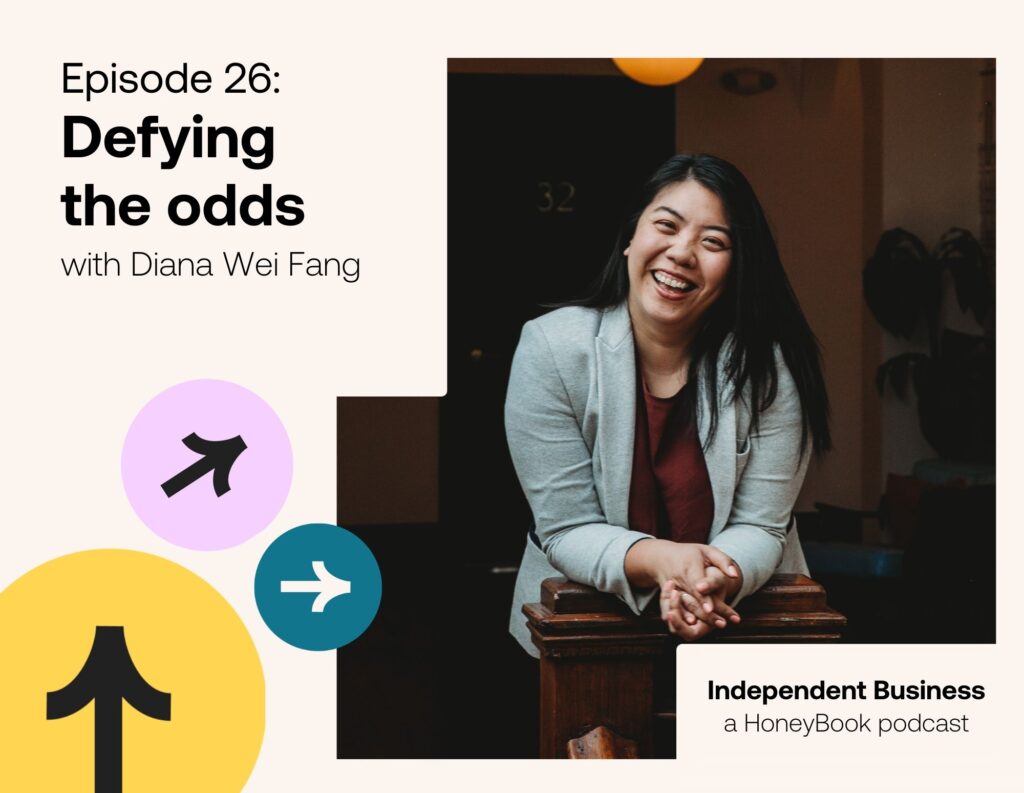 When you start an independent business, the odds are stacked against you. But what if you could defy them? That is precisely why I am sitting down to speak with Diana Wei Fang, a systems architect, breakthrough coach, and HoneyBook Pro.
Diana has supported hundreds of businesses in architecting their systems such that people can do more of what they love, and the business can run even when they're sleeping. That's why we're talking about everything from the nitty gritty details of systems to the mindset shifts you need to succeed.
The Independent Business podcast is powered by HoneyBook, the all-in-one platform for anyone with clients. Book clients, manage projects, get paid faster, and have business flow your way with HoneyBook. Use the code PODCAST to get 20% off your first year as a new member.
Follow the Independent Business podcast
Deciding to defy the odds
It's well known that many small businesses fail. In fact, according to a study completed in 2021, 90% of small businesses fail. It's easy to feel pessimistic with odds like that, especially if you share your dreams with others and they rain on your parade.
What if you took on another mindset instead? What if you believed that you could defy the odds? It takes more courage, grit, resistance, joy, and love, but it is not impossible. It takes strong systems.
Once you decide you can defy the odds, you need to understand how businesses that stay in business defy those odds. Diana's number one piece of advice? Prioritize your systems. If 1,000 paying clients dropped into your lap today, could you handle them? The answer is likely no if you're doing each step manually. According to HoneyBook Pro and business systems architect Diana, once you get your systems in order, your chances of converting leads go up by 79%.
Why systems architecture is the foundation of business
Systems architecture can make or break your success in the independent business world. Instead of hoping to be an amazing photographer, you have to architect systems that help clients choose you over someone else.
Before you set up your systems, you need to know your 'why.' What is riding on this business for you? Is it to put food on the table? Is it your legacy?
Allow yourself to dream and cast a vision for the future.
Next, you need to dial into your systems. It's common for independent business owners to focus on social media, or going viral on TikTok, and getting people to buy from them. But what happens after that?
Systems aren't sexy, but they are the foundation of your business. They allow you to set your business on autopilot and diminish decision fatigue.
Pro tip
HoneyBook Pros like Diana are experts in helping you get the most out of your HoneyBook account. Book time with a Pro today and make your clientflow friction-free.
Do systems remove personalization from your business?
Some business owners fear that systems will make their business robotic and take away the magic that only they can provide. This couldn't be further from the truth. When you have systems in place that automate the nitty gritty parts of your business, your time is freed up to be creative and do what you love.
For example, if you write off establishing a system for sending automatic emails when your clients buy from you because you think you have to personally send them, you will spend your days sending emails. However, when that email is sent on your behalf automatically, you can start doing the real work with your clients even sooner.
According to Honeybook's recent survey with VISA, most clients book the business that got back to them first.
It's a mistake to think that no one else can do what you do. That kind of mindset traps you in menial work. When you utilize systems or delegate work to others, you are freed up to do the actual work that you were put on the earth to do.
The mindset shifts all independent business owners need to make
Stop fearing change
Stop feeling ashamed of asking for help
Business owners have experienced so much change in 2023 with technology and AI, and even more is coming in 2024. Resisting change will only hold your business back, whereas embracing it and asking for help when you aren't good at something will free you up to do more of what you love.
Diana's story of defying the odds
Diana's turbulent upbringing has helped her understand the fear of change. She grew up in an unstable home where she didn't know where her next meal would come from, and she moved around every nine months. Living with different family members, adjusting to new rules, and assimilating as an Asian American in the U.S. instilled her with adaptability and resilience in the face of change.
She also had to get over her pride and shame around asking for help and letting others see her situation. Eventually, she learned to let others in and help her. A friend of hers helped her with her college application and application fee, and today, she sits on the board of that same college.
The biggest differentiator between the businesses that succeed and the ones that fail
As a systems architect, Diana understands that businesses that succeed believe that their business is about something bigger than themselves. It's about their legacy, building a community, and taking care of future generations.
Important sections of the conversation:
[3:29] Deciding to defy the odds
[11:15] Why systems are the foundation of business
[23:14] Do systems remove personalization from your business?
[29:10] The mindset shifts all independent business owners need to make
Mentioned in this episode:
Connect with the guest