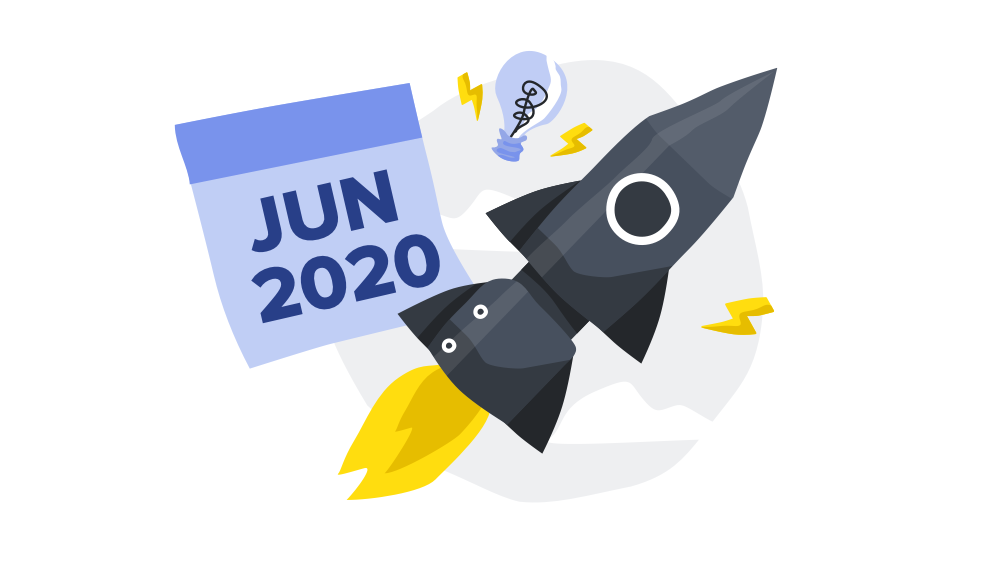 As the last couple of months have changed the way everyone works and lives, we have shifted our focus to make sure we are providing you with relevant features that support the way you work.
Take a look at the new features and feature updates that have been released over the past month to help you adapt your business to this new environment.
Email scheduling
To make sure emails and files go out at the actual time you want them to go out—versus whenever you have a spare second to send them—just create the email and/or file now, and schedule it to send at a date and time in the future! That way, your clients don't have to receive emails when you're burning the midnight oil, and you can get things done now instead of adding them to your to-do list.
PLEASE NOTE: At the moment, scheduling emails can only be done via desktop. We're hoping to add this functionality to our mobile apps in the future!
Add attachments to email templates
In order to save you time (and a bit of headache), you can now add attachments to your email templates — think PDF, jpg, csv, etc. Send emails with everything you need in just two clicks, whether that's from the project's activity, when you're sending a file or when you're working from the app.
New automation triggers
With all the things you inevitably have on your to-do list, every bit of automation can help. Automations allow you to automate tasks in your Project's lifecycle, automatically sending out emails or certain file types at the cadence of your choice—so you don't have to.
You can choose to have your selected Action occur any number of days:
After activating the Automation

Before a Project date

After a Project date

After the previous step is complete
And now:
After a Contract is signed

After a Questionnaire is submitted
This comes directly from the feedback of our members, and allows you to use client actions as triggers for steps in your process. Make sure you never miss a step, and add steps to your client workflow automation software today!
Project rescheduling flow
This new rescheduling flow makes it easier for you to manage rescheduled projects. You can update the project date to a rescheduled date, and adjust automation and payment dates based on this new project date.
Once these changes have been made, you can easily email clients, schedule meetings, and send a new online contract or an amendment, right from the workspace or the COVID-19 Toolkit.
Multi refund
If you partially refund a payment through HoneyBook, you can now issue the remaining payment amount (or another partial amount) as a refund at a later date!
To learn more about issuing a refund through HoneyBook's online payment software, please visit our Help Center Article.
#BlackLivesMatter
HoneyBook was founded on a mission to help small business owners rise together doing what they love, but we will never see that vision become a reality as long as Black, Indigenous and People of Color (BIPOC) are disadvantaged in our community. As long as racism is allowed to persist among us, as it has throughout our history.
To rise together, we must stand together to combat this issue. We must use our voices, our platforms, our privilege to enact change.
This begins with awareness and education. Only then can we work together, to do better and to truly solve the complex racial and social issues blighting our nation. Together, we can use our voices to move people from inaction into action, from racist ideas and policies to antiracism.
We've put together educational resources to help small businesses learn what they can do in the fight for racial justice, and shared our ongoing commitment to BIPOC communities.
Updated Inclusivity Philosophy and Community Guidelines
Our mission is to empower business owners to rise together doing what they love in the spirit of #CommunityOverCompetition. In pursuit of this vision, we are guided by five core values:
People Come First
We Go The Extra Mile
We Love What We Do
We Are Fearless
We Are Family
These values come to life in our communities and we are committed to cultivating diverse, inclusive and equitable spaces where all people, voices and experiences are welcome and heard.
Read our full Inclusivity Philosophy and Community Guidelines to understand how we uphold these values across all of our channels and communities.
Prepare Now. Thrive Later.
We launched this educational series because you have a chance right now to focus on the parts of your business that consistently fall to the bottom of your to-do list.
Things like streamlining and automating parts of your business that eat up valuable time; giving your brand a makeover to start attracting more of your ideal clients; and elevating your client experience so you can raise your prices.
By focusing on these important areas now, you set yourself up to hit the ground running when business picks up again (because it will!).
Business Preparedness Webinar Series: We partnered with 6 industry experts to turn hunkered down into buckled up! Watch these webinars to learn actionable tips to help you improve your processes and business practices.
Pro tip of the month:
Using the HoneyBook scheduling tool
Though meeting in person is limited, projects must move forward. Make it easy for clients to schedule a phone call or video chat with you using HoneyBook's meeting scheduling tools.
You can use the scheduling tool in just three easy steps:
Customize your session type: Set expectations by naming your session, setting the amount of time you'd like to meet and selecting how you'll be meeting (phone call, video chat, etc).

Set your availability: Only allow clients to see the times you're available and interested in meeting. When things get added to your schedule, your availability gets updated in real-time so you won't get double-booked.

Share your custom session link: No more 'Does this day/time work for you?' Just send your session link and your clients can select a time that works. You can share your session link from the home page, pop it into an email from your project workspace, or add it to your email templates and automations.
Head to the new Scheduling dashboard to create your custom session type and start sharing your link. Your clients, and your calendar, will thank you.
HoneyBook's scheduling tool includes advanced features, like custom reminders, multiple session types and custom branding, that you need to pay for with other scheduling tools.
Until next month…
We hope you're as excited as we are about our new features and updates. You can find out what's new in our monthly release notes on the blog and in our monthly member newsletter. And please keep giving us feedback at [email protected]. We build HoneyBook for you and we wouldn't be where we are without your help.
Any questions about the current releases? Head to our Help Center to learn more.
We hope you are staying safe and look forward to brighter days ahead with you.



This post was updated in August 2021 when the HoneyBook Workflow tool was renamed to Automations. The HoneyBook Automations tool maintains the same functionality with the ability to automate communications, tasks and more. For more information about the Automations update, check our August 2021 Release Notes.