Our Prepare Now, Thrive Later series teaches you what to do when business is slow. Here are the top 10 things to do to optimize your business so you're prepared when things get back to normal and business picks up again.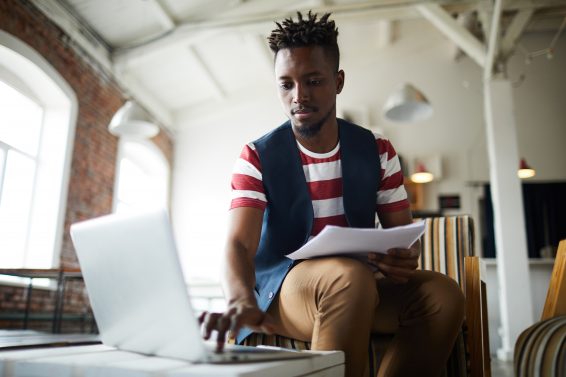 For anyone struggling with slow business these days, remember: This season won't last forever. You have a rare chance right now to focus on the parts of your business that consistently fall to the bottom of your to-do list in normal times.
You have a rare chance right now to focus on the parts of your business that consistently fall to the bottom of your to-do list.
Because here's another exciting truth: Many of those things you've been putting off can make a big impact on your business. Things like streamlining and automating parts of your business that eat up valuable time; giving your brand a makeover to start attracting more of your ideal clients; and elevating your client experience so you can raise your prices. By focusing on these important areas now, you set yourself up to hit the ground running when business picks up again (because it will!).
What to do when business is slow:
1. Refine your branding
If you've been dreaming of a brand refresh, take advantage of the extra down time these days to make it happen. Think about the parts of your brand experience that have been working well (and that you might want to emphasize) and which parts could be improved upon.
Natali Morad, Head of Communications at Tailor Brands, an AI-powered logo design and branding platform for small and solo businesses, says good branding is all about the three Cs (catch the webinar replay here).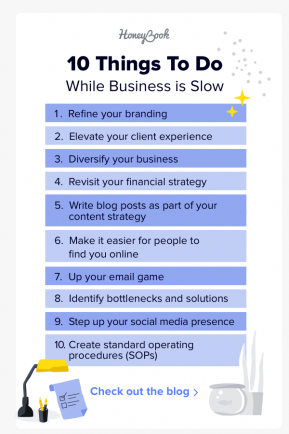 The 3 Cs: Be Clear, Consistent and Competent
1. Be clear
Be clear about who you service, what your offer is, how customers can get in contact with you, and where you're located (if applicable)
Define your one-liner tagline to make it easy for customers to know who you are and what you do
2. Be consistent
Add your one-liner and logo everywhere clients can find you (IG, website, invoice, brochure, etc.)
Pro Tip: HoneyBook makes it easy to showcase your brand logo, colors and imagery on invoices, brochures, contracts and more. Want to start attracting customers with branded brochures? Start Free Trial >
3. Be competent
Build trust by sharing examples of your work, testimonials and value
Need a new logo? It doesn't have to break the bank. In fact, you can get a free customizable logo with Tailor Brands. The process is quick, fun and easy.
Through May 30, 2020, they're offering 30% off all plans with code honeybook30. (For more freebies, check out their Ultimate Branding Cheat Sheet to help you define your brand purpose, promise, and target audience in one hour!)
Extend your brand experience through unique packaging
Another part of what to do when business is slow is to think about your physical experience. Sophie Melberg, creator of The Mrs. Book, uses her product packaging to exemplify the heirloom, luxury qualities associated with her brand. Every customer receives a handwritten note with their tissue-wrapped wedding memory book. And every book is tied with hand-dyed silk ribbon in her brand's signature French blue and affixed with a custom wax seal. All these touches bring her brand to life and are consistent with the brand she presents across her social channels, ads and email.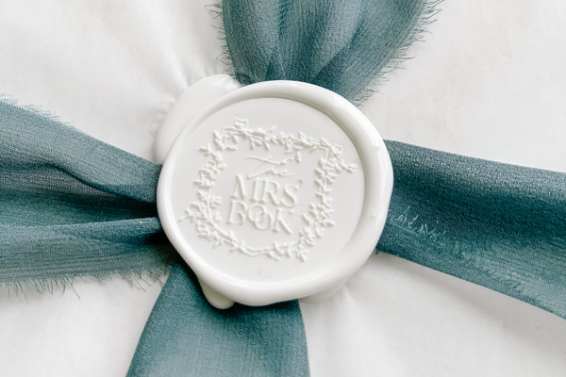 The brand packaging experts at noissue agree that "Creatively packaging your products leads to a more memorable customer experience and further cultivates your brand image." But if the idea of overhauling all your packaging feels overwhelming, they recommend tackling the change in small steps.
Creatively packaging your products leads to a more memorable customer experience and further cultivates your brand image.
"Swap your standard plastic tape for custom tape or replace your plastic bubble wrap with branded tissue paper. These small, but significant changes help to create a one-of-a-kind unboxing experience, making your customers feel more connected to your brand. (Bonus: these changes are better for the planet as well!)," noissue says.
Want to boost your brand's product packaging? Get creative: noissue makes it simple to design your own branded tissue paper, stickers, tape, stamps, and mailers. Simply upload your design, logo, or illustration, and they'll do the rest. With low minimum order quantities and global shipping, you could have your custom packaging delivered within 3 weeks.
Enjoy 10% off your first order with the code honeybookxnoissue (offer valid through 9/1/2020).
2. Elevate your client experience
Charity Mauer used to charge $2500 per wedding. Now she charges upwards of $15K. Her secret? Providing an outstanding client experience. She compares this to shopping at Target vs. Nordstrom. Both are amazing stores, don't get us wrong, but they offer very different experiences—and their price points reflect this.
Client experience is like shopping at Target vs. Nordstrom. Both are amazing, but they offer very different experiences—and their price points reflect this.
If you're ready to raise your prices, and your skills and service are top-notch, consider improving your client experience to justify the bump. This is where Charity relies on HoneyBook in her business.
"I make sure that booking me is streamlined and easy via [online] contracts and an invoicing system that also gives [customers] the option of autopay for future payments. I also run customized workflows for my clients that walk through a process that carefully anticipates their needs. HoneyBook is definitely the foundation for me to track and anticipate my client's needs throughout the process," Charity says.
Also part of your client experience is your brand story. As part of what to do when business is slow, learn how to tell a story that helps you stand out (and sell!) in a saturated market from Ashlyn Carter of Ashlyn Writes.
Register for the webinar on 5/26 at 11 am PST here.
3. Diversify your business
If there's one thing the pandemic crisis has taught us, it's this: Don't put all your services in one basket. If you can't provide your services in-person anymore, what can you offer instead in the form of contactless deliveries or virtual services? Having multiple delivery options for your services strengthens your business and helps you withstand volatility.
Don't put all your services in one basket.
Jill Johnson of The Paint Mixer pivoted from offering in-person painting events at her Salt Lake City studio to selling paint-at-home kits and virtual painting parties.
She says, "I think our business is forever changed. This will allow us to reach people beyond our zip codes. It will also allow us to create more classes that people can join virtually. I don't think this is a short-term solution at all, but an entirely new direction that we have to take."
Want to learn more about what to do when business is slow?
4. Revisit your financial strategy
They say, "If you don't like something, change it. And if you can't change it, change the way you think about it." And one of the things you can change, according to Shannah Game, the Financial Strategist & Founder of Hello, It's Me, is the way you approach your finances. Forming a healthy, positive money mindset when you're thinking about what to do when business is slow can help you work towards your financial goals and grow your business more effectively.
Shannah's best practices to cultivate a positive money mindset include:
Create a business and a personal cash tracker—"One of the number one rules with money is it's not how much you save, but it's where you spend your money. So if you can look at where your money's going and you can find places to allocate it more efficiently, or to earn more money, that's going to help you all around," Shanna says.
Set weekly money dates—"On Sundays I spend 20 minutes where I'm looking over business numbers, looking over personal numbers, and I'm looking forward to the week. I'm setting goals and that really helps my mindset stay in a place that is positive because I feel like I'm putting myself back in the driver's seat, which is really important."
Watch her webinar replay below to learn more money best practices.
5. Write blog posts as part of your content strategy
Writing blog posts is a great action item for what to do when business is slow. Not only can you share your brand's thought leadership and perspective with your audience, you'll have a repository of content to include in your newsletter and social channels. Wondering what to write about? Terry Rice, a business development consultant and Entrepreneur Magazine Expert-in-Residence, shares the simplest content strategy to get started ASAP.
"Think of 10 questions your audience has and then answer them with content. Let's pretend you're a sleep consultant. Some questions your audience might have are: what's the best pillow to use to go to sleep? What should be the temperature of the room when you're trying to go to sleep? Should I have a drink before I go to sleep? Do the research to find the answers and then answer your audience's questions with content. That's it," Terry says.
Think of 10 questions your audience has and then answer them with content.
And don't worry if someone else has written about the topic already.
"You know what?," Terry says. "That's totally fine because your personality is the unique differentiator. It's not necessarily the information you're delivering, it's your twist on it. What are your thoughts on it and how do you express that in your own way?"
Once you're attracting the right customers by providing value with your content, they'll be requesting more info. Watch the webinar replay below to learn which tools can turn more of these inquiries into actual clients. (Hint: online brochures and proposals with our proposal software are your biggest friend.)
6. Make it easier for people to find you online
Myrna Daramy, a digital media strategist and optimization specialist, says an important part of what to do when business is slow is putting energy towards your "other" home.
"By 'other' home, I'm referring to your Digi-home, aka your website," says Myrna. "I consider it the most important online real estate that you own for your business.
She shares 5 SEO tips you can incorporate into your digital marketing practices right now during downtime that will increase your visibility and have you busier than ever in the months to come.
Perform a mini audit of your Digi-home and ask yourself the following questions:

Is my site responsive to mobile devices? Mobile-optimized sites are trusted 51% more by consumers than sites that aren't optimized. (CLICK HERE to take this free test and find out.)
Is the content on my homepage current? Your homepage is your 24/7 salesperson so if you have pivoted in your services or products, your messaging might need to change.
Do I need to update my testimonials? (Do I have any testimonials on my website?) If not, now would be a great time to start collecting them since testimonials help with establishing authenticity and trust.
Make sure that you are taking advantage of 3 free platforms that Google provides:

Google Analytics – which gives you amazing stats on how website visitors are interacting with your website
Google Search Console – which gives you interesting insights on how Google is interpreting the webpages of your website
Google My Business – which connects your business to your location which really helps with local SEO
Clean up your tags. There are several behind-the-scenes elements to your website that are crucial in helping Google understand the contents of your website – title tags, meta tags, and alt tags:

A title tag is a 65 – 70 character count element of each web page that summarizes what visitors can find on that page. This tag is the first place Google goes in order to understand what the webpage might consist of. It is very important to include keywords here.
A meta description tag is a 165 – 175 character count element of each web page that informs your website visitors what they can find on this page. This description should not only include keywords, but it should be written in natural language form as well.
An alt tag is a hidden description you can give every image on your website. These descriptions help Google make sense of the visual content you have on your website.
Check your website for any broken links. Nothing is more frustrating to a website visitor than clicking on a page that never loads or one that comes up with an error. From an SEO standpoint, this actually can harm how Google chooses to rank your website in a SERP (search engine result page). CLICK HERE to use this great free tool by Ahrefs that will scan your website and tell you what links are broken.
Create content that will optimize your website for voice search. Thanks to Siri, Alexa, and Google Assistant, we are asking more questions in order to look for information online than ever. I always tell my clients to make sure that they have some type of content on their website in the form of Q&A like a FAQ page. Writing content that's written in the way we actually speak will trigger voice searches and increase the potential for your prospective customers to connect with you.
7. Up your email game
Number seven in what to do when business is slow? Invest time into creating or fine-tuning your email marketing for small business strategy. Email marketing helps you stay top of mind with your audience, warming them up to purchase from you (or send referrals your way).
We've made getting started easy by partnering with the email geniuses at Flodesk, email marketing software for small business. Get free email templates with pre-written copy to create 12 months of email marketing content in just three days. Download the templates and watch the #UpMyEmailGame webinar to get a complete walk through.
Did you know HoneyBook and email marketing work together to grow your business? Here's how.
8. Identify bottlenecks and solutions
This step in what to do when business is slow is a two-parter. The first is making a list of bottlenecks in your business. Where are you spending more time than you'd like (or need to)? The second step is identifying solutions. And the more bottlenecks you can solve with one solution, the better.
For example, are you playing email ping pong with your clients, trying to find a time to meet? Use HoneyBook's online meeting scheduler to schedule meetings 2x faster and increase your chances of winning their business by 40%. Simply set your availability and share your link so clients can find a time that works.
Ready to say buh-bye to even more bottlenecks? Watch Chip's webinar replay below.
9. Step up your social media presence
Every so often, we'll start hearing about the Instagram algorithm monster messing with everyone's engagement. And to that we say: Shake things up. Go live! Yes, IG Live is scary and different and new, but that's exactly why it could be just the bump your social engagement metrics need. People are craving connection (read: seeing real people's faces) and Jamar Diggs walks us through how to go live here.
Not quite ready for that? Get more tips in our guide.
10. Create standard operating procedures (SOPs)
Standard Operating Procedures (SOPs) are a business owner's best friend. Here's why: Instead of using valuable brain power to remember the 10 steps you take to send a new client a welcome package, you could just document that process in an SOP and follow it step by step basically on auto-pilot.
Think about the space in your brain you would save. Or the time. Or the energy! It works great for recurring tasks and to help you onboard new team members. Just open up a doc and write down your main processes (for example, "Responding to a new inquiry") and then write down each step you do for that process.
Once you've written it all down, you can identify where you can save time by turning your process into an automated workflow in HoneyBook.
Identify where you can save time by using HoneyBook's client workflow automation software.
Continuing with our previous example, let's say your process to respond to a new inquiry is to email them back with a brochure. With HoneyBook workflows, you can set it up so that an email with your brochure is automatically sent out for you. You can even include questions in your brochure to learn more about the opportunity (all without having to talk to your inquiry). Learn more in the video below.
Turn hunkered down into buckled up
While our businesses these days may look nothing like what we'd hoped or expected, we can focus on what we can control. Invest in your brand. Optimize your processes. And when this is all over, you'll be in an even better position to get where you were going. Learn more about how to prepare now to thrive later in our webinar series here.
HoneyBook, the best crm for solopreneurs, streamlines everything you need to manage your business into one place. Manage projects, book clients, send an online invoice and get paid through our online payment software. Now peace of mind comes with just one login.