Whether you've been in business for years or you're about to launch your new brand, you've likely heard a lot about the importance of customer experience.

And for good reason. Customer expectations are rising dramatically. They're demanding better, faster and more personalized attention from the businesses they buy from.

As a result, small businesses are feeling the pressure to perform – to deliver positive, tailor-made experiences for each of their leads and customers.
But with limited resources and small teams, there's really only one way for small businesses to meet this demand without facing burnout. They have to incorporate a customer relationship management (CRM) solution into their business processes.

In this post, we'll discuss the reason why you should add a CRM to your toolstack, look at the best CRM for small business and dig into exactly what makes each CRM a powerful option.
What is a CRM?
Customer relationship management solutions or CRMs are tools designed to help business owners do three things: keep track of their contacts, nurture their leads, and build relationships with their customers.
They work as you might expect – by collecting lead data, organizing leads and customers into a digital sales pipeline, and providing you with a set of tools to streamline and up-level your marketing campaigns.
Why Do Small Businesses Need a CRM?
The fact is, running a small business is a massive undertaking. It requires a lot of time, energy and ingenuity. And it only gets harder as you scale.
Think about it. The more leads you have in your pipeline, the more emails you have to write and the more contact information you have to put in your spreadsheet. And the greater your client list, the more invoices you have to create and payments you have to process.
More simply equals more.
This might not be a problem for big businesses, who have massive amounts of capital and large teams. But when you're a small business, you're dealing with finite time and resources. You can't afford to write hundreds of personalized emails or create dozens of invoice documents from scratch every week. If you did, you'd have no time left for client projects or for your personal life.
So where do CRMs come in?
CRM solutions make it possible for small businesses to manage their customer relationships as efficiently as large businesses do, by automating repetitive tasks, keeping track of important details, and streamlining different customer-facing activities like communication, invoice generation and billing.
And the CRMs that consistently rank among the best CRMs for small business also offer a few unique bells and whistles of their own.
Non-negotiable CRM Features
When looking for a CRM, it's easy to get caught up in flashy features and cutting-edge intelligence functionalities. But it's important to remember that there's a lot more to a CRM than that.
Let's quickly highlight a few must-have features that businesses (large and small) should look for in a CRM solution.
Lead Capture – One of the most tedious tasks small businesses deal with is lead and customer data entry. Luckily, most CRMs have the capacity to capture leads from different digital spaces, like web forms, live chat conversations, and social platforms without manual entry or editing.
Contact Management – You shouldn't have to constantly be checking customer profiles to make sure they're up-to-date. If you are, your CRM is saving you little to no time. A well-built CRM will automatically update contact profiles when new information is made available. But these profiles will always be easy to edit manually, if you do have something to add.
Pipeline Management

–

Every lead counts. You can't afford to have any slip through the cracks. Whether it's automated or managed by hand, your CRM solution should make it easy to move clients through your pipeline, and keep track of account statuses, so no one is missed or forgotten.
Task Automation – The point of a CRM is to make your workday easier, by eliminating mundane tasks from your to-do list and ensuring everything is accurate and complete. Therefore, the best CRM for small business owners will be able to manage important tasks on their own, without any hand-holding.
Customization – No company is exactly the same. Processes differ, if only just slightly, from business to business. And no matter how good a CRM is, its default settings and core functionality will not perfectly meet your needs. But, top CRMs will allow you customization options, to make sure the software can perform your desired tasks.
Affordability – The reality is, there are a lot of great tools out there. But not all cater to the budget constraints of small businesses. That doesn't mean you can't find a good option, though. The tools that truly are the best CRM for small business owners offer all the features you need (plus a few extra tools to support your processes) at a price point you can afford.
The Best CRMs for Small Business
Even with all these criteria in mind, there are still dozens of CRMs to choose from. So the question is: what is the best CRM for small business?
The truth is, it depends on your business model and needs. But to help you narrow it down, here are 4 top-rated CRMs for small business.
1. HoneyBook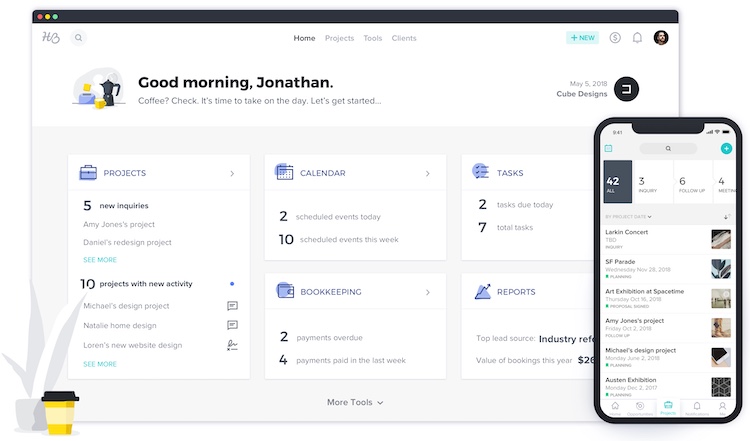 If you're thinking HoneyBook doesn't quite fit the mold of a traditional CRM, you'd be right. But that's because HoneyBook isn't designed for massive corporations. It's built to be an all-in-one solution for small businesses, particularly solopreneurs and freelancers who offer services.
Using HoneyBook, you can capture leads from your web forms, inbox, and social media accounts, and have their information automatically saved to your HoneyBook account. These contact profiles can also house everything related to the project, including proposals, online contracts, online payments, dates, locations, and private notes you leave for yourself.
And once the lead profiles are created, you can tap into HoneyBook's workflow automation features to keep leads from falling through the cracks over time. You can respond to inquiries automatically. You can deliver post-purchase "thank you" emails and send follow-up messages when leads get quiet. You can even use templates to create and send custom contracts and invoices at designated times. In essence, you can automate or streamline virtually everything in your workflow.
You don't have to sit around and wonder if your clients have opened your emails either. HoneyBook sends you read receipts and real-time status updates to show you when clients open files, sign contracts, and make payments. And HoneyBook isn't just for you. Your clients can also access all of this information from HoneyBook's centralized client portal.
But what really sets HoneyBook apart as the best CRM for small business is its online payment features. Unlike many of its competitors, HoneyBook enables you to invoice clients directly and accept payments via credit cards, debit cards and direct deposit, once a project has wrapped. This means, you can manage the customer experience from end-to-end all in one place.
This mix of contact management, communication, and payment features provides business owners with the tool set they need to effectively manage their customer relationships. So it's no surprise that many consider HoneyBook to be the best CRM for small business owners.
To get started, you can try HoneyBook free for 7 days (no credit card required).
2. Copper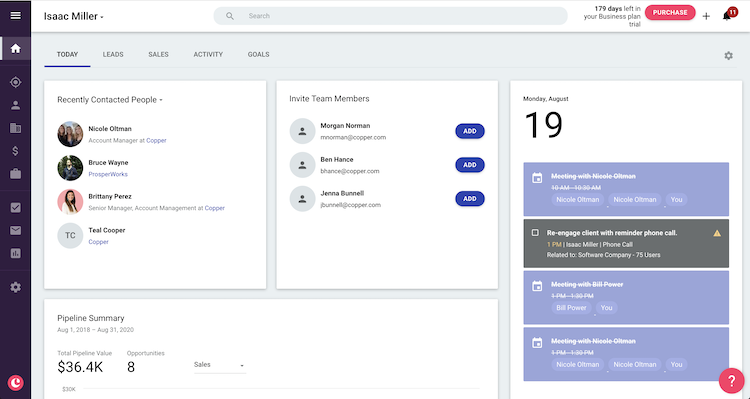 If you're particularly attached to using your inbox for any and all business communication, Copper was built specifically for you. Designed to integrate seamlessly with Gmail, Copper can both pull customer data from your inbox and be used in a pop-up form in your Gmail account.
But its automation capabilities don't stop with contact profile creation. With Copper, you also can create triggers for virtually anything in your workflow, like updating contact information, moving leads through your pipeline, and scheduling meetings with clients.
Beyond that, Copper offers robust reporting features that make it possible for you to stay up-to-date on your sales performance. You can change parameters of reports to see specific segments of data and track individual marketing processes, to see what's working best. And the reports themselves are designed in such a way that even novices can analyze the numerical data efficiently.
So, if you're intrigued by the concept of a CRM, but you really only want to work in your email account, Copper might just be the best CRM for your small business.
3. Hubspot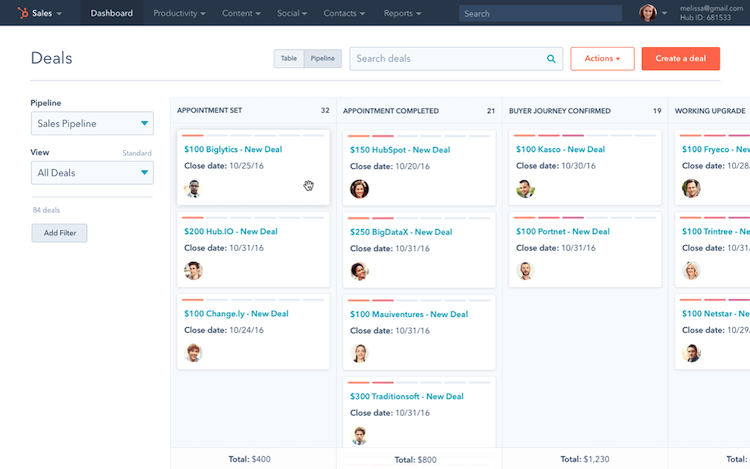 HubSpot is nearly always listed on a "best CRM for small business" list. And we'd certainly be remiss if we didn't include it on ours, as well. Being the top marketing-based CRM on the market, it's a great option for a lot of small businesses.
HubSpot CRM doesn't just offer marketing tools, though. It also covers sales and customer support in a really genius way. By saving contact profiles in a single dashboard and saving all future communication with that contact to the same profile, all three teams can access the same information. HubSpot also scores leads based on your own pre-defined criteria to help you prioritize the most important clients in your pipeline.
At the same time, team members can communicate with leads from a universal inbox, no matter where the communication comes from. This minimizes the time that might have been spent toggling between your Instagram account, inbox, and live chat platform.
If you don't have a lot of time to send emails or communicate with clients, you can also automate much of your marketing, by triggering certain actions to happen (like a confirmation email being sent) when leads take specific actions (like signing a contract).
However, there are some drawbacks to having such a robust set of tools at your disposal. Namely, it can drastically overcomplicate things, especially during the launch and set up phase. So, if you're considering HubSpot, think about whether you have the time and bandwidth to navigate the onboarding process.
It's also important to note that HubSpot CRM is free forever, which means you can use the basic, core functionality of the CRM without paying anything, ever. But if you're interested in tapping into all the features that make HubSpot one the best CRM tools for small business, just know that it does come with a price tag.
4. Zoho CRM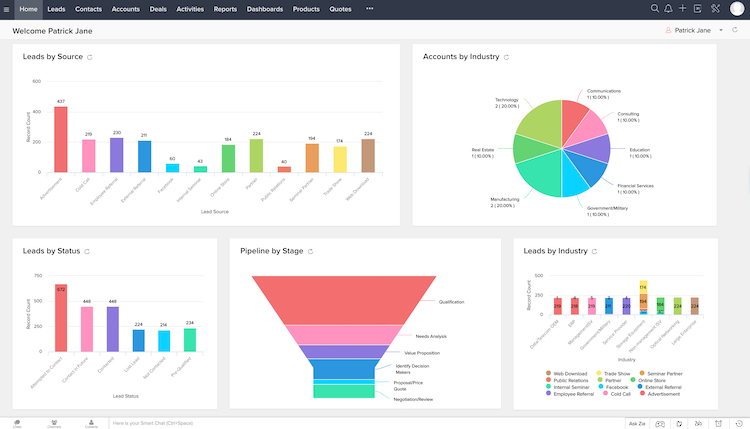 While Zoho is a great option for most large businesses, it was actually designed for the small business.
With standard lead capture, pipeline management, and contact management tools – it has all the good stuff that small businesses need. But Zoho isn't your run-of-the-mill CRM. It's actually one of the only omnichannel CRMs on the market.
What does that mean? It means that in addition to live chat, email, phone, and web form lead capture, Zoho can pull data from social media channels to populate contact profiles.
It also allows you to communicate with leads in real-time across all of these channels (and host meetings and webinars) all from the CRM. That means you can effectively say goodbye to all the extra apps and tabs that are draining your battery (and your sanity).
And believe it or not, that's just scratching the surface with Zoho. But again, keep in mind that more doesn't necessarily mean better. Zoho's massive library of features can create more confusion and increase your need for customer support, if you don't have the bandwidth to use them.
But, if you use lots of different communication tools to connect with your audience and you're willing to sink the time into learning Zoho, it's probably the best CRM for your small business.
Create a Outstanding Client Experience with the Right CRM
Regardless of the type of business you run, it's important to create a great customer experience from the first hello to the close of the contract and beyond.
Luckily, you don't have to work all hours of the day and night to create it. By finding the best CRM solution for your small business, you can put most of the work on autopilot.
If you're an entrepreneur or business owner who needs G suite to function, the right choice would be Copper.
If you're in need of a full marketing, sales, and customer support suite, HubSpot is just the thing for you.
If your business depends on social media marketing on Instagram and Twitter or you run webinars frequently, Zoho is what you're looking for.
And if you're a small, service-based business – like a virtual assistant, interior designer, or consultant – looking for a CRM that can manage your client communication AND online payments, HoneyBook is the best CRM for you.
Interested? You can check out HoneyBook's free 7-day trial to see how it can up-level your business.