January might be over, but we're determined to keep the momentum going. We've been hard at work to release new features that can help you work more efficiently so you can make 2020 your year. 
Take a look at the new features and updates to the app to see how much more you can do — you'll feel just as motivated as you did on January 1st! 
Mobile app updates
We know you need to take care of business on the go. Now you can create, edit and send contracts and proposals from the app. 🙌
These features were highly requested, and with good reason: being able to respond quickly to clients when you're on the go gives you a professional edge.
Here's what you can do with proposals and contracts:
Create new contracts and proposals
Use a draft you started on desktop
Countersign a contract
Save a file as a new template
Expire a contract or proposal
You can do more with invoices too:
Refund clients from the app
Mark payments as paid by cash, check or other methods
View payment receipts
Send payment reminders
Resend clients an invoice with changes you've made
Head over to the app to start sending the files you already love on desktop. Your templates are accessible on the app, and you have full editing capabilities.
Add attachments to email templates
When it comes to your process, it's important that your clients get the information they need. Sometimes, that comes in the form of images or files that need to be attached to emails, and you don't want those files to be forgotten.
Now, you can be 100% sure that your clients are getting the information they need by adding attachments to your email templates in one of two ways:
Send an email through a project's activity feed by selecting a template with an attachment.
Select an email template with an attachment as a step in a workflow.
The attachment will automatically be included in your email so clients receive all the information they need at the right time.
Head over to your email templates to attach important files!
Your brand first
The client portal is your space with your clients, so we've taken more steps towards white labeling what they see.
Below, you'll see that we've removed the HoneyBook logo from any file headers (think invoices, proposals, etc.), and replaced the HoneyBook logo from the top left-hand corner of the portal page with yours.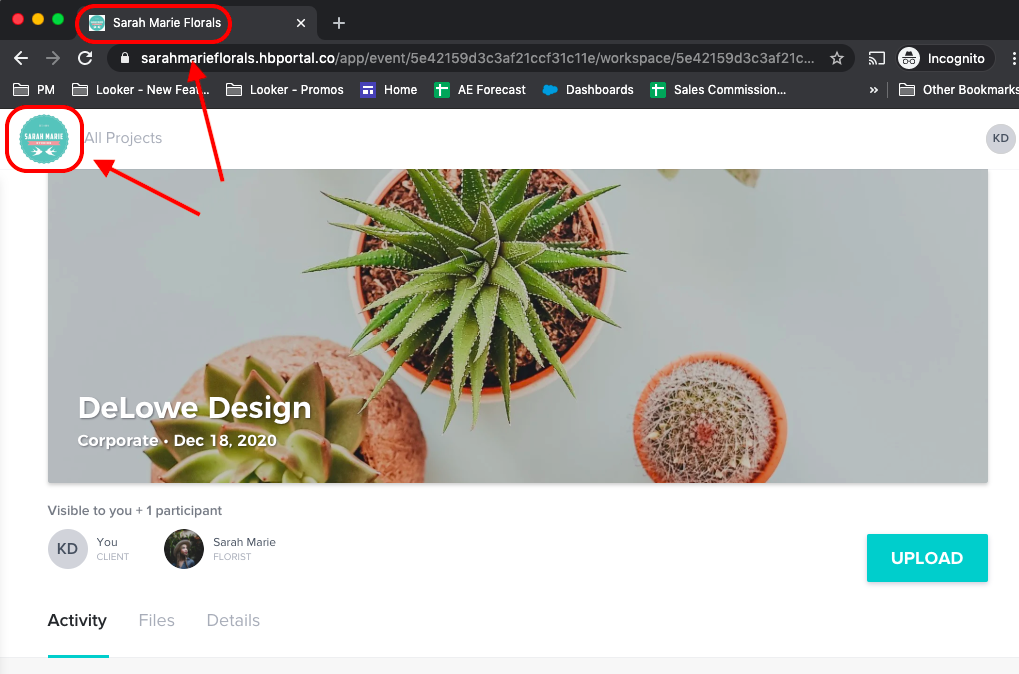 Updates to the email signature
Your email signature is personal, so it's important that you have flexibility in making it your own. In order to help make your email signature totally yours, we have updated our email signature tool.
Now you can:
Align your image on the left, center or right side of the text
Add multiple images to your signature
Crop secondary images from within the builder
Head over to the email signature builder to create or customize your existing signature!
Pro tip of the month: Share a direct link to your contact form


The HoneyBook contact form allows you to customize the layout and questions to match your brand and help you get the information you need upfront. It captures new inquiries in your pipeline automatically and sends you notifications so no one gets lost in your inbox.
So you can embed the form on your website, but how else can you get it in front of people?
Sometimes, the simplest answer is the best — just share a link. Your direct link is exactly that: a link that leads directly to your contact form, with no embedding required at all.
Here are a few ways you can share your direct link:
Have a website, but don't want to deal with embedding code? Just use a simple button or another hyperlink to direct leads to the Direct Link version of your form.
Got a big following on Facebook? Share the link on your Facebook Business page.
Maybe you're an Instagram star? Add the link in your bio with Linktree!
At a trade show, conference, or just generally out and about? Pop the link open yourself, from any device, and have your leads fill it out on the spot.
Big fan of digital marketing materials? Throw it in those!
And, since emails are a forever favorite, you can always link to your form in marketing sends, in your email signature, and more.
Many HoneyBook members have opted for their direct link, and it has saved them hours of work. So don't wait, grab your direct link and add it to wherever you get leads today!
Want to learn more? See how the contact form can help you make better business decisions this year.
Until next month…
We hope you're as excited as we are about our new features and updates. You can find out what's new in our monthly release notes on the blog and in our monthly member newsletter. And please keep giving us feedback at [email protected] We build HoneyBook for you and we wouldn't be where we are without your help.
Any questions about the current releases? Head to our Help Center to learn more.
We're excited to continue growing with you!