Memorial Day is a week away, which means the unofficial start of summer is just around the corner. Whether you're a ride-or-die summer fan or only in it for the AC at the movies, the longer days and slower pace make this the perfect season to reset yourself and your business. Take time to find inspiration and embrace a little (or a lot of) adventure. (We vote for a lot 😉.) But before you turn that computer off and head into vacation-mode, grab our ultimate checklist of to-do's to make this your hottest summer yet.
1. Grab your calendar and schedule your vaca
As much as you might love the hustle, it's important for your business and for your mental health to build in intentional times of rest. So get your calendar out and schedule in a trip away or even shorter days with less working hours.
📘 Ready to prioritize your mental wellness and self-care? Get our Ultimate Guide to Self Care.
2. Connect your calendar with Calendly
Get help managing your schedule the easy way by using Calendly to share your availability. It will only show clients the times you want to meet with them so your vacations never get booked over. Calendly removes the back and forth of scheduling client meetings so you can focus on the work (or vacation) that matters while wearing multiple hats as a business owner.
3. Overhaul those broken processes you've been putting off
Our busiest times are often the ones where we feel our businesses' pain points the most. The way we do our invoicing might be a mess. Or our booking system might be a disaster.
Luckily, long weekends were made for solving old problems.
Get organized and set your business up for success with tools like HoneyBook that can help you book clients, manage projects and get paid, all in one place. Not only will you save time now to enjoy more of your Memorial Day, you'll save time later when you might be even busier. (Your future self will thank you!)
4. Send ecards to past clients and inquiries
Holidays are a great excuse to stay in touch with your favorite clients and inquiries. Send a note to wish them well, see what they've been up to and, of course, remind them to reach out if they need anything.
5. Review your budget
Next, review your budget and create a plan. Set aside income to pay yourself when you're not in the office. The best time to start budgeting is now. It's not too late! By finding ways to save now, you can budget for a season with greater flexibility.
Having a hard time saving?
Here's some food for thought to help you save towards your goals.
Erica Martinez from Fin shares the following study:
"Did you know that regularly staring at a digitally aged photo of yourself can cause you to make better financial decisions?
It's true. In an experiment, a UCLA social psychologist found that young people who used a retirement savings tool that included an aged photo of themselves saved, on average, 6.2% – 6.8% of their earnings to a workplace retirement plan, compared with only 4.4% – 5.2% for those who stared, instead, at a current selfie. The researchers speculate that, through repeated exposure, the young subjects were reminded that the old person in the photo was also them. That if they spent more now, they would have less later."
Although retirement may be further away than a summer vacation for many of us, the takeaway's the same: regular visualization of our future selves can help us identify with our future needs, helping us to save more for later.
💡 Try putting up a picture of yourself traveling or kicking your feet up with a glass of wine in a visible spot as an everyday reminder of your savings goal for summer.
6. Batch create content
While you might be unplugged this summer, your brand presence doesn't have to be. Start preparing additional content to keep your email, blog and social channels active for the times you're away.
7. Update your email signature
Start letting clients know your out-of-office dates by including any upcoming time off in your email signature. Depending on the length of your projects, include time off that's a month or two away, or even many months away if you know they might impact current and future clients.
✍️ Need a new email signature? Design your very own using our handy email signature generator (it's free!)
8. Plan your summer reading
There's nothing like catching up on your reading while hanging out in a hammock or lounging by the pool. Put together a list of the books you've been wanting to read and commit to making it happen. May we recommend a mix of business books and easy beach reads?
9. Set up workflows to do your work for you
With tools like HoneyBook, you can set up automated workflows to respond to your inquiries right away, no matter where you are. As soon as someone submits an inquiry for more information via your HoneyBook contact form, HoneyBook sends a brochure, questionnaire or email right back to them based on the service they're interested in.
The best part is you just have to set it up once (we can help with that, too) and your customers can contact and book you while you're sitting on the beach.
Make This Your Hottest Summer Yet With HoneyBook
Save time and get organized with the business management software created specifically for entrepreneurs.
10. Get out and get inspired
Fill up your store of creativity (that gets tapped so often) by replenishing yourself with activities that inspire you. Take time to look for things you want to do this summer. Sign up for a workshop, take a class or head to a museum. Bonus points if you go solo.
11. Download your favorite business apps
Get your phone ready to help you manage your business on the go by downloading all of your favorite business apps. Even though you might try your best to unplug on vacation, it can sometimes help you rest easier if you can take a peek at your business from time to time.
12. Get ready for your Memorial Day BBQ
Grab your sunscreen, don't forget all the fixings and kick off summer right. Now's the time to get set up for summer break (whatever that might look like for your business) and HoneyBook can help. Get your time back for time off!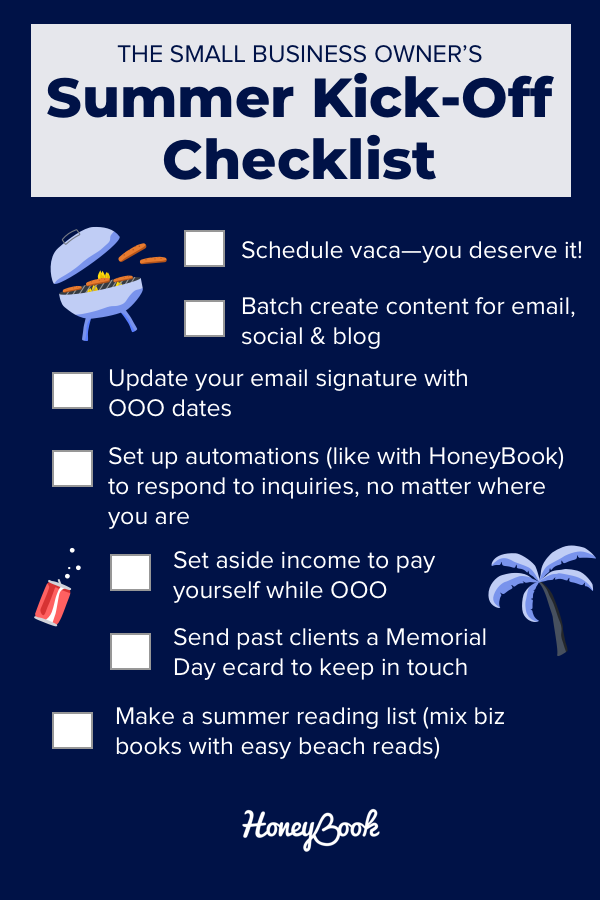 p.s. Want to see if your business is ready for summer? Take our quiz to find out!