Earning Power in the Creative Economy
In 2017 HoneyBook uncovered a significant pay gap between male and female freelancers and today we are following up that report with new findings on pay equity in the creative industries.
Have things gotten better in two years? Yes and no. While the annual wage gap is narrowing, new data shows that this is not because women are earning equal pay, but instead because they are working more.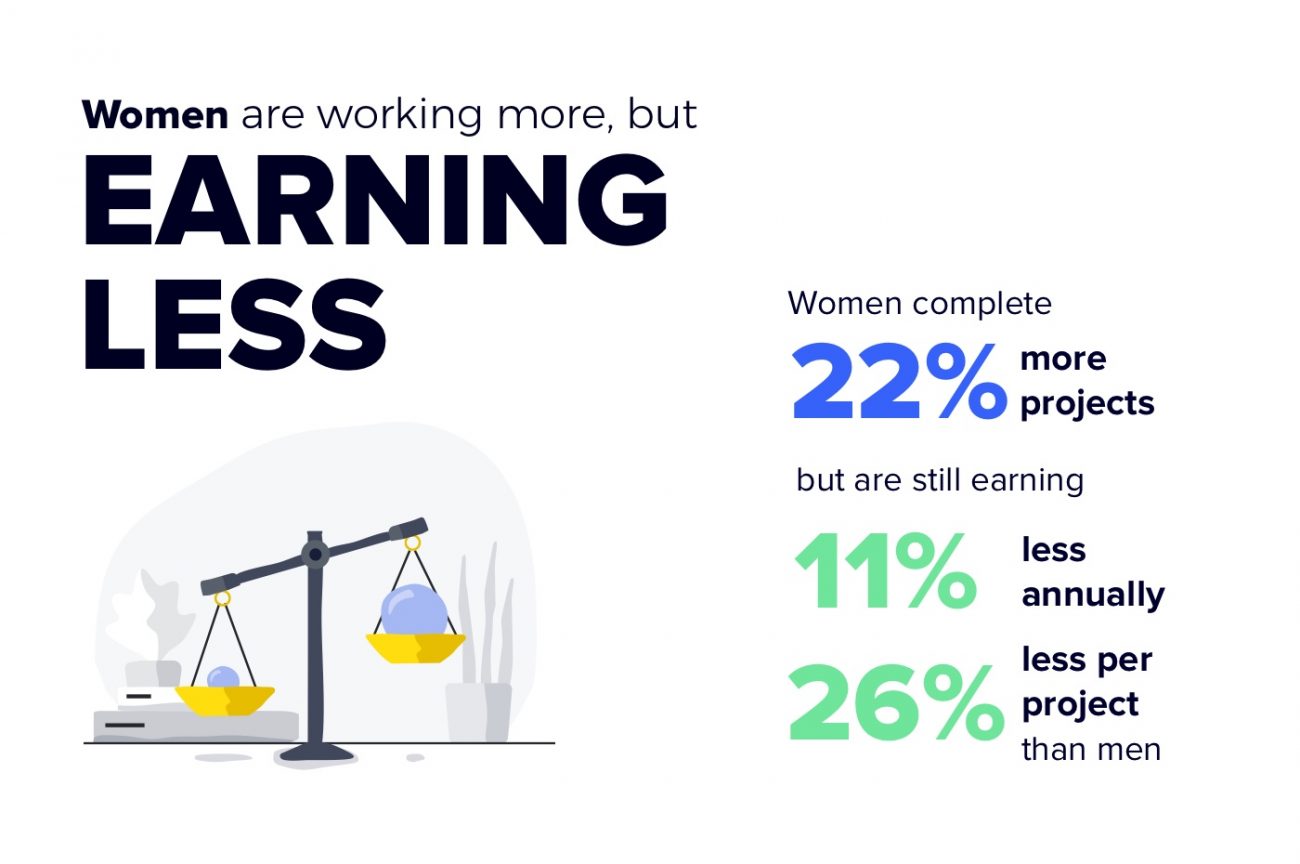 Introduction
Many working in the creative economy left the 9-to-5 workforce to be their own boss, determine their own hours and make a substantial income pursuing their passions.
But the reality is that many of the pain-points that workers face in the corporate world exist in this environment as well. In fact, the lack of institutional and legal protections that are offered in a corporate setting can make these problems harder to combat for freelancers. So, are freelancers truly dodging big issues like the gender pay gap?
That's the question that we set out to answer in 2017. After analyzing more than one hundred thousand invoices and surveying thousands of self-employed professionals, we discovered that female freelancers were earning a shocking 32 percent less than men in the same industry. We published these findings in the 2017 Gender Pay Gap report along with expert recommendations for how to close the gap.
Two years later, we wanted to know whether the pay gap and attitudes towards it have improved. For female creative entrepreneurs, the answer is complicated.
Today, the annual income gap between male and female creatives has dropped significantly to 11 percent. But further analysis reveals significant pay inequality remains: women are making 26 percent less per project. In fact, to close the gap women are completing 22 percent more projects a year than men. The gender pay gap is shrinking, but only because women are taking on more projects each year to make up for unequal pay.
Methodology
HoneyBook analyzed 345,675 invoices from October 2018 – October 2019 to understand if the gender pay gap still exists and how it has evolved over the past two years. The analysis was supplemented with a survey of 1,856 freelancers in the US and Canada, administered from October 18 – October 31, 2019 via SurveyMonkey, to better understand why wage discrepancies exist in the creative economy.
Key Findings
Average annual earnings for female creatives in 2019 total about $51,900, while men bring in about $57,700 annually. However, on a per-project basis, women earn on average $2,221 per project and men earn on average $3,000 per project – 26 percent less.
This stark gap exists despite the fact that female freelancers have obtained more education than their male counterparts. 71 percent of women have completed their bachelor or graduate degree, compared to 54 percent of men.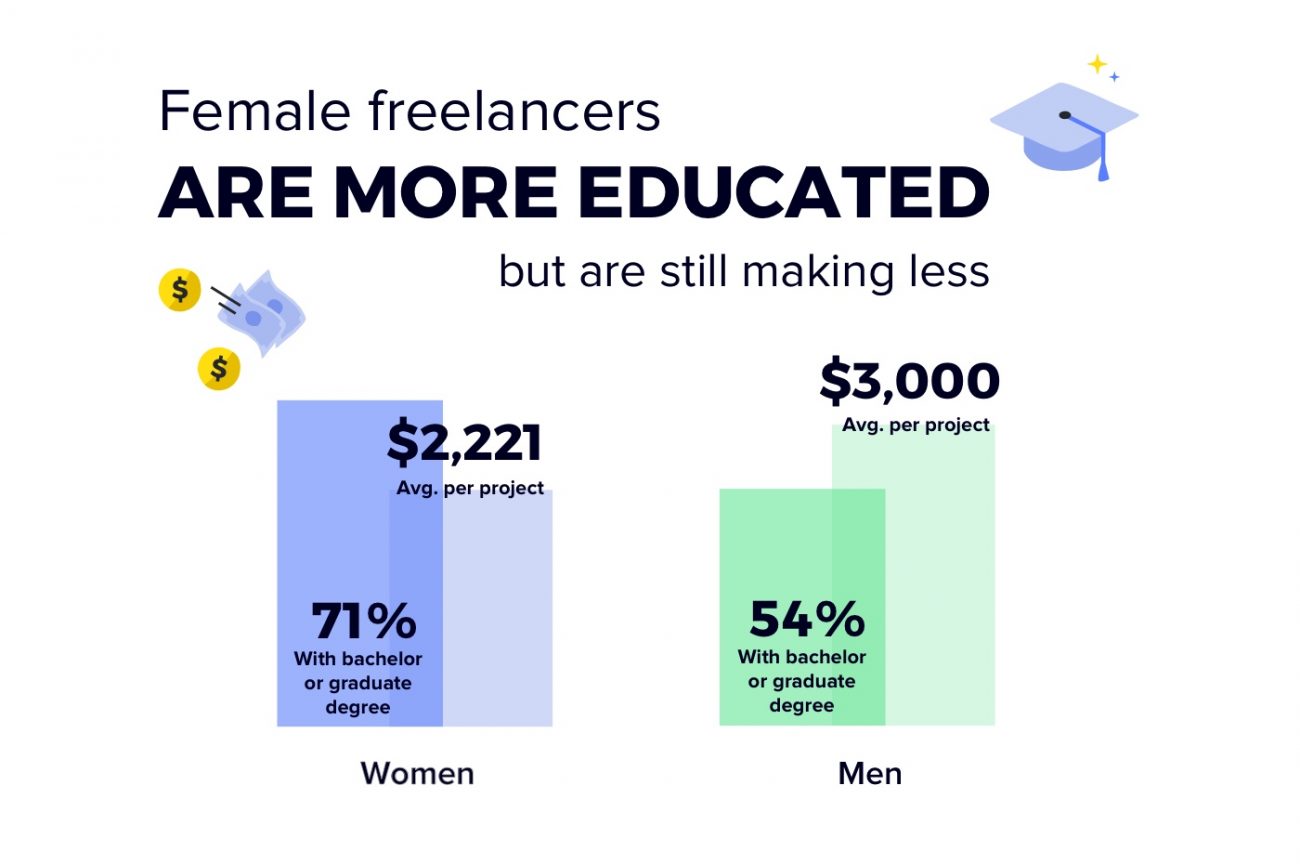 To understand these findings better, we analyzed per-project pay by industry: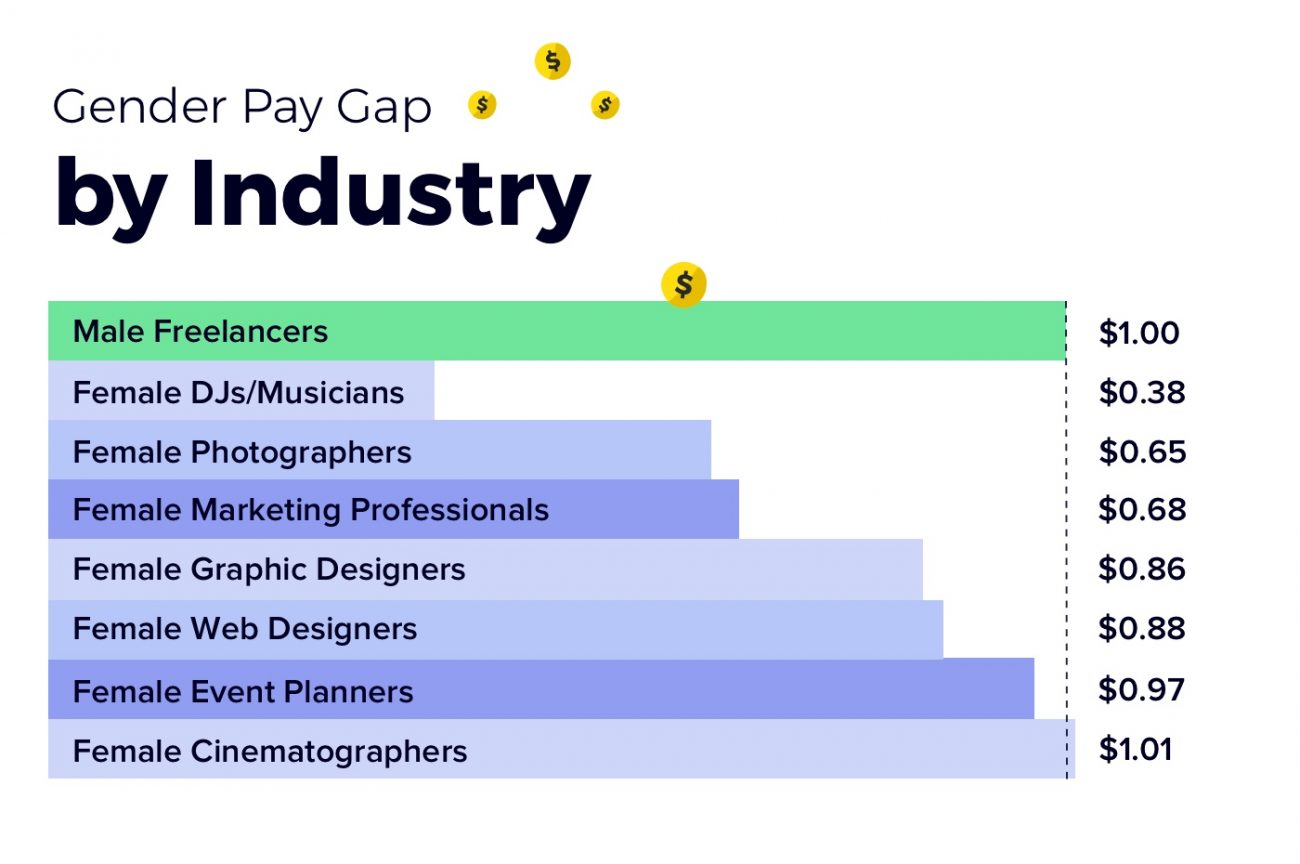 Although the survey found that women are not as likely as men to lower their prices based on client negotiations, they are still making less. So, what's behind the gap? Female creatives are underpricing their work in nearly every industry.
However, when asked whether they would change their pricing if they found out that their prices were lower than someone of the opposite gender in the same industry and geographic region, 80 percent of females said they would take action. This willingness on the part of female freelancers to adapt their prices indicates that awareness and education are essential to closing the pay gap.
The good news is that awareness of the gender pay gap is rising. In 2017, 63 percent of female and 72 percent of male freelancers believed that men and women earned equal pay. Today those percentages have shrunk. Only 35 percent of females and 59 percent of male freelancers believe that men and women earn equal pay.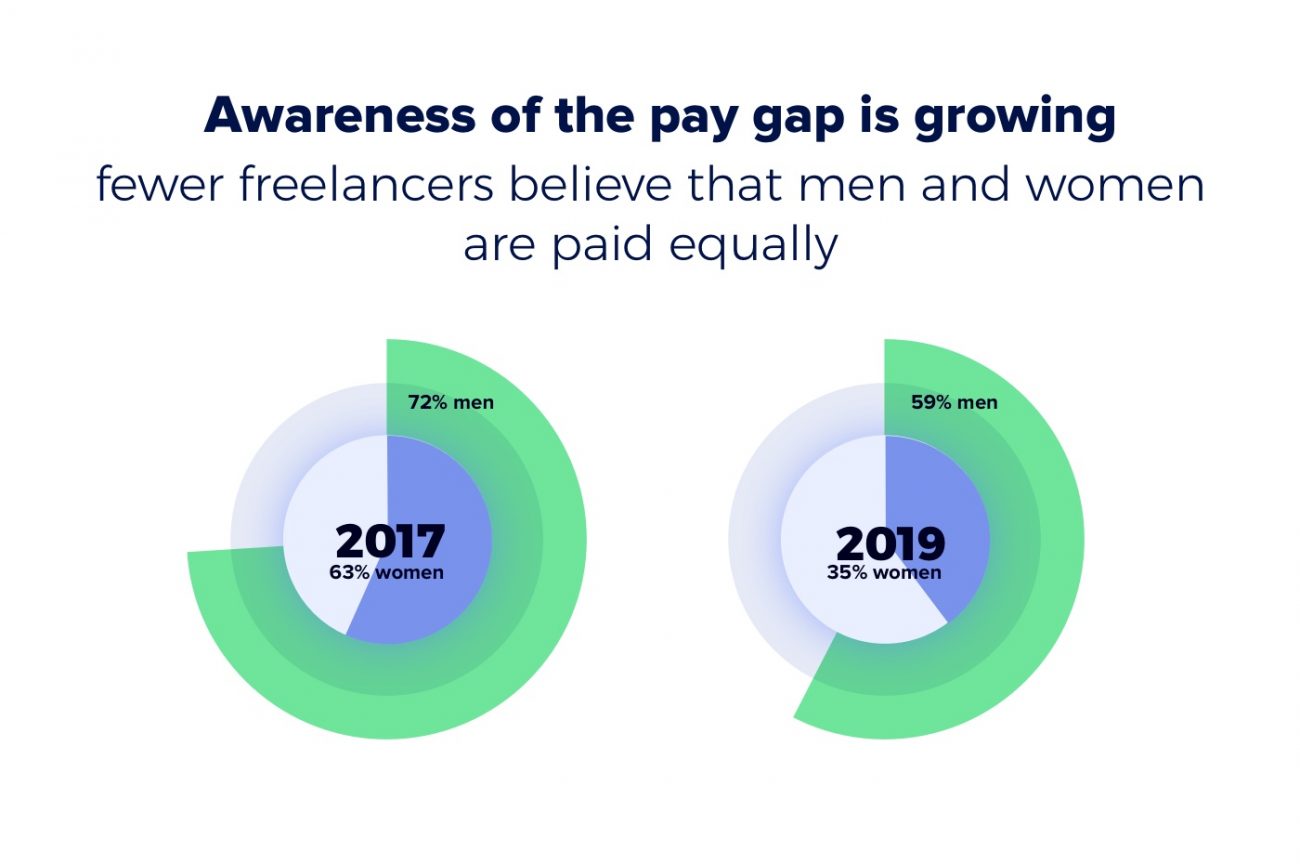 All respondents said that the primary cause of the gender pay gap was women undervaluing and underselling their services. Wage secrecy was also identified as a leading cause. But women and men also cite different reasons for the gap:
51 percent of women believe female creatives undervalue and undersell their services

31 percent of women believe it is wage secrecy

27 percent of women believe it is the "motherhood penalty"

15 percent of men believe there is an underrepresentation of women in their industry

15 percent of men believe women undervalue and undersell their services

13 percent of men believe it is wage secrecy

13 percent of men believe it is lack of female negotiating power
Although the "motherhood penalty" is today considered less of a reason for the gender pay gap than it was in 2017 (40 percent), freelancing moms still feel the pressure. Nearly half of all women surveyed (47 percent) have felt the need to hide their parenting responsibilities from their clients for fear that it will impact their pay. That's compared to 14 percent of men who have felt the same.
When asked what concerns them most about the gender pay gap, female freelancers shared three concerns, all of which centered on financial stability. Women cited their ability to make a living doing the work they want (32 percent) as their chief concern. This was followed by fear of having to adjust their product or service pricing and their ability to save for retirement.
Where do we go from here?
HoneyBook has long been a leader in making business education accessible. Through its Rising Tide blog, monthly guides and in-personal Tuesday Together meetups, creative entrepreneurs around the world have access to free business-focused educational resources on topics that span marketing, mental health and money matters. The community connects online every day to support each other's business growth and is 75,000 members strong.
The first two monthly guides in 2020 will focus on topics that support closing the gender pay gap: annual planning in January and financial health in February.
Ask the Experts
In an industry where entrepreneurs set their own prices, a large part of the solution to the gender pay gap comes down to awareness and education so that freelancers can be empowered to take action.
We have enlisted the help of business coaches and financial experts to offer actionable tips that female freelancers can use to charge more for their services and increase their earnings doing what they love.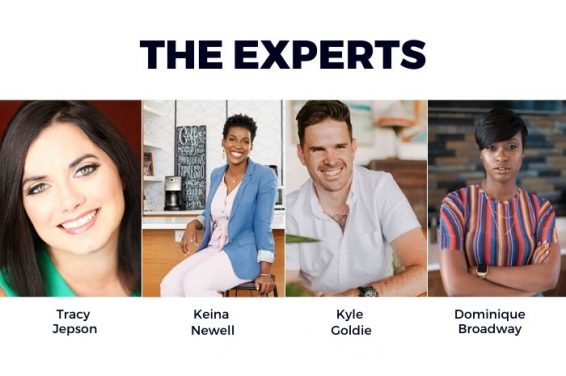 Tracy Jepson is a small business strategist, Certified Mastery Profit First Professional, and CEO of Jepson Solutions, LLC. She helps her clients understand their financial numbers and how they impact the overall health of their business.
Keina Newell is a financial coach, educator and founder of Wealth Over Now. She works with passionate and hardworking single women who need help creating clear financial goals so that they can save more, get out of debt, and stress less about money
Kyle Goldie is a professional photographer and business coach who helps creatives make more money, work fewer hours and live a life of purpose.
Dominique Broadway is an award-winning Personal Finance Coach, Speaker, Finance Expert and the Founder of Finances Demystified & The Social Money Tour.
On changing your money mindset and charging your worth, the experts say:
Know your "why." Get clear on your mission – why you started this business – and keep it top of mind. This mindset will remind you of the value you are creating and empower you to charge your worth. Keina
Remove all statements of scarcity. These are statements that limit the money that you allow to flow into your life, like "I could never afford that" or "no one will ever pay me that much," these limiting beliefs will also limit your earning power. Dominique
Stop treating your business like a side-gig. Be proud of your business! No matter the size, you are creating value and deserve to be compensated for it. When you start treating your business seriously, you'll open the doors to earning more. Tracy
Ditch the comparison game. You have your own business journey, embrace it and stop worrying about what your industry peers are doing. Kyle
Know your numbers. Your prices should be calculated based on your individual business situation: desired income, cost of materials, business overhead, level of expertise, taxes. Knowing what your business needs to be sustainable will help you set the right prices. Tracy
Adopt a CEO mindset. Just because you're running your own business doesn't mean you have to do it all yourself. Hiring and outsourcing will help you focus on your core product, enable you to offer a better service for your clients and ultimately make more money, that's how you grow! Kyle
Raise your prices. Bargain basement pricing actually makes products and services less desirable because of the value associated with low fees. Clients who pay higher prices and receive excellent service refer others who do the same. Tracy
Start setting goals. Take charge of your financial situation by setting yourself success benchmarks. What do you want to be earning next year, in five years? Getting clear about your goals will help you make the right choices with your money. Dominique
Journal about the good things. Once a week, write down your empowering beliefs and attach one piece of evidence that you have which proves that the belief is true (like a compliment you received from a client or fellow business owner). This simple habit will shift your mindset and allow your "why" to come fully into view. Keina
Ask for help. You're not expected to know it all. Ask for help, connect with fellow business owners and learn from their experiences, #CommunityOverCompetition. Kyle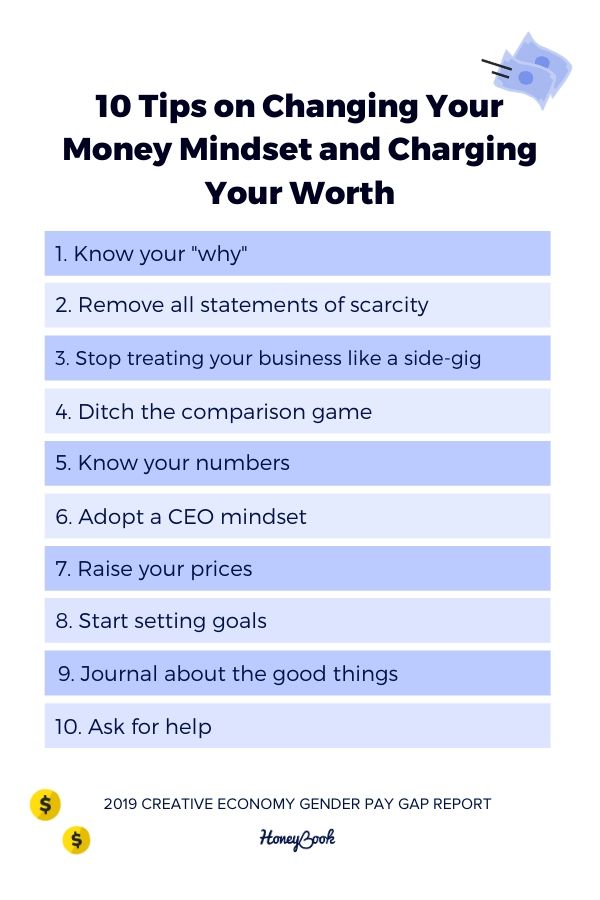 On talking openly about pricing and income with your industry peers, the experts say:
Build authentic relationships. Your industry peers aren't your competitors, they're your colleagues. The more you get to know each other the more you can learn from one another. Kyle
Practice a collective mindset. Remember that the entire industry benefits from higher pricing. Sharing your pricing and income insights will help everyone earn more. A rising tide lifts all boats, after all! Tracy
Break the taboo. It can be tough to talk about money, but you'll be surprised how willing people will be to share and how much you can learn once you get the conversation going. You've just got to start talking! Keina
Set prices that you are confident sharing. It is easy to have open and transparent conversations about your pricing when you are confident that you deserve to earn what you are charging. Charge your worth and inspire others to do the same. Dominique
Don't skip the client conversation. Get comfortable talking about pricing and the value that your business brings with your clients. This is important for your business and will also make it easier to talk about money with your industry peers. Keina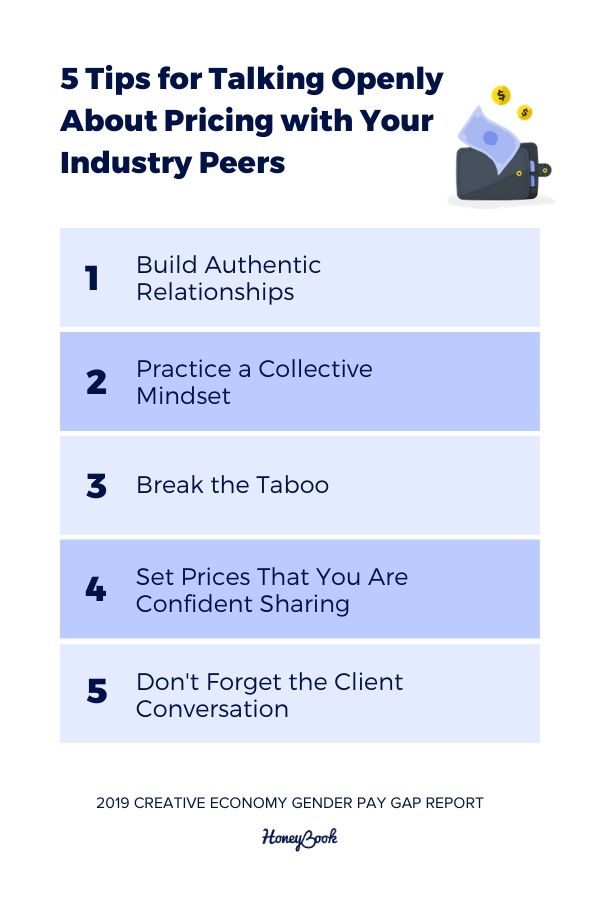 Correction: January 10, 2020
An earlier version of this blog post misstated that women were earning on average 35 percent less per project than men and completing 17 percent more projects a year than men. This has been corrected to state that women are earning 26 percent less per project than men and completing 22 percent more projects a year than men.
And for even more practical pricing advice, check out: