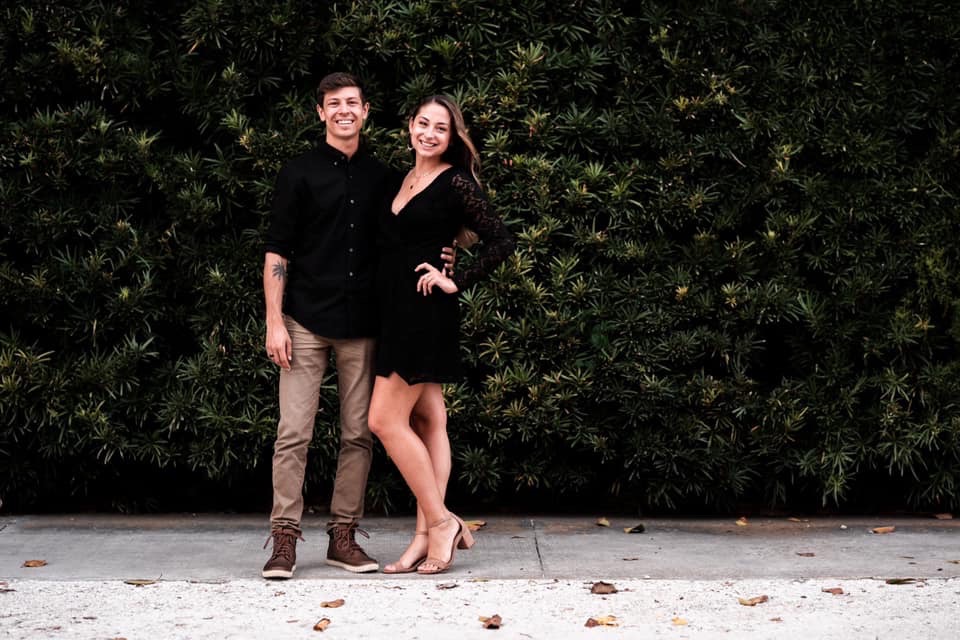 Wedding videographers Trevor and Raiyne, owners of Reel Time Films based in the central/southwest Florida area, have been filming weddings for over 4 years. They're currently in the running for The Knot's 2020 Best of Weddings. And their biggest success is turning their side hustle into a full-time business because "nothing is more fulfilling than having your passion turn into your dream job."
But the dream job wasn't always so dreamy.
"We were struggling at first," Trevor said, "but have seen an immense positive turnaround. We went from having a wedding every few months at a low price point to now quadrupling what we charge and booking multiple weddings per month.
Here, they share the tools and strategies that have helped them book more clients and quadruple their pricing.
Which 3 actions do you credit for your business growth?
We started doing more marketing.
We started using a business management software tool.
We are doing strategic collaborations.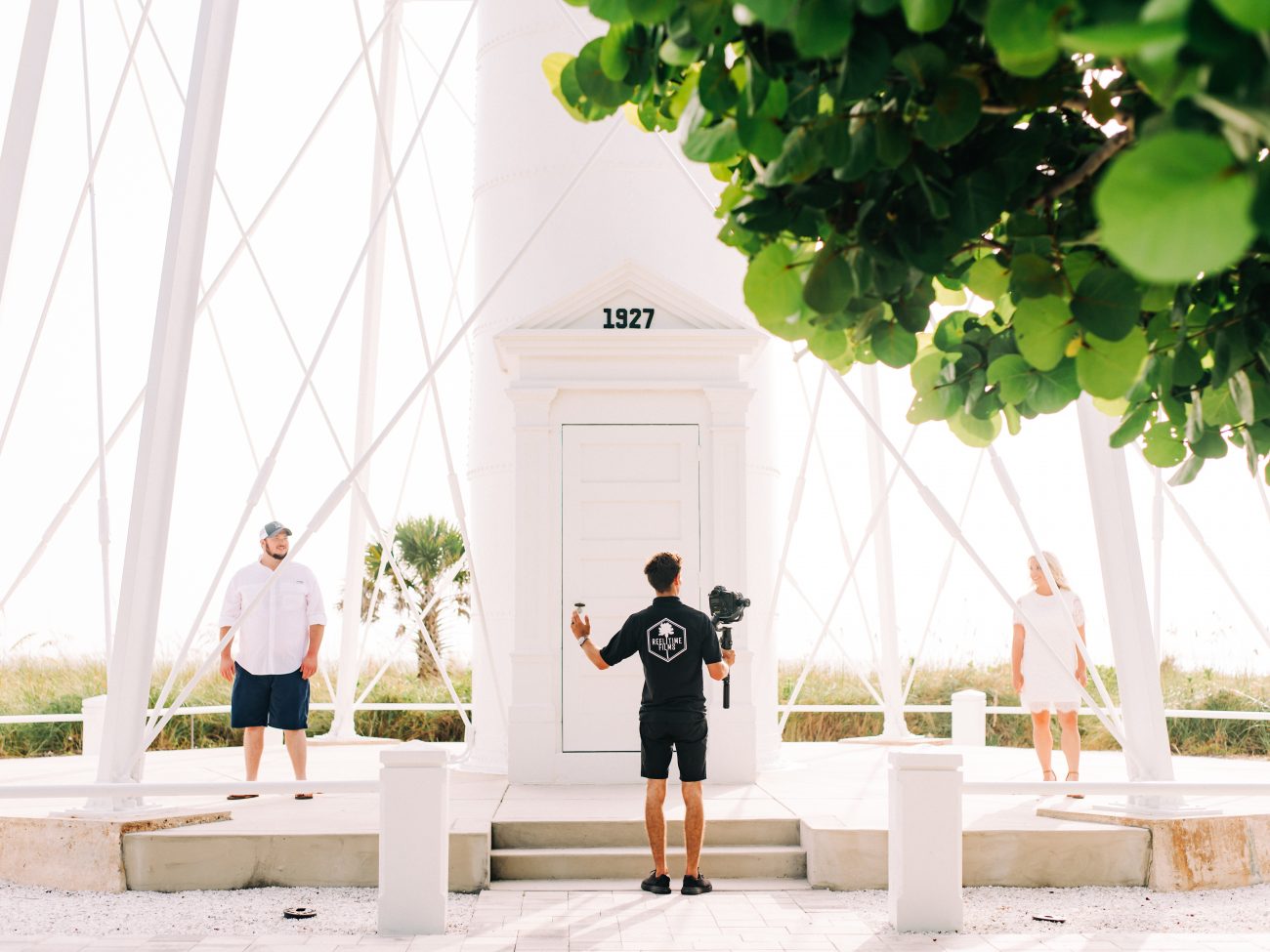 What kind of marketing did you do to grow?
Marketing has been a key component to the way our business has grown. We completely redid our entire website to fit our theme and become more aesthetically pleasing for clients.
Raiyne completely redid the website herself after looking around at other successful videographers' websites for inspiration. We thought the best way to create a successful website was by taking note of the important aspects a site should have from other successful sites.
A huge factor in this field is also making sure your online presence is "aesthetically pleasing." Pretty websites attract customers, whereas boring/drab sites make them run away!
We have also increased our social media posting on Instagram and Facebook from once a week to daily.
Furthermore, we're paying for ads and sponsored posts to run across social media, which is greatly increasing our audience and engagement. We're currently running a promotion for a free wedding giveaway and advertising it on Facebook as a sponsored post on people's feeds. As a result, the original post is getting a lot of attention and our Facebook page likes are growing exponentially. Here's what it looks like below: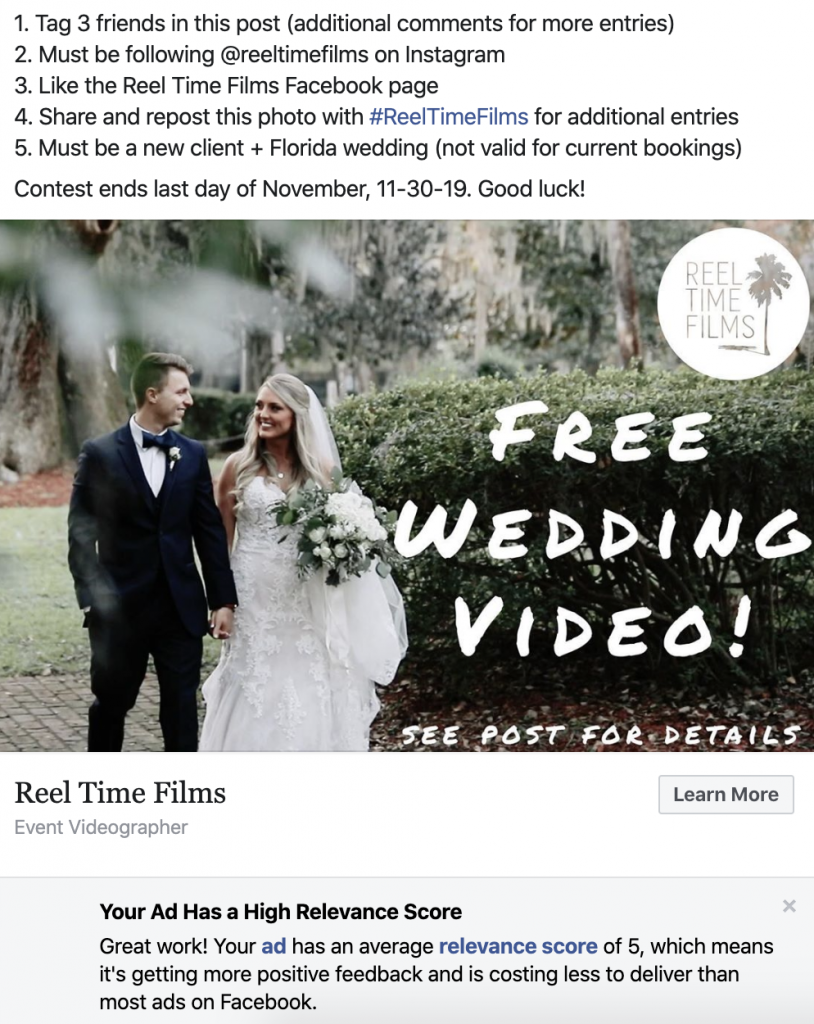 How did business management software help you grow?
We started using HoneyBook and immediately saw a difference in the number of clients we were booking. The ability to customize templates and brochures has increased our conversion. We originally received inquiries and were left in the dust, but HoneyBook allows us to showcase our brochure with ease.
Before HoneyBook, we'd send a potential client our information and then possibly not hear back from them. Now have the ability to see when they have viewed our brochures and send them a follow-up regarding their interest in our packages offered.
Often, brides are very busy in the excitement of things and will forget to respond. The email tracking feature has helped us with our follow-ups to lock down twice as many projects and quadruple our prices.
We are also getting payments much faster, often times the same day as inquiries! As soon as we started using HoneyBook as our payment tool (rather than Venmo or PayPal), clients started booking almost immediately.
How does HoneyBook help you in your business today?
The hardest part about running our business now is finding a balance between bookings. Thankfully, HoneyBook notifies us if we have a prior engagement and stores all projects in a calendar. We will never run into double-booking on a day again and can much more easily manage our clients when we receive multiple inquiries for the same date.
What made your collaboration so successful?
Another great tool to attribute our growth to is collaboration. We have partnered with a very popular wedding photographer in our area, Cheyenne Alford Photography, and created an all-inclusive wedding package for a steal.
Cheyenne is an incredible photographer from the same small beach town that we're from. We stumbled across her work on Instagram and were blown away. Initially, Raiyne wanted to hire Cheyenne to photograph our wedding because she was THAT GOOD.
We connected with each other and decided to grab coffee and talk. She asked us about our business and one thing led to another, and we ended up spending 4 hours at the coffee shop writing notes about our plans for a collaborative package between our two businesses. A few dinner parties/business meetings later and we have finally concocted the perfect package: Heirloom.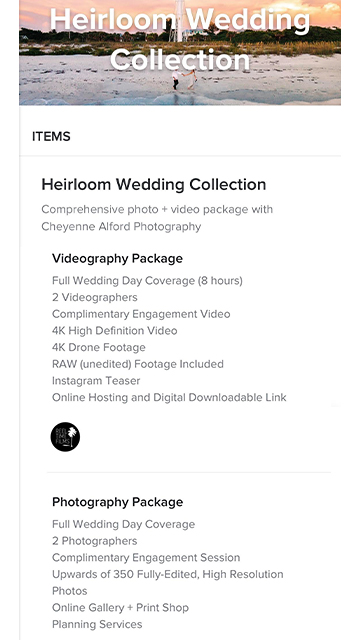 We each marketed this new package on our Facebooks, Instagrams, and websites. Immediately, the inquiries started to come in and we could not be happier with the result. We have not only reached out to each other's audiences, but also started to grow out of the state as well.
How do you figure out how and when to raise prices?
We have decided to slightly raise our prices annually as our business has grown over the years. When attending wedding expos, we are able to get a general idea of what similar vendors are charging. The most important thing to remember is your worth and quality of product.
How do you measure your business' success?
We believe that our business's success is all about hitting a certain number of bookings in a year. Although we are always pushing ourselves to get to the next level and do better than we have in previous months, we believe we are successful, with room for improvement.
What has been one of your biggest challenges? How did you overcome it?
For months, we were not booking weddings and were told our business would fail. Even family members started to doubt us, and we began to doubt ourselves. After implementing new business practices, we saw a huge difference in our business growth.
The new business practices that we implemented include completely revamping our website, paying for ads on social media, collaborating with similar businesses, and using HoneyBook as a more organized way to display our packages with brochure templates.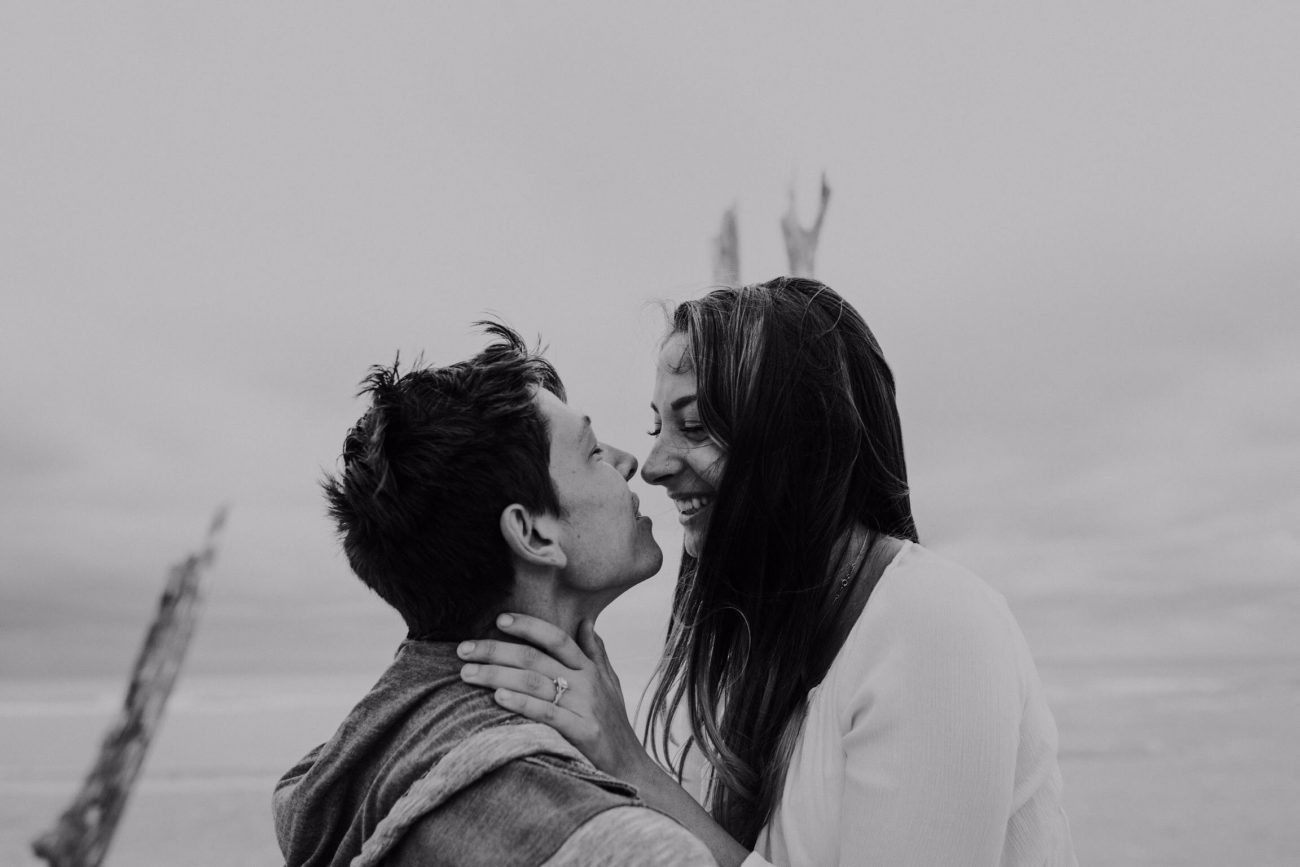 Most surprising business tip?
A really surprising business tip we've learned is to market our business on social media around 9 p.m. This seems to be the time that most people are scrolling through their phones, and this greatly increases our engagement. On average, we have seen an 85% increase in people engaging in our posts at this time of day (i.e., liking and sharing our posts).
What's your vision for the future of your business?
Our vision for the future of Reel Time Films involves having an entire team dedicated to all aspects of our business. Ideally, we would be able to take on multiple bookings for all weekends of the year, have a team to edit content, and someone in charge of social media and managing projects.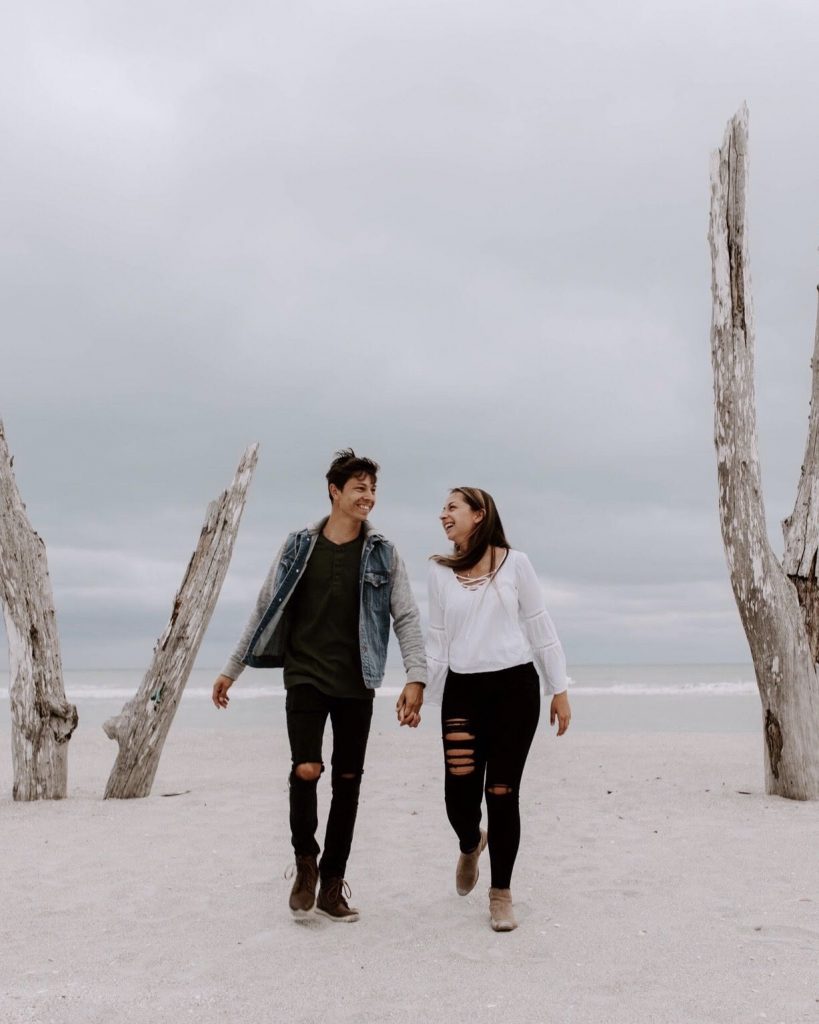 How do you plan to take Reel Time Films there?
We plan to take our business to the next level by increasing our footprint on social media and booking projects every month of the year, not just seasonally. We are doing everything in our power to get our name out there, including paying for ads on Instagram and Facebook, partnering and collaborating with other businesses, and running giveaways.
Thanks, Trevor and Raiyne!
To learn how other entrepreneurs navigate through it all, including their wins, struggles and the lessons that helped them grow, check out more posts from our series Growth Lessons.