10 small business trends you need to know about to make the most of 2021.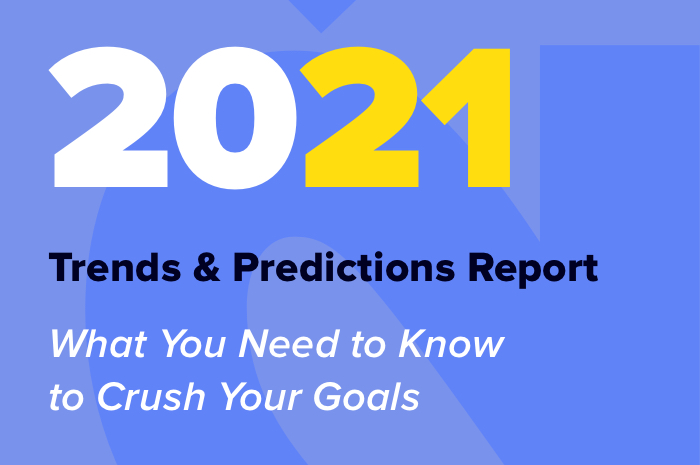 Whether you set your 2021 goals before the ball dropped or are just getting to them now, we've got just the thing to help you beat them this year: a head's up on what's in store.
We rounded up 10 of the top trends that will help your business rise to the top. Like a crystal ball (but better), our 2021 Small Business Trends Report is based on actual HoneyBook data insights and our community of small business experts. So dive in, take notes and get ready to crush your 2021 goals accordingly.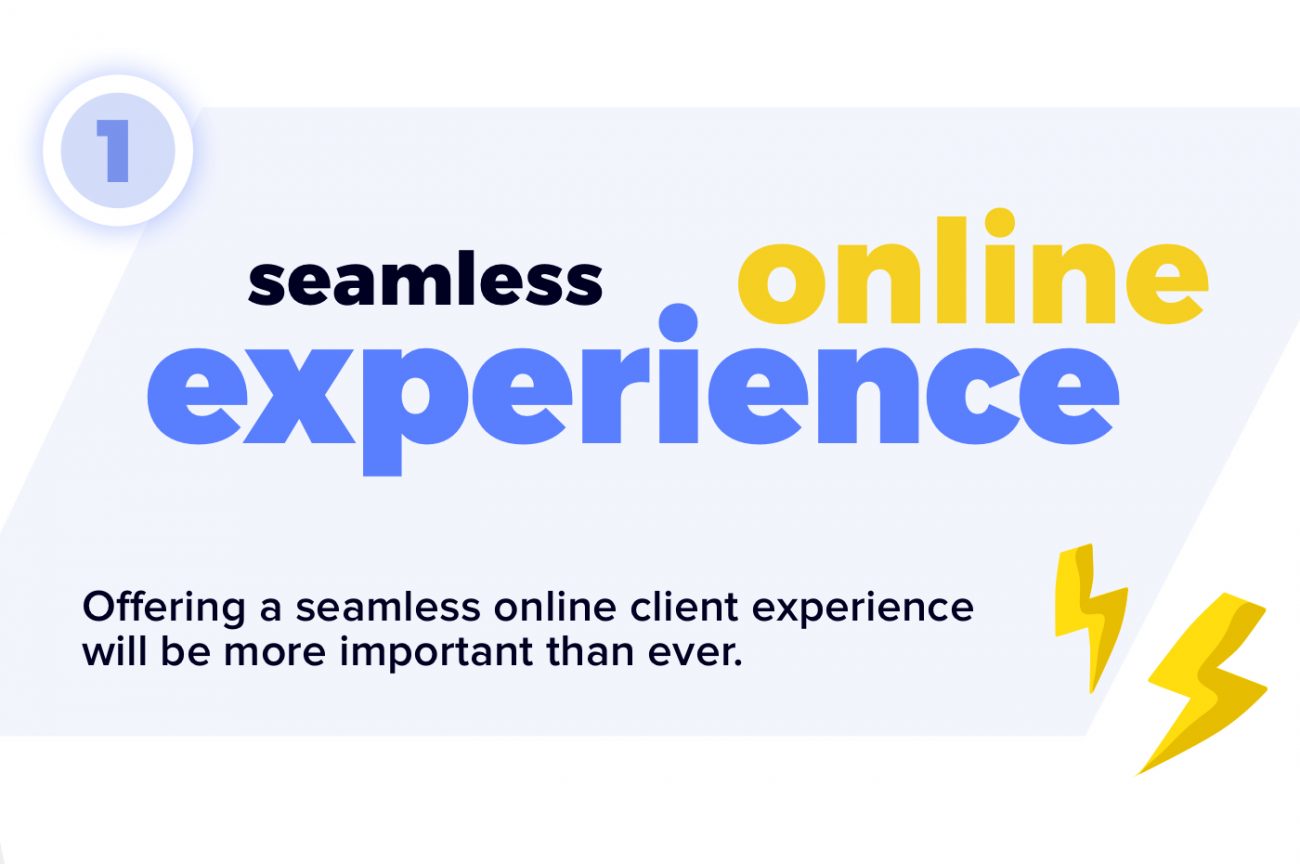 1. Offering a seamless online client experience will be more important than ever.
In-person interactions are not expected to return to normal just yet, so businesses that have a seamless online client experience will have an edge over those that are still relying on getting paid by check, sending contracts via snail mail and tracking new inquiries in a spreadsheet.
"Despite how close we are to getting a vaccine out for the world to resume its 'normality,' not everyone will be ready to expose themselves in large crowds and will continue to practice social distancing, which means we will continue to work remotely and host virtual meetings with clients," said Diana Dorsey of Simply Elegant by Diana. "Businesses will quickly learn that the need for a CRM is a must in order to stay organized; track projects, clients, and potential clients; as well as manage income flow. I love using HoneyBook. It saves me so much time and keeps me organized, and the best part is that my clients can view and sign everything I send them electronically!"
HoneyBook members that used online tools, like our Chrome extension (HoneyBook Extend), to follow up with new inquiries quickly saw 20% more client bookings.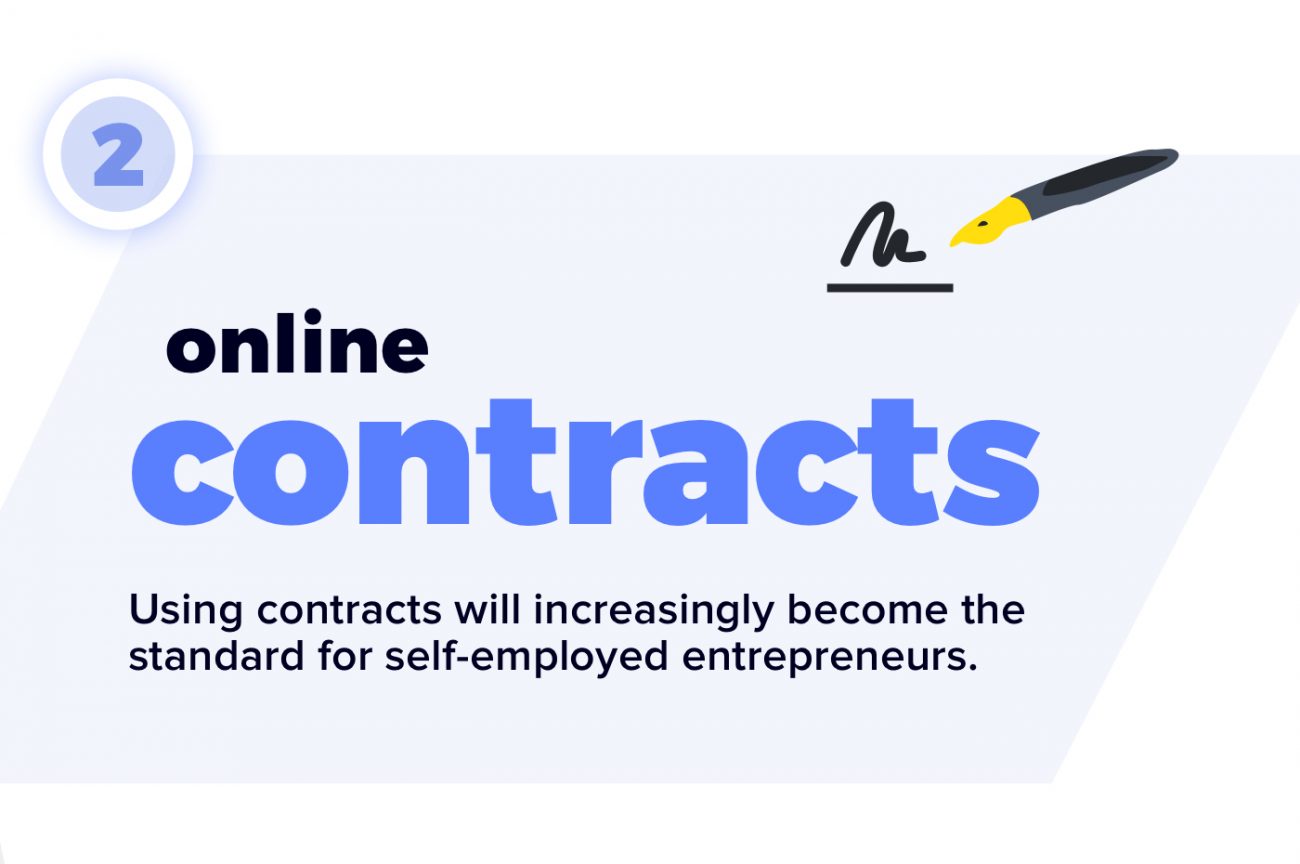 2. Using contracts is no longer a "nice-to-have" and will increasingly become a standard part of doing business for self-employed entrepreneurs.
2020 taught service providers just how important contracts are for protecting their businesses. Kunbi Odubogun, Founder at Legally Set, said, "As a business attorney with lots of clients in the events industry, I saw firsthand how contracts played a big part in saving businesses in 2020. The right language in your contract could literally be the difference between staying in business and having to close up shop. Lots of people found themselves having to offer refunds or move events to new dates without compensation for the extra work, while those who had solid contracts were able to protect their cash flow and their schedules for 2021."
"Going into 2021, businesses should be focusing even more intensely on legal protections for themselves," Kunbi added. "As a starting point, I recommend that all business owners hire an attorney (or use an attorney-drafted template) for any contracts they have with clients, employees, freelancers, and service providers. Frankly, a solid contract protects both sides of an agreement by clearly outlining both parties' responsibilities and what happens when things go sideways—and I think we can all agree that 2020 went sideways! One of my hopes for 2021 is that businesses don't just look for the shortest and cutest contract so as not to upset or scare off their clients. Instead, we should normalize having well-constructed and thorough contracts that are drafted to protect you when s#!t hits the fan."
Thanks to the increased accessibility of lawyer-approved online contract templates through tools like HoneyBook, entrepreneurs big and small are now including contracts in their standard operating procedures more consistently. Digital contracts, which can be sent off and signed with a click, will be as commonplace as securing a retainer before starting project work.
We saw a 105% increase of online contracts sent via HoneyBook from 2019 to 2020 as more HoneyBook members began implementing protections in their business.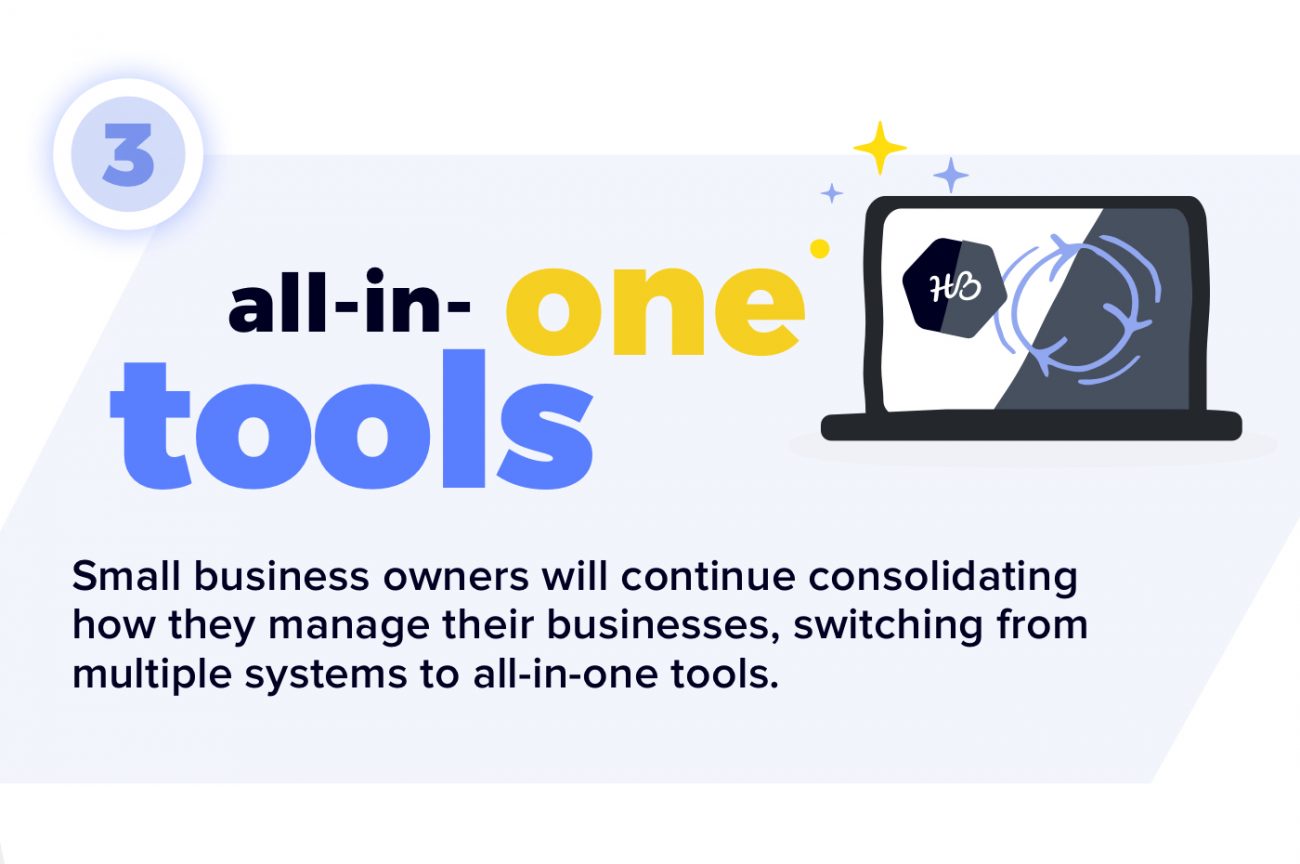 3. Small business owners will continue consolidating how they manage their businesses, switching from multiple systems to all-in-one tools.
With the pandemic expected to last well into 2021, business owners will continue to move their business processes online, consolidating their expenses and the tools they're using to manage tasks more efficiently. We expect to see more business owners moving away from a multiple-tool system and going all-in-one with a comprehensive small business management platform that can accomplish everything they need all in one place.
HoneyBook saw a +110% increase in new members since 2019, demonstrating entrepreneurs' desire to be more efficient, from first inquiries to final online invoices.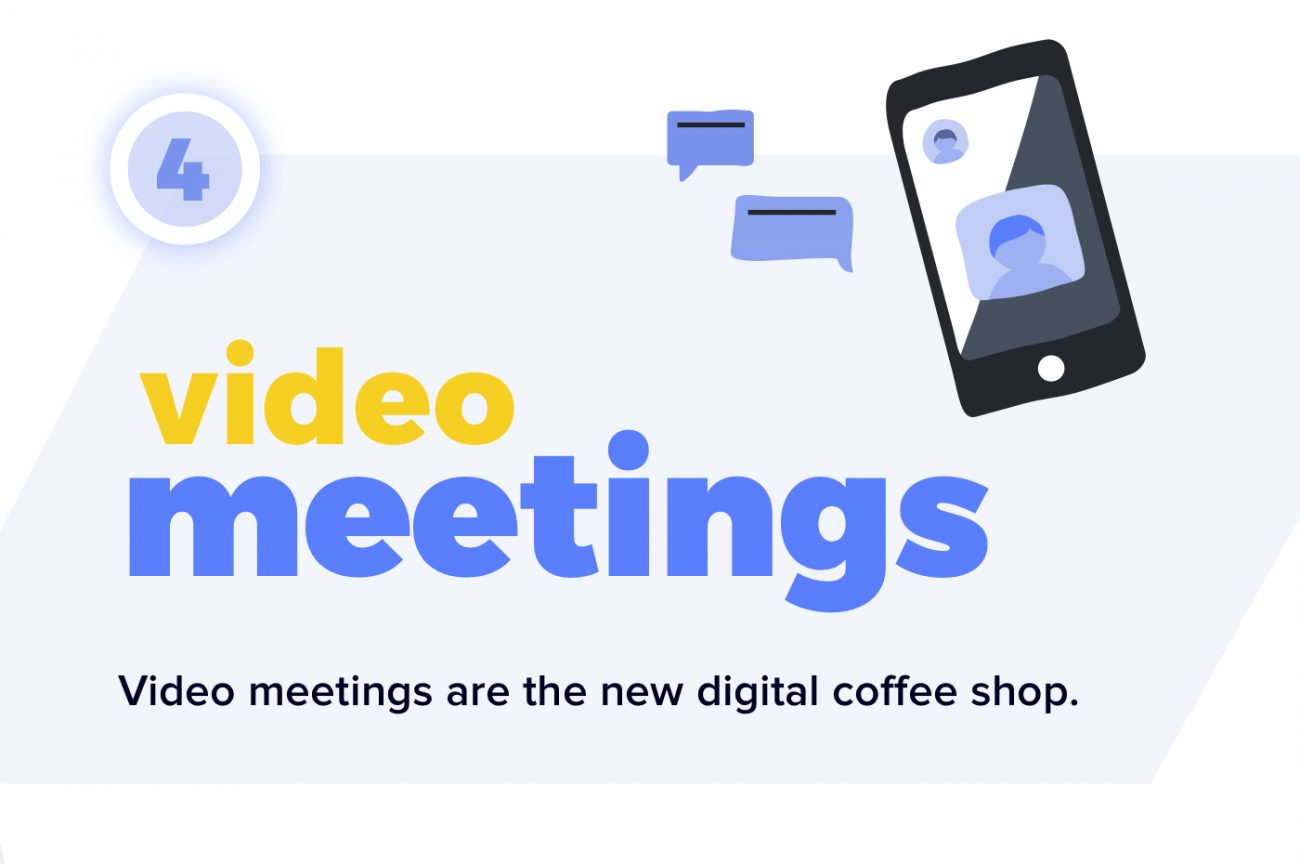 4. Video meetings are the new digital coffee shop for small business owners.
Online video meetings will be the premier way small business owners showcase their personality and warmth to connect with—and sell to—their ideal clients. In fact, HoneyBook members who used the HoneyBook Scheduling Tool to meet with clients before striking a deal booked 30% more business in 2020.
Even after vaccines roll out for everyone, people's heightened comfort levels with video meetings will persevere—with clients and businesses alike favoring video conferences over in-person meetings for their convenience.
Andi Schilawski said, "I myself have done all of my initial client meetings, planning meetings, design meetings, etc. virtually this year and I will continue to do so in 2021. It saves everyone time, and we accomplish the same either virtually or in person."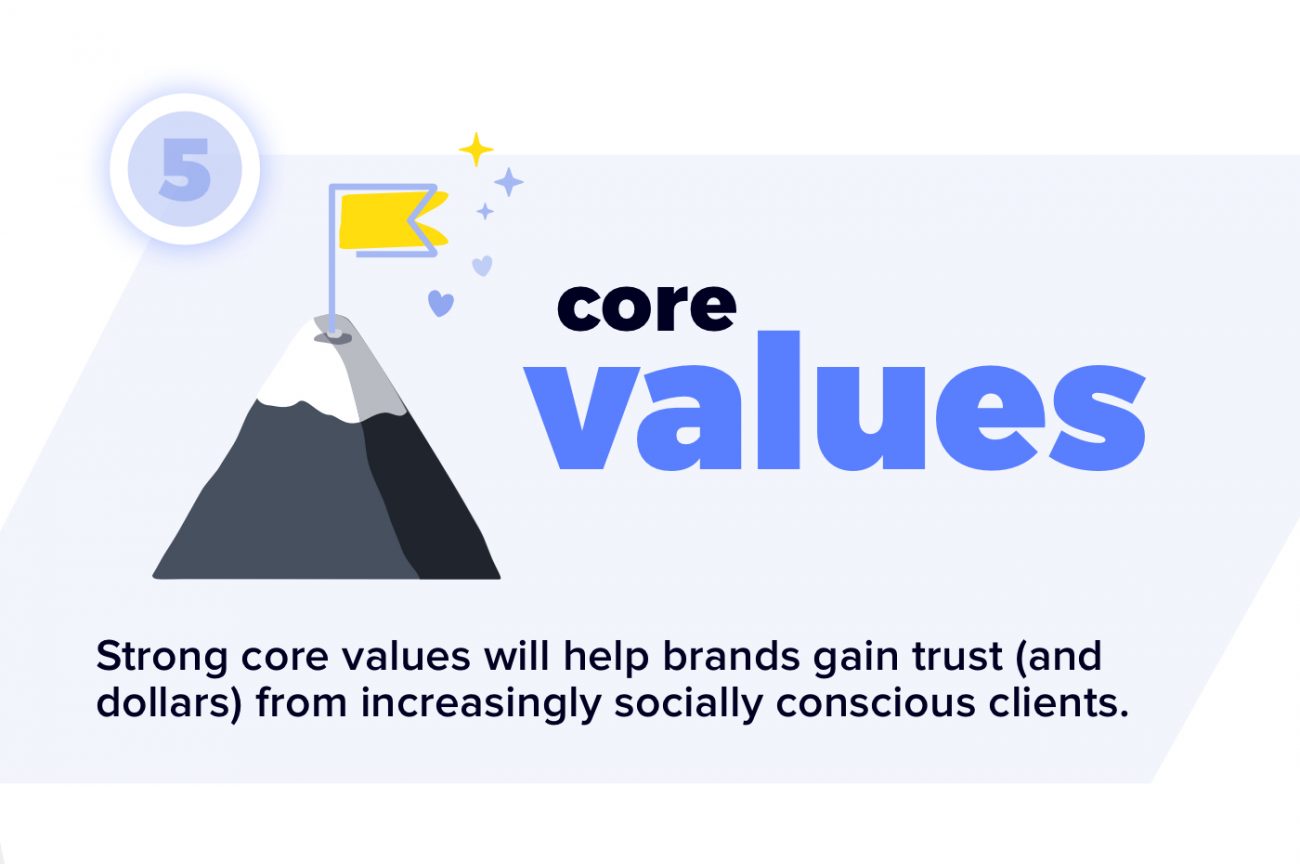 5. Strong core values will help brands gain trust (and dollars) from increasingly socially conscious clients.
"Being intentional about choosing values and practices that clearly communicate where you stand on social issues that are important to you will resonate deeply with clients who have decided to vote with their dollars. They will choose brands that understand social issues, spread awareness and participate in change," Janice Burch, Founder at Before Diversity, said.
"This summer, when my business launched a workshop on anti-racist allyship for leaders, attendees were eager to participate and were proud to know that 5% of their workshop fee would go directly into traditionally divested communities through a donation to a local, Black, and woman-led non-profit organization."
"Social responsibility isn't limited to just corporations anymore. As a small business owner, your clients want to see you step up to do what you can, they see you as a leader!"
"Ask yourself: What social causes do you care about? How can you commit to using your business or brand as a vehicle for social change for that cause and invite your supporters to participate?"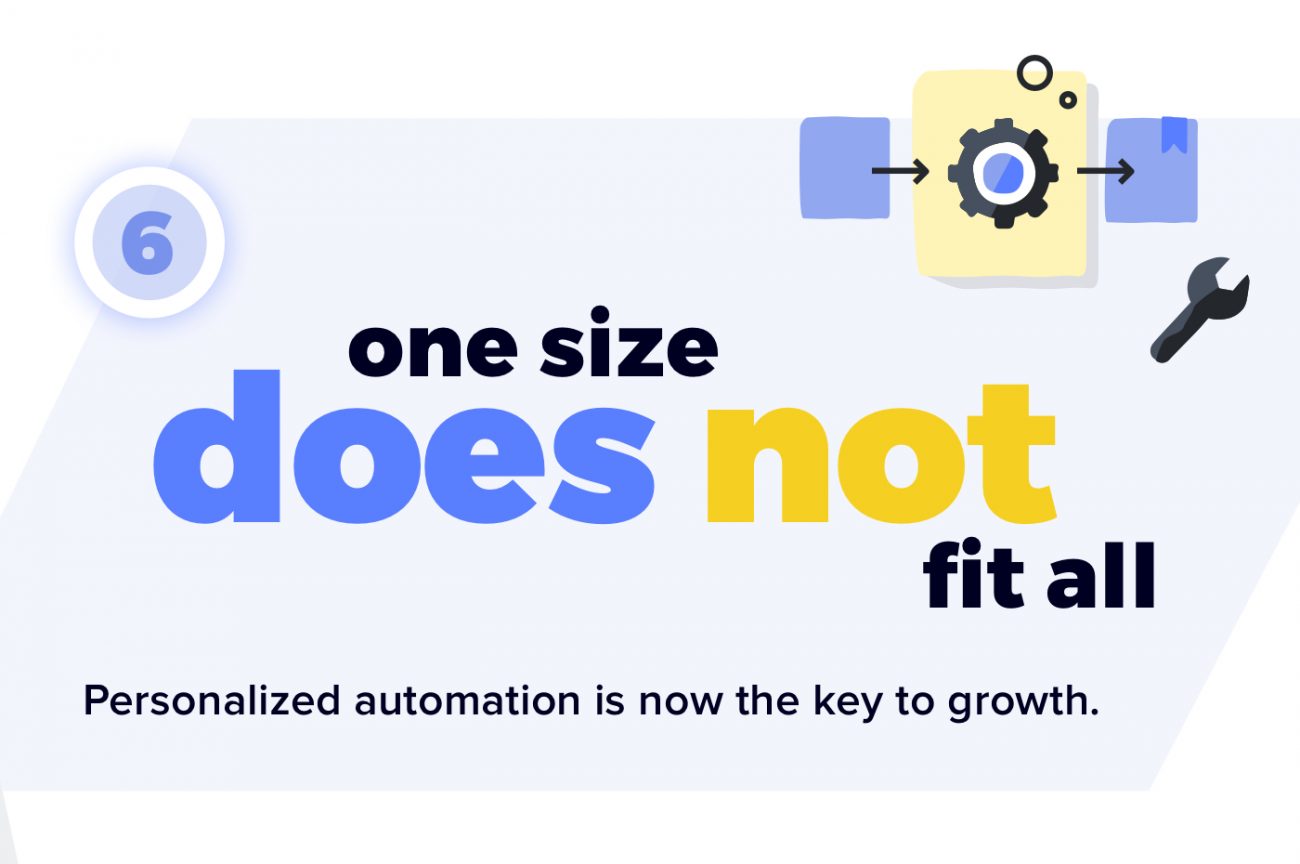 6. Personalized automation is now the key to business growth.
The days of automation being synonymous with robotic auto-responses are gone. Successful business owners know that automation is a way to deliver a high-touch client experience more efficiently while remaining true to your brand. Automation takes repeatable parts of a small business owner's process off their plate and serves it up to clients in a completely customized and personal way.
Jeremy Chou said, "Clients will continue to expect personalized contacts, either phone call or emails, that way their experience is more tailored and not a one-size-fits-all approach."
So how do you give that custom touch—automatically?
Take your process for responding to inquiries, for example. Personalized client workflow automation software can help you respond ASAP with a beautifully designed brochure that gives your inquiry a way to learn more about your business and select the services they're interested in—right when they're most likely to book you. You can even customize the look and feel of the email message before it goes out and the time delay for when your inquiry receives it so that it feels like it's coming directly from you.
Once the best-kept secret of top small business owners, more and more entrepreneurs continue to embrace this growth strategy. A HoneyBook Automation was triggered every minute in 2020!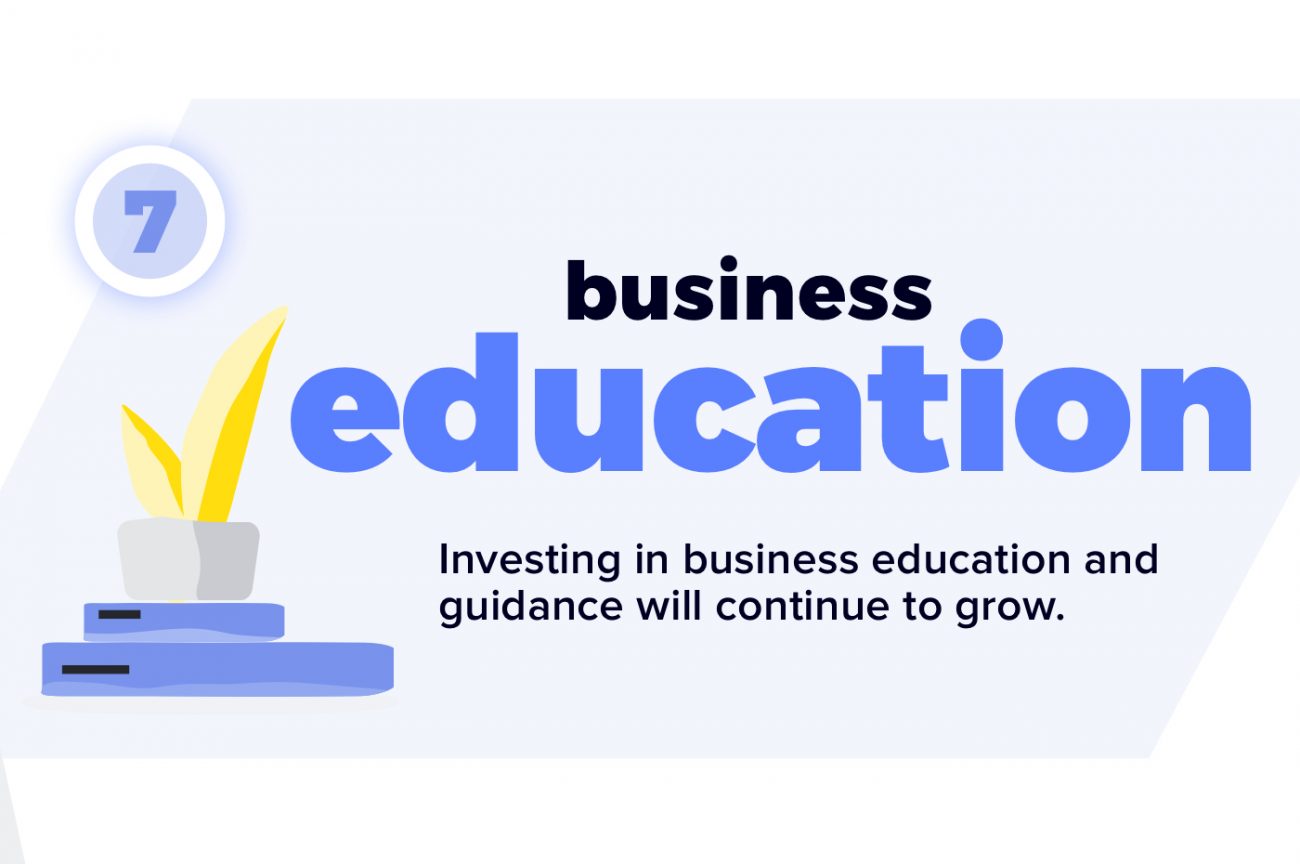 7. Investing in business education and guidance will continue to grow.
With many business owners experiencing a slow down or temporary slump in business, 2020 was the year they turned their attention inward and began investing in their business education. Whether planning a business pivot, looking for ways to elevate their client experience or taking the time to level-up their banding, business coaches, consultants and mastermind groups grew in popularity and will continue to prove their value in 2021.
"We are all looking to connect with people on a deeper level, and since 2020 was such a shared experience, I think more business owners feel comfortable joining a group coaching program than in the past," said Candice Coppola, Author, Podcast Host and Business Coach.
Coaches and business consultants joining HoneyBook grew by 394% in 2020 vs. 2019, pointing to the sharp demand for their expertise. HoneyBook's mastermind group, UPWRD, also saw a 233% increase in 2020 applications vs. 2019.
"Online learning has been seeing a boom, and that will continue into 2021," said Chris Romans. "Increasingly, small brands are putting out course offerings appealing to a very niche audience with great success. Recently, I invested in the Adventure Instead Elopement Course because it has special value for people like myself pivoting their wedding industry business to new opportunities."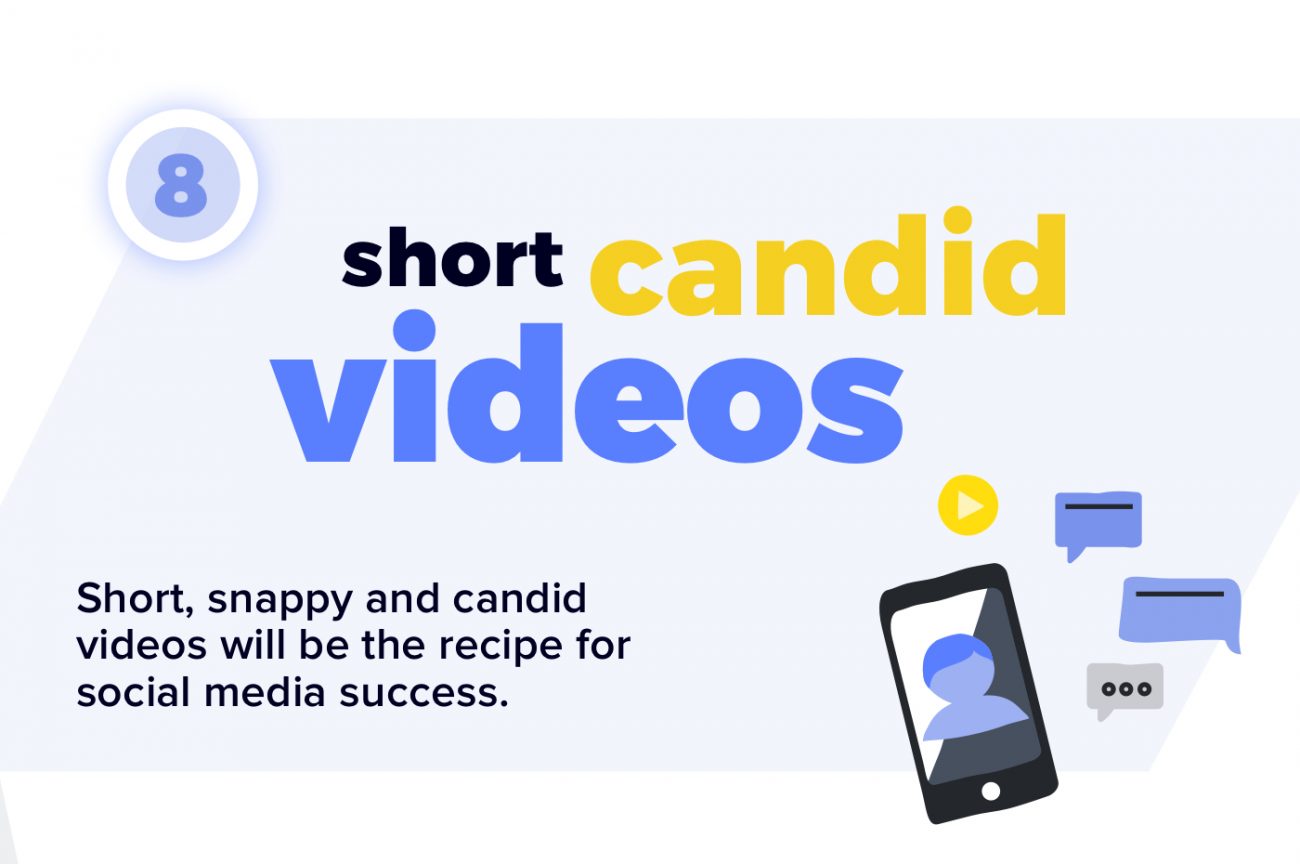 8. Short, snappy and candid videos will be the recipe for social media success.
"Short-form video content is going to continue to rise, as Instagram has shifted their focus to further developing Reels. We already have longer Reels (30 sec.) and have shoppable Reels as well as the ability to promote them as ads coming down the pipeline. In 2021, we'll see the main focus on snappy, entertaining (whether educational, storytelling or humor) videos. Being able to grab your potential customer's attention within the first few seconds of your video is going to be essential to gaining traction on social media," said Hannah Warren of Something Blue Marketing + Design.
Ihino of U&I Event Design agreed, adding, "We're going to see a change in videos being more candid and real, more behind the scenes and brands opening up into the humanization of their businesses."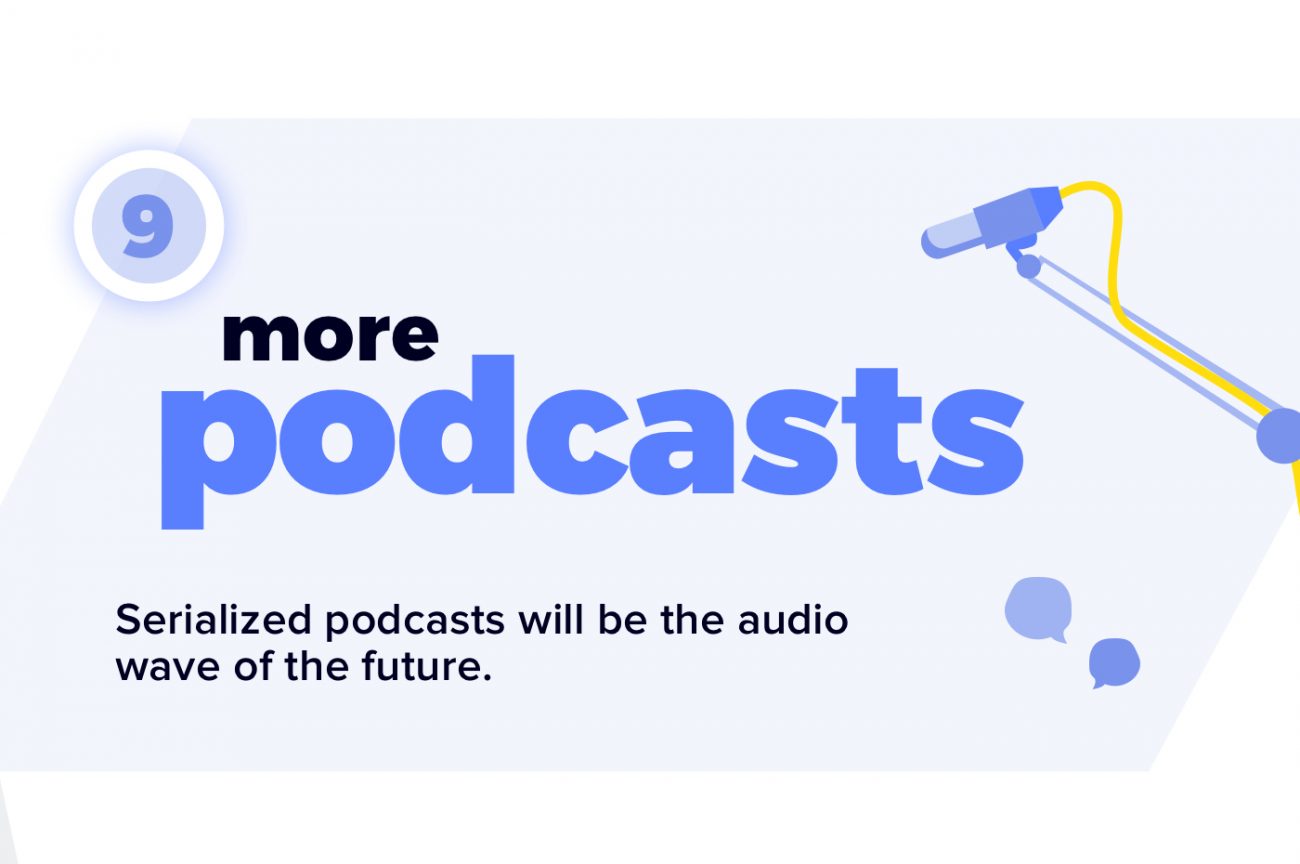 9. Serialized podcasts will be the audio wave of the future.
"In 2021, we're going to see more entrepreneurs starting podcasts and broadening their audiences. Even after all these years, podcasts are still a hit with a large majority of listeners," said Candice Coppola. "I expect to see a switch-up in format, with more business podcasts adapting a series format that follows a specific topic over weeks, months, or even an entire season. It's what we are doing for The Power in Purpose podcast!"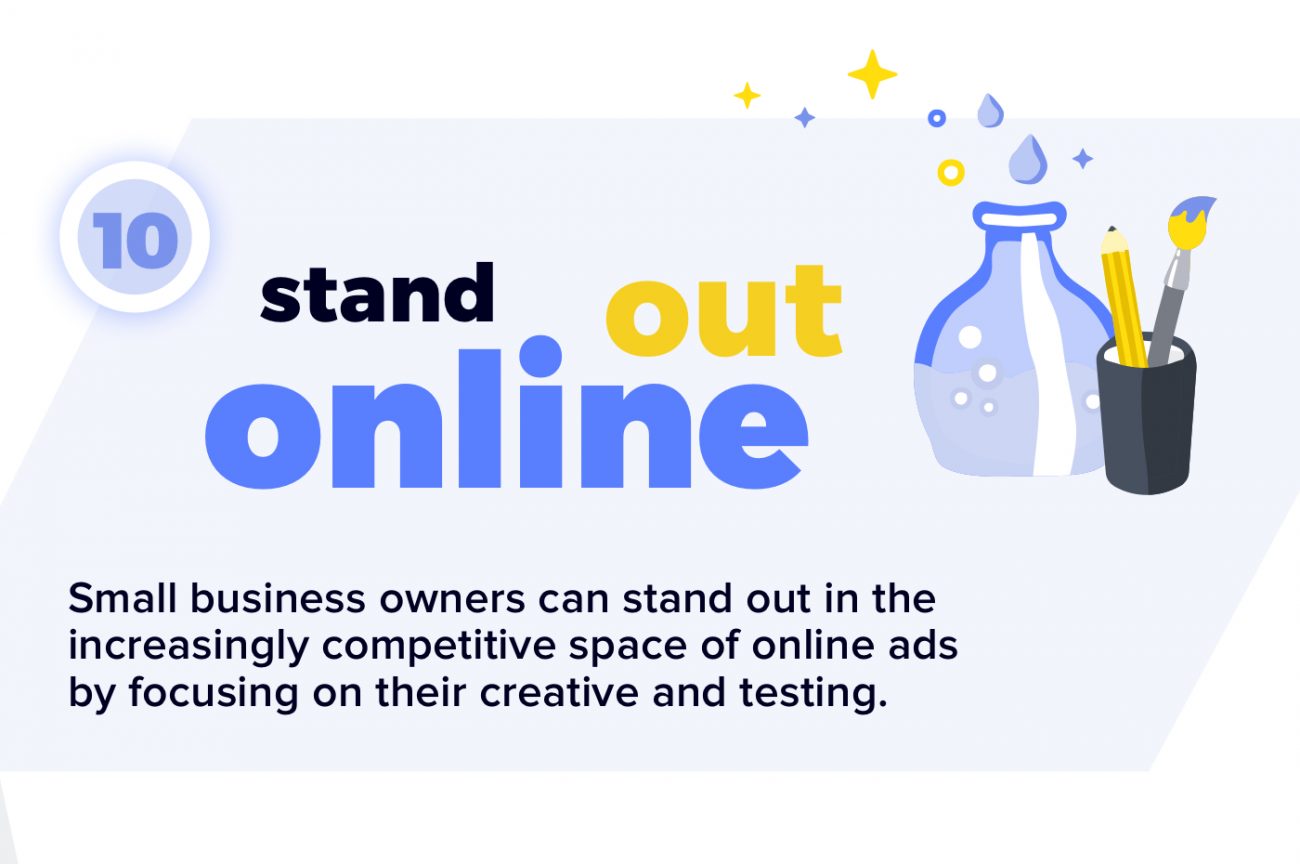 10. Small business owners can stand out in the increasingly competitive space of online ads by focusing on their creative and testing.
"The coronavirus pandemic fundamentally changed the digital advertising landscape. Marketers not only shifted their budgets from traditional to digital channels, but they also increased their digital spend. The resulting spike in demand will inevitably increase prices and spur competition in 2021," said Toby Skinner, Director of Digital Marketing at HoneyBook.
"This presents a challenge to small business owners with less budget, so standing out from the noise and making the most of any marketing efforts will be more important than ever. Google, Facebook and Instagram will continue to be the most important channels in 2021 but TikTok will almost certainly be sitting at the top table next year."
"Here are some ways to maximize the impact of your marketing efforts:
Creative design – assets that perform on social media don't require high end production – focusing on statics or simple videos that act as 'thumb stoppers' will get you noticed. Large areas of bright color and bold text always grab attention and stop people scrolling past your content.
Test everything! – minimize subjective decision making and test a variety of visual styles for your social media strategy, test different headlines and imagery in your ads, emails, and website landing page. Constantly increasing your conversion rate of new leads becoming paying customers will be crucial!
Think different – if the large corporate brands are going to flood the paid social media channels then think outside of the box at other channels they may be less focused on; direct mail can be very cost effective and localized, community events (once it's safe), strategic paid search can drive potential clients with high intent."