From model to award-winning cake artist, you may have seen Ashley Holt on TLC and the Food Network. Here's how she manages her booming business.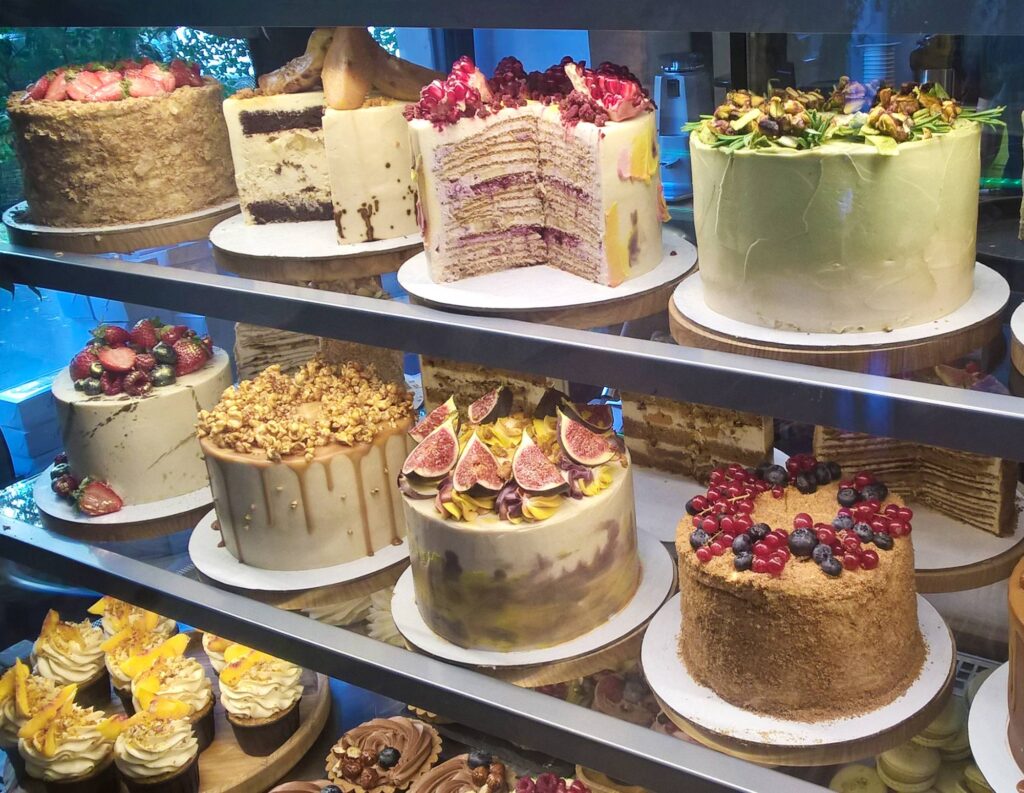 Before she won TLC's The Next Great Baker, Food Network's Chopped, and the New York Cake Show, Ashley Holt baked as an escape from her day job.
"Baking was my escape from an industry that was making me miserable: modeling. After a long hard day of being told I wasn't good enough, I would go back to my tiny little two-bedroom apartment, which I shared with nine other models, basically all starving themselves, and bake cookies."
She quit and went to culinary school, but the financial burden of attending forced her to stop. While many others might have given up, Ashley decided to teach herself. She'd come home after working her two full-time jobs and watch YouTube videos, falling asleep with cookbooks in her hands. "I wanted to prove to myself that I wasn't a F-up or a failure and just do it. So I did it."
Now, the business owner, cake artist, Today Show food stylist, and brand new mom of one has created cakes for brands and celebrity clients like Justin Timberlake, Nickelodeon, Harrods, Billy Joel, Fendi, BuzzFeed, Martha Stewart, and Padma Lakshmi, to name a few.
Here, she shares how she overcame her fear of failure, and why she uses HoneyBook, a clientflow platform for independent businesses, to manage her custom cake business.
Jump to:
About Ashley Holt
Ashley lives in Brooklyn, New York, where she owns and operates her cake shop called Sugar Monster, creating custom cakes for the coolest clients. She also works as the Lead Food Stylist at the Today Show. She's been in the food industry for 10 years and in the television industry for five years. 
Food styling for the Today Show
We are the magicians behind the curtain. For the Today Show, Ashley and her team are the magicians behind the curtain. She works with chefs and turns their recipes into a segment that is suitable for 3-5 minutes of live television.
Part of her job is making sure the chefs have everything they need to pull off a seamless, perfect segment and, along with her phenomenal team, making their food look incredible. Every job is different though, especially if it's scripted or print work.
Generally speaking, Ashley and her team aid in creating creative and compelling food content for a variety of platforms. It's not just about having the idea either, it's about knowing how to productively and efficiently execute these ideas, usually on a very tight budget and on a very quick turnaround.  
The biggest business challenge: letting go of the fear of failure
The biggest challenge hands down is just taking that leap of faith and trusting yourself. It's so easy to become overwhelmed with all of the things you don't have or don't know.
For Ashley, she let her fear of failure scare her for a while before she eventually said 'screw it.'
"If I fail, at least I tried," Ashley said. She read countless books to help build her self-esteem and consulted a lot of friends who owned small businesses to get their perspective of the do's and don'ts as well. "From there, I kind of just jumped in, knowing I would kick some serious a** trying."
I let my fear of failure scare me for a while and then eventually I said 'screw it.' If I fail, at least I tried.
Learning from previous careers
"I've had sooo many jobs throughout my life and no matter how lame the job may've been, I've learned something along the way. I've picked up customer service, branding, product development, team building, leadership, how to treat people, and especially, knowing the kind of boss I didn't want to ever be."
After running into issues getting financial aid or a co-signer for her second semester of culinary school, Ashley had no other choice but to quit and teach herself. She was hungry to learn and knew she was completely capable, so she went from job to job learning as much as she could. Each job was bigger and better than the last.
"I was working two full-time jobs, coming home, and watching YouTube videos of things I wanted to learn. I'd fall asleep with cookbooks in my hands, only to wake up so exhausted, but excited to start all over again."
If you have the hunger and the fight you can truly be unstoppable. Self-doubt can really hold us back and limit our possibilities so much. Instead, it's important to be somewhat oblivious to all of the things that could go wrong and what may not work out and attack whatever it is you're striving for. Like Ashley says, "I'm going to just do this and I'm going to be f-ing awesome at it."
Developing a passion for baking
After all of her experience, Ashley's grown to really love making pies. It's such a labor of love and they make incredible gifts.
"They're so nostalgic to me. So simple yet so hard to perfect. There are so many varieties for whatever mood you may be in and to be honest, as much as I LOVE making cakes … I get kiiiiinda sick of them sometimes."
One of the projects Ashley's most proud of is a chocolate sculpture she made of her face. To make it, she sat at the end of her kitchen island with a pair of calipers, a mirror, and countless selfies, and hardly moved for 2.5 days.
"I didn't shower and barely ate. I was completely obsessed. It changed the way I look at faces, the angles and shadows I see. It came out so cool, and I never knew I was capable of creating to that skill level. You can really surprise yourself if you just give it a shot!"
For Ashley, she said it wasn't until she stopped looking at other people's work and started doing the designs she liked that she was able to find her unique style.
"All of our cakes have a personality, edge, and sass. People take things way too seriously, especially in this industry, and I think it's fun to shake it up some. We're dealing with cake here, let's have fun with it!"
How she finds her clients
Ashley gets about 90% of her business from Instagram, and she has a few tips for other businesses to be able to do the same:
Find awesome people to collaborate with and just be yourself. People want authentic, vulnerable humans.
Create a community, respond to DMs and comments, and create partnerships with other accounts. It's so crazy how many amazing things have come from using a simple hashtag or tagging someone in an image that they should see.
Post quality content but don't overshare. Stay on top of current trends and jump on hot topics when you can.
Ashley's favorite HoneyBook feature
I use the HoneyBook mobile app, and that means she hears a 'cha-ching' every time she gets paid. Though it's such a simple feature, it's her favorite. It helps her give an idea of her cash flow, and it's an encouraging sound that helps her stay motivated. 
How she started using HoneyBook
Ashley's assistant originally told her about HoneyBook. She came to her from another small cake shop in the city and thought she could benefit from it. Ashley says she had never been so right before!
"I was constantly trying to keep my head above water and stay organized—I was so paranoid to have something slip through the cracks. Once I got my HoneyBook account set up I could instantly sleep better at night."
Once I got my HoneyBook account set up I could instantly sleep better at night.
How Ashley Holt uses HoneyBook
Now, Ashley says she can't imagine running her business without HoneyBook. For her, it's so user-friendly and customizable.
Some of her other favorite features include:
Automation emails so clients are never waiting around for a response.
Creating email templates for everything from introducing yourself to a new client to following up on key milestones.
Using simple bookkeeping features to stay organized. For instance, Ashley recently saw that she had around $1,500 in outstanding invoices from past orders. Without HoneyBook, those invoices may have never gotten paid because of how much she has going on.
Branding important files like invoices so every touch point is cohesive and professional.
HoneyBook integrates directly with your website and your calendar so you're constantly connected.
All client communication is in one place so you never have to search through a ton of emails to catch up on a conversation.
The concierge team is always there to help you out and respond in lightning speed.
"I can't say enough good things about this platform. HoneyBook has truly been a life and business saver."
Using HoneyBook to take your business to the next level
Through using HoneyBook, Ashley was able to supercharge her successful cake business and take it to the next level.
Because HoneyBook is so customizable, you can use it for your independent business as well! HoneyBook is a clientflow management platform that's designed for any independent business to manage the entire process of selling and delivering services.
From photographers to business consultants and beyond, you can use HoneyBook just like Ashley for greater organization, management, and revenue growth.