Learn how the HoneyBook mobile app enables you to work more productively. With tools to manage your clientflow at your fingertips, you can respond to clients faster, win business, and stay organized while you're on the go.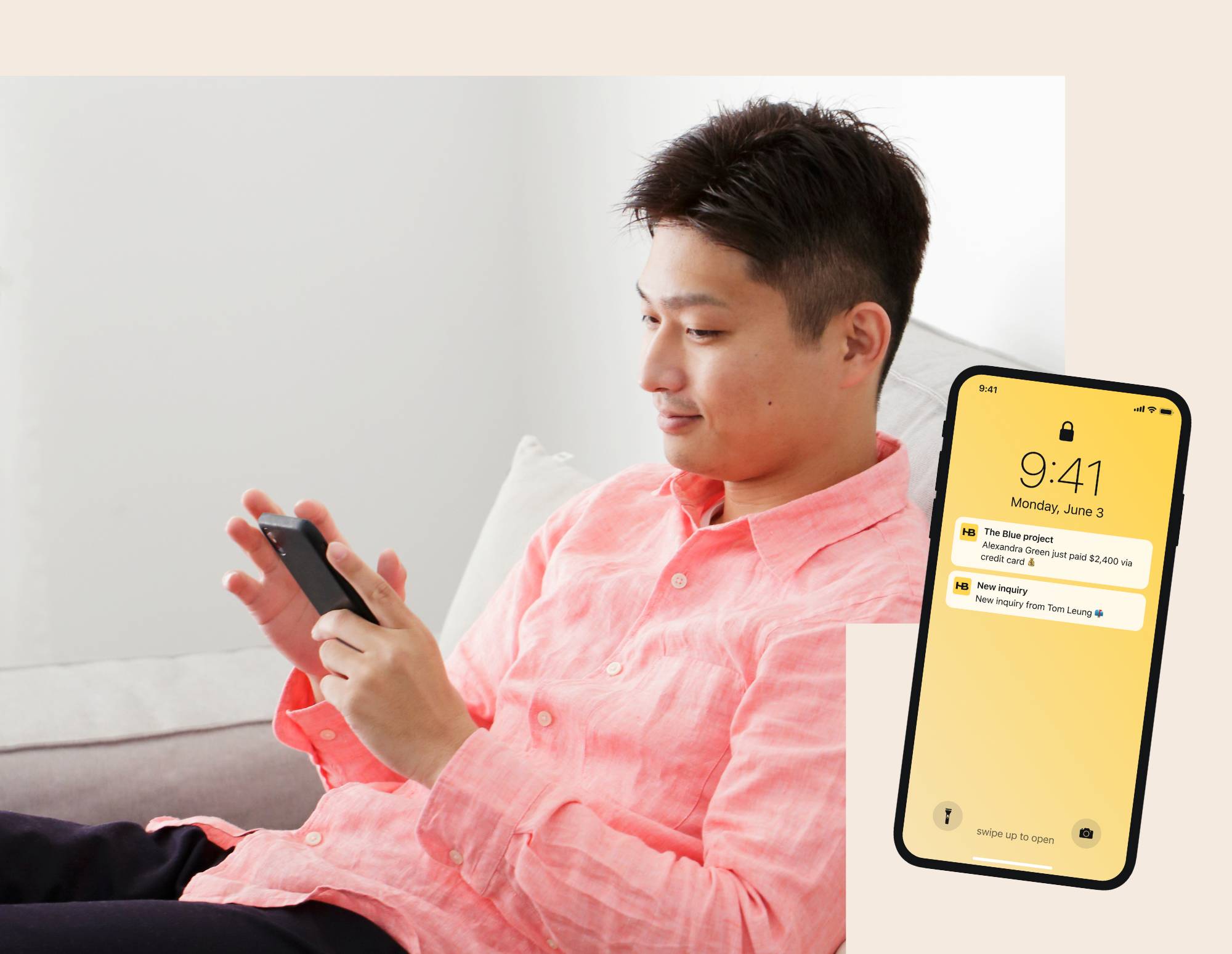 As an independent business owner, you're frequently on the go. After all, one of the benefits of being an independent is the freedom and flexibility to set a schedule that works best for you. But between client meetings, vendor visits, networking events, and your personal life, you need tools that support your schedule and manage everything no matter where you are.
The HoneyBook mobile app is the best option for busy independent business owners. With your work at your fingertips, you'll never miss a new inquiry or a client message again, and you can keep your business going no matter where you are or what you're doing. Plus, you can leverage HoneyBook AI features to work smarter.
Learn all the ways you can use the HoneyBook mobile app alongside your desktop account so you can manage your clientflow any way you need, even when you're on the go.
Jump to:
1. Get a bird's eye view of projects and tasks
Sometimes it's nice to see what's on your plate before you even open your laptop for the day. Use the app to see your entire pipeline, so you can view all your projects and their current statuses from the palm of your hand.
From your project pipeline, you can also tap into a specific project to start working, whether you need to view your clients' details, email them, or review project files.
41% of business owners say their biggest challenge is staying on top of all their tasks. If you relate, the HoneyBook app can help you prioritize and work more efficiently. View your full task list so you know what to focus on, as well as what your team members are working on.
2. Manage your schedule and calendar
Along with your tasks, you can see what's coming up on your schedule through the HoneyBook calendar. Sync your external calendars (Google, iCal, Outlook, etc.) to view everything in one place, including HoneyBook projects, client meetings, personal time, and more.
With all of your time accurately represented, it also makes it easier to schedule new meetings with leads and clients. Just share your scheduler link directly from the app. Your clients will only be able to schedule a time that's available, helping you reduce unnecessary back-and-forth to find a time that works for both of you.
3. Get valuable notifications about leads, clients, and projects
With push notifications turned on, the HoneyBook mobile app will give you valuable reminders and updates. Have you ever had a new inquiry slip through the cracks? If so, you know it usually has to do with how fast you respond.
HoneyBook's AI-powered priority leads notifications improve response time by 20%, and according to a recent survey, a one-minute response time can lead to 391% more conversions. This means it's crucial to know when someone has inquired, and the app will notify you every time you have a new lead so you can respond ASAP.
Even better, the HoneyBook AI composer can help you reply to new leads at the push of a button with an instantly generated response personalized to that inquiry. All you have to do is review, edit if needed, and send. It's as simple as that.
Pro tip
The HoneyBook AI composer does all the work for you to respond to inquiries so you can save time and reply faster. But, if you want to create your own message manually, you can still use HoneyBook automations to save time.
The app can also notify you when:
A client sends a message
A client views a file
A client signs a contract
A client pays an invoice (turn your sound for a satisfying cha-ching!)
You have a task coming up or outstanding
These timely notifications help you stay on top of your project and client progress in real-time, so you always know what's happening. You can always toggle your notifications on or off as well so you're only getting the ones you care about the most. You'll never have to wonder if your client has viewed their contract or still has to pay–HoneyBook has it covered! 
To receive HoneyBook's priority lead notifications, make sure you're using a HoneyBook contact form. HoneyBook uses a machine-learning model that combines the data from your past bookings as well as the data submitted via your contact form to identify which leads are most valuable to your business. You'll know when you have leads who are more likely to book, leads who may have high-value projects, and leads who are likely to book with a high-value project.
Priority lead notifications enable you to prioritize valuable leads in your sales process These leads have a 30% increased chance of getting booked, and they're 2x more profitable on average, compared to a standard lead. Reach out from the app quickly with the AI composer (or set up automations) so these prospects know you're interested in their business.
4. Respond to inquiries instantly even when you're short on time
Our research shows that 86% of prospective clients book with the independent business that gets back to them first, showing how crucial it is to respond promptly.
Within the HoneyBook app, the AI composer is the easiest way to send a quick, personalized message to incoming leads. With the push of a button, you can be the first business to respond and provide a custom message to each potential client.
Whenever an inquiry fills out your HoneyBook contact form, the AI composer will extract their answers along with your company name and industry type to develop a unique message. You'll see the AI-generated response suggested in the HoneyBook mobile app, but you still have full control over the message and can edit or create your own reply before responding.
Though the composer uses AI technology, it can still perfectly capture your tone and style so you aren't sacrificing your brand. Just choose the tone that suits you the best, whether it's more friendly, confident, formal, or other.
Combined with the power of HoneyBook's priority lead notifications, these AI capabilities enable you to win more valuable business faster than ever before and unlock greater revenue potential.
5. Maintain communication with clients while you're on the go
Your touchpoints with clients are crucial to moving projects forward, providing updates, and offering a great client experience. With the HoneyBook mobile app, you can ensure you're staying connected with your clients even when you're on the move.
Any emails to clients within your HoneyBook projects will show up in one place on desktop and mobile–no more sifting through endless email threads to find what you need and respond. When you're on the go, you can easily send emails to clients through the app as well. Plus, you can share HoneyBook files or other attachments like invoices and contracts, to move your booking process forward without delay.
If you find you need to edit your files when away from your computer, you can also do that through the app. Say one of your clients changes their mind right before booking. No problem–you can easily update their invoice and contract and promptly resend it to them. By allowing you to adapt quickly to your client's needs, the HoneyBook app helps you enhance your client experience.
6. Track time for more accurate billing
The HoneyBook mobile app also includes a time tracking feature, which is especially helpful for businesses that bill their clients at an hourly rate. If you're a photographer, for example, you can use the stopwatch for more accurate time tracking while you're at a shoot in real time.
If you don't want to track time IRL, or if you forget, you can also use the tool to log your time retroactively. Once your time is captured, you can create an invoice directly from the hours worked for more accurate billing.
7. Save time and keep your clientflow moving
Altogether, the HoneyBook mobile app gives you the tools you need to keep your clientflow moving, even when you're on the go.
Easily search for any project, file, message, or contact so you can quickly find what you need. Then, work on your current projects or create new projects–all from the app.
You can also view your HoneyBook reports to check on your financials or payments while away from your desk. Stay on top of your gross bookings, outstanding payments, booked projects, and more.
With access to your business at your fingertips, you'll reduce client friction and maintain a streamlined clientflow from capturing new business to qualifying leads, booking, managing projects, and maintaining relationships.