Learn how to implement block scheduling for your business so you can take control of your time and work more effectively!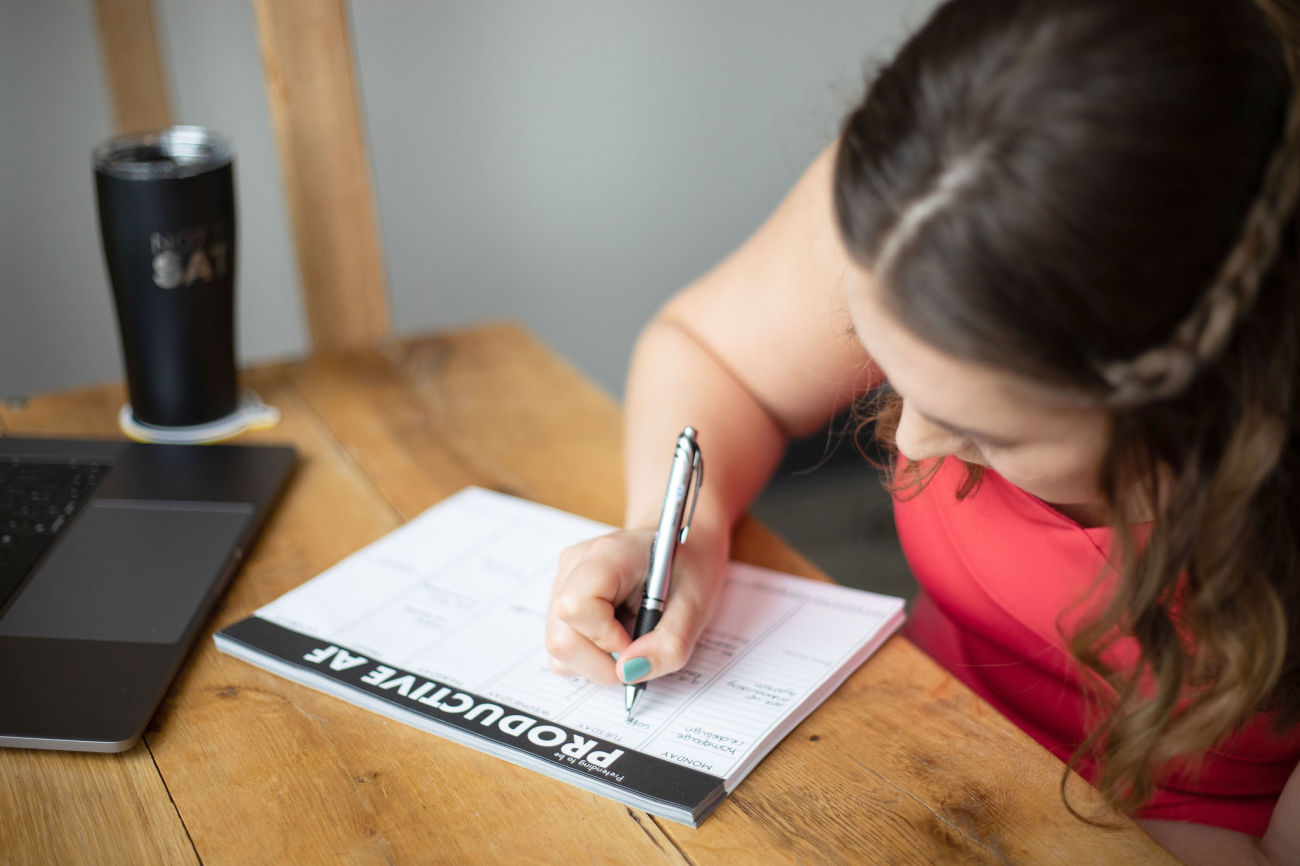 You reply to an Instagram story, adjust the logo you're working on for a client, then read an email while looking at office supplies on Amazon. Finally, you reply to the email after re-reading it since you forgot the details.
If you're anything like most Independent business owners, you switch between 437 tasks each hour.
Sadly, tons of research shows that context switching or switching between tasks kills our productivity, focus, and attention span.
That's why block scheduling (also called time blocking) is so powerful.
If you block schedule for work, you literally block out chunks of your time to work on one specific task or one project at a time. This allows you to pay attention to the task at hand and do it with focus rather than being distracted. Here's how you can easily use block scheduling throughout your workweek.
What is block scheduling at work?
Block scheduling not only helps you prioritize your tasks, but also gives you the time to solve problems, complete work, and get stuff done.
Instead of looking at your to-do list every day and cherry-picking what you'll accomplish, block scheduling assigns a set time for each task. This gives you the space you need to work while also holding you accountable to focus on each priority.
With block scheduling, you'll also have better time management and ownership of your own time. You can make sure that clients only book meetings with you at set times and that your employees know when it's the best time to share what they're working on.
How to implement block scheduling
Implementing a block schedule for work is simple. All you need is a calendar tool or meeting scheduler to get started. From there, you can build out your blocks of time by day and week. Depending on how you like to work, you can build a set block schedule for every week, or make a custom schedule.
Here's one example of a block schedule for work that stays consistent from week to week:
| | | | | | |
| --- | --- | --- | --- | --- | --- |
| | Monday | Tuesday | Wednesday | Thursday | Friday |
| 9:00 – 10:00 am | Emails | Emails | Emails | Emails | Emails |
| 10:00 – 11:00 am | Consultations | Consultations | Consultations | Consultations | Consultations |
| 11:00 – 12:00 pm | Business Work | Business Work | Business Work | Business Work | Task Catch-Up |
| 12:00 – 1:00 pm | Lunch | Lunch | Lunch | Lunch | Lunch |
| 1:00 – 2:00 pm | Project Tasks | Project Tasks | Project Tasks | Project Tasks | Client Meetings |
| 2:00 – 3:00 pm | Client Meetings | Client Meetings | Client Meetings | Client Meetings | Client Meetings |
| 3:00 – 4:00 pm | Break Time & Emails | Break Time & Emails | Break Time & Emails | Break Time & Emails | Break Time & Emails |
| 4:00 – 5:00 pm | Task Catch-Up | Team Meeting | Accounting Sync | Creative Brainsorming | Creative Brainstorming |

Pro Tip: Use HoneyBook's scheduling tool to block off time for initial consultations and client meetings. When you send your link, leads and clients will only be able to choose from your set time blocks.
Follow the steps below to determine what should go into your time blocking.
1. Plan time to work on your business
Your first instinct every day might be to answer emails or move your client projects forward, but the first thing you prioritize should be work on your business. That doesn't mean ignoring all the other stuff – it just means you should block your business time during the hours where you're the most productive, so it gets your best attention and focus.
This work could be anything from marketing and sales to setting up your automations, contracts, and proposals. Essentially, any work that requires your leadership and strategy. You can use a CRM for small business like HoneyBook to help streamline all of this work and help make it easier to grow your business.
2. Set fixed times when you reply to emails
Now, this tip has ticked some of my clients off. How dare I suggest it, email is important, and you should know the second it comes in!
Should you, though?
Although some messages are important, by leaving our email open the whole day, we are ruled by other people's schedules. They get to decide when we should pay attention, and we spend the entire day reacting instead of acting.
So why not eliminate the distraction and set aside time to read and reply to your email twice a day? You'll be able to concentrate much better for the rest of the day.
Along with block scheduling your email time, you can also make sure there's a separate way for people to reach you in case of urgent questions or needs, such as via phone or instant message.
3. Schedule your breaks.
Does this seem silly? Maybe. Have I skipped lunch since adding breaks to my schedule? No.
I take a short coffee break at 10 am and a full hour for lunch. Refueling and getting refreshed are important if you want to do great work throughout the day – so schedule when you will actually prepare and eat lunch.
Sometimes we're prone to thinking breaks make us less productive, but it's actually the opposite. Breaks have been proven to increase productivity. They help us problem solve and feel more energized. They're also a good time to indulge in activities that otherwise might waste our time while we're working, like checking social media or catching up on the news.
4. Look at where all of your client projects are, and what needs to happen
Now, block out a chunk of time to work on your client projects. I like to work on projects in two or four-hour increments, but you can experiment and see what works for you.
Depending on what you do, you could also add deliverables to each block that should be completed after the block is over.
5. Make a list of everything that is leftover from this week or prior
Schedule all your leftover tasks next. If there are a lot of small tasks left over, consider scheduling a power hour to work on knocking all of them out in one go. Make sure you have the list of everything that needs to happen so it's easy to just move through each task.
The benefits of using a block schedule for work
Time blocking for work will help you stay organized and focused, and it can also ensure you're completing everything you need to throughout your workweek. I love setting aside every Friday to take a look at what I need to get done for the week ahead and placing my tasks in their assigned time blocks.
By doing this at the end of every week, you can finish up with a full inventory of what got done and what needs to happen. You can start the weekend knowing exactly what's coming up (goodbye, Sunday Scaries!)
Block scheduling gives you the mental space to actually focus on enjoying your time off work. Not only will it help you increase your personal productivity, but the sense of control of your time makes your clients, family, and employees much happier too!