Content creation doesn't have to be difficult. Our content creation system will help carry the heavy load that is nurturing your audience (and attracting new clients!)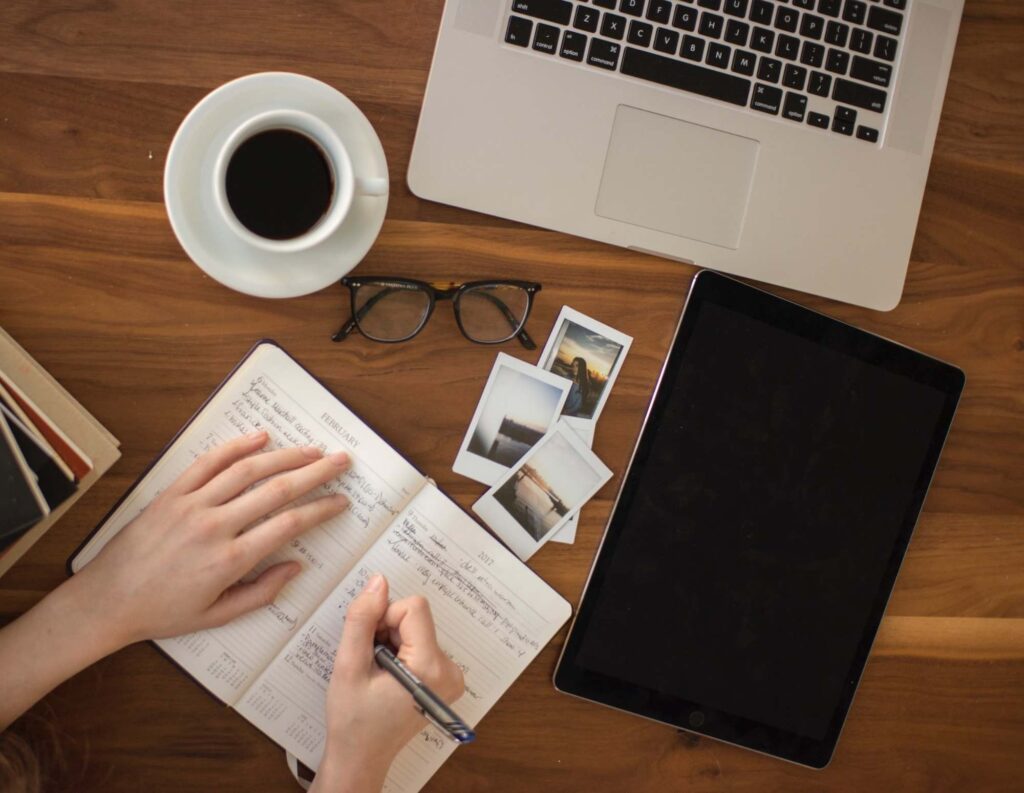 As an independent business owner you're probably already using content as a key piece of your marketing strategy. And why not? It's low-cost if not free, and can reach a wide range of people, plus, it allows you to showcase your personality.
This means the people who decide to work with you are not only investing in your skills but also in you as a person. Honestly, the benefits of content marketing are endless. But there is one major drawback — how time-consuming it is, especially when you don't have the budget for a marketing team. The good news? By creating a simple system for batching content creation, you can streamline this process and cut back on the time you spend marketing.
Jump to:
The feast or famine content cycle
It's likely that since you started content marketing, you've found yourself stuck in the content feast or famine cycle. It starts with creating consistent content, which attracts your ideal clients who start booking with you. Soon enough, your client roster is full and you couldn't be happier. But with all that time spent working so diligently to serve your clients you naturally had less time to create content.
Initially, this doesn't seem like a problem because your schedule is full. However, once you start offboarding these clients you realize that your pipeline has slowed to a trickle of new inquiries. So, with your newfound time after offboarding those previous clients, you start creating content again. And, again, the clients begin to roll in. This leads to a full plate, and no time to create any more content…you see where I'm going with this. The cycle goes on and on.
You find that just can't seem to make time to both serve your clients well AND market your business to keep the pipeline full. You know marketing is important, but you also know that providing your clients with an exceptional experience at every stage is even more important.
At this point, you have two options. You can either set aside some of your revenue to hire someone with your content creation like a social media manager or virtual assistant for example. Or you can adopt a system that will allow you to create consistent content without losing time with your clients (all while investing dollars elsewhere). Sound too good to be true? Let me introduce you to content batching.
What is content batching?
If your first thought was that you've tried batching in the past, but it just doesn't work for you, I want you to imagine the last time you made a batch of cookies. You pulled out all of the ingredients that you needed, along with all of the tools. You preheat the oven and then get to work.
Imagine putting just enough ingredients into your mixer for a single cookie. You mix up the dough for that cookie and roll it into a ball. You place that cookie on the baking tray and bake it for ten minutes before pulling it out of the oven and placing it on the cooling rack. Then, you do the same for cookie number two, and then cookie number three. On and on until you'd spent 120 minutes baking 12 cookies. When it could have taken you ten minutes to bake the same 12 cookies.
Okay, you've probably never actually baked 12 cookies like that, BUT, if batching didn't work for you in the past, you were likely trying to create content in the same way—piece by piece (or, cookie) instead of by step by step.
To save time, and move smoothly through the batching process, you have to break each piece of content into steps. Don't focus on working each piece through to completion before starting the next one. Otherwise, you aren't batching—you're creating a lot of content at one time. Or, attempting to, anyways. Instead, here are four steps you can take to get started batching your content (and being able to show up consistently while still serving your clients well.)
1) Set aside one week on your calendar
The very first thing you need to do to start batching your content is to set aside a week on the calendar for your batch week. Pick one week, and mark off the entire week so that you can't add new things to your calendar.
Worried about not being able to serve your clients well if you take an entire week each month to batch your content? You aren't the only one with this fear. With your first, or first few, batch weeks, it's going to likely be a little difficult to fully step back. As with any new routine, there's a transition period until you can make it your own.
The best way to help with this transition is to simplify how much content you're trying to put out during any given month. You don't need to post according to best practices to see growth and results with your content. If there's just no way for you to set aside a full week, cut back on how often you're trying to show up. The key to a successful batch week is that no matter how much time you have—five hours or 40—all of the content for the next month fits into that one week. So adjust accordingly.
Once you've got the first batch week on the calendar, go ahead and set up your batch week for the next six months, or even a year! That way you can be even more intentional about setting aside a batch week moving forward.
2) Determine your steps to content completion
Now that you know when you'll be completing your batch week, you need to determine the order of how you'll move through the creation process. Just like with the steps in a recipe, you've got to determine your content batching steps.
Take a moment to write down all of the types of content you're trying to create. Then, underneath each one, write down each step that you take to get that piece of content from start to finish. It'll likely look a little something like this:
Podcast episode
Choose topic
Create outline
Record episode
Edit episode
Upload to hosting
Schedule episode
Instagram post
Choose topic
Write caption
Edit caption
Choose an image or create graphic
Schedule post
After you've laid out every step for each type, you'll notice a pattern. How you batch content for Instagram will look similar to how you batch content for your podcast. There will be some differences, but for the most part, there will be a general flow to your system. Once you've determined that, you'll want to group those steps into just four or five steps. For example, when it comes to a podcast, maybe uploading hosting and scheduling episodes can be grouped.
3) Set up your calendar
I designate Mondays to complete the majority of my client work. That way, during the batch week, I know I'm still able to serve my clients well, but also can put aside everything else and give the rest of the week to content. So, my batch week tends to run from Tuesday to Friday. For some people, this just won't be an option, and that's okay. If you work with your clients daily, your best bet is going to be to set aside a couple of hours each day for content and simplify how much you plan to create.
The key here is that you want to start each work day with your content batching hours. Then, move into working with your clients. And, if you work with clients on a project basis, in the future, you'll just want to do what you can to avoid having projects due during a batch week. That'll be a bit of a trickier transition at first, but since you've already gone ahead and put your batch weeks on the calendar for the next year, the future will be much smoother!
4) Batch content creation
Now that you've got your system structure in place, all that is left to do is to get to work once batch week rolls around! Don't be discouraged if your first one doesn't go as planned. As with implementing any system, it takes a little trial and error. Soon, you'll be able to say goodbye to that feast or famine cycle in your business, and hello to showing up consistently and serving your clients well all at the same time.
Attract new clients with consistent, targeted content
Content creation doesn't need to be painstaking! Get organized and batch your content so you see less lag in incoming clients. With HoneyBook, you can keep your inquiries, service offerings, invoices, and bookings in an all-in-one clientflow platform like HoneyBook.
With HoneyBook, you can capture leads through a fully branded contact form, then automate your process for responding to them, vetting them, and selling your services. You can send individual files or create all-in-one booking files to get your work done faster.
Synch your content with your best-fit audience, then convert them into clients with HoneyBook!