On one of my #TalkItOutTuesdays in our private FB group, I was asked:
"How do I stay the course and adhere to pricing that befits my services when a high percentage of my couples are friends or acquaintances? I always feel compelled to offer a discount by virtue of knowing people."
This is a SUPER popular question that definitely deserves to be talked about.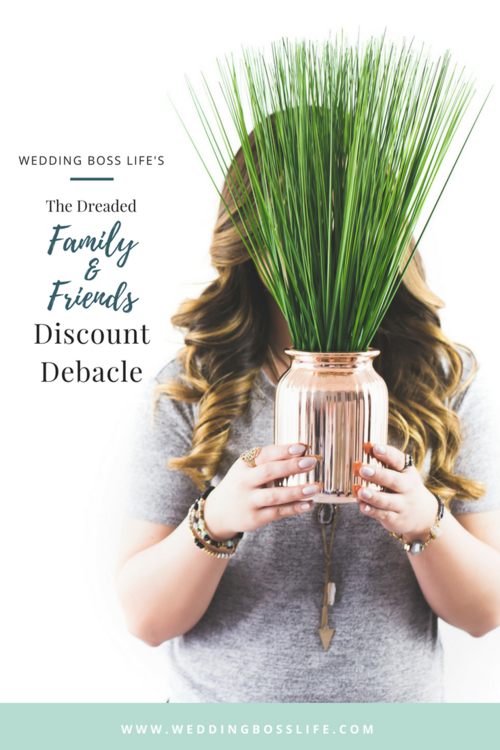 So, should I offer a discount to close friends or family?
If you offer your services or products for free or for a deep discount, you may hurt yourself financially, and over time, you may even begin to resent people you love. On the other hand, you don't want those closest to you to think you are selfish or ungrateful, especially if they have supported you along the way.
Though there is no one-size fits-all solution that works for every business or every situation, here are some things to think about:
Sometimes family and friends may not understand your business, and as a result, they may undervalue your service or overestimate your profit. It's worth taking the time to explain the costs involved in running your company, including time, supplies, travel expenses and other variables.
For very close friends and family, you could create a special package just for them—maybe a shorter ceremony or just a set percentage off. Or you can "gift" them something extra instead of offering a discount—offer them an additional sit-down with you instead of just a phone chat, or offer to be present to run through their rehearsal if you normally don't do that. That way, you aren't losing money but are still showing them how much you appreciate them by going above and beyond what you normally would for a "regular" client.
If a relative or friend has a product or service that can benefit you, offer to trade your expertise for theirs.
Determine how wide your circle will be. Is it blood relation only? Friends that you have known for a certain number of years? Maybe they need to have referred you to someone else? Once you open that door, make sure you know your boundaries of who fits the "family and friend" discount criteria.
Offering freebies and discounts not only costs you money, or more importantly in my opinion, time away from your family, but often cheapens the buyer's appreciation for the product and service. It may feel bad to not give in to these kinds of requests, but in the long term, respecting your business and yourself is ALWAYS the best strategy.
Personally, the most I will ever offer a client is 10% off my services.
This is the only discount I use, whether it is at a bridal show, for a family member, or as an incentive to fill up my calendar by booking by a certain date. I will only offer it to my closest friends and family if they ask. If they don't ask, it doesn't just automatically get thrown out to them.
Visit my blog for more advice on nailing down your pricing and boundaries—so you can start looking like the pro that you are.