Photographers have many options when it comes to marketing these days. The main question we get asked at The Art of Six Figures is, do Facebook Ads work for photographers?
Many photographers remember the days when they would post to their Facebook business page and they would get a ton of likes, comments, and shares. This is simply not the case any longer due to Facebook changing their algorithm. Now when you post, only .01% of the people that follow your page will even see your post!
Does this mean we should give up on Facebook?
Absolutely not!
Do Facebook Ads Work For Photographers?
In 2014, my wife Laura and I started using Facebook Ads for our photography business, LuRey Photography. We wasted a ton of money when we first started because we had no idea what we were doing. But, once we figured out what we needed to do to run successful Facebook Ads, it changed everything for our business and personal lives.
In January of 2018, we started The Art of Six Figures to teach photographers our Facebook Ads Marketing System. In 1 year we have now taught over 800 photographers how to maximize Facebook Ads to grow their business. In this article, I am going to give you a crash course on what I have found it takes to run successful, profitable Facebook Ads. I will also show you some examples of successful ads our members are running right now!
Be Where Your Clients Are
Your potential clients are on Facebook, that's a fact. Now how can you reach them? More importantly, how can you get them to book with you even if you have never used Facebook Ads before?
After helping hundreds of photographers launch successful FB Ads, I have identified the Top 7 Mistakes Photographers Make When Running FB Ads. One of the biggest mistakes I see photographers make is simply boosting a post. It's just not worth it.
Why?
Boosting a post without using the ads manager limits your ability to target your ideal client. As a result, you spend money with little to no return.
Let's take a look at what it takes to run successful Facebook Ads.
Facebook Ads Overview
In order to run successful Facebook ads, there are a few key components you need to have in place first.
Landing Page
Thank You Page
Email Follow-Up Sequence
The Facebook Ad
In the image below you can see how these components fit together.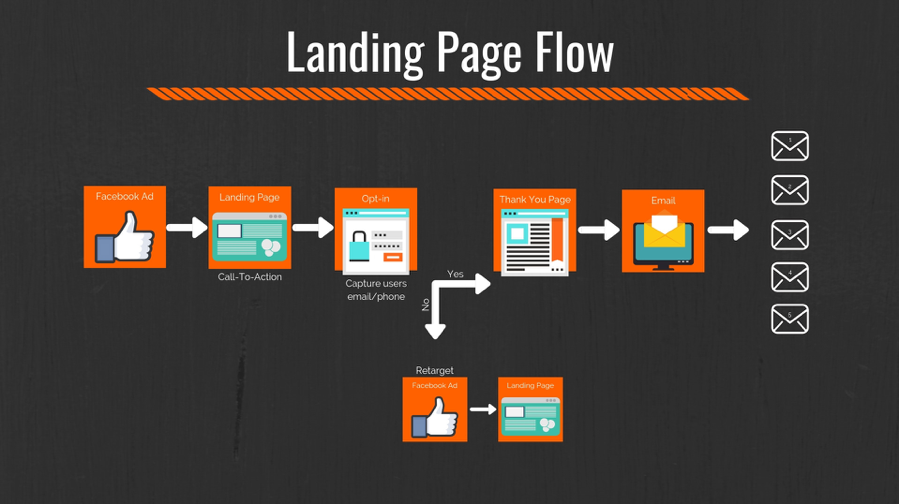 When someone clicks on your ad, they are sent to a Landing Page. On that page, there is a button or a CTA (Call To Action) that they can click to claim the offer. Once they click the button, a form will pop up asking for their email. When they submit the form they are re-directed to the Thank You Page. Once the form is submitted, it triggers an email that aims to provide educational value and further the users' positive experience with your brand. For example, you could send them an article on top wedding tips.
You can also mix in some past client testimonials, a full gallery of images, etc. The main point is to enlighten the potential client on what the experience will be like to work with you!
Create your email sequence with HoneyBook where you can customize your workflow to trigger an email every time someone submits a form.
Get 50% Off From Easton
Try HoneyBook, the business management software that helps him instantly respond to every inquiry.
[maxbutton id="4″ url="http://share.honeybook.com/AOSF" text="START FREE TRIAL" ]
If you aren't sure what a Landing Page, Thank You Page, Email Sequence is and how they differ from your website, we created a FREE mini course about the systems that we use for Facebook Ads. We also dive into how to launch your first FB Ad!
Successful Ad Examples
Check out some of these examples of successful FB Ads
The ad pictured above generated over $40k in new bookings!
The ad pictured above generated over $20k in new bookings!
This ad generated over 12 new wedding bookings!
Conclusion
So do Facebook Ads work for Photographers? I would say… Yes! 100%.
Everyday I get to work with photographers from all over the world to help them launch successful, profitable Facebook Ads.
I can assure you that they don't just work; they can change everything for your business! Want to learn more? Head over to our website The Art Of Six Figures!