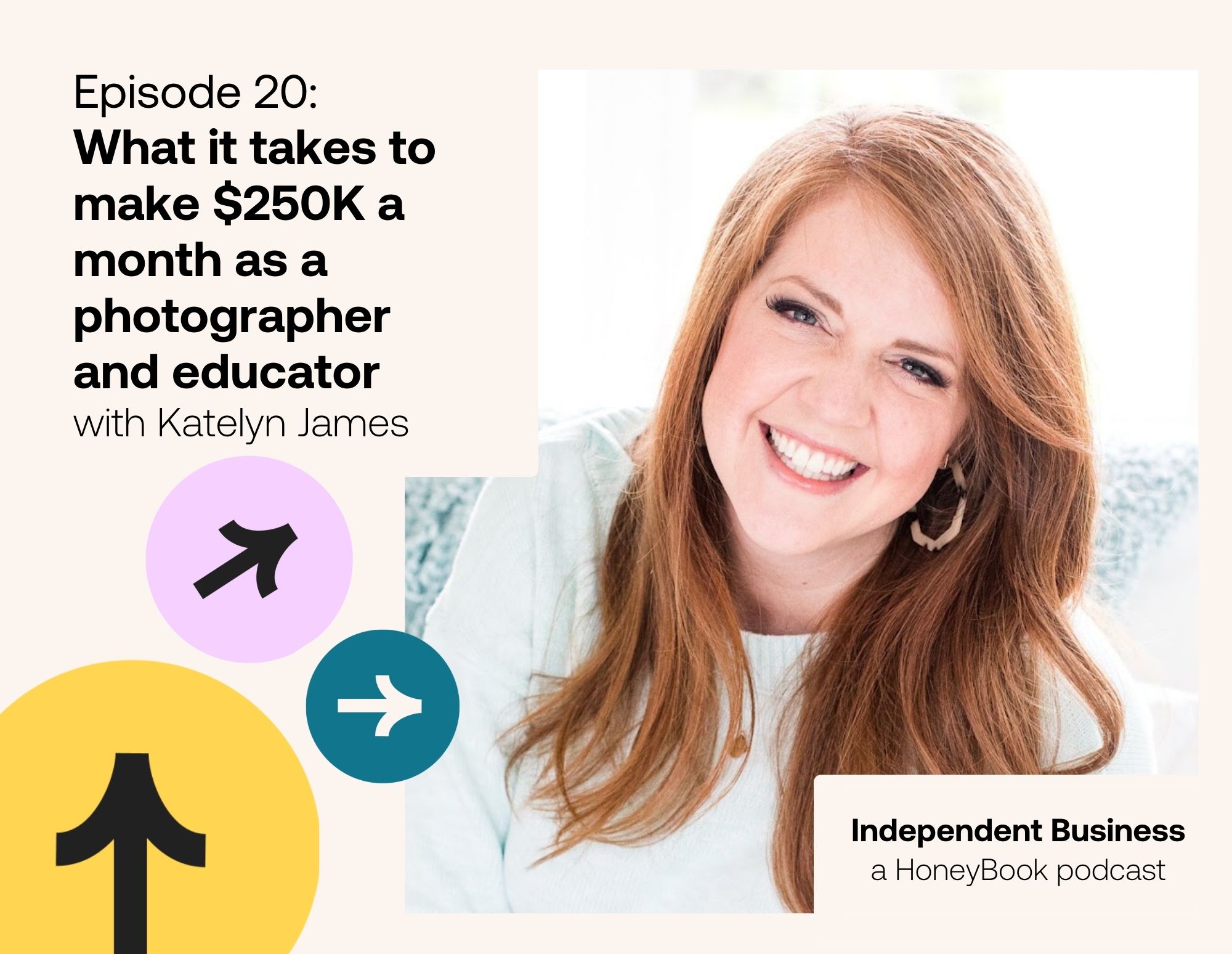 What does it really take to run a multi-seven-figure business as a photographer and educator? The first thing it takes is a growth mindset.
Katelyn James is a trailblazer and a trendsetter who has built a business that generates over $250,000 every single month. In this conversation, we pull back the curtain and talk about what many won't: From personal sacrifices to burnout, we're discussing what it truly takes to adopt a growth mindset and generate $250K monthly.
The Independent Business podcast is powered by HoneyBook, the all-in-one platform for anyone with clients. Book clients, manage projects, get paid faster, and have business flow your way with HoneyBook. Use the code PODCAST to get 20% off your first year as a new member.
Follow the Independent Business podcast
What it takes to make $250K a month as a photographer and educator
Earlier this year, Katelyn was featured in a CNBC article that highlighted her business's financial success—since that article was published, Katelyn's monthly revenue has increased by $10K, from the reported $240K to $250K. While it was a huge honor to be featured, the article did not fully encapsulate Katelyn's journey to where she is today.
Making sacrifices and dealing with burnout to create a growth mindset
In college, Katelyn lived a double life: She was a busy student and a photographer running her own business. She became the friend who always said no to social events because she had to work. Katelyn thought things would change when she graduated and got married, but her self-diagnosed workaholism continued to impact her relationships, including her marriage.
Katelyn's go-getter ambition has landed her in burnout mode several times. During her most recent season of feeling burnt out, she realized that the burnout was fueled by believing untrue thoughts. For example, she recognized a pattern of believing that if she didn't create something new for her business, her family would suffer. Additionally, she felt that if she took time off, she would lose everything.
This mindset became a problem she needed to overcome. Through each of these seasons, Katelyn has developed healthier ways to work that prioritizes her marriage and family and allows her to take time off. This mindset came down to a shift in priorities and helped her create a growth mindset that incorporated time off and work-life balance.
How a growth mindset promotes success
After years as a full-time photographer, Katelyn decided to pivot and break into the educational content world. Her goal was to make photography education more successful because there were so few resources outside of college courses for people wanting to learn.
By building courses, Katelyn was willing to both give back to the community through education on how-tos, changing trends in the photography business, and more. She was able to both adapt and educate on her own adaptation.
Both the photography and education industries changed several times throughout her career, and the rate that things are changing now is faster than ever. Rather than fearing change, she's learned to adapt and maintain a growth mindset instead. She learned that if you can't "speed it up" or expedite processes with tools like automation, you can't grow your hourly rate (or those of your employees, if you have them.)
Building trust by giving to your audience
When Katelyn began her pivot into photography and business education, she followed her dad's sage advice about "the two G's." He told her that to be successful she needed to be great and she needed to be a giver.
Through her blog, video content, and free resources, she had already been consistently pouring into the photography community. Therefore, when Katelyn's first course launched, she earned $70,000 in a weekend from that community she had already been giving free resources to. This is because Katelyn took the time to earn the trust of her audience, and they rewarded her in return. They knew they needed what she had to offer.
Recently, Katelyn has gotten back to giving to her community through her YouTube channel, and as a result, her business has skyrocketed. Katlyn's success is due to the time she spent building trust with her audience and creating systems that made it easy to convert them into clients.
The challenges that come with success
Now that Katelyn's business has experienced massive success, she deals with new pressures that come with maintaining her business at its current level. As an employer of a small but mighty team, Katelyn can't decide to simply shut her business down and start over with a new creative idea—this would impact each and every one of them. Instead, she has to work on her creative ideas on the side while running her current business.
As a creative, Katelyn has learned not to make big decisions based on money or fear. Her best creative ideas come when she is "in the flow" and not thinking about the business side at all. She now thinks about how her ideas fuel her creativity and can help others.
The biggest differentiator between the businesses that succeed and the ones that fail
Katelyn believes that the businesses that succeed are rooted in purpose and have a vision beyond their bottom line. Katelyn embodies the "rising tide raises all ships" mentality. When you work towards greatness and prioritize giving, the community around you thrives and lifts you up, too.
Important sections of the conversation:
[1:05] Katelyn's CNBC article
[3:41] Katelyn's beginnings as an entrepreneur
[9:22] Pivoting into photography
[16:48] Getting to the root of burnout
[26:24] Staying open to change
[29:43] Pivoting to education before it was cool
[39:19] The pressure that comes with massive success
[47:16] The biggest differentiator between the businesses that succeed and the ones that fail
Sources mentioned in this episode
Connect with the guest