By optimizing her system to better manage her clients, Ce'Erica freed up bandwidth to take on more clients, complete projects faster and, ultimately, grow her business.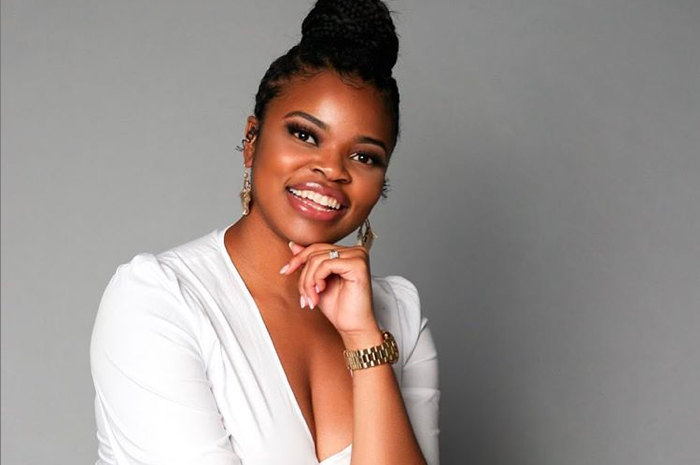 Ce'Erica Allen of FRSH Marketing, Branding and Design provides graphic design, marketing and branding services to help business owners "work smarter not harder through the approach that less is more." As her business grew, she needed a way to better manage her design clients to take on more of her ideal customers and earn more revenue.
The challenge
To onboard clients and manage her projects, Ce'Erica was using a couple of different tools, including Excel, Calendly and Google Docs. Without an optimized client management software for small businesses, she ended up:
Being spread too thin
Ce'Erica found herself spending time on her business operations every day, tracking whom she needed to follow up with, which client owed payment when, and everything in between. She updated a Google Sheet with outstanding/received payments and took notes on the last communication she had with every client. All of this manual tracking meant less time for actual design work, let alone strategizing how to scale her business.
Wasting time
Collecting the information she needed from clients to move them from project start to finish took way longer—and was way harder—than it should have been . Since some of her clients aren't tech-savvy, she was looking for a user-friendly way to easily collect the information she needed from them.
Working with so-so clients
Without systems in place to help her qualify inquiries, Ce'Erica was meeting with all kinds of clients. And if she talked to them, she felt compelled to work with them—even if they weren't the right fit. The result? She spent more time working with these clients and for less money.
The solution
Ce'Erica turned to HoneyBook, a CRM for graphic designers, to streamline the process of onboarding clients and managing her projects. "I specifically use HoneyBook to keep up with client communications and project details," she says.
Below, she shares how HoneyBook fits into her business process.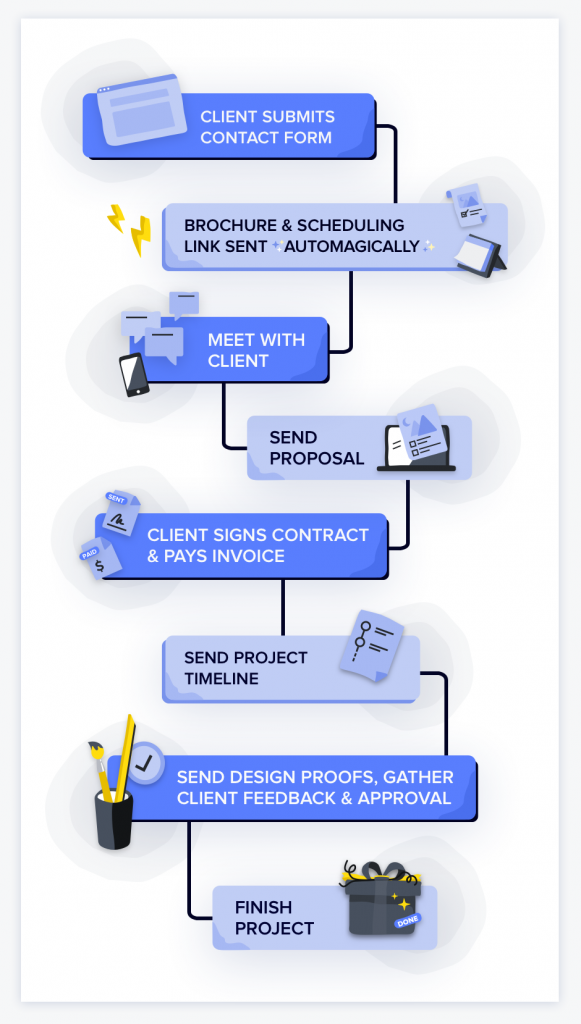 Step 1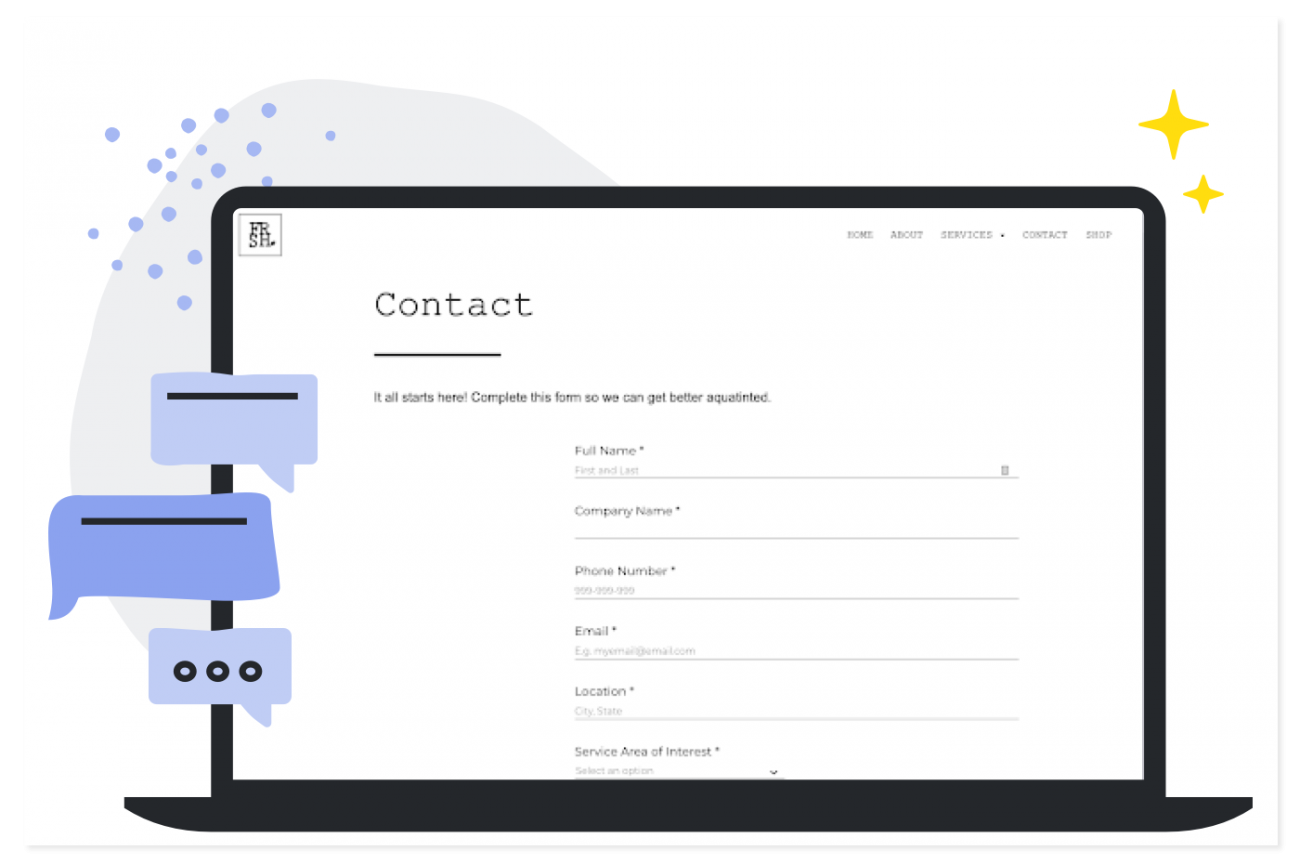 A client inquires through my HoneyBook contact form online. There they submit their information including contact details, project details and deadlines.
All of this information is automatically added into my HoneyBook account.
Step 2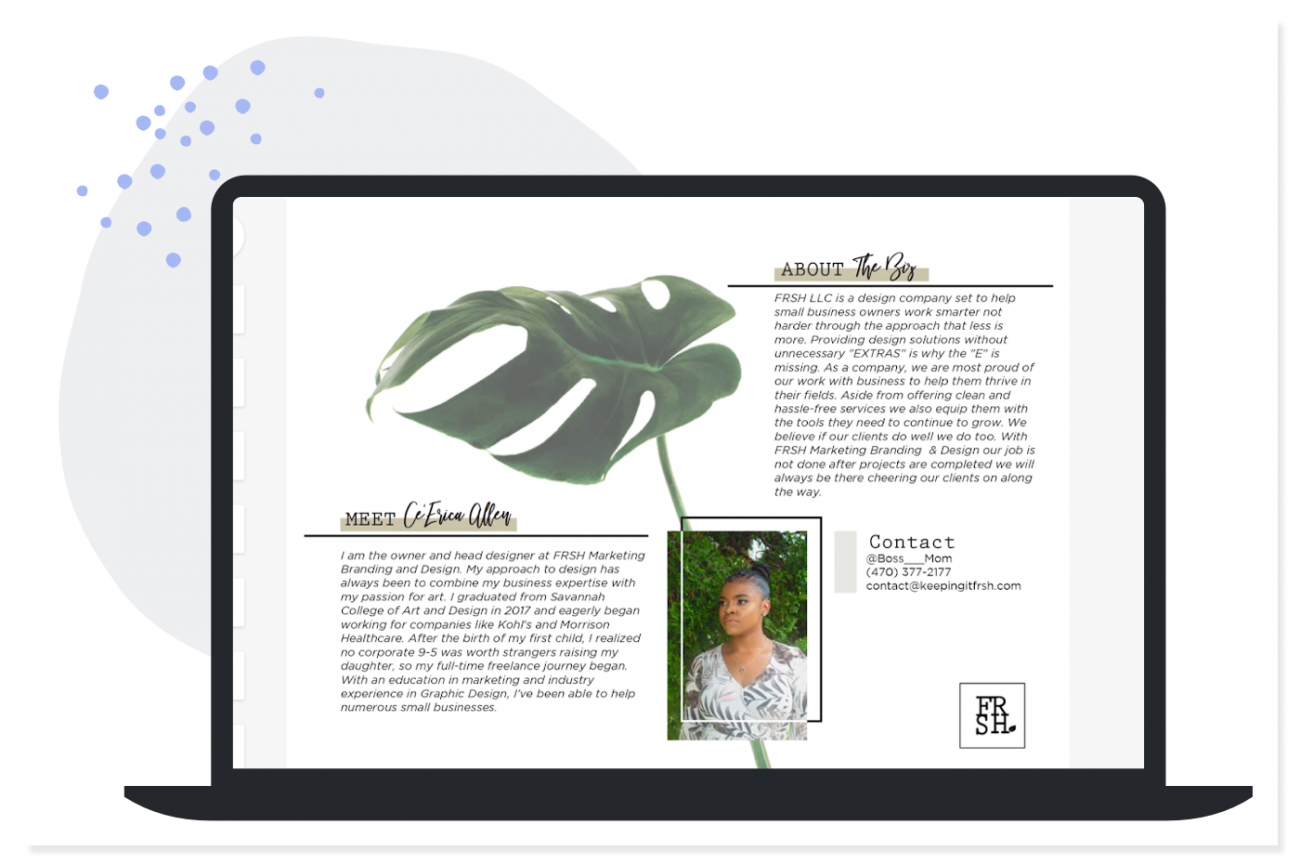 The client receives a brochure that outlines the services that I offer so they can review pricing before booking a consultation call. The link to schedule that call (using HoneyBook's online meeting scheduler) is also linked in the email.
To have this go out automatically, I used a HoneyBook Automation that's triggered to send the email as soon as the client submits the contact form.
For about half of the emails I send, it's not actually me sending them. I'm so big on making templates and using automations because it saves time, and it makes clients feel like they're talking to me. With HoneyBook, clients 'talk' to me 2-3 times before I actually ever really communicate with them.
Step 3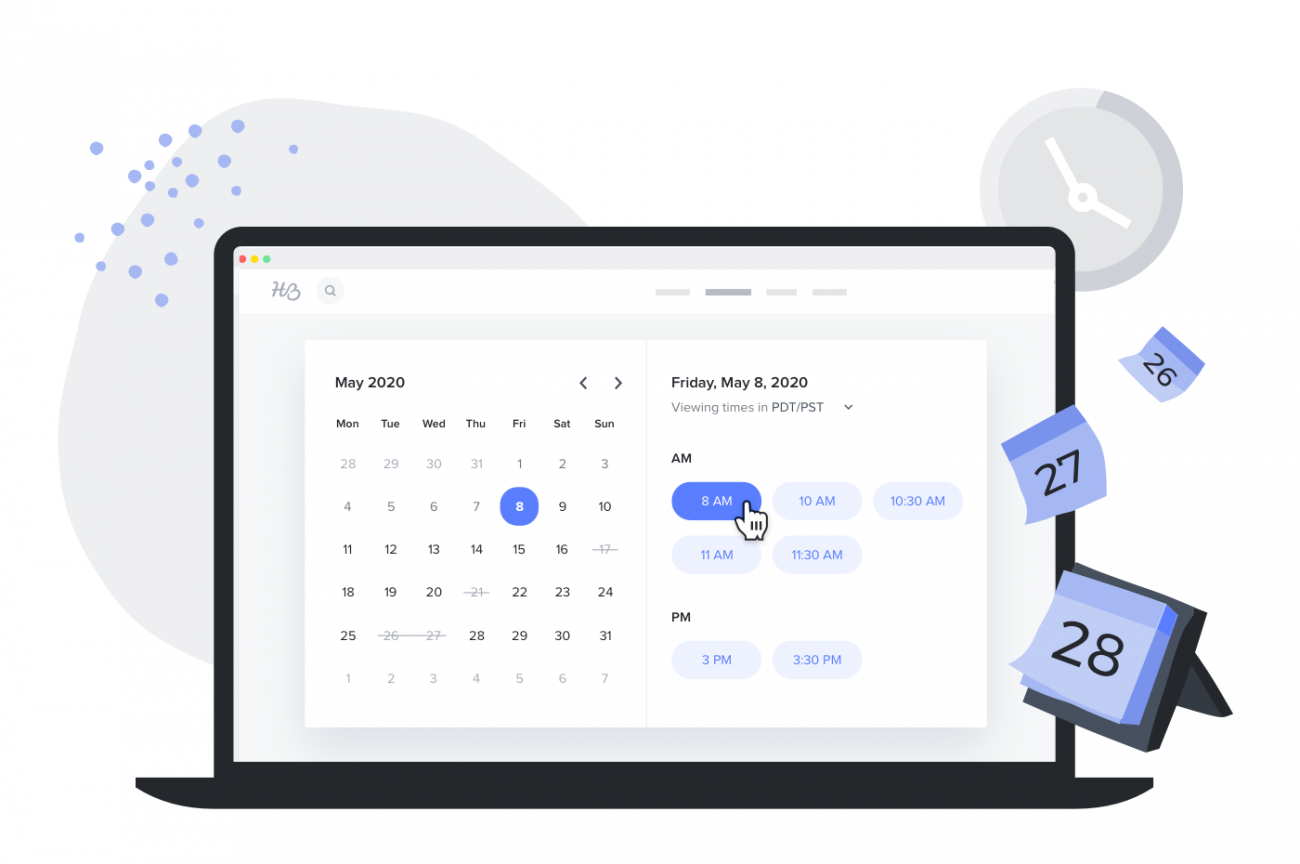 Once the call has been scheduled, we discuss their specific project needs, ideas and concepts.
Step 4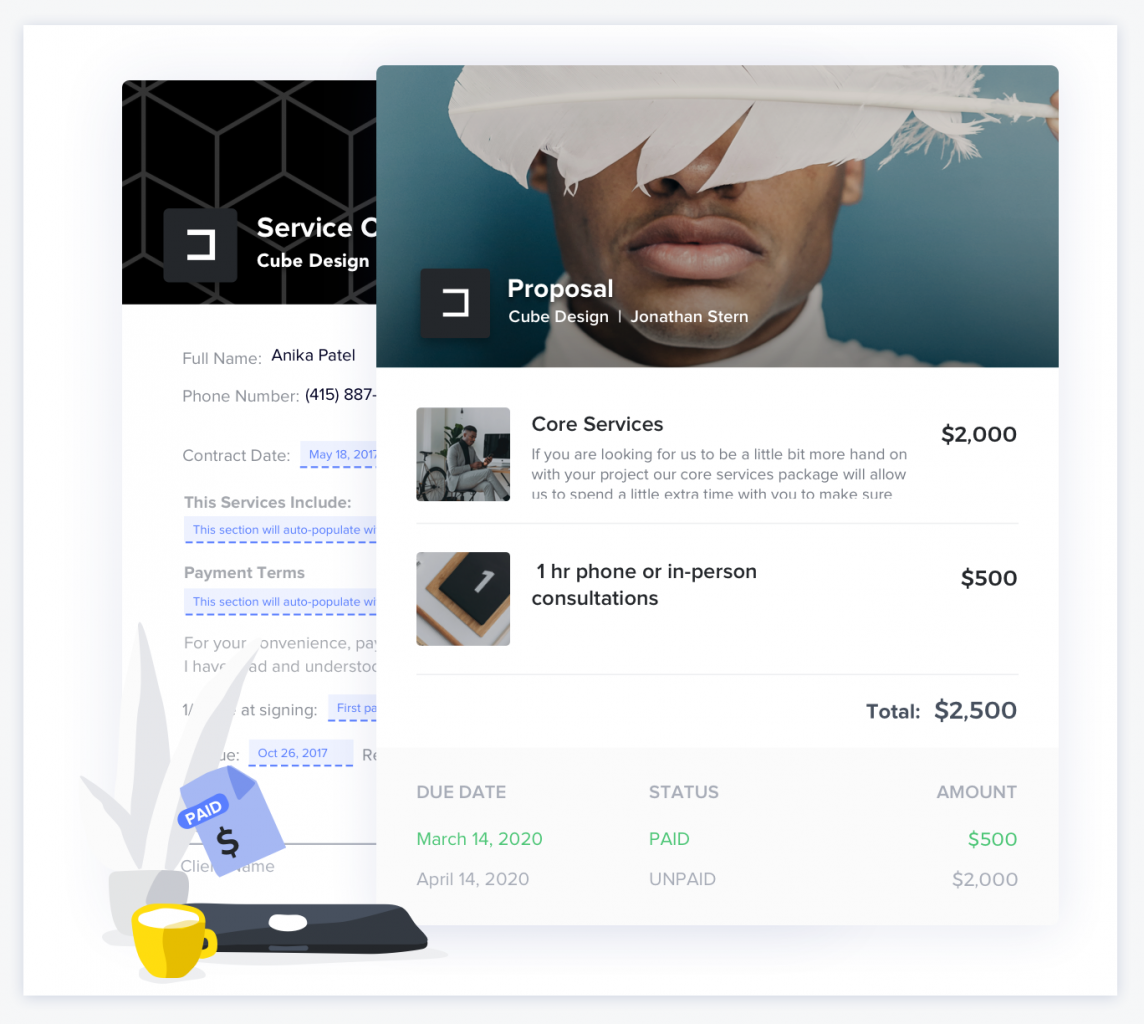 A follow-up email is sent recapping the conversation with a proposal that includes an online contract and online invoice of the items that we discussed. 
I have a HoneyBook template for this, too, and only need to change a portion of text to reflect what we talked about in the proposal. I create this in HoneyBook and send it from the client's project workspace so it's easy to keep track of everything.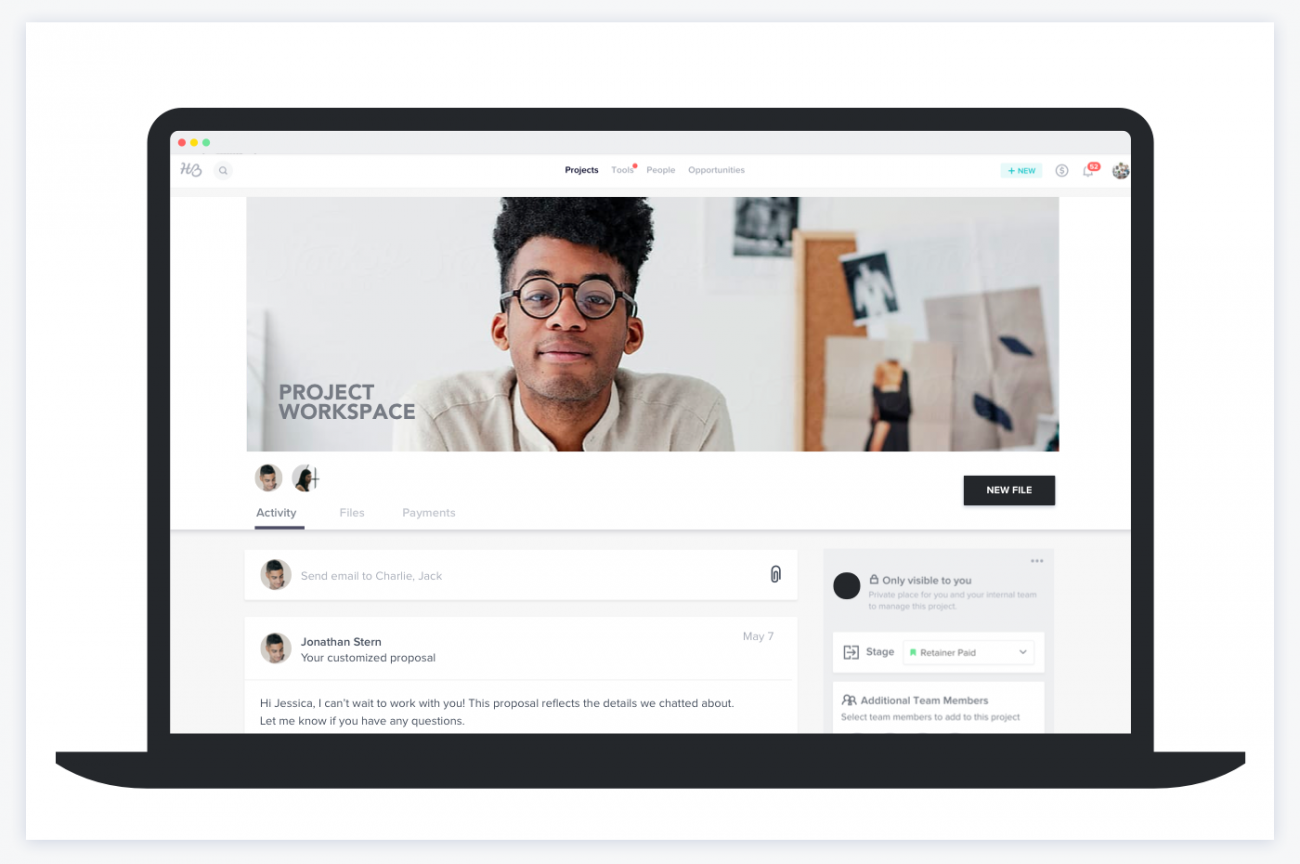 There's less hiccups along the way because the client can see everything at the start. And I love being able to get an overview of all communications in one place.
Step 5
Once the client pays through the HoneyBook invoice link, they receive a timeline with deadlines for required items.
Step 6
I begin to execute the project items by the deadlines listed in the timelines. I send proofs through the HoneyBook client portal.
This makes it really easy to get feedback from the client to keep the project moving. It's a very user-friendly experience for the customer who isn't always the most tech savvy.
Step 7
The client provides final approval and they receive their final files.
Also, for every project, along the way, I move clients to different project stages in my HoneyBook pipeline so I always know where every one of my clients and projects is at.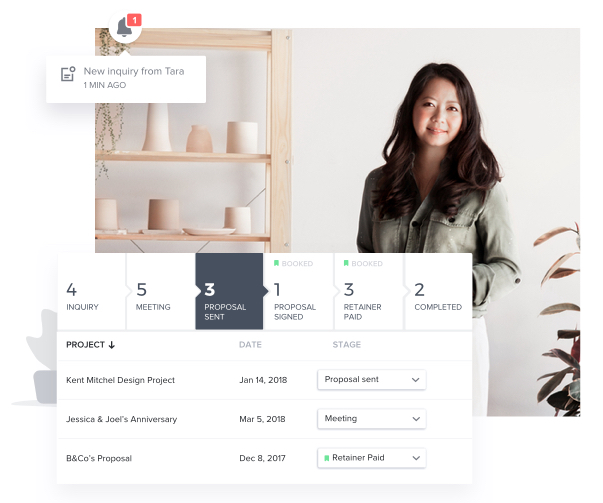 The results
By optimizing her system to better manage her clients, Ce'Erica freed up her bandwidth. She has time to take on more clients, complete projects faster and, ultimately, grow her business.
80%
More clients booked and retained than before
84%
Less time spent working in her business and chasing after clients
More Ideal Clients
By having a tried-and-true client management process, she could easily weed people out at each step to only work with those who were serious about success.
"Knowing I had a better process in place to manage more clients gave me the confidence to push my contact form link and really grow my business. When it comes to my client management process now, I set it and forget it," she says. "I'm getting so many referrals and repeat business that I don't have to market myself. HoneyBook helped me run my business on auto-pilot."
I'm getting so many referrals and repeat business that I don't have to market myself. HoneyBook helped me run my business on auto-pilot.
Thanks, Ce'Erica!
Get ready to simplify & scale
HoneyBook takes the heavy lifting out of running—and growing—a services-based business off your plate. From managing inquiries to helping you get paid to streamlining your projects, HoneyBook can be customized to fit your process, whether you're a graphic designer like Ce'Erica, a business coach, an interior designer or a doula, just to name a few.
Learn More:
This post was updated in August 2021 when the HoneyBook Workflow tool was renamed to Automations. The HoneyBook Automations tool maintains the same functionality with the ability to automate communications, tasks and more. For more information about the Automations update, check our August 2021 Release Notes.