You draft the perfect social media content in hopes of building your brand and getting more business connections. You've thought carefully about the copy, curated the hashtags, and fit it within your brand image and vibe. And then you hit post while giddily awaiting the likes and the clients to flood in.
A few minutes go by, with only one or two likes. It's okay, you think, that's normal. People are busy. Thirty minutes go by and you get another few likes. Internally, you're trying not to panic because people must be seeing it in their feeds, right? An hour goes by and you refresh the feed, maybe your phone was malfunctioning? Crickets.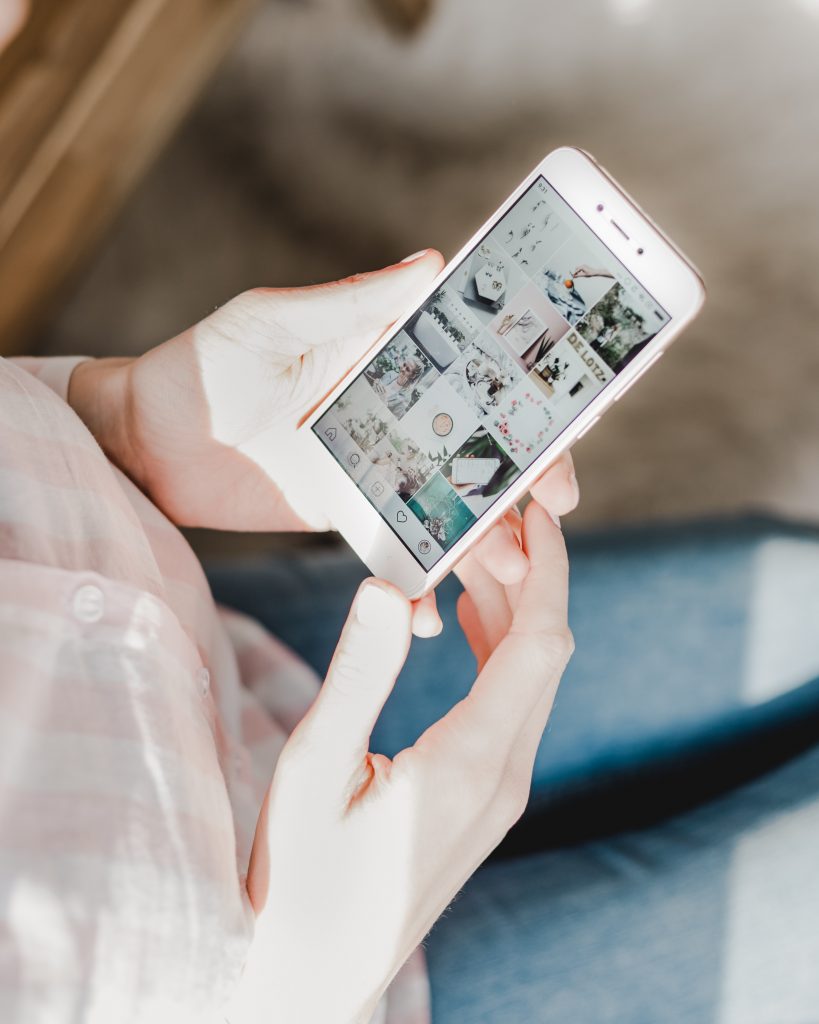 Have you noticed this happens to you after you post to Instagram or Facebook? What gives? Why is no one engaging with your posts? Where are all the business connections?
I find that when people are experiencing this kind of lackluster engagement via social media, it's because they are being far too impersonal. There are two key problems here:
They're relying way too much on social media and need to get out there and make more personal connections.
The social media outreach they are doing needs to be in the service of making those real connections.
This is not just about feeling warm and fuzzy—over reliance on digital posts and meaningless "hearts" can and will kill your business's growth.
Here, I'll show you four ways to break out of your social media bubble and make real connections that will vastly improve your client base and brand reputation.
Want More Business Connections? It's Time To Get Personal
When you have a personal connection with someone, there is a level of trust. There's nothing more vital to landing clients and building your services business than trust. And for all the benefits of doing business online, it actually makes trust harder to build.
For social media to work for your service-based business and reward you with more connections, it should be an arm of your overall business marketing strategy that includes building trust on and off the internet.
If you think you can rely solely on social media to get more business connections and build your services, get people to buy your stuff, or refer people to you, you may be heading in the wrong direction.
Consider the notion that social media may actually be stunting your business growth. Why? Because you are too reliant on it to handle your outreach.
Instagram, Snapchat, Facebook, Twitter, Tumblr, and every other form of social media—these are essential for any business in this era, but they should be an ancillary aspect of building your business, not the primary method.
So much focus today is on technology and the immediacy of social media, that we forget some of the strongest building blocks of business are referrals and drawing in people who genuinely love and support you and your brand.
Don't get me wrong, I use social media every day in my business. Running a beauty concierge service requires a lot of time on social media, most of which I handle via my computer or phone.
However, I am not trying to build my business by relying on social media. Social media is not going to personally refer my business to others, and it's very difficult to convey a sense of trust to my ideal clientele solely via social media.
You know what does? A personal touch.
Here are some ways to incorporate a personal touch into your marketing strategy that will boost the effectiveness of your brand's content, online and offline.
Get More Connections at Networking Events
Start by getting away from the computer for a little while and going to networking events.
You can begin with events that are in the area of business you're in (e.g., wedding groups, technology groups, etc.). If you have a specific demographic in mind, like 24-to-35-year-old women in San Diego, then go to the networking events that those women will be at.
If you're uncomfortable speaking in front of others or succinctly pitching your idea to others in conversation, start small.
Personally, I go into networking events just looking to have a good time and to make genuine connections with people. I don't go in focused on meeting a certain type of person or getting a specific contact. That's way too much pressure and typically doesn't work out in my favor. Plus, when you make a genuine connection with someone (doesn't even have to be over business), they are more likely to remember you.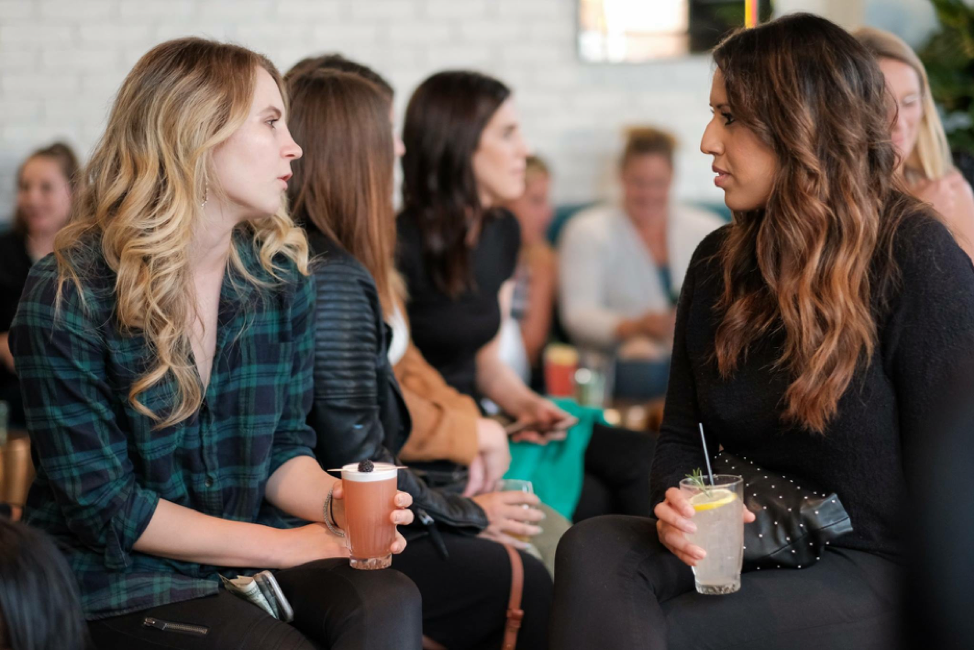 You'll be able to tell if this is even someone you want to work with, collaborate with, or want to be a proponent of your brand.
In person interaction gives you a much quicker sense of someone's persona than email correspondence, where you can hide behind the keyboard. Explore Eventbrite and Facebook events for events in your area that may work for you or the demographic you're trying to connect with.
Going to these events takes you out of your "social media bubble," and helps you meet the exact people who could become your clients or refer you to people who will.
Use Social Media to Meet People Outside of Social Media
Social media is a necessary evil in business. There's no escaping it. Problem is, it isn't very personal. We all post the best versions of ourselves on social media, rarely (if ever) the downsides or unfiltered versions. There's nothing necessarily wrong with that. However, you rarely get a true sense of someone, nor them of you, if you rely on social media to build business connections.
So how do you build genuine relationships, while still maximizing the effectiveness of social media? Meet them in person.
Find the people you want to work with on social media, and then extend an invitation to meet them outside the app.
This is my primary mode of building relationships with other vendors and collaborators who could bring in referrals and help me get more clients.
When I find someone I want to work with, I don't just follow them and like all of their photos (though I do that, too).
Rather, I do my research on them. What drew me to them? What do I like about their business? How can we work together? And then I start a dialogue.
For instance, this is an excerpt from a blog post I wrote about ways you can find people you want to work with on Instagram.
Quick ways to find people you want to work with on Instagram:
Research a specific hashtag related to the business you want to work with. For example, when I am researching wedding planners, I may use #sandiegoweddingplanner.
Pay attention to the tags. You like that blogger's shirt? Tap the photo and see who it is. Like that photography style? There should be a credit below the photo in the caption.
Investigate similar accounts. You follow a specific food blogger and love the content, hit that button next to the "following" and see who else has similar content.
You don't have to spend a bunch of time on this. Twenty minutes a day tops will get you lots to work with.
After finding someone I want to collaborate with, I start a dialogue either via DM or email. In my message to them, I am genuine and authentic. Make sure you actually like the person's work and are not just reaching out in hopes of making a dollar. Those relationships will not last.
You want relationships that you can build on and are symbiotic.
In your correspondence, say what you like about their work, a little bit about yourself and how you think you can work together (how you can benefit them as well), and then invite them to meet in person.
I always try for coffee dates or meetings over lunch. These are typically very casual, and people feel at ease meeting for coffee, as it can be as short or as long as they want it. You allow them to dictate the length of the meeting.
Here is an example of an email I have sent to some event planners to meet up: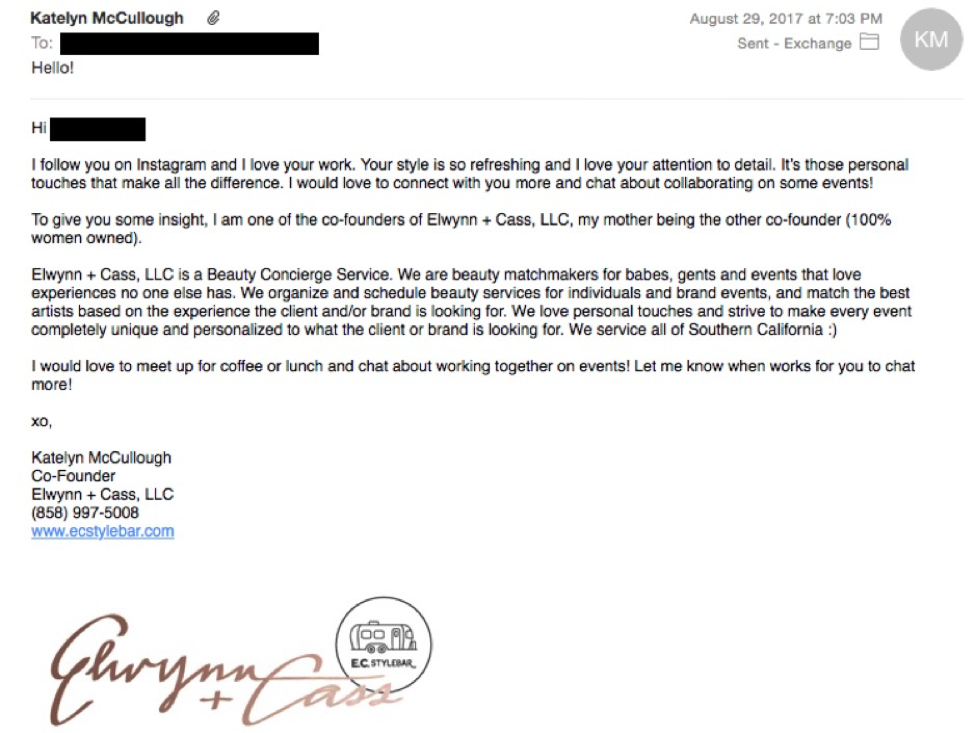 Keep the email lighthearted, and when you meet up, talk about things other than work. Get to know them, build rapport, and then you can chat about business.
You can apply Gary Vaynerchuk's marketing strategy of jab, jab, jab, right hook, except the jabs are you getting to know them, and the right hook is asking to work together. Which, by the time the meeting is over, they should feel comfortable with you and be willing to continue the relationship.
Side note: If you aren't able to meet in person and/or your business services non-local people, at least schedule a phone call or Skype video chat. You can still get a more genuine connection speaking over the phone than via email, text, or DM.
The Power of the Follow-Up
Business connections and relationships are no different than any other. One meeting is not going to build a lasting relationship. You have to nurture it. This means follow-ups are a necessity. Not an option.
Follow-ups are essential to building rapport and letting the person know you actually care about them and don't think of them solely as a number or a dollar.
One of the first planners I ever met with told me to follow up with her every few weeks, because otherwise she would forget me. Not to be mean or to imply she doesn't care, rather to acknowledge that she has so much going on with events and different collaborators, that if I didn't follow up, I wasn't on the top of her list. Makes sense.
I apply this principle to everyone I've had the pleasure of working with or who has referred me. Maybe not every two weeks, but frequently enough, like every month or so, depending on the strength of our relationship.
If you have met in person or on the phone, you can do a follow up via email or text. Keep it simple and personal. For example, I may say something like this:
————————————————-
Hey babe!
Hope all is well with you! Just wanted to check in with you and see how you are doing! I would love to grab coffee with you sometime soon to catch up. Let me know when works for you.
Talk soon xo,
Katelyn
———————————————–
My email is meant to start the conversation that leads toward meeting in person. I never want to keep the conversation just via email, as this is not personal and you miss so much in translation over email/text.
Another way you can follow up or show your appreciation?
Send a handwritten card. It's old school, but I can tell you the sentiment is not. It's amazing how far a handwritten card will go in building a business relationship and rapport with clientele. It signifies that you actually care enough to take time out of your day to sit down, write a personal message, and then put it in the mail.
That may only take five minutes, but it's five minutes more than most people will spare. And this will elevate your brand in their eyes much more than an impersonal text or social media comment.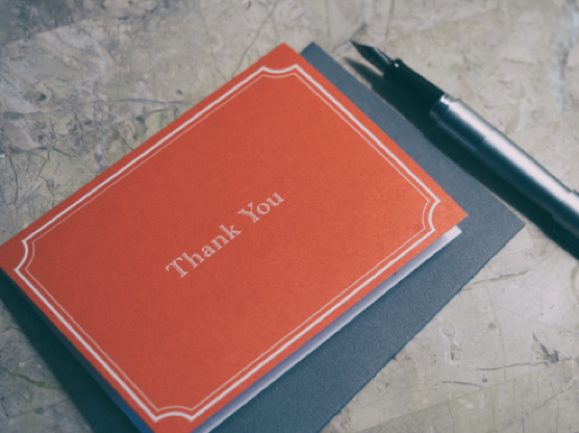 Because of efforts like this, 85% of my business connections comes from referrals. I will take those any day, because it shows they know how I work and trust me to deliver for their clients.
Tip: Try to remember details about each business connection's life. Like actual details about their personal life, not just their business. If they mentioned they have a 5-year-old son who loves soccer, or they love sour beers, or like to travel, mention those details when you send that follow up.
Make Social Media More Personal and a Reflection of Your Brand
Since social media is valuable to get more business connections and in building your brand (and honestly it would be a shame not to utilize it), you can still find ways to be genuine and add a personal touch.
Your business is what you do. Your brand is all that you are and want to portray.
Yes, pretty pictures win on Instagram. Funny videos win on Facebook. Is the content a reflection of your brand though, at its essence? You want the content to be something you can stand behind.
Giving some personal information about yourself allows those following you to learn a little bit about you and connect with you on a deeper level. It makes you more relatable.
For example, even though my business is a beauty concierge service and I organize beauty services for events, I also share information about my mother or myself, as we are co-founders. I share our professed love of mimosas (pineapple to be exact). Does this have anything to do with beauty? No, but it has everything to do with giving to our audience. Allowing them to see a side of us that they would otherwise never get. They get to connect and then we get to build on that relationship with the rest of our content.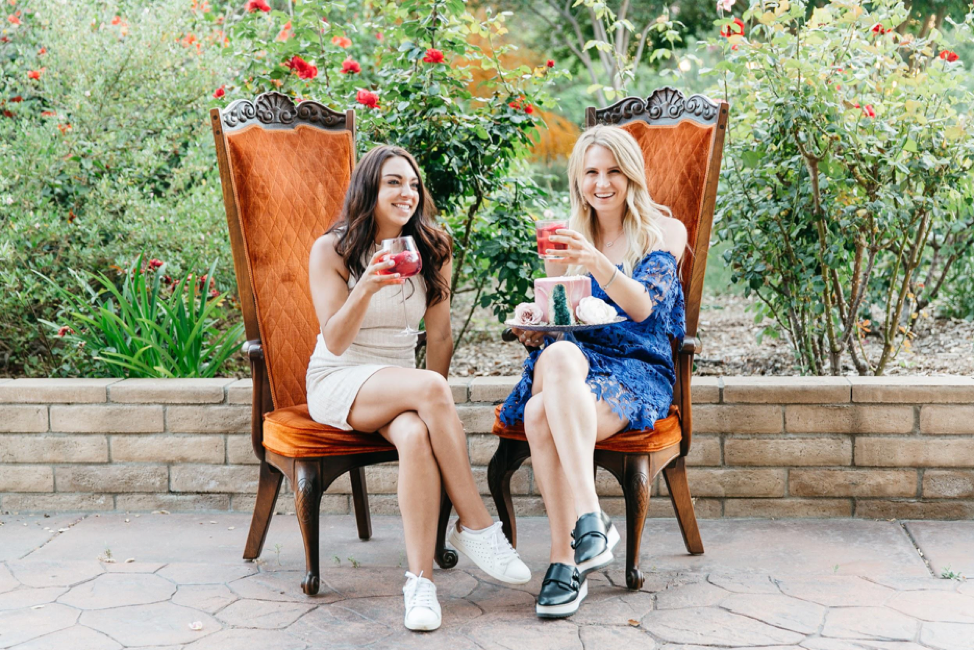 I can honestly verify that this works. I had a meeting with a planner a little bit ago at a bakery and at the meeting she surprised me with a mimosa. As she gave it to me, she said that she read about our love of pineapple mimosas on our website and social media. They didn't have pineapple juice, but she asked.
This moment just made my day because it showed that she cared. We made a connection and as a result, we already have some events in the works together. It doesn't take much, just an honest effort to get to know someone.
If You Truly Like Something, Comment
Likes are useless. It's so easy to like a photo or a video, or retweet something. It doesn't actually mean that you care. More than likely, you are just playing the numbers game.
I am sure you have noticed it, but the ratio of likes is significantly higher than comments on any Facebook or Instagram post. It's easy.
Commenting though? Commenting is where you get noticed.
I almost never remember the people who like a photo of mine on Instagram or Facebook, but I always remember those who comment. It takes two minutes of your time, but it means you care enough to express your opinion.
This follows the principle of being authentic. Comment if you genuinely have something productive to say. Leaving a smiley face, thumbs up, or any other single word/emoji is the equivalent of just liking the post. It means nothing, and honestly has me suspecting you are a bot.
Comments are about quality, not quantity. Five thought out, genuine comments are going to more significant than 50 "great post" comments.
Are You Ready to Find More Business Connections by Being More Personal?
Social media is a great tool to promote your services business, but it should not take the place of in-person connections. If you want to discover how to get more connections, use your social media account to find people to connect with, and build upon the connections you also create offline.
Here are the takeaway points:
Attend networking events. Go to have fun, and the connections will follow.
Meet in person. Over coffee, lunch, happy hour, a hike, doesn't matter. Make that face-to-face connection. If you service non-local clients, meet over the phone or Skype video.
Follow up! Be at the forefront of people's minds. Do monthly coffee talks, or if you met at a networking event, plan to attend the same event to catch up.
Be engaged. Don't let the numbers game of social media overwhelm you. Focus on making real connections. That will matter more than a vanity metric.
Most of all, just give. Give of yourself, and the business connections will follow. I promise you.
So what do you think? Are you hiding behind social media? Want to reach out? Let me know what you're doing with your own business below.
---