Are you considering redesigning your website? Learn how to redesign a website in four steps.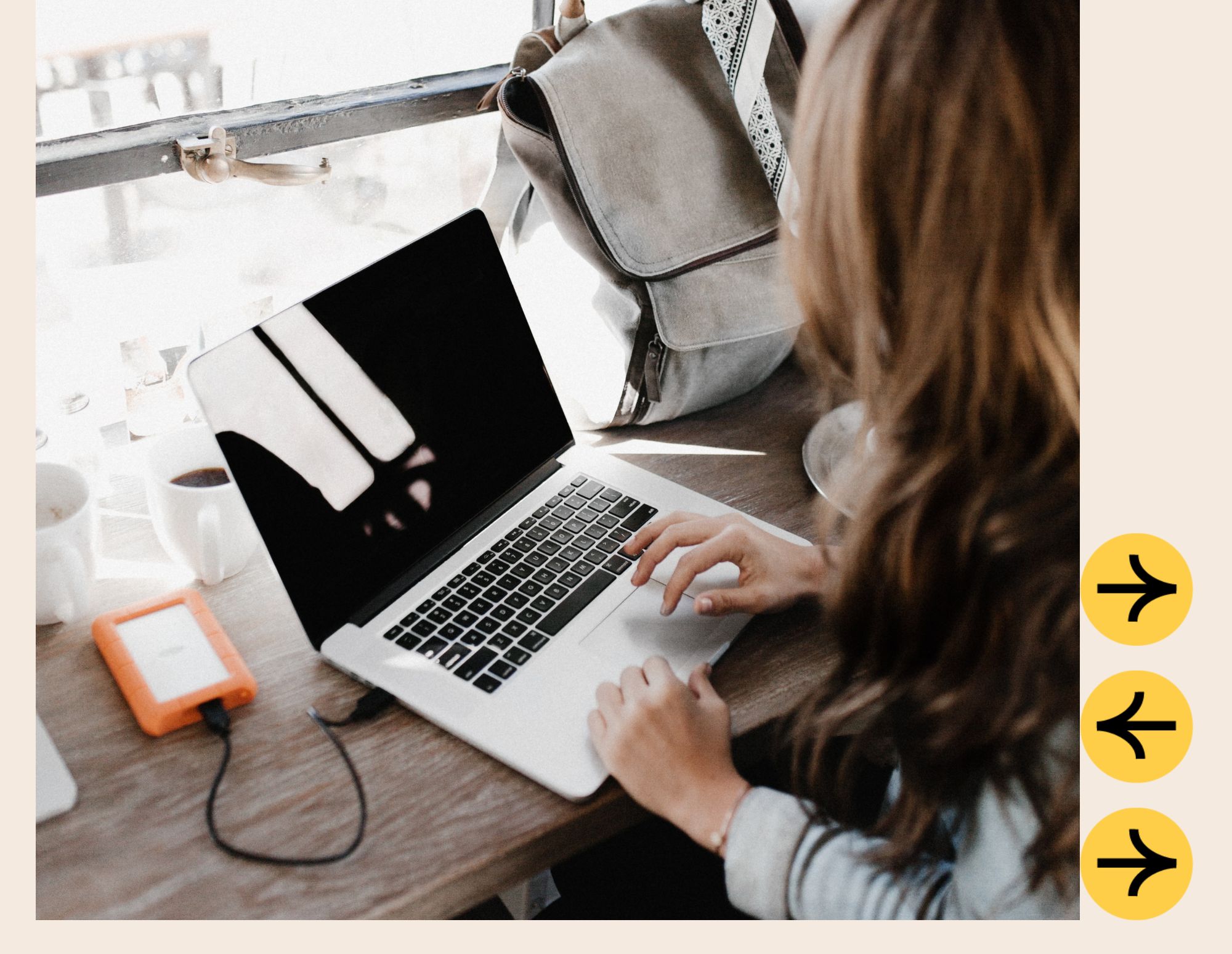 Ever get the feeling that your website's design is a little stale? It may be time for a redesign. Giving your website a facial (or a facelift!) can provide several benefits, one of which a Stanford University study reveals to be a boost in credibility for your business. 
If that's all the motivation you need, keep reading. This article breaks down how to redesign a website in four steps.
Jump to:
How to approach a website redesign
In the same way that starting a business requires preparation before action, so too does a website redesign project. Here are some key steps to follow when redesigning a website.
Identify your most valuable pages: Before starting the redesign process, you should know your website's most valuable pages. Use Google Analytics to identify pages with the highest conversion rates and traffic. That way, you won't inadvertently scrap pages that are popular with your target customers.
Find out who is visiting your website and why: Understanding who your customers are and why they're on your site can aid your efforts to revamp an outdated design. You can achieve the former goal by building user personas. Meanwhile, understanding why a prospective customer is on your site can help you develop an improved user journey.
Determine what helps and stops your customers from taking action: Understanding how potential customers behave on your site is a crucial step toward achieving your business goals. You may need to deploy surveys and record heatmaps of your website to understand your website users' behavior.
Get your team members involved in the process (if applicable): Your team should feel free to offer their two cents during the design process. Therefore, hold a meeting with each department and brainstorm ideas that could support the website redesign based on their interactions with users. 
If you don't have a small team, do some analysis yourself. Think about the common issues users might encounter while on your website. Meanwhile, think about your lead gen strategy and where you could be sacrificing some much-needed connections. Identifying your loopholes that could be costing you leads and customers.
What else should you prioritize?
Measure the performance with KPIs: How will you know when you achieve your redesign goals? Key performance indicators—that's how. Key metrics like revenue and the number of conversions will tell you whether your redesign strategy went down well with your ideal customers. Therefore, select the KPIs you'll use to gauge the performance of your website redesign project.
Make changes and test the results: A/B testing is an effective way to determine whether your customers prefer your site as is or whether they welcome the new design elements added to it.
Alternatively, inviting real people to partake in usability testing sessions can provide a wealth of valuable data that'll help shape your design plan. Following the above-listed guidelines and design practices will ensure you're better prepared for the design phase of your website redesign plan.
Pro tip
Always have an attorney review and approve your contracts before sending them to your clients.
How to redesign a website
With the above considerations in mind, how do you redesign and optimize your website? We've outlined a four-step process businesses of all sizes can use to redesign their way to profitable results.
Analyze the current website setup
Appraise your website's current design dispassionately. Base your judgment on four aspects:

Usability – i.e., how easy it is for visitors to navigate and find the information they desire, whether it has a responsive design, load time, and so on.
Content – Do your visitors find it easy to consume your content? The data you receive from usability testing, heat maps, Google analytics, and other technological means employed to understand your user's behavior will help you answer the above question.
SEO – Search engine optimization determines whether your customers will find you on the net. Therefore, it's worth auditing your site for SEO. Check how well you rank for your current target keywords. Then get to the nitty gritty details like alt tags, internal linking, image optimization, etc. Are all these elements optimized for SEO?
Conversion – Many websites exist to convert their visitors into customers or leads. How well your site performs in that regard depends on how effortlessly it paves the way for visitors to take profitable actions.
Set goals and KPIs before and after the redesign
There shouldn't be any ambiguity as to what you're trying to achieve with your site's redesign. 
Do you want to decrease an unusually high bounce rate? If so, will revamping your website content and going for the best website hosting provider to reduce load time be sufficient to achieve the goal? Are you aiming to improve user flows by decluttering your site's user interface? Will applying a more-fitting color palette better attract your audience? Whatever your "why," know it like the back of your hand. You can apply the SMART strategy when setting your goals. In addition, it's important to set key performance indicators beforehand. Like the breadcrumbs in the tale of Hansel and Gretel, they ensure you don't lose your way on the journey to conversions. 
Some key performance indicators worth setting include lower bounce rates, increased conversion rates, and a longer Average Time on Page.
The steps for redesigning your website
You can redesign your website effectively by following the four steps outlined below.
1. Perform a complete website audit.
When performing a site audit, everything from your site's .ai domain to its page layouts are fair game. In particular, site audits should include:
An assessment of individual page performance: We can't stress enough how important it is to analyze how your site's pages perform. When you know which ones bring in the most traffic, which ones have the highest bounce rate, etc., you can make informed decisions.
An SEO audit: An SEO audit involves examining how well you've optimized your site for search engine results pages. You want to root out any issues that can impact your organic search rankings (like slow load times or an unresponsive design). Tools like Google Search Console and SEMRush will be your allies.
A review of the site's content: Finally, evaluate your content to determine whether it communicates effectively to your audience.
Does your copy emphasize your product/service's features or the benefits they can provide to your customers? Does your messaging demonstrate an understanding of your audience's pain points? Are you producing informative blog posts?
Make sure your content focuses on your audience.
Like other small business owners, you can use HoneyBook to create engaging, eye-catching client communications that are both personalized and automated. Elements like an embedded content form on an SEO-rich, optimized, redesigned website can increase client trust and funnel prospects directly into your client flow.
Examining your website comprehensively prevents you from taking a stab in the dark and fixing what isn't broken.
2. Consider your objectives and budget.
As already mentioned, you need to set redesign goals from the outset. Doing so will help you understand whether your redesign efforts have produced the intended results.
With that said, you must consider your budget during the goal-setting phase. You want to make sure you have the resources to achieve your goals. As a start, ask yourself the following questions:
Do you have the money to hire a design agency, or will you work with a freelance designer?
Will you commission a custom website design or buy a template available in the marketplace with a content management system?
Will you hire an SEO to push your site up the search engine rankings, or do it yourself?
Setting goals is all well and good, but without a sufficient budget, they're merely aspirations. Budgeting beforehand prevents such an outcome.
3. Define your branding.
The chances are that your current website incorporates your brand elements into its design. Unless you're rebranding totally, design elements like your logo and color scheme should be off-limits during a website redesign.
You don't want to make such drastic because your audience is probably already used to your current branding style, i,e., logo, and color scheme. Unless, of course, you want a fresh start.
Elements you can change freely on your website include the:
Font(s)
Images
Videos
Audio
Layout
Also, it's a good idea to maintain a consistent brand voice when redesigning a website. Once again, this isn't a hard and fast rule in the case of a complete rebrand.
4. Consider hiring an independent website designer for support
An independent designer can bring the pizzazz to your site that it needs in a short amount of time. Typical independents you'd find in a website redesign project include one or more of the following:
Web designer
Web developer
Content writer
Marketer
The list goes on! Consider hiring someone with a specialized skill set to put your project in motion.
Start building a successful website redesign strategy today
Redesigning a website doesn't have to be a big task. As we've shown you, you can accomplish it in four steps.
Perform a complete site audit, weigh your goals against your available resources, define your branding, and assemble your support. Your efforts will result in a website that will help business flow your way.