Watercolor painter and HoneyBook member Paige Poppe didn't always love the desert. Growing up in Arizona, she couldn't wait to escape to college in lush, green California. "I never appreciated the desert scenery. I found it to be dry, brown, and boring," she said. "But when I returned to Arizona during school vacations, I saw the landscape with new eyes. Now when I look at the desert, I am overwhelmed by the colors, resilient cacti, bold shapes, and the vast landscape." As a full-time painter and designer, Paige's signature style focuses on the desert she once looked past. And that's not the last time she pivoted.
She got her start creating custom skateboards for clients while going to school for an architecture degree. "It's so funny to look back on that now, because my art has developed so much since then. At the time, I longboarded everywhere and wanted to customize my own deck. My friends requested custom skateboards to hang on their walls, and it became a great creative outlet for me. After I took my art to Etsy, I developed an interest in the business side of my art, and soaked up everything I could learn from coaches on YouTube."
Paige creates over 250 products for her online shop, PaigePoppe.com, and works with brands like the Girl Scouts; West Elm; and Biltmore and Miraval resorts.
Here, she shares the best practices she's learned from running an art business, including how she organizes all her projects in HoneyBook to "feel so on track with every project I have in the works."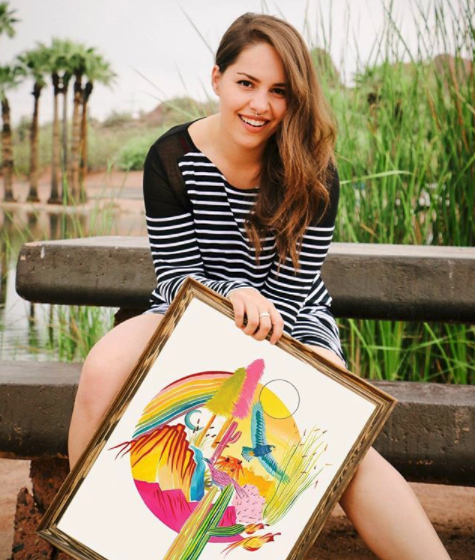 Please introduce yourself.
Hi! I'm Paige Poppe, a watercolor painter and designer based in Scottsdale, Arizona. My painting spans many types of projects including product design, branding, original painting commissions, wedding stationery design, murals, and creating products for my online shop.
I've been selling art since 2012, began working under my own name in 2015, and have been pursuing art full-time since January of 2016. Since last summer, 2017, I've been splitting my time between Scottsdale and Minneapolis, Minnesota. This has totally opened my eyes to a new landscape, created a deep appreciation for seasons within me, and is why my art is no longer only inspired by just the Southwest, but by the Midwest as well!
How did you start your business?
Before I was creating paintings and designs in my signature style, I was actually creating custom skateboards for clients! After taking a couple watercolor classes from my architecture professors, I realized how true the medium felt to me, and that a disconnect was developing between my evolving painting style and the skateboard art I was selling. I was creating very specific custom work and desired to share more of my perspective on the world through my art.
I knew that I needed to rebrand and start working under my own name as Paige Poppe Art, and I also saw this as an opportunity to pivot my artwork. While spending my spring break at home in Arizona, I painted poolside and knew that I had tapped into who I was as an artist. In March of 2015 I released my signature "Technicolor Botanical" Collection of original watercolor paintings and offered prints for the first time. The response was so positive and I never looked back! Prints of that collection continue to be some of my most popular pieces to date.
How did you turn your newfound passion into a full-time job?
I certainly had to transition into being a full-time artist. It was not only a shift in my life, but also a mental shift that I had to work through. Post-graduation I planned to work at an architecture or interior design firm, while continuing to pursue my art business on the side. I always assumed it would always be a side job, but never my full-time job!
After some job opportunities fell through, I reflected on how I was using my time. I realized that if I stopped applying for jobs and put those hours towards my business that I could become more profitable.
Since graduating in June of 2015, I put all my effort into the busy holiday sales season, was spending full-time hours on my business by January 2016, and officially announced my full-time statues by April of that year! The biggest lesson I learned was that I needed to put two feet in and have complete faith in myself in order to see the results I wanted in my business.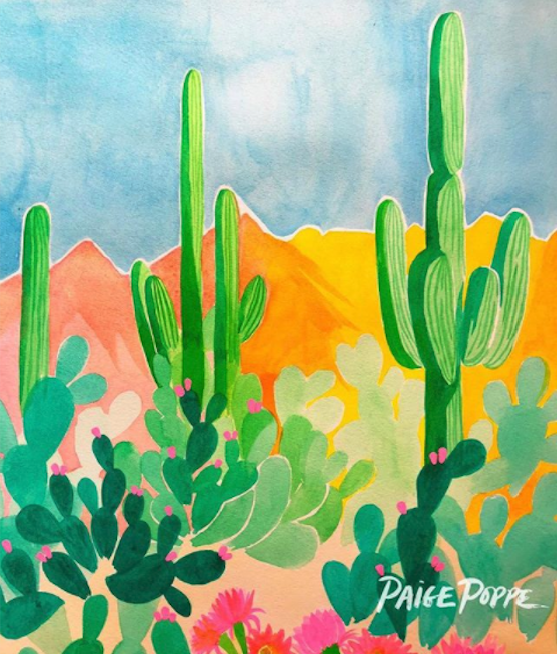 What was the biggest challenge you faced early on in your business? How did you deal with it?
My biggest challenge in business was certainly creating contracts for client projects. In the beginning it was so tempting to jump into a project without a contract to save time, and honestly I was often nervous to send a contract. It feels scary to set boundaries with a client, when in reality, it is a courtesy to them as well as yourself as a business owner.
At first I would find pre-written contracts online for creative business owners. These contracts probably didn't cover everything I needed, but I think something is better than nothing because it outlines the scope of work so both you and client know the expectations of what will be created.  Later on I started sharing my contract outlines with my attorney to see if he felt that I had protected my business and covered all my bases.
And now as a HoneyBook user for the past two years, I still use the HoneyBook contracts and contract features. I do add in my own language that is specific to an art business, but HoneyBook has great templates that include language I would have forgotten. And the best part about HoneyBook is how streamlined it is to send a contract. It feels so professional to clients when they receive my proposal on HoneyBook, and I have had many clients tell me that they trusted me more after seeing my contract!
How did you hear about HoneyBook? What convinced you to try it out?
I learned about HoneyBook from an online Facebook community I was in. Previously I was using a different project management system that was not very robust, and I was drawn to HoneyBook because of the incredible features. After speaking with a team member at HoneyBook who walked me through the system and answered my questions, I knew it would be a game changer for my business, and it totally has been.
What's your favorite HoneyBook feature? And why?
My favorite HoneyBook feature is how organized my design files stay within the message thread. When you are working on a design project with a client, you often end up with 25, or sometimes even 65, emails back and forth! If a client refers back to a previous design file in an email, it is so difficult to search back in the threads to find what they're referring to and causes a lot of frustration and wasted time. With HoneyBook, each client has their own dedicated workspace, and I am clearly seeing our message and design files in chronological order. Or if I need to navigate to the design files only, I just visit the "Files" tab in their workspace and they're all there for me to look through. Hello, life changing!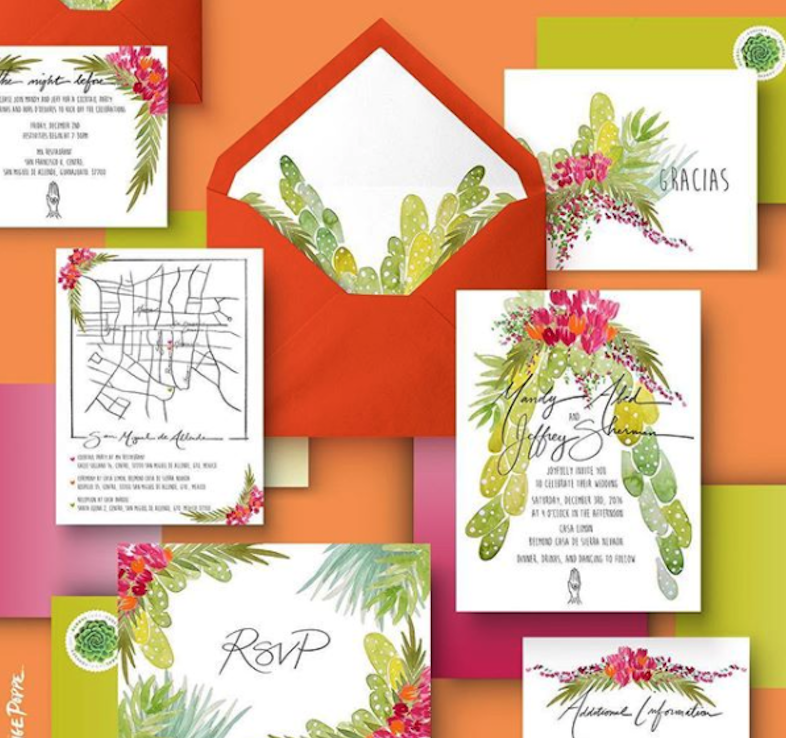 How do you stay on top of every project?
I recently tweaked the way I was using HoneyBook to organize my projects, and I now feel so on track with every project I have in the works. For a long time I was only inputting projects into HoneyBook that were client projects that included a HoneyBook proposal. But outside of these client projects, I also have other tasks and personal projects I want to complete such as a new collection of art, or a wholesale order from a retailer that I need to make a delivery to. These projects don't require a HoneyBook proposal, which made me lose track of them. The game really changed when I started inputting every single project of mine into HoneyBook, regardless of the client using HoneyBook or not. Now when I open HoneyBook, I have an exhaustive list of everything I am working on at the moment, so I can always see what to create next!
Which piece of artwork are you most proud of?
This summer I created the most detailed watercolor painting I've ever created titled "Charting the Desert." The original painting was 24"x30", and then I pulled it into my computer and incorporated past artworks to make it a complete circle of 12 slices that celebrate each aspect of the desert, from cacti to the sky to florals to the sand. I was so proud of this piece because I followed through on an idea I had created long ago. About two years prior I had scratched a "desert chart" idea in my sketchbook. When I pulled out that sketchbook this summer, I was inspired to finally execute the idea! I think the most fascinating part about being an artist is building on inspiration, my sketches, and past artworks to continue developing a rich, layered story with my artwork. In this instance, I was so thrilled that I completed this large piece! It now pairs very well with another circular painting in my shop, and I plan to create a few more so it is a cohesive series that celebrates the desert.
What is your favorite artistic medium?
Watercolor is definitely my favorite. I love the certainty of it. One stroke, and you're done. It encourages me to paint with confidence, knowing that I can't go back and cover it up later. I believe this has helped strengthen my skill of being able to envision a piece and then create it.
Thanks, Paige!
HoneyBook, the best crm for solopreneurs, streamlines everything you need to manage your business into one place. Manage projects, book clients, send an online invoice and get paid through our online payment software. Now peace of mind comes with just one login.
Plus, three more posts you might like: