As event professionals we often work with people on some of the most important days of their lives. And whether it's a wedding, bar mitzvah, or something else entirely, things can get stressful pretty quickly.
For years we wished there was some way to gauge from the very beginning whether we would be a good fit for a potential client's event. It was important to us that we understand clients' expectations so that we could serve them well.
It turned out that simply asking a few questions in response to the initial inquiry helped us book more ideal clients (and increased our booking rate, too!). The questionnaire set us up to explain our approach, processes, and style so that the potential couple knew exactly what to expect.
The following are questions we ask as wedding photographers, but they could be easily modified for other creative professions.
How the Questionnaire Works
When we receive an inquiry, it goes straight into the lead pipeline in our HoneyBook account. We respond by sending out the following questionnaire through HoneyBook explaining that we only take a limited number of weddings each year, and we want to make sure we're the perfect fit for our potential clients.
Save 20% on your HoneyBook Membership >>
(New Members ONLY)
Here's what we ask: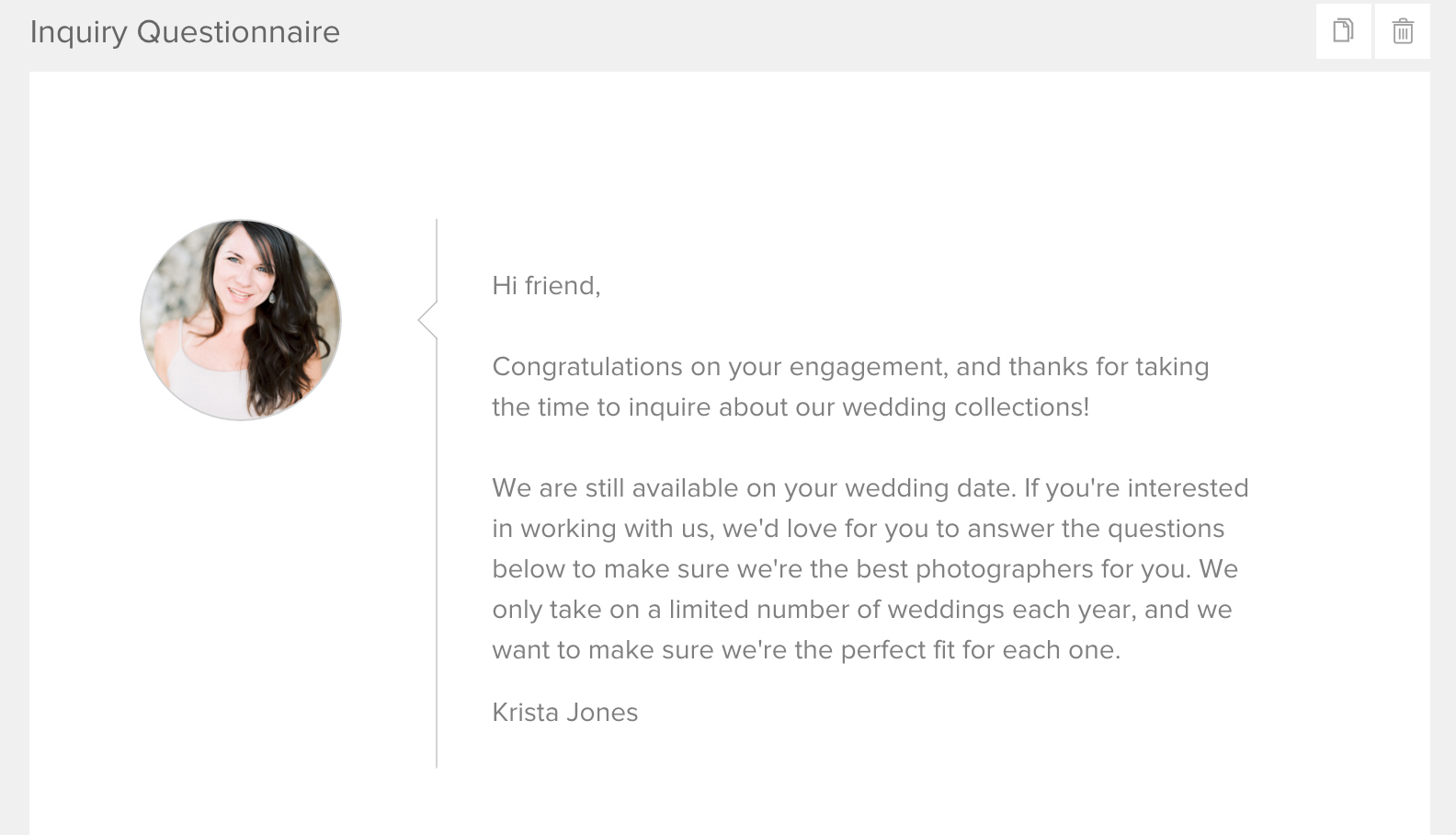 1. How did the two of you meet?
2. Tell us about the proposal!
3. How did you decide on a wedding venue?
4. Are you working with a wedding planner?
5. Are you doing a first-look or waiting to see each other until the ceremony?
6. Which wedding photos are most important to you?
7. How did you hear about us?
What are we able to figure out by asking these questions? Well, the first couple questions about how they met and the proposal give us an idea about the couple. It often reveals their interests and other things that are important to them.
Questions 3 and 4 reveal a little bit about the aesthetic and style of the wedding. For question 5 we don't really care whether a couple is doing a first-look or not; however, we are interested in what time we'll be able to take pictures. If the couple is not doing a first-look, and the ceremony is taking place at or after sunset, we know we're probably not the best fit since the majority of the pictures would have to be taken after dark. This is an especially important question during the winter when the sun sets early.
Question 6 is one of the most important questions we ask because it tells us whether photos are important to the couple. Some couples respond saying that photos are not particularly important to them and they only want candids. Immediately we know we're probably not a great fit for this couple, but we can refer them to another photographer whose style is a better fit.
And question 7 is something every event professional should ask regardless of whether a lead is booked. Do you know what sources of advertising are effective or what other vendors have you on their preferred vendor list? Ask this question and you'll figure it out quickly. It's important to know who is referring you and where your leads are coming from. Be sure to send a thank you note to those vendors who refer you!
The questionnaire helps qualify clients before we get to the meeting stage, and prevents both parties from wasting any time on a match that won't work out. It sets us up to explain our process and style so that the potential client can make the most informed decision possible about whether we're the right fit.
An (Amazing) Unintended Benefit
And there is also an unintended benefit: When potential clients know you only take a certain amount of weddings each year, many become much more eager to book. We often receive questionnaires back with comments like, "I hope you pick me!" Although the point of the questionnaire is to make sure it's a good match, it also tends to increase demand through a sense of scarcity.
If you're interested in how we set-up our questionnaire in HoneyBook, read on! Otherwise, comment below and share your tips on how you ensure you and your clients are a great match.
Questionnaire Tutorial:
We set-up our questionnaire in HoneyBook, the software we use to manage our business and keep us organized. Since we use the HoneyBook contact form, it sends leads directly into HoneyBook and makes it's easy to respond quickly with the questionnaire (check out what the contact form looks like here).
Here's how you get started:
1. Click on the "Company Settings" gear icon. It's the one of the last icons on the left sidebar.
2. Select TEMPLATES in the top navigation bar.

3. Under CHOOSE A TEMPLATE TO EDIT, select "Add" to the right of QUESTIONNAIRES.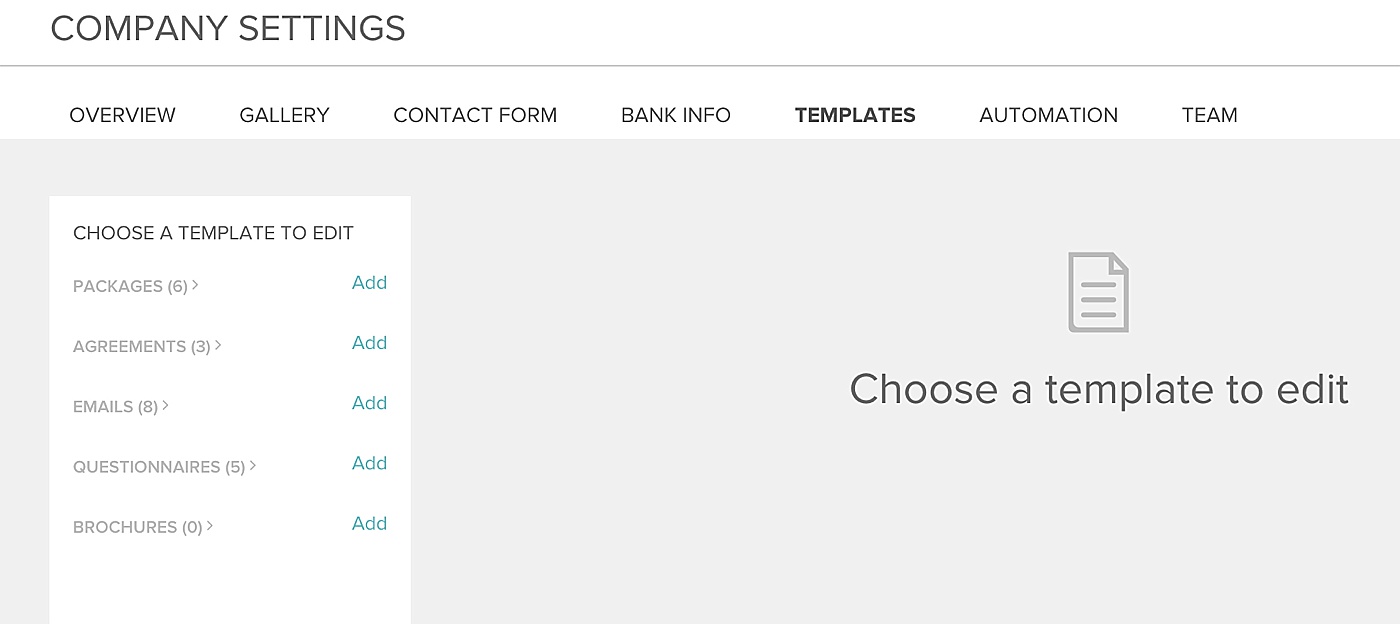 4. The following screen should appear. Click on "Questionnaire Template_New" to change the name of the questionnaire. We named ours "Inquiry Questionnaire."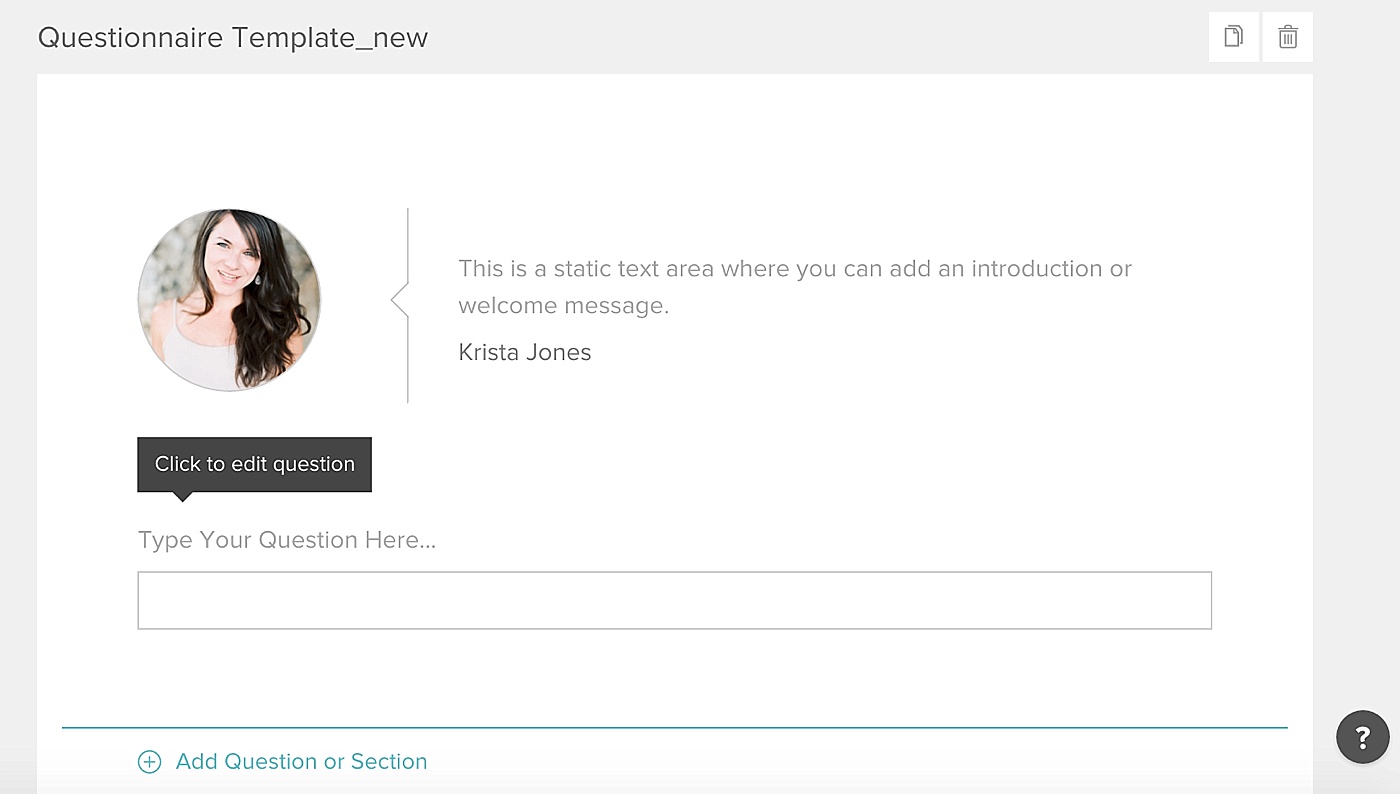 5. Add a welcome message by clicking the static text area to the right of the company picture.
6. Begin adding questions by selecting the "+ Add Question or Section" link. You can choose from all sorts of different question types, including: text, dropdown, multiple choice, and checkboxes.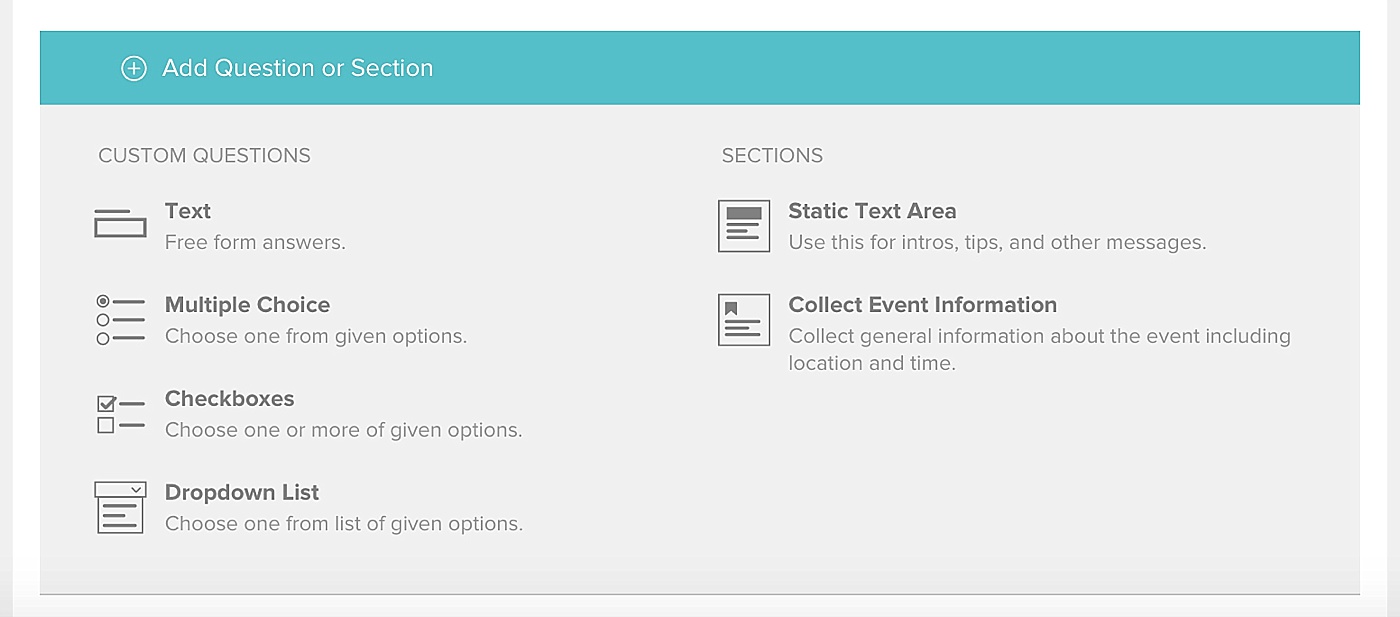 7. BONUS: If you're interested in auto-responding to new inquiries with a Welcome or Thank You email and appending your questionnaire, it's possible using HoneyBook's client workflow automation software. Select AUTOMATION in the navigation bar > Under ACTIONS, choose "Send my client a thank you email when they submit an inquiry through the widget." And then simply customize what you want sent out. 

Learn more and grow your business with HoneyBook's software for event planners.