The new HoneyBook Scheduler lets you combine scheduling with other actions, like accepting payment and gathering client information. See how you can customize your scheduling process throughout your clientflow.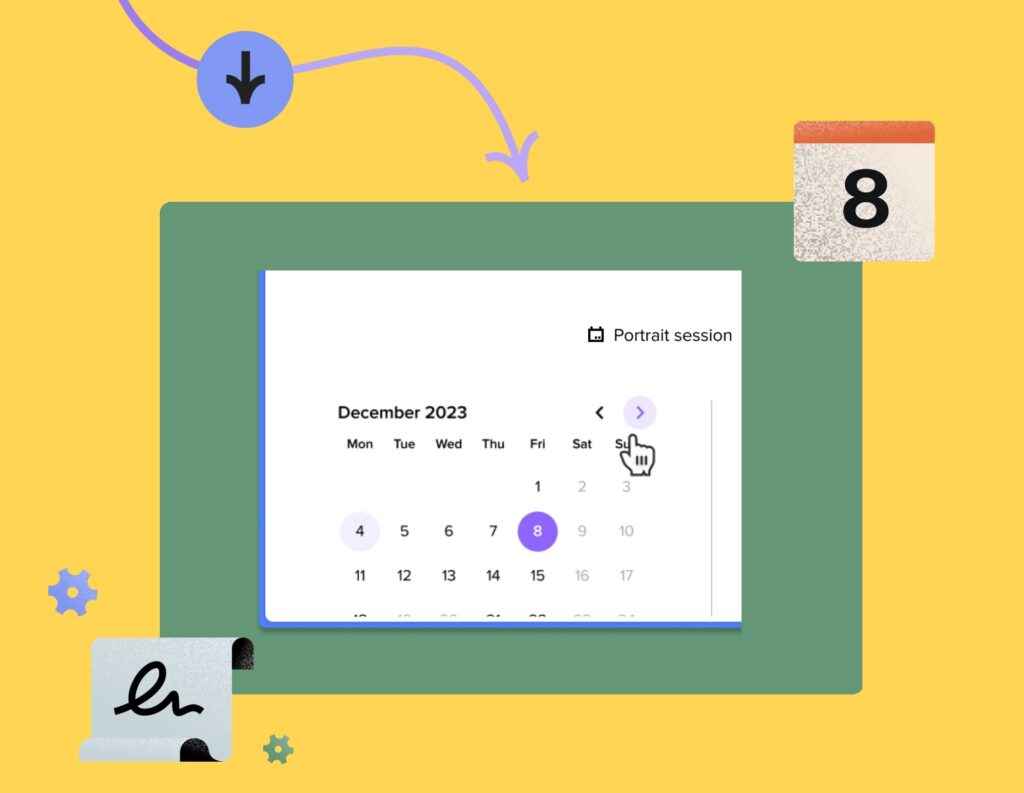 Scheduling is core to all independent businesses, and for many HoneyBook members, it's how you get paid. When you book a new photo session or a consultation call, combining your scheduling and invoicing is the natural way your business runs. You might also take payment for discovery calls, or want to ask your new leads specific questions as soon as they book with you.
Whether you're discovering more about your leads or meeting with clients to deliver your services, it's vital to customize your scheduling workflows.
This month, we've updated our scheduler so that all HoneyBook members can include it in smart files. That means you'll have more ways to share your scheduler and book meetings faster, while also combining scheduling with other parts of your clientflow, like getting paid and gathering client information.
Explore:

Don't miss our additional feature releases this month! We've rolled out a new experience for adding project participants in HoneyBook, whether they're a client, collaborator, or vendor. You can also add existing HoneyBook users as team members with a simpler process.
Book sessions and get paid instantly
The ability to integrate your Scheduler seamlessly with any part of your process means you can now combine it with getting paid instantly.
For independents who take payment for certain sessions (like photo sessions, consultations, workshops, and more), you can simply add your scheduler to a booking smart file that also contains an invoice and contract.
In the past, you may have had to let someone schedule with you first, then follow up with an invoice to charge them. With this process, scheduling could take a lot of back and forth, and it also adds unnecessary friction to send your invoice separately. If a client didn't pay the invoice, for example, you'd have to cancel the slot they booked or follow up for payment. Ultimately, without scheduling fitting into your clientflow, it can take too much time to book clients, leading to a poor experience.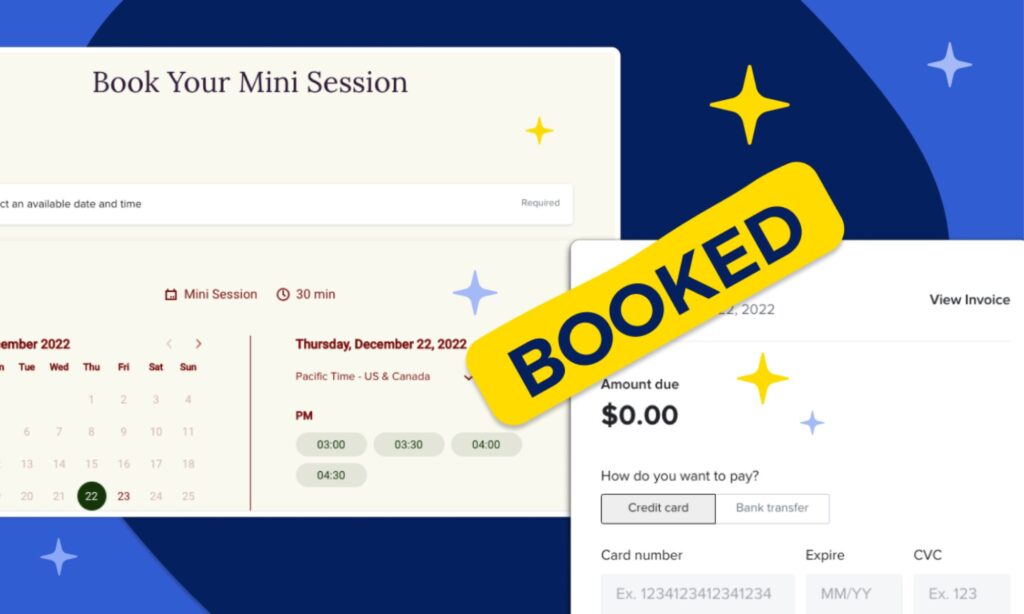 Now, clients who receive a file with the Scheduler can choose a session, then move forward to sign and pay on the next pages if that's required for the session. If you require payment and the client doesn't complete the invoice, they won't book the session.
As always, HoneyBook's builder makes everything customizable. You can connect your Scheduler with other options as well, so you don't need to require payment if that doesn't fit with your clientflow.
Capture and send more information at booking
Another way to use the scheduler block is to combine it with your process for gathering information about new clients and sending information before or after you meet.
Combine your scheduler with questions to qualify leads upfront, or gather the information you need to better prepare for a session or meeting. so you can capture their information right after they book. This is especially helpful for businesses like photographers and consultants who need information up-front to prepare for the session.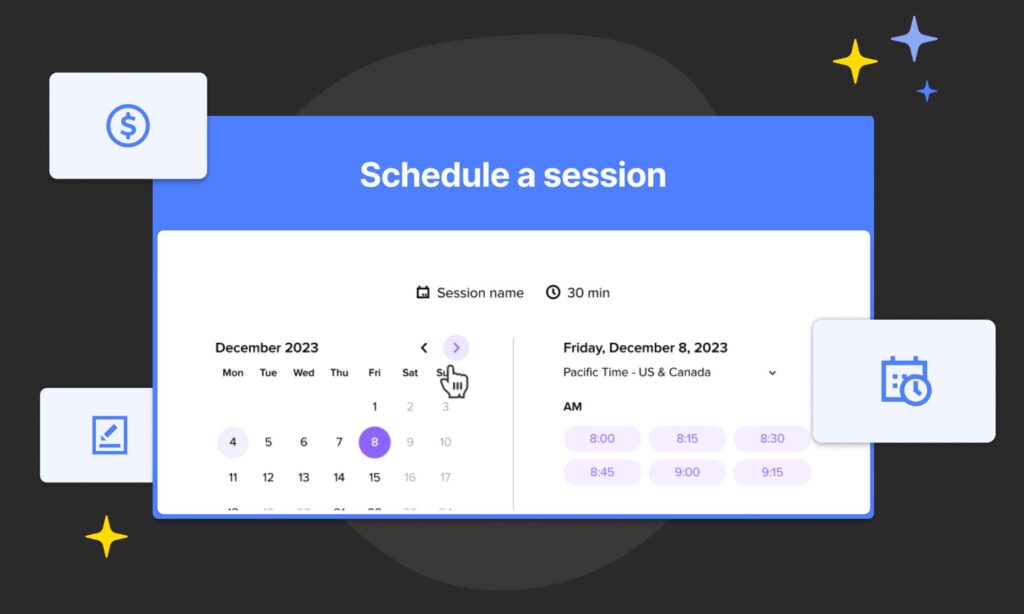 Coming soon, you'll also be able to use new automation rules you can use with scheduling, such as triggers that occur right after a session is scheduled, as well as when a session begins or ends.
Automate before a session: If you don't want to include a questionnaire inside your booking file, you can set it up to send right after a client books a session. Within an automated workflow, you can also include follow-up emails to remind them what you need before the session starts.
Automate during a session: If you have a lot of documents to cover during your meeting, set up files to send automatically when the session starts. That way you won't overwhelm anyone leading up to it, but you can direct them to their email to easily find the files you'll use during the meeting.
Automate after a session: Once a session is over, automate a thank you email to send right after the meeting time is over or the next day. With HoneyBook's automations, you can always choose to approve what gets sent first, so you can drop in specific details once you get the notification.
Schedule meetings faster, with less back and forth
Since you can add your HoneyBook Scheduler to any smart file, it allows you to combine scheduling with any other action, like invoicing and payment. Instead of sharing a link to your schedule and then following up with an invoice afterward, you can drop your availability directly into any file template you already send as part of your clientflow.
Say your clients are ready to select services and book with you. For example, if you're a photographer, you might usually send them a pricing guide, then follow up with your scheduling link afterward to move forward with a session.
With the ability to combine the HoneyBook Scheduler with other actions, now you can build a pricing guide that also includes scheduling, so your clients can select services and book time with you as soon as they're ready.
Create a more seamless clientflow this year
Charge your clients, schedule a meeting, and collect information–all without lifting a finger. With the HoneyBook builder, you can incorporate scheduling at any point of your clientflow. Once you build your file templates, your clients can complete everything in a fully branded, interactive file. 
Start building scheduling into your files to make your clientflow even more seamless this year! Try automating your scheduling process as well, whether you want to offer scheduling and payments as soon as someone fills out your HoneyBook contact form or you're ready to move forward after you've evaluated their fit for your business.
Check out our January Release Notes to learn more about this month's updates. In addition to the new Scheduler, HoneyBook members can enjoy better processes for adding team members, clients, and vendors to projects.