It's getting increasingly difficult to stand out as a photographer these days. Good-quality DSLRs are cheap and Apple is doing its best to persuade eager customers that they, too, can achieve Caitlin Cronenberg-like success with the newest iPhone.
So what's the difference between you and the horde of picture-takers?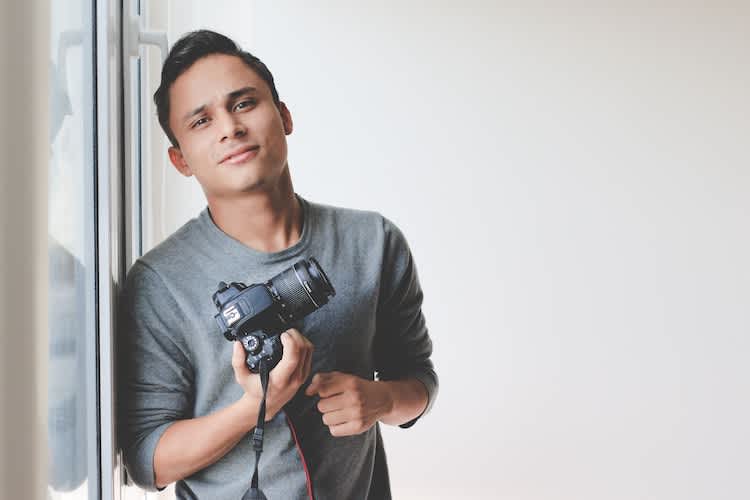 For one, your skill, craft, and experience behind the lens. And secondly, you're running a business. You need to attract clients, keep them happy, and grow your brand. As you probably know — it's a lot. That's why investing in a Client Relationship Management (CRM) system is critical in your ability to scale, deliver an incredible client experience, and focus on your craft rather than paperwork and emails. Keep reading to better understand CRMs and why HoneyBook is widely considered the best CRM for photographers.
Related: How to 10X Your Bookings with HoneyBook [VIDEO]
What is CRM for Photographers?
Photography 101 teaches you that perfect lighting is everything. That idea can at times seem overly simplistic, but every award-winning photograph you'll find succeeds because its lighting perfectly captured a specific moment in time. In a similar vein, communication is everything when you run a photography business. Just as perfect lighting makes a photograph stand out, perfect communication makes your business stand out (and keeps your customers happy).
Customer relationship management tools, CRMs, are all about communication. They can help you manage communications across the life of your relationship with a client and the best photography CRMs, including HoneyBook, will even help you automate the communication process so you can reduce how much time you spend doing things like responding to initial inquiries. Seriously, one photographer tripled his bookings because of it.
Why Do Photographers Need a CRM system?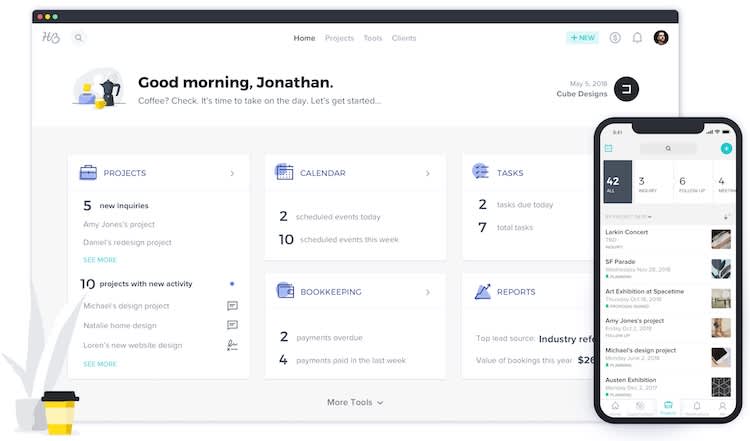 Client management for photographers focuses on different areas that require very clear and specific communication needs. Most photographers face their biggest communication hurdles in four areas:
Pricing
Skills
Availability
Payment
There are certainly other areas that you may find complicate running a freelance photography business. But the biggest hang-ups tend to be communication barriers that exist before contracts are established and after they end.
Communicating about prices
Most freelance photographers have had their fair share of clients ask about free work or offering to pay in "exposure". Still, "exposure kills", as the saying goes. You can't completely avoid potential clients asking for free work, but you can reduce how often you get those kinds of requests. You'll want to use a CRM tool that helps you not only clearly communicate your pricing.
Showcasing skills
Fierce competition in the photography marketplace also means you'll need to justify your pricing with an evidence-based approach. Just as you'd never hire a contractor to fix your roof without evidence that he/she can do the work, you shouldn't expect clients to hire you without evidence of your varied photography skills, either. To better showcase your skills, you'll want a CRM tool that allows you to present proof of your work in a visually appealing format.
Sharing your availability
Clients will also need to know exactly when you're available. Like most freelance workers, you likely have a calendar to help track your work. But calendars can be personal, so you probably don't want to share your Google Calendar with the rest of the world. Instead, you'll need a public-facing calendar that displays your availability and allows clients to independently book time. The CRM tool you choose should have this option available, as it will reduce the amount of time you spend trying to explain our availability. Such a feature also helps prevent embarrassing issues with double-booking sessions or events.
Getting invoices paid
While it may be the last part of your client relationship, figuring out payment can be a headache in its own right. As a photographer, few things are more satisfying (or more important), than an invoice paid on time. Invoicing is also a form of communication, but it can quickly become a tense form of communication if the invoice goes unpaid. Good CRM software can help you create, send, and track invoices, which is a much better option than issuing PDFs over email that you have to personally chase down every few days.
Multiple tools exist to help with all of these concerns. Most, however, are either standalone apps or are enterprise services that are far beyond the price range of an independent and small business owner. With HoneyBook's CRM for photographers, you can automate the client intake process, easily communicate your pricing and skills through beautiful brochures, and create digital invoices that help you get paid faster. HoneyBook also offers unlimited online storage for all of your photos, making it a secure location for your critical files.
Using HoneyBook to Communicate Your Photography Prices
Photography pricing can get tricky. Do you price by the hour? Do you offer packages for the number and type of photos? Is there additional pricing for touch-ups in Photoshop? Few photographers price exactly the same way, which is why many clients will argue with you until they're blue in the face if you don't have your pricing clearly set.
HoneyBook makes it much easier for you to send professional proposals, brochures and contracts that deliver clear pricing, exemplify your high-quality services and make it easy to book you.
Create a brochure
First, there's HoneyBook's unique interactive brochure tool. You can use HoneyBook to create and send beautifully crafted brochures to not only make a grand presentation of your best work but also to ensure potential clients to better understand how much you charge for your work.
Start the process with a simple template, then build on it to make the design your own. Include your personalized branding, and then add in interactive package selections that let clients choose from services right there in the brochure. Clients can use the brochure to not only select the type of photography package and add-ons they want but to automatically generate a proposal for services that gets sent right to you for finalization. Use the brochure to quickly process inquiries into proposals and reduce the time it takes to create clearly-priced photography contracts.
Unlimited photo storage
You may want to make multiple versions of your brochures. This could mean uploading a large number of photos to pick and choose from. HoneyBook gives you unlimited storage for your photos. Upload as many as you want, and keep them there as a solid and secure backup option. You can even add clients or others as team members to your projects as a way to share project updates and photos.
Automated communications
Want to automate the process further? Combine the templates into a HoneyBook Automation. Just create a contact form on HoneyBook, then embed it onto your website. From there, set up an automation that will automatically respond to new inquiries with a pre-made message that includes your brochure. You can track the progress of all client inquiries through HoneyBook.
You can even edit your documents (including brochures and contact forms) and track the automated workflow progress from a desktop or on-the-go with your iOS or Android mobile devices. The available apps will also send push notifications whenever there are status changes, such as new inquiries, updates to your automation, or new communications.

Use HoneyBook to Manage Your Photography Client Schedule

Few things are more personal and more complicated than a freelancer's calendar. You don't want your clients to see whose jobs you're working on, but it would be helpful if they could see exactly when you're available before making work requests.
HoneyBook has you covered on this end with its integrated calendar and Scheduling tool. You can use the Calendar to keep track of book projects or tentative projects, payments that have been made or are pending through HoneyBook invoicing, and any tasks you've added. In addition, you can integrate your Google Calendar into HoneyBook's so you don't have to switch back and forth between the two apps.

You can enhance your HoneyBook Calendar even further with the Scheduler. This feature allows you to set up available hours. You can then share your calendar with clients, either through a link or embedded on your website. Clients can choose from available times. Embed your Calendar into your brochures to give clients even more agency over the process, and to help you reduce how much time you spend setting up your own calendar. 

Use HoneyBook to Create, Send and Track Your Photography Invoices and Proposals

At the end of the day, you simply can't work for free. As much as clients want you to work for exposure, free work can't pay your rent, mortgage, car insurance, or camera equipment upgrades. Pestering clients about invoices is never fun, however, and it's easy to capitulate to clients who tell you the payment is coming any day now.
Simplify the invoicing process and keep track of payments easier with HoneyBook's online payment software. It's a three-step process:

Use a template to create online invoices or a proposal, complete with your professional branding
Select a date for the invoice to send, or send it immediately
Let HoneyBook keep track of the payment progress for you and send automatic payment reminders so clients pay on time
If a client misses a payment, you don't have to worry about crafting a firm-but-friendly email about late payments. HoneyBook will send automated payment reminders for you if the expected payment date is not met. Clients can pay using any major US credit or debit card, or through direct bank transfers.

3-in-1 Proposals (invoice + contract + payment)

HoneyBook's Proposal Software is a photographer's secret weapon to getting booked fast. The proposal feature offers templates you can use to create professional and on-brand proposals, which include an invoice, contract, and online payment for your client to review, sign, and pay in one easy flow.
Don't need the client to pay the full amount immediately? Not a problem. HoneyBook makes it easy for you to break up payments in custom amounts and due dates, perfect for jobs that require a partial upfront payment with the remainder paid out over time. Or, you can set up recurring payments to charge clients on a regular monthly basis. 

Streamline and Scale Your Photography Business with HoneyBook

The best way to stand out in a crowded freelance photography market is to create a professional presence. An impressive website is a start, but you should also take advantage of an all-in-one CRM tool that streamlines the client relationship and makes it cohesive at every step. And why nto choose the best CRM for photographers on the market? HoneyBook can help you set clear prices, quickly book clients, and get paid faster, so you can scale your business and have more time to focus on your craft. Ready to get started with the best CRM for photographers? You can try HoneyBook risk-free for 7 days. 

Still deciding? See what other photographers have to say: 

This post was updated in August 2021 when the HoneyBook Workflow tool was renamed to Automations. The HoneyBook Automations tool maintains the same functionality with the ability to automate communications, tasks and more. For more information about the Automations update, check our August 2021 Release Notes.