We're taking a look back at everything we've accomplished together this past year. In case you missed any of our product updates in 2022, view our feature highlights geared toward optimizing your clientflow and helping you grow your business.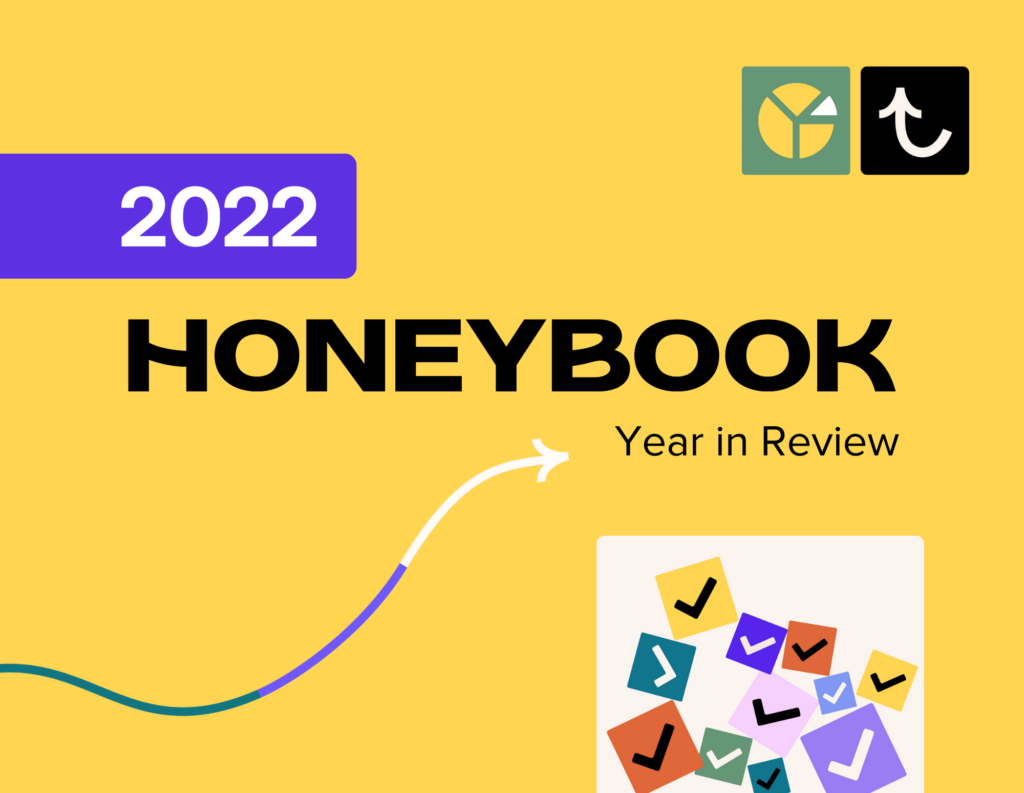 Here we are at the end of another year and what a busy one it's been! Whether starting a new venture, scaling an existing business, or carrying on with great clients, we've witnessed our members continue growing their businesses in new and exciting ways. What's remained true throughout is our commitment to supporting independents every step of the way with tools to help you streamline your process, eliminate friction, and showcase your unique brand.
That's why our product updates were focused on optimizing your clientflow this year. When your process of selling and delivering services is as cohesive as possible, it gives you more time to focus on connecting with clients, sharpening your talent, and achieving bigger goals.
As we look back at everything we accomplished together this past year, we're even more excited for what's to come, and we think you will be, too.
Jump to:
Combining service selection and payment in one file
When we released smart files in August, the goal was to help you streamline your business process in a way you haven't been able to do before. Instead of waiting for your clients to review your services, read a contract, sign, and pay, now you can combine all these steps into one file (Haven't tried smart files yet? Check them out here.).
As a result, you can efficiently connect your sales and booking process to convert more clients as soon as they're ready. With the new file builder, you can also ensure your unique brand is present throughout while addressing each client's specific needs. Drop in an instructional video, add photos, and ensure your fonts and colors are consistent throughout each file.
Smart files templates for different businesses and stages of your clientflow
With smart files, there are nearly endless ways to customize your clientflow and streamline processes, and our new Template Gallery is the perfect place to get started. No time to create a file from scratch? Just choose one from the gallery, set your company branding, and drop in the specific details for your client.
Choose from sales collateral like brochures and pricing guides, onboarding files like welcome packets, all-in-one booking files, questionnaires, and more. Because each business is unique, we've also partnered with business owners in different industries so you can find the templates that best fit your needs.
Automating bookable files
One of the secrets to a successful business is implementing automation. And as of this year, you can automate bookable files for a more hands-off and efficient booking experience.
You could already trigger files to send automatically when someone inquired from your contact form, but now that includes contracts and invoices as well.
If you have services that don't need an initial consultation or hands-on time with your client before booking, just automate a file that contains service selection, an online contract, and an online invoice. Your client can select their services, sign, and pay–all while you're time is better spent managing projects or working on other areas of your business.  
Notifications for hot prospects and fantastic leads
Your contact form is one of the first opportunities you have to communicate with leads, and it's also your first chance to get valuable information from them. Does their budget align with your pricing? Do they have a reasonable timeline? You can answer questions like these and more by customizing the question fields you include.
But to make it even easier on you to qualify leads, we've started leveraging your leads' information to deliver timely notifications every time you have a lead who seems more likely to book and/or more likely to book a high-value project. Every time you get a notification, you'll know to prioritize that lead so you can focus on nurturing the most important prospects.
This feature is currently in beta, but we're excited to roll it out to all HoneyBook members soon!
Making the HoneyBook mobile app work harder for you
Time is money, as the saying goes. And that's especially true for independent businesses, which is why working efficiently on the go is important. The HoneyBook mobile app (for iOS and Android) can help you do just that, and we've released several new features to make sure it has all the capabilities you need.
Edit any of your smart file invoices from the app so you can make adjustments as needed. Once they're ready, you can also schedule sends on the go (including emails). If a payment comes through while you're out and about, you'll also be able to make multiple payment actions inside the app, including marking a project as paid, issuing a refund, sending a payment reminder, and viewing receipts.
Greater editing control
We know that independents need greater control and flexibility over their business operations. That's why this year we wanted to focus more on your ability to edit aspects of your clientflow.
Any time you create and edit a smart file template, you can now look back at your edit history to view different versions, including both sent files and drafts. This gives you a complete view of project updates and changes, including what changes were made, by whom, when, and who saw each version of the file.
We've also released an updated version of our email composer, which ensures you have the same capabilities whether you're sending a quick note with a file or a detailed project update. You can now customize and edit all your communications using the same suite of editing tools, helping you strengthen your brand and create a more impactful client experience.
Happy New Year from HoneyBook!
It's been amazing to see our members grow and thrive this year, and we can't wait to enable your businesses for even more growth in 2023.
However you're choosing to celebrate this year, all of us here at HoneyBook are wishing you a restful and enjoyable holiday season.