Automate bookable files to land more clients without your oversight. This month, we've also released new smart file templates and enhanced customizations.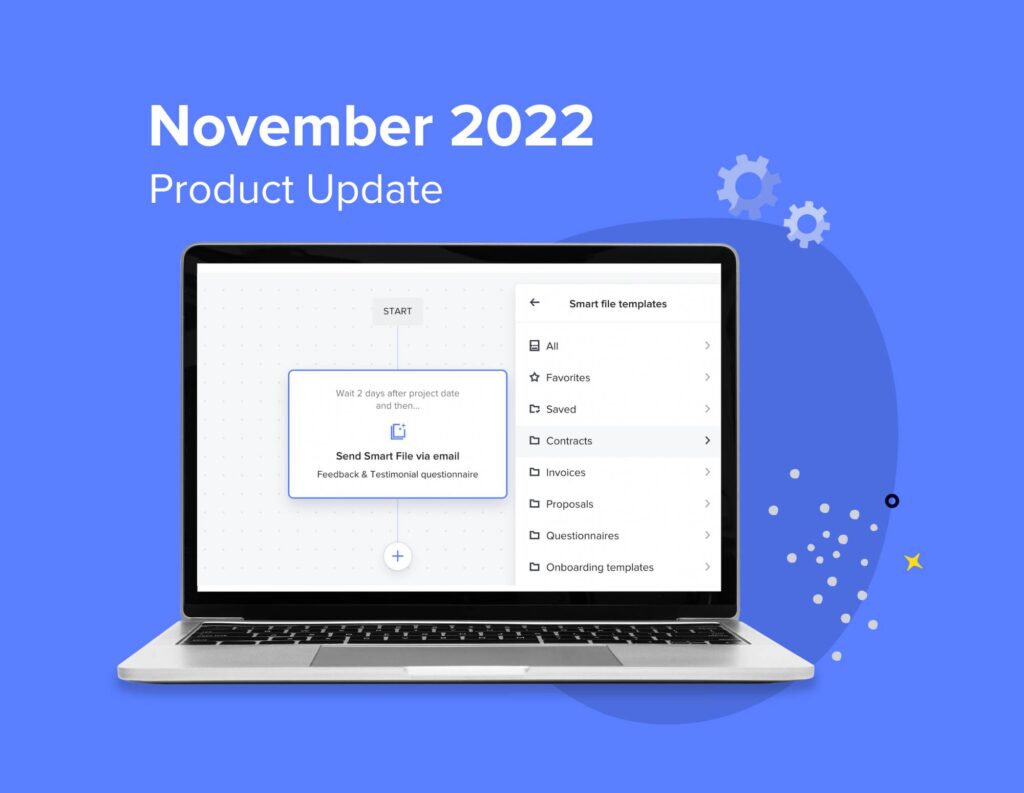 November has been a big month at HoneyBook as we release new updates to remove even more friction from your clientflow. With the added ability to automate bookable smart files, you can keep your business running even while you're preparing for the holidays. Learn more about updates that will help you book clients faster, create more custom files, and ensure a seamless client experience.
Bookable files in automations
The vision for smart files has been to improve your clientflow in as many ways as possible: additional customizations, combined actions within one file, and automating as many steps as your ideal clientflow allows. Now, you can include any bookable smart file in your automations, including contracts, so you can move clients to the next step of your clientflow without your oversight. Just because your turkey is resting this holiday season, doesn't mean your business has to.
You can automate your entire clientflow by connecting your HoneyBook contact form to an automation that includes one or multiple booking smart files. Or, simply automate one step. This update will unlock new possibilities for you and your clients.
For some inspiration on how you can leverage this update, check out some examples:
1. Signature and payment:
Allow clients to secure their project by putting down a deposit fee when inquiring: your client fills out a contact form → an automated smart file is sent to your client, which contains an invoice and contract for the deposit, plus any additional information you'd like to showcase or request.
2. Hands-off booking experience for those service offerings that don't require any upfront collaboration/discovery:
Your client fills out a contact form → an automated smart file is sent that contains service selection options, contract, and invoice, so your client can choose their desired service, sign, and pay all at once!
3. Signature:
Allow your clients to fill out upfront disclosures or agreements after filling out a contact form.
Note: While these are examples of initial automated steps after an inquiry comes in, remember that a smart file can be automatically sent at any point in your process!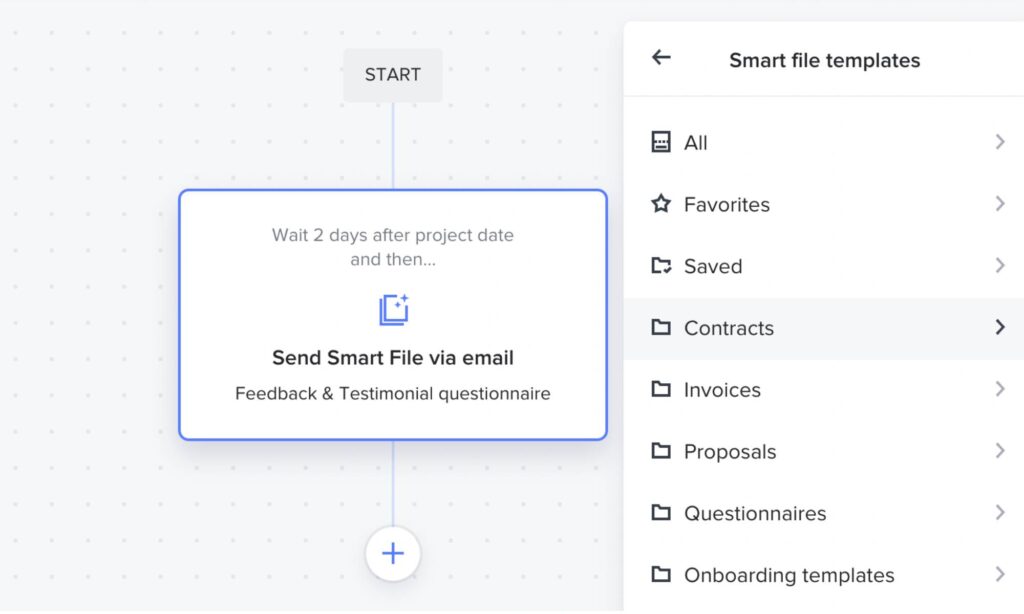 New templates available: guides and proposals for consultants, life coaches, photographers, and creatives
We are constantly researching, developing, and producing new smart file templates for as many scenarios and professionals as possible–check out some of the most recent releases!
Increased max page limit for a smart file
We love seeing all the creative ways that you maximize your clientflow with smart files, and we heard feedback that sometimes there's even more information to include in your files than what our editor was allowing. That's why we updated the maximum file size to 30 pages for every smart file.
Warning when you go offline
It can be frustrating when you're putting time and effort into editing a smart file template, and suddenly your WiFi goes out or you walk out of range of service. We want to make sure you don't lose any of your hard work, so we've added new messaging to let you know the second you go offline while editing a template.

Improved UI for smart fields
We want smart fields to not only be useful and effective in their functionality, but easy to understand in how they look. We updated the user interface (UI) and design of our smart fields to make it crystal clear how they work and what you (or your client) needs to do when they encounter one.
Stay tuned for more HoneyBook product updates!