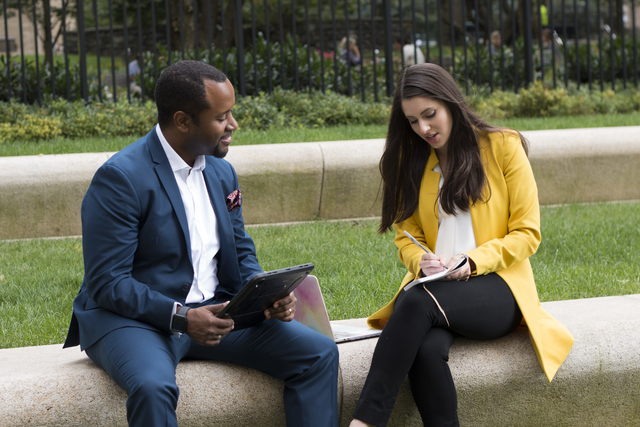 Hi there! My name is Erin, and I'm the manager of The Metropolitan Players, a wedding band collective based out of NYC.
After 7 years of running this business alongside my husband, I've discovered some of my superpowers as a business owner! I've learned that I'm pretty darn good at customer service and have really honed in on my ability to sell over the years. That's why I'm so excited to share some of the knowledge I've picked up with you – so that you can close more deals and start living the life you've been dreaming of!
SALES MINDSET
Mindset has become a hot topic over the past few years, and for good reason. And it's just as important when it comes to sales. Due to movies, books, television, and even our own experiences, many of us view sales as a negative thing. Raise your hand if you hear the word "sales," and automatically think something along the lines of icky, sleazy or deceptive. Just so you know, I raised my hand too.
I spent years dreading a phone call or meeting with clients, and used to hold back my sales potential for two reasons:
I thought I had to be exactly like these salesy folks I had seen throughout my life. This made me feel ingenuine and far too pushy. I felt uncomfortable and kept thinking "this isn't me." But that's the only example I had, so I went with it.
I felt timid and was shy about sharing information about the company for the purpose of getting someone to buy my service. I had moments where I thought, "who am I to think this is the right option for these clients?" or "will they like me for who I am?"
I got WAY too hung up in my own head – and I know that's the case for a lot of us. So step one is totally squashing these old ideas and feelings, and reframing your mindset.
Good news – you don't have to model your conversations around the pushy, uncomfortable sales methods you've seen before. Just be yourself. You love your business. You know your business better than anyone else, and the best thing you can do is connect with your client person to person. After all, you and your clients will be working closely together, for months (maybe even years!), so it's much better if you show your true colors from the start.
Another way to reframe your mindset is to remember that these people reached out to YOU! They sent you an email, text, or gave you a call because they've already sorted through a bunch of businesses, and they liked what they saw when they found you! Right off the bat, you should feel so much more confident!
To further reframe your mindset, it's also important to remember that by selling your product or service, you are providing your clients with something they want and need. You're providing them with a product or service you believe in and stand behind.
In the end, you're actually saving them from working with someone who simply wouldn't be able to provide as fantastic of an experience as you can. If you remember that you're actually helping your clients, you'll feel so much better about what you're doing. So they get what they need, and you make a sale. There is nothing sleazy about that!
RESPOND QUICKLY
I'm sure we've all heard this before – the sooner you respond to a client, the better chance you have of closing the deal.
The suggested timeframe to respond to an initial inquiry is within the hour. That seems crazy, right? As a business owner, you're probably in the middle of a thousand things at once, so the thought of answering someone so quickly can seem impossible. But it's not!
Here are a few tips on how you can respond to your clients' messages quickly!
Set up an automatic responder for inquiries, so that anyone who sends you a message will be able to look over initial information immediately.
If you work in the wedding industry, or another industry where you're away from your desk for long periods of time, you can put a vacation responder on when you're away to let both inquiring and current clients know when you'll be gone, and for how long.
Use drafts! Over the years, we've compiled about 100 drafts of client FAQs, so that we can easily copy/paste and tweak the information, then send a message back to our clients quickly. If you're answering the same question over and over again, why write it over and over again!? Just type it out once, and use it forever!
PRE-QUALIFY YOUR CLIENTS
When you're the salesperson for your business, one of the most frustrating scenarios you deal with is getting deep into conversation with someone who ultimately can't afford you. One of the best ways to avoid this waste of time, is to pre-qualify your clients! You can do this in a couple ways:
Ask a set of questions, or send an online assessment at the beginning of the process that allows you to get a feel for their budget.
Send your clients pricing immediately if you can. And even if you're unable to share exact pricing, since some pricing will change based on the project, try to provide a range. I have saved TONS of time, because we share our package options in the first message to our clients. I never get on a call with clients who can't afford our service. So this has drastically increased our close rate, because I'm only talking to the right people!
FOLLOW UP
How many times has a potential client reached out about your services, then totally ghosted you? It has happened to all of us, but it doesn't mean they're no longer interested.
Maybe they reached out during their lunch break, and now they're back at work and can't answer. They possibly left for a short vacation and turned off their email. Or maybe they put their search process on hold for a bit due to a family emergency. Whatever the reason, it's probably not you.
The best practice is to follow up! Last year, we implemented a strict follow-up policy for our clients. Through this practice, we were able to recapture so many clients who would have otherwise fallen through the cracks.
We doubled our conversion rate between 2018 and 2019.
This was the only major sales change we made in 2019, so we're confident this was the reason behind that huge leap in conversion!
Although it will be different for every company, here's our policy as an example:
Answer initial inquiry within 1 hour if possible, and within 24 hours at the latest.
If no response from client, follow up in 3 days
If still no response, follow up in 10 days
If, again, no response, follow up in another 10 days
After that point, we usually assume they're not coming back – or if they do come back – that they'll reach out on their own time.
CRM SOFTWARE
If you haven't yet heard of Customer Relationship Management Software (CRM), I'm about to rock your world! We spent about 3 years of our business without a CRM system. Now we've spent 4 years with a CRM system. I can tell you it makes a world of difference!
How we use it
Every time someone inquires, we add them to the "Inquiry" stage in our pipeline through our CRM System. We add details about them like their wedding date, email, phone number, venue, how they heard about us, and all other pertinent details they've sent along.
Through our system, we can schedule check-ins, automate emails, or link to a phone call scheduling tool. That means, once a client is in our system, we automatically schedule a check-in with them in 3 days. That check-in includes a link to my calendar to schedule a phone call.
We don't personally automate these emails because we really love to personalize each one to our clients. But, most CRM systems do allow you to send an automatic email if you want!
Our Pipeline includes multiple stages like "Deep Discussion," "Phone Call," and "Booking Interest." These categories allow us to keep track of how far each client is in our booking process. This also helps us personalize emails and other outreach efforts for each client based on their position in our pipeline. At the end of the day, none of our clients fall through the cracks, or have the opportunity to forget about us!
Every CRM system is a little different. The best one for you is going to be based on the industry you're in, the number of clients you work with, etc.
When you find the right one – go for it! It's going to help you keep track of your clients. And if you use it correctly, you'll likely see an uptick in sales!
SHARE YOUR STORY
I won't spend too much time on this one, because I know we've all heard it by now. Please share your story with your clients! People buy from people, not businesses. They want to know about you, your story, why you do what you do, how you started, and more. Your clients will feel more connected to you the more they know. Don't be afraid to tell your story and share the reason behind your passion.
HIRE HELP IF YOU CAN
Especially if you're a small business, hiring can be a huge decision. But if and when you can, I'd suggest hiring someone who can help you with this part of your business! We hired a Virtual Assistant specifically to help with the management of our CRM system, real-time answering of inquiries, and pulling drafts for specific client FAQs.
Not only is this a huge help, it also allows me to focus more readily on the higher-level sales strategy for our business. It also frees up more time in my schedule to dedicate to phone calls and meetings, which we've found lead to more sales.
DON'T GET DISCOURAGED
It's important to remember that you are not the right fit for everyone. And that is OK! If someone says no, don't take it personally. Understand that there's just someone out there that's a better fit for that client. Plus, you're probably saving yourself a huge headache by not working with them.
You made it to the end! Now you're ready to go be that amazing salesperson you are!!
Don't be afraid to use tools and software to help you.
Remember that you're providing a great product or service.
Be confident in who you are.
You'll be closing more deals in no time!
Ready to sell well & book more clients? Get our Small Business Sales Strategies Ultimate Guide.