Coming up with a solid sales strategy can make the difference between reaching your objectives or failing to convert clients. Here's all you need to know to create a master sales plan for yourself or your team.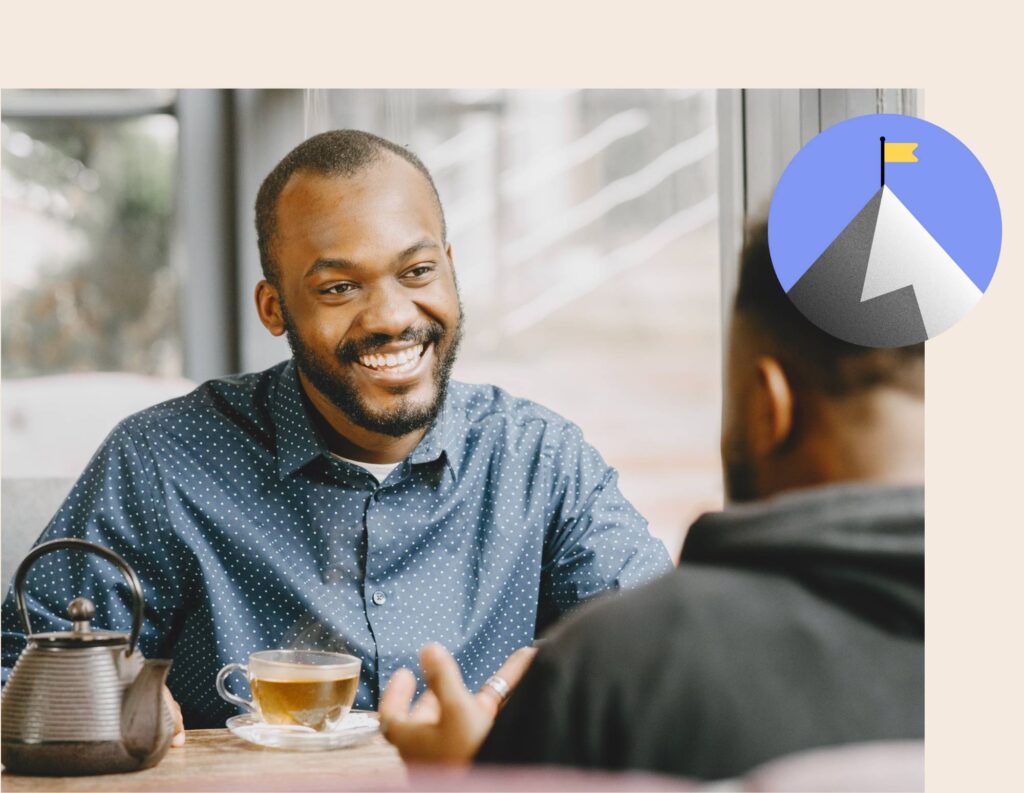 Sales are the core of your business's success — failing to reach your sales goals every month could place your company in jeopardy. You may think your service is good enough to sell itself, but that's hardly ever the case. Regardless of how great your offering is, it's essential to have a structured plan that empowers you or your sales team to do their jobs more effectively.
The methodology behind creating a sales strategy is very unique to each company's needs. But there are guidelines you should follow to determine what yours should look like. Read on for a comprehensive guide on how to create a successful sales plan that will make your offering more appealing to your ideal clients.
Jump To:
The ins and outs of the sales process
Having a great product or service will do nothing for your business if you don't know how to sell it right. Setting up a clearly defined sales process will get your entire team on the same page, or give you more structure if you're handling sales on your own. Having a workflow and process in place is critical to driving more sales and increasing your business's profitability. Outlining your sales process will give you a clear roadmap that leads you straight into turning your prospects into loyal clients.
A sales strategy is your company's secret weapon to get more money in each cycle. It enables you to sell your product or service to qualified buyers in a way that sets you apart from your main competitors. Additionally, it helps you provide your team with clear objectives and guidelines so that they can do their job in the best way possible.
Setting up a sales strategy allows you to track and measure results, making it easier for you to identify what may not be yielding the results you want so that you can take appropriate action. Tracing the buyer's journey from start to finish has numerous other advantages, including:
Boosting your revenue: You can determine what works and what doesn't when trying to increase your sales so that you can earn more during each cycle.
Optimizing your sales methodology: This will help you weed out those steps that are not getting you the results you're expecting and let you focus on what actually works.
Improving the overall customer experience: Setting up a consistent sales process is critical to creating a better experience for your potential clients. This could promote repeat purchases and encourage your clients to recommend you to others.
Standardizing your company's sales techniques: You'll gear up your sales process with a uniform way to get things done. Not only will this increase efficiency, but it will help get more predictable results.
A robust sales strategy must be client-centric. This means it requires a deep understanding of who your ideal clients are and what they need. Learning how your buyer conducts their purchasing decisions and what other options they may be considering will enable you to create a more targeted plan. You can highlight those particular benefits you bring to the table that make you the best option on the market. This will increase your chances of closing more deals and reaching your sales goals every time.
What are the different steps in the sales process?
Each small business has unique needs when it comes to crafting a sales process that works. However, there are some basic steps you can follow to make things much easier for you and your team. The steps you should include in your company's sales process are:
Prospecting: In essence, this is searching for potential clients that could benefit from your offering.
Qualifying prospects: This involves reaching out to potential customers and making initial contact with them. During this step, you can ask them what problem they're trying to solve with your product or service and what their expectations are. This will help you identify their pain points and decide whether they are likely to buy from you as a qualified lead — or even a good fit for your business.
When qualifying leads, be sure to prepare a list of discovery questions you can ask, whether it's via a questionnaire or a discovery call.
Researching: Understanding the prospect's challenges will help you establish your offering as the best solution for them.
Nurturing: Before your clients have made the decision to purchase your services, you don't want to scare them away with too much sales content too soon. Before you make your pitch, you need to nurture your leads with educational content or information about your business and services.
Presenting your offering: The sales pitch is perhaps the most important part of the sales process. It's where you can make your case and present your sales brochure or a sales video with your biggest value propositions.
Handling objections: It's not uncommon for prospects to push back a bit after your sales pitch. Being prepared to listen and walk through their concerns is vital if you want to convince them that your offering is their best choice.
Closing: This is the end goal of the entire sales process. It's where you can move forward to booking, which includes contract signing and accepting payment.
Tailoring your sales process to fit your business's particular needs will bump up your bottom line. Plus, it can improve your business's efficiency in generating, nurturing, and converting leads. Defining a solid sales strategy plays a vital role in your overall sales process. It'll give you a foundation to build on when setting goals and defining how to achieve them.
What to consider when building the perfect sales strategy
To put together a solid roadmap to boost your sales, consider both your short and long-term objectives and set some basic indicators to measure your progress. Once you've set your goals, you can actually see where the rest of the elements in your plan come into play, allowing you to set everything up to get the best results possible.
Personalizing your plan based on the audience you're targeting will spare you many headaches down the line. This will help you identify where to find them, the best way to reach out, and what types of messaging they respond to. Additionally, you'll be in a better position to define how your offering can help make their lives easier, which is key for crafting a deal-closing sales pitch.
Useful sales tools you'll need in your strategy
Knowing your business and offering well will give you the confidence you need to put your main differentiators front and center when delivering your sales presentation. Moreover, it will help you identify the best sales tools and methods to reach your objectives. Some of the most effective include:
Prospecting software – You can use a paid version of LinkedIn or another type of software to find potential clients online and download their contact information. This will give you a great place to start if you don't have a ton of leads coming through referrals or other organic methods.
Email marketing – Once you have leads, you need an efficient way to nurture them into your sales funnel. With an email marketing system, you can schedule sales email templates to send at the right time to move them further toward booking.
Sales videos – Sales videos are a great way to get your information across quickly. Your leads can view a video much faster than reading through a sales brochure, and it's also a great way to be personable without taking up much of your time.
Sales brochures – A sales brochure is a classic tool to help you entice potential clients. While they're valuable in print form for networking and events, you can also use interactive, digital sales brochures that connect your sales and booking process.
Pricing guide – A pricing guide is similar to a sales brochure, but it can be more formal and straight to the point. Where a sales brochure might focus on the value behind your services, the pricing guide should list all your services and prices for clients to choose.
CRM software – A customer relationship management (CRM) software is essential for bigger businesses. Using one, you can track your leads and always know where there are in your sales process. You can also store contact information and access tools for booking clients, like meeting scheduling. If you have a smaller, independent business, you may opt for a different all-in-one system that has CRM capabilities without as much cost.
Selecting the right tools comes down to the best format for delivering your information, and the best format that will resonate with your audience. A sales video can be more personable for business coaches who work 1:1 with clients, for example. On the other hand, a pricing guide may be the only tool you need if you're a photographer who can book more instantly with clients.
Creating your own sales strategy
Creating a sales strategy to sell your services will be different from other sales strategies used to sell products. Your strategy will also differ depending on your industry and target audience. To get started, follow these steps, then consider how to tailor each one to meet your clients' needs.
Set measurable goals: Tracking key performance indicators (KPIs) will help you determine realistic revenue objectives. Set a revenue goal or goal for net new clients each quarter. Once you know that goal for each cycle and how many leads you need to reach it, you can decide which strategies to use. Data is crucial to track and gauge results during this phase. It will enable you to look back at your team's performance so that you can determine what to do next.
Acknowledge different buyer personas: As mentioned earlier, the guiding axis of your sales strategy should always be your ideal client. Crafting your plan around their wants and needs will boost your chances of closing more deals. Your sales strategy should help you define your primary target audience and the different client profiles that may want to purchase from you. Keep in mind that your ideal buyer persona should consist of your most profitable clients.
Research your market: Once you've defined the type of customers that are the most likely to spend their money on you, you can delve deeper into their demographics and psychographics. This will help you come up with better ideas on where to get leads and how to become more appealing to them.
Determine your unique value proposition: This factor is the one that will ultimately convince your customers to make a purchase. Your value proposition relies heavily on aligning your brand with your idea client's needs. This step, combined with a well-oiled marketing plan will enable you to craft the right messages to communicate with your audience and draw in new buyers.
Study your own offering: Self-awareness is your best friend when it comes to sales. Understanding your strengths, weaknesses, opportunities, and threats is essential to keep up the hard work where you're succeeding and to make adjustments where you could be doing better. Conducting a SWOT analysis will help you find solutions to your main challenges and identify new possibilities you could be overlooking.
Keep tabs on the competition: Monitoring your competitors will allow you to contrast your offering against theirs and pinpoint why your product or service is better.
Delimit sales operations within your team: Giving people a clear outline of what their job is will save you lots of time and unnecessary effort. It will help you standardize sales methodologies and allocate people where they're the most efficient and likely to thrive.
Centralize sales activities: Using CRM software will help you keep your people on the same page throughout the sales funnel as your business grows and you start getting more clients. This is the best way to keep all sales processes visible and team members accountable. Additionally, it helps collect relevant data you could use to improve sales operations as you develop and grow your strategy.
Increase efficiency through automation: Taking care of repetitive tasks will free up space for you and your team to focus on what's really important. For example, you can automate your process for evaluating customer fit by sending an email to all inquiries that includes a short questionnaire.
Create a plan for booking: The goal of your sales strategy is to book more clients, right? That means you need have a solid booking process in place to use as soon as you know clients are ready to move forward. Make your process as seamless as shopping online by allowing them to book instantly.
Sales strategy examples
As an independent business owner, you'll need different strategies for different types of clients. The most common strategies will be for potential customers as well as for current clients. Don't forget that the clients who've already booked with you can become long-lasting repeat business.
Selling to potential customers
Your sales strategy should allow you to find ways to generate sales leads and connect with new customers. Some of the actions you can take to achieve this are:
1. Crafting a marketing strategy: Learn as much as you can about your target audience and use this information to create a solid marketing plan that includes traditional and digital advertising, depending on your needs. If you're on a tight budget, promoting your services through social media is a great idea to create brand awareness and stay fresh in your potential client's heads.
2. Build and optimize your online presence: To succeed in the digital era where everybody is practically glued to their favorite devices 24/7, you need to establish your presence in the digital world. However, having a website is just the tip of the iceberg. To ensure your customers can find you, you'll need to abide by search engine optimization — aka SEO — best practices. This will make you rank higher on the most popular search engines and become more discoverable to fresh eyes looking for an offering like yours.
3. Offer attractive first-timer promotions: Discounts and other special deals are an excellent way to attract new clients. However, tread carefully when picking this method to draw in more sales. Too many discounts could affect your reputation and make your offering come across as something anyone can get for cheap.

Pro Tip: You can limit the number of people who get an introductory discount. This way, you can moderate the impact of offering your products or services for a lower price.
4. Improve your storytelling: Buyers react to emotional triggers. Appealing to what moves your audience is a great way to stay top of mind when it's time to buy. Additionally, telling a compelling story will make your offering more memorable and help you to further develop your brand.
5. Create a sales brochure: A pamphlet is an efficient sales tool that can let you introduce your offering to new customers in a more extensive way than other promotional materials. Offering a responsive sales brochure online can let you capture new leads and boost your sales. Learning how to create a brochure may seem like a lot of work, but nowadays, there are many business brochure examples and brochure templates available online. 
6. Use an assumptive close: For some leads, they're ready to buy and they don't need any more emails, calls, or friction. Create a plan for using an assumptive close when it's appropriate so you can fast-track your sales and booking process. This means moving them forward to booking faster than you would with other clients, with the assumption that they're ready even before they've said so.
For existing customers
Nourishing your relationship with existing clients is critical to keep your business growing strong. To promote sales among those customers that already know your offering, you can implement sales tactics like:
1. Asking them for feedback: This will allow you to get first-hand information on what part of your sales process and strategy sealed the deal and which ones hindered the buyer journey. This information is necessary to improve your methodology and optimize the customer experience. It could also offer you additional insight into your client's preferences, wants, and needs.

Pro Tip: Add some of your clients' testimonials as social proof on your site or sales video to generate trust and encourage others to buy from you.
2. Stepping up your email marketing game: Email marketing gives you a convenient way to provide your customers with timely information on deals, new products, and services, industry news, etc. However, it can be a double-edged sword. Make sure to always gather your client's contact details ethically and offer them valuable information to avoid ending up in the spam bin. Keep your emails short and simple, and leverage sales email templates to help you save time.
3. Creating a loyalty program: To encourage existing customers to keep coming back, offer them exclusive perks for their loyalty. Incentives could come in many shapes and sizes, including special rewards, discounts, and freebies.
4. Offering superb customer service: A sour client experience can flush all your effort down the toilet. All it takes is miscommunication for a client to never come back. It could even cost you your reputation as a business. That's why strengthening your client experience and processes for customer service can help you guarantee more long-term clients. Treating your clients as you'd like to be treated is the first step toward building a strong bond with them and increasing customer satisfaction.
5. Streamlining your checkout process online: An overly complicated sales journey could cause your customers to bounce. To provide your clients with a great experience that prompts them to buy from you again, you must offer a secure booking process with little to no friction. Making the client's life easier is key for them to finalize a purchase and reduces the chances of them abandoning the process altogether.

Pro Tip: Most sales nowadays take place on people's phones. Optimize your site and your booking process for mobile devices if you want to stay on top of your sales game.
Combine your sales strategy with your booking process
Creating a sales strategy that you can implement throughout the sales funnel is essential to keep your business profitable and achieving your revenue goals. No matter what types of sales techniques you're using, outlining your objectives and methods is the fastest route to success in an increasingly competitive market. A good sales strategy is a living SOP that can evolve and grow along with your business.
To make your sales methods more impactful, explore how you can combine your sales efforts with your booking process. Instead of pausing in between, use HoneyBook to create interactive, dynamic files that allow clients to book faster.
Your business brochures and pricing guides can become interactive pages where clients choose what they need. From there, their selections can automatically populate on the next pages in contracts and invoices. With payment processing as well, you can easily build your entire sales process and clientflow inside HoneyBook.