Improve email deliverability for independent businesses with these 5 tips and learn best practices for maintaining your sender and domain reputations.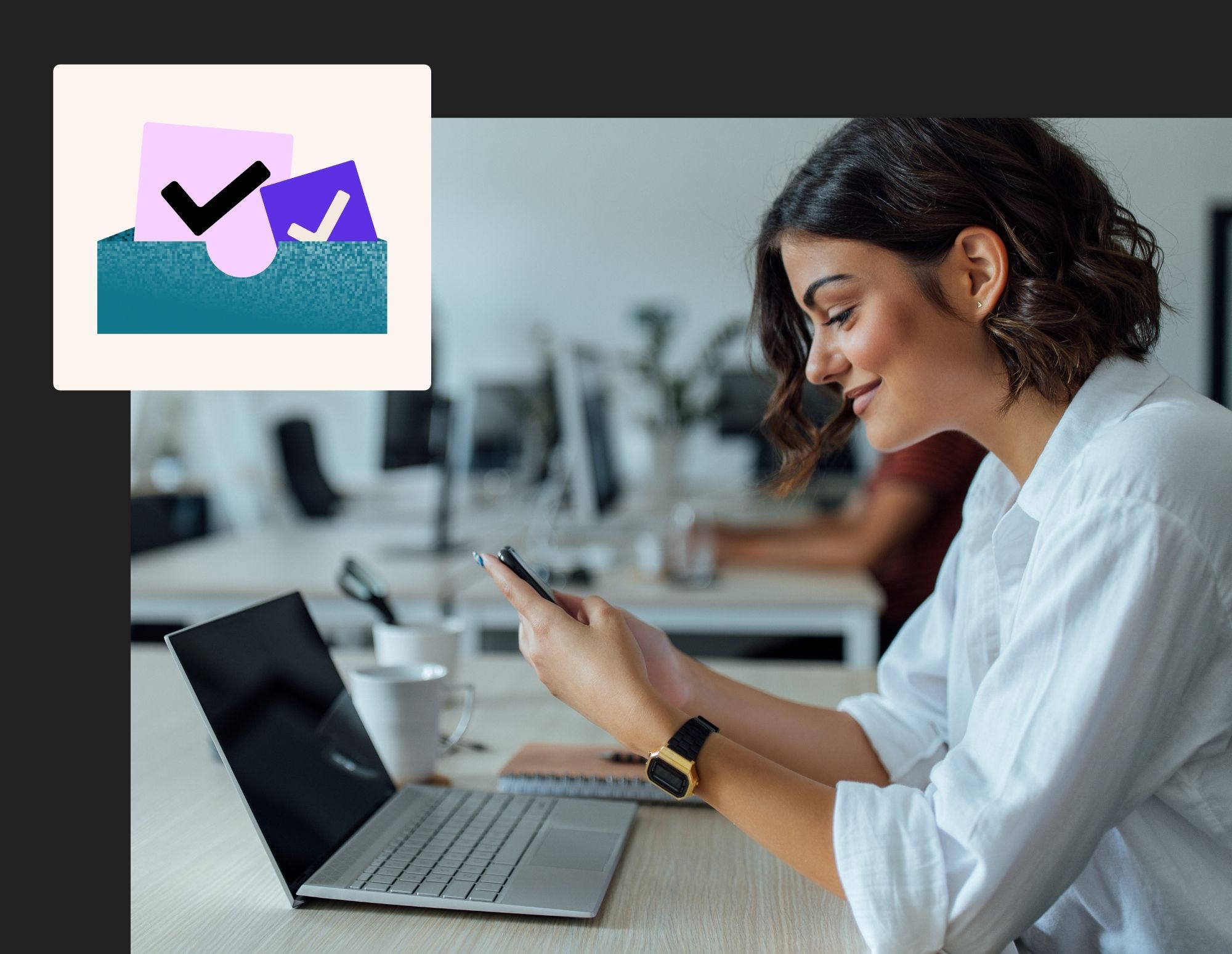 What do effective client communication, secure contract exchange, and email marketing have in common? All involve email deliverability. Whether you're nurturing leads, scheduling a call, sending an important file, or following up for a contract signature, it's important your emails arrive successfully in your client's inbox instead of their spam folder.
As simple as this sounds, email deliverability is complex regardless of what CRM platform, email service provider, or inbox provider you use. Fortunately, there are ways you can improve your email deliverability.
Factors like email content personalization, sender reputation management, and authentication, all of which we'll cover in this article, can have a bigger impact on your deliverability than any third-party tools you use.
Here we go over best practices and specific steps you can take to increase the likelihood of your emails making it to your client's inbox.
Jump to:
What is email deliverability?
Simply put, email deliverability is whether or not emails make it to the intended inbox. This means email deliverability is central to successful client communication. Without it, your client may not receive important information about the project they've hired you for, or they may miss a reminder to sign a contract.
Some examples of poor email deliverability include emails that are miscategorized as promotional, email marketing that goes to spam, and emails that are technically sent but not found at all in the client's inbox.
Resolving these kinds of issues is unfortunately not always straightforward. Email deliverability is complex and composed of many different factors. Only some of these factors are in your control. In this article, we'll discuss what you can control about your email deliverability—namely domain reputation, sender reputation, and authentication configuration—and what you cannot—such as how your inbox provider is integrated with third-party tools and services, and what inbox provider your clients use.
Why is email deliverability so important?
If email is an important part of your client communication, as it is for so many businesses, email deliverability is something you should be familiar with. The multiple factors that comprise email deliverability determine whether your prospects or clients see your email communications.
If you use email to capture sales and identify qualified leads, it's important that your emails reach those prospects so you can successfully convert them into booked clients. Otherwise, you could be missing out on new business opportunities.
If email is your primary method of sending important files and collecting information from clients, seamless email communication is essential to keep your projects moving forward and your client expectations aligned.
If you use email marketing for lead nurture, it's important that the leads you've qualified receive your content so they can make informed purchasing decisions. Your email deliverability can impact many aspects of your business.
Ways to improve email deliverability in client communication
Because of how important it is for your emails to reach your client's inbox, we recommend assessing your email deliverability from the earliest moment you can. This will help you avoid miscommunication, misunderstandings, and ultimately more work on your plate. Here are a few key terms for understanding email deliverability:
Inbox providers are the accounts where you and your clients send and/or receive email (think Gmail, Yahoo, or Outlook).
Email service providers, or ESPs, are platforms you use to send transactional or marketing emails (think Mailchimp or Flodesk for marketing emails and a clientflow platform like HoneyBook for transactional emails).
Domain name, or domain, is like a business or home address, but for a website. The URL www.honeybook.com is a domain. A domain can be used to create a custom email sender domain, for example [your name]@honeybook.com.
Email sender domain is the domain from which your email is sent and comes after the "@" in your email address. For instance, @honeybook is the email sender domain for HoneyBook employees. You can have a generic email sender domain from inbox providers like Gmail or Yahoo or a custom email sender domain from your personal or business website, like [email protected].
There are a number of techniques independent business owners can use to improve their email deliverability.
1. Maintaining a high domain reputation
When you send an email, the recipient's inbox provider determines if the email is spam or not. A poor domain reputation can route your emails to someone's spam folder, or result in the email being rejected entirely. For independent business owners, this means clients may miss important pieces of information.
Domain reputation is kind of like a credit score for your email sender domain. Regardless of which ESP you use to send emails (whether it's Mailchimp or Constant Contact for marketing emails, HoneyBook for client communication, or another), your domain reputation isn't scored based on the ESP your email was sent from.
Your domain reputation is attached to the email sender domain you created using your inbox provider (e.g., @gmail.com or @[mybusiness].com). It's the email address you use to email clients and/or nurture leads.
Keep in mind that if you use HoneyBook's default email settings, your emails will come from an @honeybook.com email sender domain. This means that the domain reputation will come from HoneyBook and not your own email address.
How to assess your domain reputation
Firstly, it's important to understand what your domain reputation is before you try and improve it. To learn what your domain reputation rating is, use one of these free tools:
Use domain monitoring tools like MxToolbox.com or EmailConsul.com to check if your email sender domain is on any blocklists. Both tools check many block lists, so you're not just checking a single list at a time.
If you're a Gmail user, and you send marketing nurture emails to a few hundred subscribers, check out Google Postmaster. Postmaster is where you can analyze the success of your email sends and monitor the status of your sender domain.
If your inbox provider offers bounce reports, be sure to review them.
Pro tip
While you may have a great reputation with one inbox provider, it's possible you won't with another. For example, if your email sender domain has a strong reputation with Gmail but not with Yahoo, your clients that use Gmail are more likely to receive your email in their inbox, and clients using Yahoo might get it in their spam folder. Each inbox provider's spam filter is different.
2. Improve your email sender reputation
Your email sender reputation is based on all of your email sending behaviors. This means that your email marketing practices and direct client emails both impact your email sender reputation. For this reason, it's important to maintain good sending habits from the moment you begin communicating with clients and/or sending marketing nurture sequences to prospects.
Unfortunately, your sender reputation is much more difficult to analyze and monitor than your domain reputation, which also makes it more difficult to improve.
Whether you use a custom email sender domain for client emails, or you send emails from a well-known inbox provider like @gmail or @yahoo, you'll need to maintain your sender reputation. This is also true if your inbox provider is integrated with your HoneyBook account, which functions like an ESP.
If a client or someone on your email list accidentally marks you as spam, then your reputation will be hurt, especially if there is a spike in complaints. As a result, other clients and/or subscribers may begin receiving your emails in their spam folders (if at all).
Sender reputation tips for sending nurture emails
If you do send nurture emails (which can be a very successful marketing tactic), be sure your email marketing list is full of people who have consented to seeing your content. Don't buy email lists because they can contain email addresses that either don't exist or are frequently sold across many different lists.
If a recipient's inbox provider detects that you are sending "cold emails" to people who have not opted into your content, it will flag you as spam and will no longer trust emails coming from your domain.
Sending emails to addresses that don't exist or to people who are not engaging with your emails (and who may have already marked them as spam) can be considered spammy behavior, which is another reason it's important to avoid buying lists. It's actions like this that can damage your sender reputation.
Here are a few things you can do to improve your sender reputation if you are sending marketing emails as part of a nurture sequence:
Regularly remove contacts that do not engage with your content from your sender list.
Make it easy to unsubscribe for individuals no longer interested in your email content.
Send high-quality email marketing nurture sequences consistently. Erratic sending schedules can flag your email as spam.
Be sure your email content is similar to what you've covered in the past. Spam filters may flag your emails if the content is noticeably different from the topics you've previously addressed.
Sender reputation tips for sending to clients
If your sender reputation is damaged, it can affect your client communication, too. If you've been flagged as someone with poor email sender behavior, both your marketing and client emails may end up in the spam folder. This is why it's important to have good email sending habits that create a strong sender reputation.
Here are a few tips to improve your email sender reputation when working with clients:
Ask your clients to add you to their contacts so that your email is flagged as being a primary email instead of "promotional" or "social."
If a client doesn't receive your email, ask them to whitelist you from their inbox.
If your client has identified that your emails are ending up in their spam folder, ask them to mark the email as "not spam." This can help prevent future emails from going to spam.
Add your sender name using your ESP's settings so your client's inbox will identify you as a safe sender. When sending emails from HoneyBook, your sender name is added to the email automatically.
It is important to reiterate that spam filters are different for each inbox provider. These tips may improve your email deliverability, but they won't guarantee your emails don't end up in spam. Need more information? We have a whole article in our Help Center dedicated to improving your email sender reputation.
3. Authenticate your emails
If there's one thing you take away from this blog post, it's this: You must authenticate your emails if you use a custom email sender domain. It's one of the most common missteps that we see independent business owners make. It significantly impacts the security of your domain which, in turn, impacts email deliverability.
Email authentication can get pretty technical, but it's important you take the time to understand authentication protocols. To authenticate your emails, you'll need to implement email authentication protocols like SPF (Sender Policy Framework), DKIM (DomainKeys Identified Mail), and DMARC (Domain-based Message Authentication, Reporting, and Conformance). If you send marketing emails, you'll also want to authenticate BIMI (Brand Indicators for Message Identification). These protocols prevent spammers from spoofing, or faking your domain, which can severely damage your sender reputation.
Pro tip
If you use a custom email sender domain, you must implement email authentication protocols. Overlooking this critical step can significantly impact your deliverability.
How to assess your email authentication protocols
Email authentication is most important for independent business owners using a custom email sender domain like [yourname]@[yourbusiness].com. Many business owners choose to use a custom sender domain to appear more professional to their clients. This is a great tactic but will be unsuccessful if your emails don't reach those clients. You must authenticate your email in order to secure your custom email sender domain.
Occasionally hackers will find non-authenticated domains and send emails from them. What this means is that if your domain isn't authenticated, your email sender domain is vulnerable to hijacking. Hackers can then use your email to spam people, and this can damage your domain reputation.
If you use HoneyBook's default email settings you do not need to independently authenticate your email. These emails are sent from the @honeybook.com sender domain and are authenticated.
The same is true for business owners using a generic sender domain like @gmail.com or @yahoo.com. If you use a free inbox provider with a generic sender domain, you do not need to authenticate.
On the contrary, if you use a custom sender domain tied to an inbox provider like Gmail, where you use an @mycompany.com email address but they go to a Gmail-provided inbox, you will need to authenticate.
Pro tip
HoneyBook offers a domain testing tool for users with a custom email sender domain (like @mycompany.com) through Gmail to check whether their SPF and DKIM authentication protocols have been set up properly. Learn more in our help center.
With HoneyBook, you can integrate your inbox provider so that emails sent from the platform come from either the custom email domain of your choosing (e.g., @gmail.com or @mycompany.com).
If you'd like to integrate your own custom email sender domain with HoneyBook but don't know how to set up your domain records, we recommend hiring a professional.
4. Write personalized, authentic, direct emails
Emails that overpromise results, sensationalize services, or are formatted unconventionally are often flagged as spam by inbox providers. Additionally, words in the subject line and/or body that indicate pressures to purchase like "buy" or "as seen on" are red flags for inbox providers.
Ways to personalize your emails
Each email you send should be personalized for the recipient. Your emails should also be signed with your name. If the email is sent to an unidentified person or doesn't mention your client's name (e.g., "Hi," instead of "Hi Janet,"), it may be flagged as generic spam.
Craft creative subject lines that tell the recipient exactly what they can expect from the email without any grandiose phrasing. For example, "Last Call for Discounted Portrait Bookings" is both generic and excessively grand.
Address each email to your client. This is easy with HoneyBook's smart fields. Smart fields pull your client's name from contracts or other documents and propagate it in every email.
Personalization can help you in other ways, too. Emails personalized to the reader receive 10% higher conversion rates than those that aren't personalized.
If you're using a clientflow platform like HoneyBook, or communicating straight from your inbox, be sure to begin the email with your client's name every time.
5. Optimize email design and formatting
Make sure your emails are formatted conventionally and are easy to read. Use a clean layout, concise subject lines, and relevant preview text to signal your client to open important emails.
Fortunately, email design does not have an immediate, long-term impact on your domain or sender reputation. It does, however, impact the deliverability of that single email if its load time is bogged down with large pictures or files.
Tips for email optimization and design
When drafting basic emails and/or when sending emails using your email service provider, don't use over-the-top HTML designs that are code heavy. Examples of over-the-top email design are emails that include large photos or images, videos, and anything that slows down load time.
Keep messages to the point, and you'll find your emails will be more effective on the client side as well. Simple, action-oriented emails perform best when you want your client to kick off a project, pay an invoice, or read important information.
The complexity of email deliverability
Email deliverability is both very important and incredibly complex. Client communication is essential to your independent business, and sending emails is naturally part of this. However, understanding email deliverability is knowing that there is no single solution that will ensure 100% of your emails will be delivered.
Because email deliverability is influenced by multiple inputs and variables, and sending emails requires different software programs working together, things can get messy. We recommend familiarizing yourself with various inbox providers' email sender best practices so you're well-versed in what they see as legitimate and can structure your email communications accordingly.
While there are strategies that can increase your likelihood of delivering to the correct inbox consistently, no platform—inbox provider, ESP, or otherwise—can guarantee this.
Manage client communication effectively with HoneyBook
HoneyBook is a clientflow management platform for independent business owners, helping you to sell and deliver your services easily online. Clear and consistent client communication is an essential part of that process and HoneyBook can help you keep it all in check.
Use these email deliverability best practices as reference material when building or updating your email communications. By deepening your understanding of this critical topic you will feel more confident addressing challenges and improve your business outcomes in the long run.
When in doubt, HoneyBook members can connect with our support team via the question mark icon in your account.