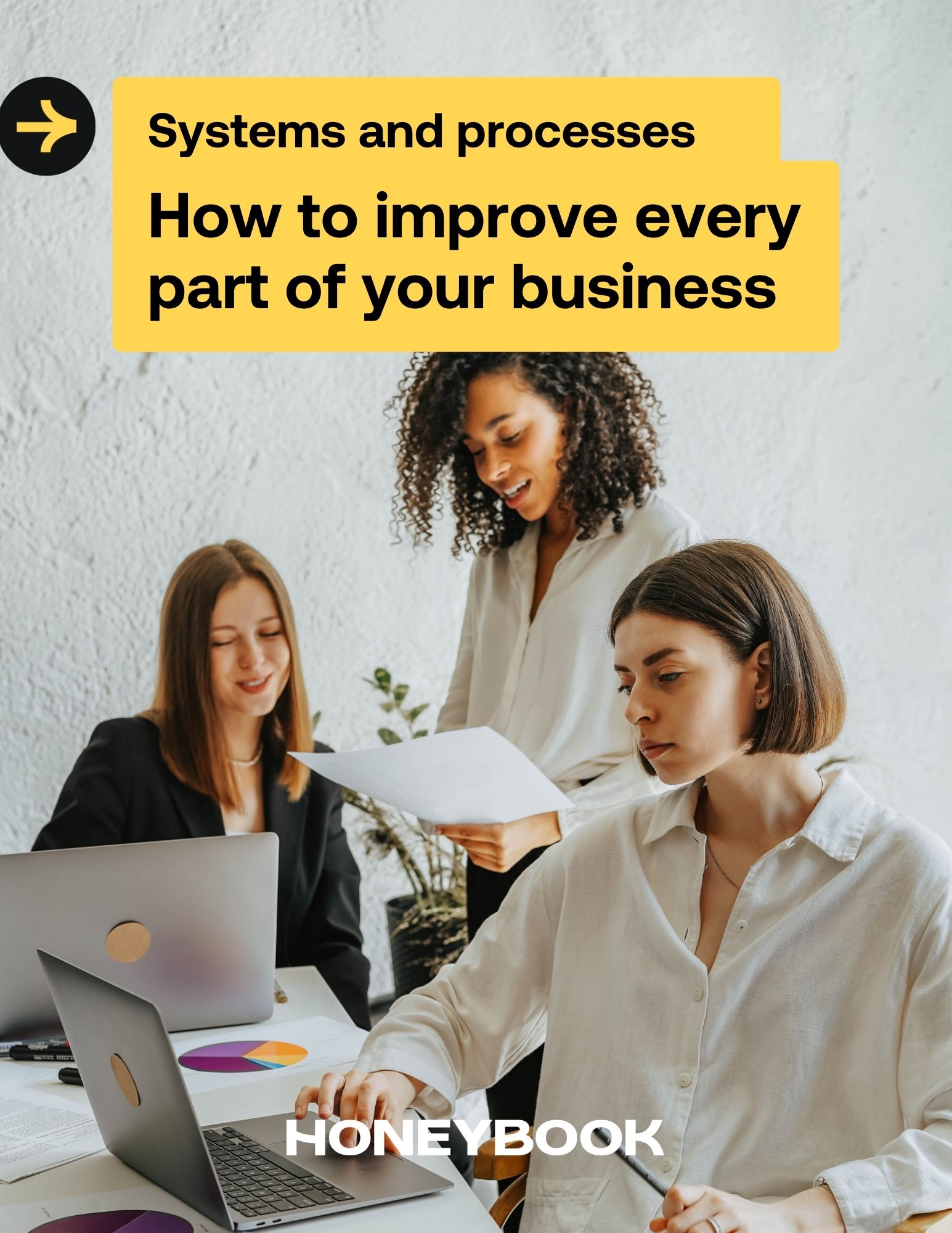 Systems & processes: How to build systems in your business
Between taking care of clients and running the back end of your business, your to-do list can feel endless. So anything that can help you save time and get organized is a game changer, right? Systems and processes are critical to the success of any independent business. Consider them the building blocks you'll need to scale your operations and empower you to get more things done with less legwork. 
This is true for every part of your business and in this guide, we're sharing insights on how to build systems for effective client processes, consistent content creation, generating new leads, and more. Feel confident with the right processes in place to help you grow and reach your goals by learning how to build systems in your business.
This guide covers how to:
Systems and processes to improve every part of your business
Optimize your clientflow:
As an independent business, you know how vital client experience is for your success. You also know how important you back-end processes are to providing that exceptional experience. Claire Bough shares why you should be using an all-in-one business management system to streamline your clientflow and eliminate operational friction. Delivering successfully for clients depends on your business operating smoothly, and to do that you need a firm grasp on all the roles you play as an independent business owner. Jen Taylor explains how to become each of the eight CEOs in your business.
Improve your marketing efforts:
PR expert Meghan Ely shares her insights to help you maximize your timewhile increasing brand awareness and generating new leads. Then, Erin Flynn breaks down the steps required to run effective projects. Learn how to design your process.
Ready to call in your dream clients:
Haley Thomas shares tips to improve your client experience with a simple five-step system that will set expectations and delight them along the way. It should come as no surprise that content marketing is a valuable strategy for any independent business. But creating all that content while tending to your clients can be overwhelming. Free yourself from the feast or famine cycle of content creation with help from Amanda Warfield.
Claire Bough
It's time to implement an all-in-one business management solution that improves your clientflow. Claire discusses the six benefits they'll bring to your business processes, such as streamlining your back-end operations and providing a more professional client experience. Claire explains why an all-in-one business management system is the right investment to save time and money, scale your business, and reduce operational friction.
Erin Flynn
Make your process work harder for you so that you can work with your clients more efficiently. Erin breaks down the steps needed to create a successful project management workflow. You'll be surprised at how easily your projects can go and how satisfied your clients will be once you've established clear, standardized guidelines.
Amanda Warfield
Say hello to showing up consistently and serving your clients well all at the same time. It should go without saying that content marketing is an important strategy for any independent business. However, writing all of that content while still caring for your clients might be daunting. Amanda can help you break free from the feast or famine cycle of content creation.
Meghan Ely
Improve your marketing strategy without it taking over your entire focus. PR expert Meghan discusses her tips to help you save time while raising brand exposure and generating new leads. And, with the market for indpendent businesses expanding quickly, it's definitely worth it to put your brand out there and get the attention of your target audience!
Jen Taylor
As your business grows, you may feel as if all roads lead to you (and, in some ways, they do!), but that doesn't mean you have to navigate them alone. Jen explains how you can become each of the eight CEOs in your business without burning out. Learn how to prioritize your responsibilities and master the leadership you need to keep your business running smoothly.
Haley Thomas
Are you ready to start improving your client experience? Haley discusses a simple five-step strategy for landing your dream clients, impressing them, and turning them into long-term advocates. A superb client experience can not only entice them to work with you, but it may even lead to future referrals from clients who had a positive experience.
Disclaimer: The advice featured in this guide and on the blog was sourced from our community members for sharing general information and knowledge. For specific legal, financial, tax, mental health and professional advice, please consult an authorized professional.