Meetings are huge for service providers who work one-on-one with their clients. Make sure you know how to deliver great client experiences by understanding when to book in-person versus virtual meetings.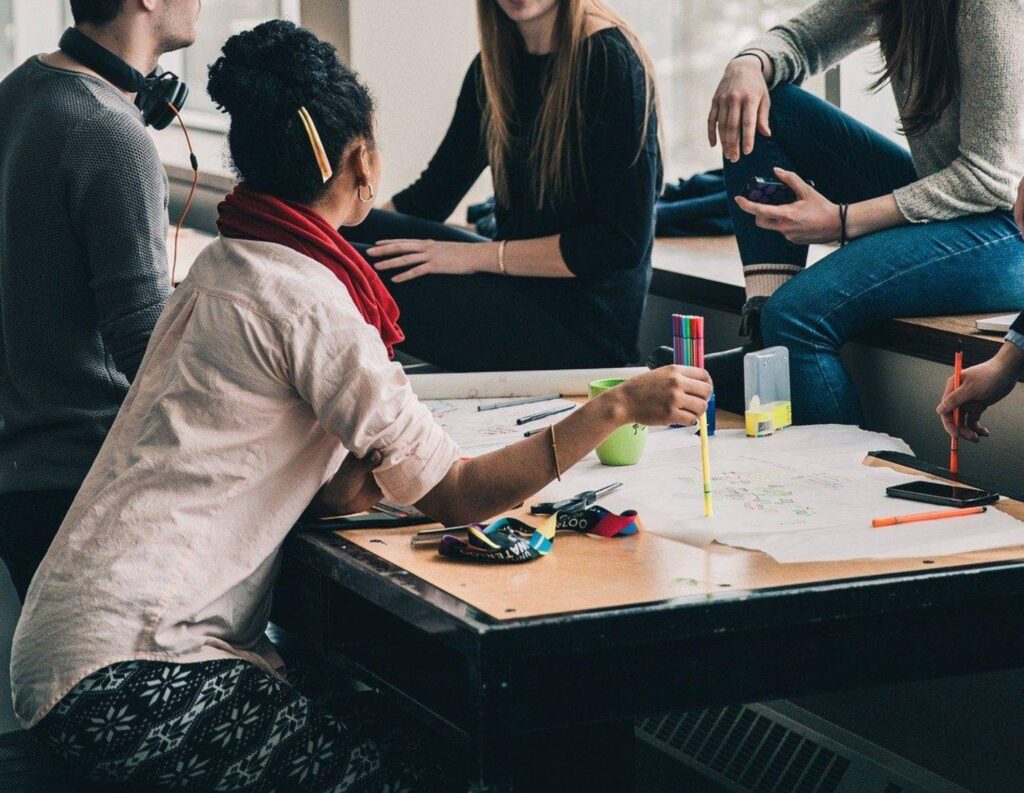 You know the worst one-liner that follows every unfruitful meeting: "That could've been an email." You might have said it yourself. Bad meetings are the bane of productive organizations, and for a service provider like yourself who typically meets with clients, they're also nightmares for your clientflow.
In your case, meetings can make or break deals. To make sure you're using them wisely, use these tips for knowing when to schedule in-person meetings vs. virtual or phone calls.
Jump to:
Types of meetings and their benefits
There are a few different types of meetings: virtual, in-person, and conferences. Each has benefits and drawbacks depending on the type of business and what stage of the workflow they are in with their clients.
In-person
In-person meetings are great for building rapport, getting to know each other, and running initial consultations, presentations, or training sessions. They're especially helpful when selling services to leads or onboarding clients, as they help develop strong relationships better than their virtual counterparts. However, face-to-face meetings can be costly if you often travel to meet with clients.
Requiring in-person meetings can also be inaccessible for a lot of people who find it easier and safer to meet virtually. When in doubt, you can always offer the option and make sure that's communicated in your onboarding process.
Virtual meetings
Virtual meetings/phone callshave become more popular in recent years with the rise of freely available technology and the COVID-19 pandemic. They can meet the same needs as an in-person meeting and eliminate travel. This saves time and money but may not provide as personal of an experience as some clients prefer. Additionally, online meetings are heavily reliant on digital infrastructure. Slow internet connections can sour a sales process that should already be coming to a close.
Conferences
A conference offers a chance to network with potential clients or business partners and learn about new trends in your industry that could benefit your business. A virtual conference is simply the online counterpart of the traditional in-person event and has grown tremendously in popularity since the pandemic. Conferences are less prevalent and useful for specific projectss, but joining the right conferences can level up your business and land many interesting leads.

Pro Tip: Certain stages of your clientflow (how clients move from one stage to the next in your processes) justify the extra effort of face-to-face meetings. It builds better business relationships by showing you're invested in providing great client experiences over more convenient alternatives.
Some business types might need more in-person meetings
Do some businesses thrive better with virtual or in-person meetings? There's no definitive answer. It ultimately depends on the type of business and what would work best for them. However, there are certainly business types where the client rapport that in-person meetings afford can provide a lot of value.
For example, someone who provides professional services such as consulting or coaching may find in-person meetings more beneficial than those conducted over the phone or via video conference. This is because they can build a stronger rapport faster with their clients and get a better sense of their needs when meeting face-to-face. Businesses that provide very personal services can also make use of more in-person meetings, such as photographers and event planners.
On the other hand, a digital marketing consultant or virtual assistant can prioritize more virtual meetings or phone calls. With businesses like these, your clients likely expect virtual meetings or phone calls, so there's no use going against their preferences.

Pro Tip: Always use an online booking calendar that lets you set up meeting reminders. There, you can remind your clients about when and where the meeting is taking place. 
Ensuring great client experiences regardless of meeting types
The most important thing is accommodating all your client's needs and offering a great experience. Regardless of the type of meeting you utilize, always:
Clearly define your goals for the meeting. Send the client a meeting request with all the relevant details in advance. This will give the client time to prepare and ask any questions they may have.
Plan meetings and prepare accordingly. Make sure you've got everything you need and can adequately address any concerns your clients may raise during the meeting.
Keep the meeting organized and on track. Simply starting and ending meetings on time communicates professionalism and reliability.
Encourage all participants to share their thoughts and ideas comfortably.
Follow up after the meeting with a thank-you note and meeting minutes or takeaways, where necessary.

Pro Tip: Every meeting is unique in its goal, especially if you're meeting clients to complete a booking! So ensure you meet clearly defined goals after the meeting. This means using the meeting to reach a conclusion that you and your client will appreciate.
Don't worry if a single meeting doesn't resolve a major issue. This usually means one of two things:
The meeting scope is too big to accomplish meaningfully within one discussion, which means you need to reduce the agenda in subsequent meetings.
You didn't come to an agreement with the client or other parties involved, in which case you need to reassess and try a different negotiation approach.
You can still schedule multiple meetings for the same issue, but each should move the issue toward resolution. Find where you can strategically use virtual ones to maximize convenience for your clients during these strings of meetings.
Let HoneyBook help schedule your meetings!
When it comes to clientflow and valuable tools like online meeting scheduling, HoneyBook's got you covered. As an all-in-one clientflow management platform, HoneyBook can help you automate and integrate much of your business-side processes.
Use HoneyBook's scheduler tool to set your session types, then send your link to clients or embed it into your files. If you're a photographer or a consultant, you can have your clients pay for a session by combining your scheduler with an invoice. HoneyBook automatically integrates payment processing, so it's all taken care of.