The outcome of client meetings can make or break a deal or project. Don't risk it: Learn about these 7 tips and best practices for planning better meetings now.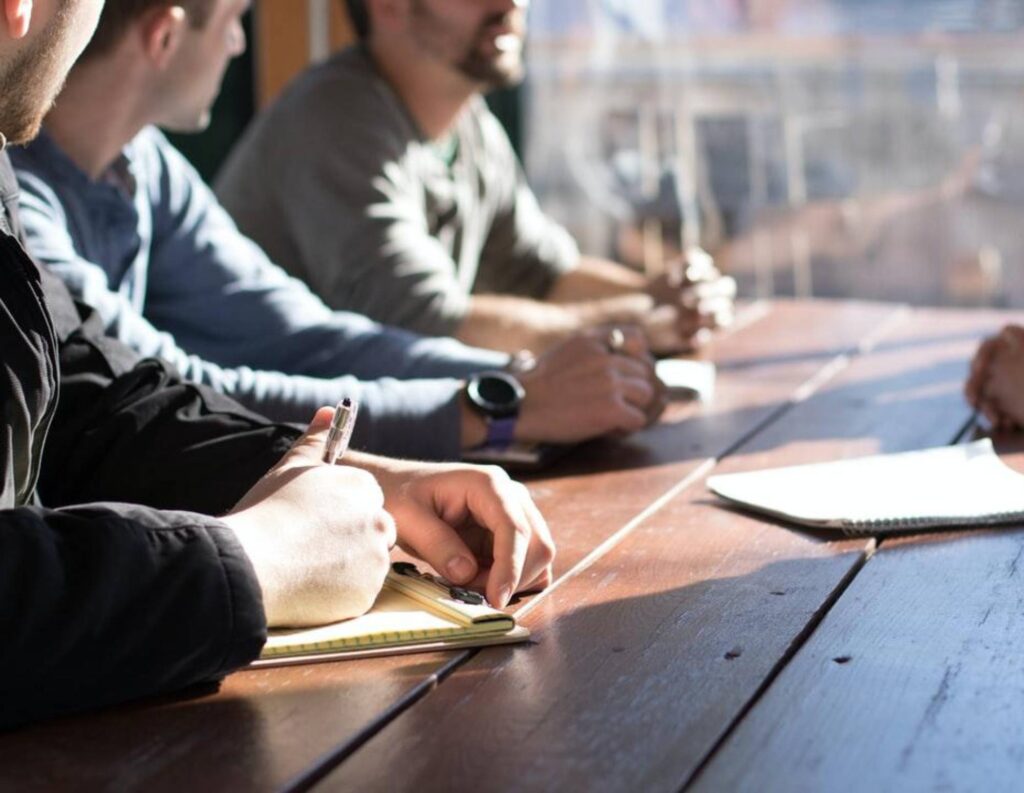 The art and science of running effective meetings are central to issues like workplace productivity, communication, and collaboration. For independent businesses, meetings are especially crucial for booking more clients and running successful projects
Client meetings allow you and your clients to set expectations. They give you the opportunity to create strong relationships and help clear up any confusion that happens along the way.
Whether you use meetings to evaluate leads, sell your services, manage projects, and more–these seven tips to plan meetings can help you achieve better outcomes with your clients.
Jump To:
1. Set expectations early and properly
One of the first steps to planning a meeting is identifying the purpose of the meeting. More importantly, you need to set your intention early and include as much relevant, succinct information as possible when the meeting is first scheduled.
Once someone sets an appointment with you, set expectations for what they'll get out of a meeting. You can do this as soon as possible by including a description of your meeting types in your booking calendar as well as the calendar invitation. 
For instance, if someone schedules a consultation call, they know they can expect to run through your sales brochure together, talk about needs, and discuss solutions. You can always send more personalized details closer to the meeting.
2. Define goals clearly and ahead of time
You should always clearly define the meeting agenda ahead of the schedule so you and your clients know how to prepare. Creating the meeting agenda early will also give your client adequate time to think of specific questions they want to ask.
With an agenda, you can make sure you're protecting your and your client's time by only running through the items that are important to cover in person or over the phone. Be sure to ask yourself if you're including anything that can be discussed over email. If so, maybe it's best to save it for later.
Agendas should also make it easier for you both to plan meetings in advance. Will you walk away with a solid timeline for your project? Will you simply be taking the opportunity to answer questions about your services? Keeping this goal in mind helps keep your meetings on track.
3. Forward relevant documents on time
A huge part of making sure the meeting agenda succeeds is making sure everyone has all the information they need. Forwarding relevant documents and other materials should be part of sending the meeting agenda ahead of time. In the worst-case scenario, even without a meeting agenda, you can move forward as long as you have the right materials.
Without the relevant documents in a meeting, you'll likely lose time at each step as one or more parties may not be prepared entirely for that particular talking point. If something hasn't been properly addressed/reviewed prior, the discussion can turn into rehashing things already covered instead of moving forward with productive outcomes in mind.
For example, if you're conducting a sales call, you might want to send your sales brochure ahead of time with the goal to incorporate your personalized sales pitch during the meeting and take any questions from your client.
4. Don't forget meeting reminders
Here's a reminder: set up automatic meeting reminders as soon as someone books with you. Such a simple task can save you from endless back and forth if your client misses meetings and you need to reschedule.
With HoneyBook, you can set meeting reminders per session, so they're always turned on for certain meeting types. Better yet, you can also set the meeting reminders to send to yourself so you don't forget to attend the meeting either! As a busy business owner, it's easy to miss things on your calendar.
5. Modern meeting etiquette: send details for joining the meeting
A lot has changed since the COVID-19 pandemic. Often, people send out Zoom or Google Hangout details regularly. Not all types of meetings are virtual though, and it's equally as important to send details in for in-person meetings.
For virtual or phone meetings, make sure you provide contact details at booking and at least one day prior for attendees to join the meeting. For in-person meetings, provide meeting specifics well ahead of time.

Pro Tip: In-person meetings might include travel time. Don't send meeting details 24 hours ahead when you or your clients might require more time to prepare for traveling, such as finding the location and parking.
6. Leverage agenda templates
Using meeting agenda templates is a great practice for service providers who work one-on-one with their clients. They provide structure and help you save time in the long run, ensuring that each call has an effective flow of conversation and that all topics are addressed fully.
Agenda templates enable business owners to easily create an outline of key items for recurring meetings like consultations, onboarding calls, offboarding, or review sessions and stay on track during the call. Not only does this help ensure that time is used efficiently but it can also improve client satisfaction throughout the process.
Tailor your agenda to your client's specific needs, allowing you to cover more detailed topics for different types of calls. For instance, an onboarding call agenda template may include welcome and introduction details, a review of the services being provided, and any related FAQs or clarifications that need to be addressed.
A consultation call could contain information like background research on the client's industry or their target customers which will inform advice given during that meeting. Offboarding sessions should similarly focus on closing out tasks or providing resources so clients feel supported in their next steps after working with you.
7. Always communicate key takeaways
Planning an effective meeting concerns a lot of good framing. You need to set and meet client expectations, develop clear goals and achieve them within the meeting agenda, and even utilize agenda templates to make the process of meetings repeatable and consistent. The same is true for meeting takeaways.
In the same way that preparing meeting agendas and relevant documents before the schedule is best practice, so too is ensuring that you deliver the minutes or takeaways after the meeting is done. Make sure to ensure that your meeting takeaways are actionable and measurable.
Communicate project milestones your clients must complete (such as filling out a form, or sending documents to you), as well as what's been completed on your end and what's coming up. This creates visibility of what needs to be done and how much progress you've achieved relevant to the agenda laid out in the meeting, allowing all parties involved to stay on track as well as hold each other accountable.
Frame meeting takeaways in a way that can easily be understood by all parties involved, especially your clients.
Let HoneyBook help you schedule and plan meetings
HoneyBook offers an excellent suite of tools that let you plan meetings and manage them more efficiently—plus much more.
Use HoneyBook's online meeting scheduler and you can also accept payments for appointments. With HoneyBook, you can send a contract and invoice along with your meeting scheduler, and accept payment in one step. Plus, within the platform, you can also set up automatic meeting reminders and offer options for virtual or in-person meetings. You can even take notes within the platform to keep track of everything.