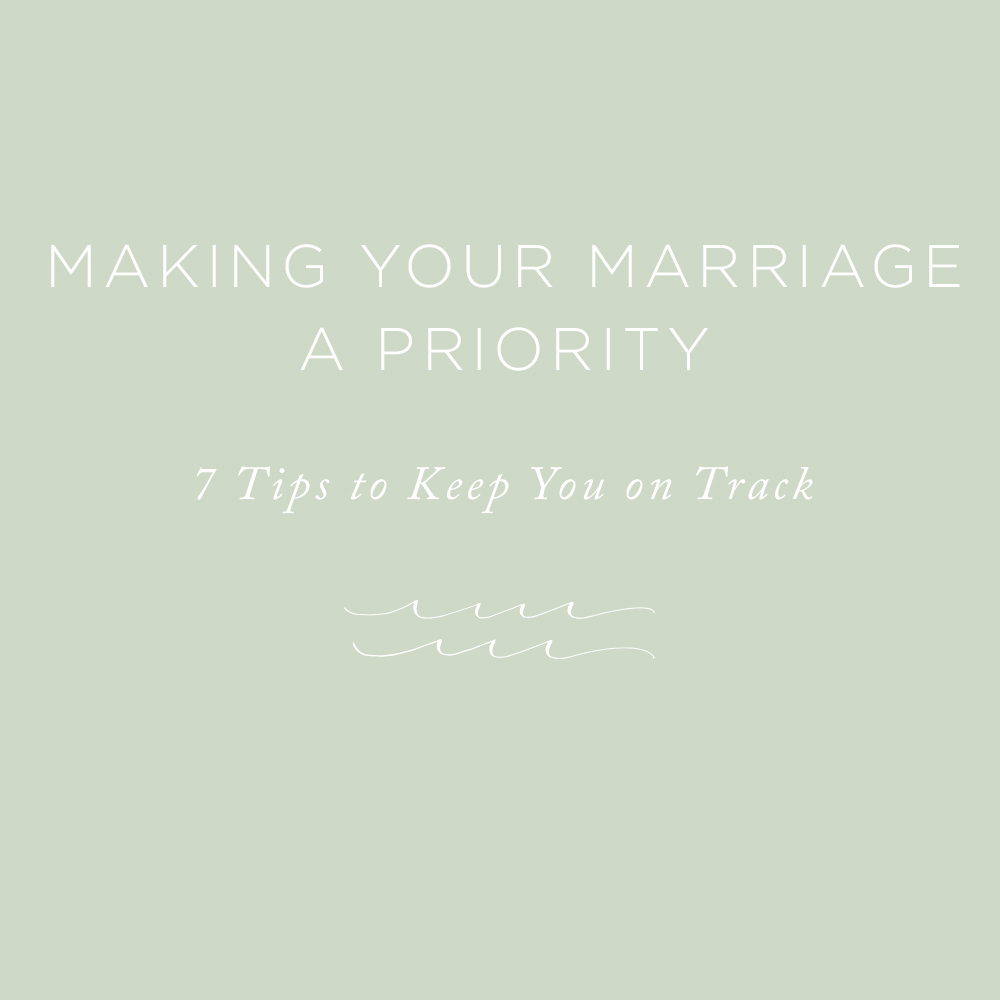 May 31st, 2003 I said "I do" to a young handsome Marine. I was 18 and he was 20. Many people said we were too young, they didn't think that we were ready. And if I'm being honest, they were probably right. 5 years in, after a few deployments, a baby, and struggling to grow up with one another – We were tired and fighting to keep it together. We had no idea where to turn or what to do. So we ran from our problems and each other. We were separated and headed for the big D, and no I don't mean Dallas.
After a few weeks had gone by, we met with a Pastor and our eyes were opened to the real issues we were dealing with. It wasn't that we didn't want to be with one another, it was that we had no idea how to make each other a priority. We were so worried with our own individual needs, that we failed to pay attention to what we needed from each other. We decided from that day forward we would work together and not apart. That we would make each other and our marriage a priority.
It's easy to get caught up in the busy of life, especially as a small business owner. We wear every hat under the light of the sun and we so desperately want to be successful. But what is that success for? At the end of the day, once you obtain whatever form of "success" you're chasing, what will it mean? For me, it will mean nothing if he isn't by my side. So I've committed to making an effort to make sure he knows he's important… that he matters to me. Despite what his flaws or failures are. When we said our vows, I didn't say I do if you do. I said, I do. Unconditional commitment… to him, and to us.
I could probably write an entire book about what exactly that means for me, but today I'll just share 7 tips that I think will help keep your marriage on the right track!
1. Disconnect
Put your phone down. Technology consumes SO much of our attention. It has become an extension of our minds and hands. We have to be conscious of how much time we are on it and strive to disconnect as much as possible. One step I've taken towards this is to put my phone down while we are in the car and engage with my family while we ride down the road. And most of the time, I'll also reach over and grab J's hand. One of his love languages is touch, so this makes him feel loved and more important than whatever else would have my attention on my phone.
2. Know their love language
Nothing says I love you more than going above and beyond to love them in the language they best understand. If you have not read The 5 Love Languages by Gary Chapman, I highly recommend it.
3. Communication
Never bottle anything up. And always be honest. While the truth can sometimes hurt, lies and deception hurt much worse. A relationship can get through a disagreement, but a bitter discontent heart that is never communicated leads to a path of destruction.
4. Never go to bed angry
Many people say they just want to sleep it off. But if we are being honest, I think this goes hand in hand with number 3. It's best to get it off your chest, stay up late and talk things through than to go to bed and go right back into going through the motions the next day. Make the time to make your relationship a priority.
5. Boundaries
Office Hours. Make your business work for you and your life. Do your best to align your schedules and stick to it. If his day off is X, do your absolute best to align your day off with his. As a small business owner, you are the boss. You control your schedule and make the rules. Your business is here to support your family life, not the other way around. I made a choice last year to stop shooting engagement sessions on the weekend. Yes this was difficult, and there are times where I need to be flexible in this area. But over all, I was able to gain a part of my life back that I had so deeply been desiring. Justin appreciated it too. 🙂
6. Give yourselves some grace
You are not going to wake up tomorrow and everything be different or perfect for that matter. Set time aside, think about what's important and what needs to change and work towards those changes… together. Day in and day out.
7. Never stop dating one another
Days, weeks, months can go by if we aren't intentional about this. Making time to stop the busyness of life and just reconnect is monumental. Even if it's just the two of you at home… no tv, no tech devices, a cup of coffee or a glass of wine, and good conversation. Mark dates on your calendar, be intentional about keeping those dates, and make it happen.
8 years ago, we had the roughest patch of our marriage. And although it was a painful time, I look back now and am so incredibly grateful for it. It changed us, molded us and made us realize what was important. Ever since then we have been ever so passionate about marriages and helping others to make it a priority. Last year we connected our passion with an incredible idea and launched Gussied Up. It is a series of date night events in the Charlottesville area, with the hopes of growth to other locations! If you are in the Virginia area and are looking for a fun night out, be sure to click over to the website to learn more! Our first event will be held April 1st at the gorgeous Veritas winery in Charlottesville. We would be so delighted to have you there!