Welcome to 2023, where small business management software can help you reach your biggest goals! The sky is no longer the limit.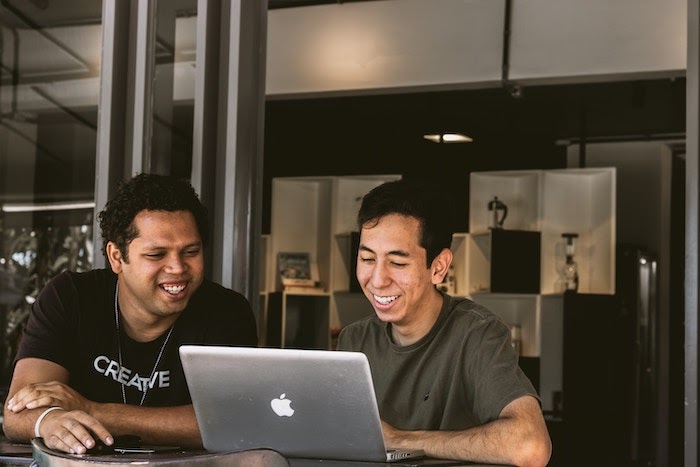 Businesses big and small can benefit from automation and organization. That's especially true for independent business owners who are so often operating on their own or with a slim team.
Your process, product, and brand are the reason why you're successful. The software supporting the efficiency of your process, product, and brand is why you can have a life, too! You need small business management software—but which kind will improve your workflow?
It's a question that all independent business owners must ask sooner or later: How can I improve my processes with software? How can I make my clientflow seamless?
Good news—there are several ways you can do this.
There are so 👏 many 👏 small business management solutions to help you optimize your independent business. Not all of them are for everyone, of course, which is why we've made a list of the best in biz (and who they're best for).
These companies can help you improve your clientflow, analyze your results, and become more efficient. Read on for tools to help keep your goals on track and organize the way you run your business.
Below, we'll take a look at 15 small business management software tools that are designed to turn your business into a well-oiled machine. Some can even provide all-in-one solutions that allow you to manage multiple parts of your business in one place.
Jump To:
Best Team Collaboration Tools
If you're building a team for the first time or adding new members to your existing team, you'll likely have communication troubles at some point. We're all human here. 
But some tools can help smooth out a lot of those communication wrinkles – tools that clarify, streamline, and store your messages for your records.
Slack: Out with the inbox, in with chat
Slack created a communication revolution with its freemium, searchable communication tool for teams, and calls itself a "replacement for email" (which we agree with, at least for one-off communication with coworkers). Messaging, file-sharing, and automation are a lot easier to get right the first time when you can edit, search, and see an entire conversation in one window. 
Why it's great
Slack offers options for multiple chats (organized by "channels"), voice and video calls, and screen sharing that fit together seamlessly in one app. It's a truly dynamic multitool for effective and clear communication.
In addition to communication, Slack does a lot of other things too. From file and document sharing to creating your own tools and bots to integration with over 1500+ other apps, Slack's possible uses are endless.
Who should use Slack?
Slack is for pretty much everyone. It's distributed via a "freemium" platform, which means the base version is free. The free version gives you access to 90 days worth of conversation history, 1:1 "huddles" (audio-based communication), and 10 integrations. The premium version is especially robust—we recommend it for medium-sized to larger teams doing a lot of remote communication.
Chanty: Simplify communication even further
Chanty is a program similar to Slack in many ways, but with two key differences–it's less expensive and less complicated. 
Sure, this means it can do less, but those extra features may not be as important for your company if you aren't huge yet, and maybe don't need Slack's advanced features like triggering events and automation.
Why it's great
Chanty has some of the same core features as Slack, including the ability to connect with other apps for more seamless collaboration. For example, you can sync with Google Drive to make document management and the ability to share files a bit easier. 
Who should use Chanty?
If you want to streamline communication with your team with a simple and intuitive interface, while spending less, Chanty may be a good fit for your business. We recommend this for small businesses that don't intend to expand to a team of 20 plus.
Zoom: Robust one-stop for all things video call
These days, it seems like it's becoming harder not to use Zoom, and that's probably because it's so well-made that everyone's catching on! That, and pandemic usage made it ubiquitous (Zoom's brand name recognition grew by 33.6% in 2020 alone.)
Why it's great
Zoom handles a wide range of communications needs, from large-scale video conferencing to one-on-one chats and even group messaging. The cloud-based platform's harmonious integration with your favorite calendar tool (e.g., Calendly or Google Calendar) makes communication with your team easier than it's ever been before! 
You'll be in good company if you choose Zoom for your company's communication needs. As more and more businesses adopt the platform, it will be easier to communicate not only with your team but with others outside your company as well. 
Who should use Zoom?
We recommend Zoom for independent businesses that are scaling rapidly and do frequent video calls with clients or internal meetings. Another freemium app, Zoom's basic package offers what an independent would need for basic meetings for up to 40 minutes. If you're a growing team that needs meetings 40 minutes or longer, Zoom goes up in price in a big way. We think it's worth it, though, if you're spending lots of time face-to-face with clients on the big screen.
Bonus Points: Zoom integrates seamlessly with some tools for independent business owners like HoneyBook. If you work with clients remotely, you can easily add Zoom to your online meeting scheduler to book your meetings more efficiently.
Slack vs. Chanty vs. Zoom
Comparing Slack, Chanty, and Zoom is an interesting comparison to consider. While Slack and Chanty offer comparable services, Zoom stands out as primarily a video platform. Zoom's customer service excels over Slack and Chanty's, however, it doesn't offer easy messaging services. 
For this reason, we recommend having Zoom if you're a growing business, and either Slack or Chanty. Each of these small business management software solutions has its benefits and drawbacks.
Between Slack and Chanty, it's important to note that Slack offers API—Chanty does not. With Slack, integrating your Google Drive, Asana, MailChimp, and a myriad of other apps is seamless. That same functionality doesn't exist with Chanty.
Top Small Business Project Management Software
Independent business owners know how easily a project can unravel. You're constantly managing different client requests for multiple projects and different stages of your workflow. Employees add even more to the mix when you are responsible for overseeing their time and tracking their project progress. 
This is why project management is crucial, and it's especially important to find software that meets all your needs.
Trello: Transparency and simplicity
Trello is a management software tool that provides independents with a simple way to see each project at a glance. It is excellent for providing a bird's eye view of projects, including everything that needs to get done. 
Why it's great
Boards and cards, which make up Trello's now-famous (and often-imitated) Kanban-style organization method, represent tasks and to-dos within your project. When you select individual cards, you see the finer-grained details of the task, possibly set up as a checklist or progress bar.
Who should use Trello?
Trello's team aspect allows you to assign cards to specific team members individually for efficient delegation, meaning it'll always be clear whose task is whose. Trello is great for small teams who would benefit from role clarity, but don't need in-software invoicing or other integrations.
Basecamp: For independents that need high-level organization
Basecamp is a bold software tool that all but promises to change your life. Yes, it's that intense.
An all-in-one project management solution, Basecamp helps you to get organized when everything you do to manage your business is scattered and disjointed.
Why it's great
If you're using several different tools to accomplish your goals with emails, spreadsheets, chats, meetings, and other variables, Basecamp brings all of that together "under one roof" and provides a central hub for you and your team to efficiently collaborate.
Who should use Basecamp?
If you manage a lot of people, there is added value in that Basecamp allows you to see what everyone on your team is working on. When you can see all the moving parts of your business at once, from one place, you'll see how easy it is to figure out exactly what needs to be done next. Because of this, Basecamp is a great option for larger teams with very detailed projects.
HoneyBook: All-in-one clientflow management for service-based businesses
If you want to manage client communication, track projects, send invoices, and process payments professionally all in one place—HoneyBook is where you need to be. 
Why it's great
HoneyBook allows you to seamlessly manage your clientflow. From lead management and client communication to invoicing, contracts, payments, project tracking, and more, it's the virtual command center for your business. Add to that customization, automation, and the ability to create interactive files for every step in your process and HoneyBook is a no-brainer for independent service-based small businesses. 
Who should use HoneyBook
It can be tricky to find software with all the features you need to manage your workflow and client experience. This is why HoneyBook is the best all-in-one clientflow management solution for independents and small teams. It puts the business owner in control of their process and how they want to show up for clients, all from one intuitive platform. 
What is HoneyBook used for?
By offering invoicing, contracts, and online payment software all in one place, HoneyBook simplifies client and project management from beginning to end. This makes booking simple and projects more efficient. 
Throughout the entire process of working with a client, you'll be notified of all your client's activity in real-time, including when essential documents like invoices and contracts are viewed, signed, and paid. HoneyBook's robust small business management software enables you to create custom, interactive files that easily move clients from inquiry to booked without friction.  Designed intentionally with independent businesses in mind, HoneyBook gives you visibility into every stage of your clientflow. With this insight, you'll be able to smoothly take control of all the details that might otherwise have driven you mad. 
For managing employees, everyone can see a bird's eye view of project statuses within your pipeline. In the individual workspaces, you can share notes about the client or view the details of the project–including communication, timelines, and key documents. When everyone is on the same page, projects quickly move forward and it's easy to exceed client expectations.
HoneyBook also offers task management in the form of a time-tracking tool. The time tracker helps you accurately and easily bill clients, especially if you have multiple team members working on different tasks.
Bonus points: HoneyBook offers both an iOS mobile app and an Android app that allows you to keep up with important notifications and status changes on the go, so you know what's going on with your business even when you're away from your computer.
Trello vs. Basecamp vs. HoneyBook
It's a tight race between these three platforms, and it comes down to one element. How you interact with your clients! Trello and Basecamp both offer catch-all solutions at varying prices that are great for keeping tabs on back-office tasks. These are internal tools that don't really offer a client-facing component. Whereas HoneyBook is an all-in-one clientflow platform. This means you can manage your back-office tasks as well as your client-facing experience all from one platform. 
Small businesses that sell personalized services, such as photographers or business coaches, can use HoneyBook to schedule a call, send services, and collect payment in one seamless interaction instead of many. HoneyBook combines valuable features for project management with those of a CRM to offer a platform specifically designed for the needs of independent service-based businesses.
The best thing about this is that HoneyBook offers in-app payment processing with low (read: a very competitive 2.9% + 25¢ for entered cardholders) processing fees! Plus, every client is in a designated project where you can monitor each interaction, review sent files, and track progress. Trello and Basecamp offer integrations that support tracking payments but do not offer embedded payments natively in the platform. HoneyBook is your best option if sending invoices,  taking payment, and offering the optimal client experience is an important part of your business!
Try a 7-Day Free Plan
Outstanding CRM Software for Small Businesses
CRM software is valuable for service-based independent business owners. One of the reasons why your clients love you is because of the experience and individual attention you can offer, and a CRM is a part of what makes that possible.
The best CRM software for your needs depends on your project cadence, client volume, number of employees, and workflow preferences. Some have enhanced capabilities for analytics and reporting, while others excel at automation and contact management.
HubSpot: Marketing and client relationship management in one place
Known for being a very marketing-oriented CRM, HubSpot ranks among the best CRMs out there today, especially if you're trying to build a content marketing machine. If you're simply looking to send emails, contracts, and invoices all from one place, it's not going to be as straightforward as other tools on our list. This is a robust platform with a multitude of marketing capabilities. 
Why it's great
Make no mistake: HubSpot can certainly be used in the more traditional ways CRMs have been used—it's a powerful tool for keeping your leads organized throughout the stages of your pipeline—but its really special value comes from additional marketing tools and packages that make it even more powerful. While there are a few freebies offered online, like e-marketing and scheduling tools it's best for businesses aiming to grow into a larger enterprise.
Who should use HubSpot?
If you want a CRM that's focused on marketing and can help you grow your business through lead generation, automation, analytics, and conversion optimization, HubSpot is probably your best bet. HubSpot is powerful with additional marketing tools and is best for teams looking to scale quickly. Think small but mighty team looking to become enterprise versus solo consultant energy.
HoneyBook: The best do-it-all CRM alternative
What's that you say? Didn't think of HoneyBook as a CRM?
HoneyBook is a clientflow management platform that offers many of the quintessential elements necessary for small business operations, which should put it on your radar if you're assessing CRM tools. Capabilities include lead management, automation, booking features like contracts and invoices, as well as payment processing and custom interactive file building. HoneyBook focuses on empowering the independent service-based business with everything you need at your fingertips. 
Why is it great?
From inquiry to payment, every stage in your business process is made simple and clear. You can track every move your client makes, and give them everything they need in automated (but personalized!) communications. Your productivity will increase as your back-and-forth decreases.
Furthermore, the ability to create and combine booking tools like invoicing and online contracts, makes client onboarding easy. 
If you want ultimate efficiency in managing your clientflow from first inquiry to final payment and referral, HoneyBook is the solution you've been looking for.
Who should use HoneyBook as a CRM?
For small independent businesses (specifically service-based businesses like graphic designers and photographers) HoneyBook is unmatched when it comes to providing a simple but powerful toolset for creating efficient processes and remarkable client experiences.  (Just ask these reviewers!)
Because HoneyBook puts all of what you need for streamlined client management in one place, your client relationships will thrive as you make life easier for them—not to mention easier for yourself!
Zendesk Sell: Sell better, faster, and more
You hired your sales reps to sell for you, right? Well, Zendesk Sell is intended to keep them doing just that—at an optimal rate—with tools to increase their productivity, pipelines that are easy to understand at a glance, and all sales interactions turned into insightful data dashboards.
Why is it great?
Aside from being one of the most sales-centric CRMs available, this CRM is also known for its well-developed mobile app. The mobile app, which has uniquely advanced features such as built-in VoIP calling, makes selling on the go a feasible and even desirable option when running your business.
Who is it for?
If your business relies on a lot of sales-oriented processes (and especially if you use the phone a lot!), then Zendesk Sell could be a great fit. 
If you want a sales CRM that's tailor-made for a lot of on-the-phone interaction with your clients and prospects, this is a great option that won't disappoint.
HubSpot vs. HoneyBook vs. ZenDesk Sell
Client relationship management is a vital part of your business if you want to build one that lasts. While there are no bad options, it's important to recognize what your business needs and how you plan to grow. HoneyBook is a comprehensive platform that offers end-to-end clientflow management, from lead to invoice and project tracking. 
Zendesk Sell is great for sales but lacks the seamless catch-all relationship management abilities of HoneyBook. HubSpot can be complicated to set up but offers a robust marketing toolset. However, it isn't tailored for the personalized sales customization that independent service providers rely on. For this reason, HoneyBook is the most straightforward option for independents and small teams.
Best Tools for Social Media Marketing
A solid social media presence has driven meaningful growth for many small business owners. Whether your audience is on Facebook, Instagram, LinkedIn, or TikTok, you can use your profiles to educate, cultivate, and convert new leads. 
To make the most of your social media presence, you need a social media marketing platform that makes it easy to manage multiple channels, campaigns, and messages.
Buffer: All the networks, all at once
If social media is a part of your marketing strategy—and in this age, it probably should be, to some degree—then you'll gain a lot of time by using Buffer. 
Why is it great?
Probably the most well-known social media marketing software on the market today, Buffer is known for allowing you to manage multiple social profiles with ease from a central platform.
Granting you the ability to schedule content for optimal publishing times, your posts will be more likely to engage your audience and drive the traffic, leads, and conversions that you want for your business.
Now that's power!
Who should use Buffer?
Buffer is a tool with lots of options, but shines most in its Instagram capabilities. It's an all-in-one content scheduler, but can be overwhelming for newer users. 
Sprout Social: Transform your marketing strategy
For small businesses, Sprout Social can be a social media lifesaver. With this software, you can draft,  schedule, and post for all major social sites like Twitter, Facebook, and Instagram—all from one dashboard.
Why is it great?
With further benefits such as visuals, reports, and real-time post-level analytics, you'll be able to see what's working for your audience and what isn't, and understand key metrics like clicks, impressions, and more. 
Who should use Sprout Social?
With Sprout Social, you'll be in control of your social media strategy, and you'll know exactly what steps to take to reach your social media goals. Sprout Social is robust, but it does come at a price. For this reason, we think Sprout Social is best for independents and small businesses with a consistent marketing budget.
Later: No stress, set it and forget it social
Later is for Type-A folks who live in the moment. This platform helps you promote your business with seamless scheduling and great support, so you can be out living instead of being tethered to your phone.
Why is it great?
Later's standout element is its functionality. With strong technical support, all major platforms supported, and reasonable pricing per package Later is dedicated to giving you back hours in your day.
Who should use Later?
Later is for independents who want to spend an hour on their social strategy a week, set it, and forget it. Later allows you to publish on major platforms, track performance with simple at-a-glance metrics, and curate a visually cohesive social media presence easily. The starter price is low so the package offerings and price can grow with your follower count.
Buffer vs. Sprout Social vs. Later
Buffer, Sprout Social, and Later are comparable in many ways. According to fool.com, Buffer is a better option for new users, whereas Sprout Social is great for medium size businesses looking to grow. Chances are if you're an established independent business, Buffer is your best option. If you're looking for ease of Buffer with some more robust features like content collaboration and a shared inbox, give Later a try.
Best Email Marketing Software for Small Businesses
Whether you have a list of thousands of leads or just a few hundred, email marketing is another important way to cultivate leads and turn them into clients. A solid email marketing platform helps you understand the type of information your leads want to hear from you and ultimately move them into your booking process.
MailChimp: Stop monkeying around with conversion
MailChimp is one of the most well-known email marketing platforms for entrepreneurs, and for good reason. The software offers a simple email design with unique templates and tools that make segmentation, automation, and lead capture easy for anyone. 
Why is it great?
MailChimp goes beyond email marketing to offer everything you can use in your marketing lifecycle. Create landing pages, forms, and ads that funnel clients into your email lists and then automate them based on their segmentation.
Who should use MailChimp?
MailChimp is fantastically robust for market segmentation. If your total addressable market is diverse in features, MailChimp can help you track where your opens are coming from down to the wire.
Flodesk: Bold is beautiful
Flodesk is great for independent business owners who are looking to wow their clients with beautiful email designs. The platform is designed to turn anyone into a master designer so it's easy to create emails and newsletters that engage your leads and clients. 
Why is it great?
Though Flodesk doesn't offer as many tools as MailChimp, you still have the opportunity to build Flodesk forms that can incorporate your branding and easily funnel new leads into your Flodesk lists.
Who should use Flodesk?
Flodesk is perfect for aesthetic-driven brands with a straightforward total addressable market. 
Constant Contact: Robust what-you-see-is-what-you-get eCommerce
Constant Contact has been around the block in the email marketing world and has a reputation for reliability. With a 20-year tenure, Constant Contact offers sleek design templates, consultation ad-ons, list-building tools, A/B testing, and more.
Why it's great
Constant Contact offers a 60-day free trial, then the cost of the program depends on how many contacts you have. The bigger your contacts list, the higher the price, so it's great for individuals just starting out who are learning email marketing and slowly growing their list. Issues can arise, however, with a rapid bump in contacts. They offer some rudimentary automations like welcome and birthday emails.
Who should use Constant Contact
Constant Contact has a great reputation. We recommend Constant Contact for those who are new to email marketing—if phrases like segmentation and A/B testing are new to you, Constant Contact is a great place to start.
MailChimp vs. Flodesk vs. Constant Contact
Many people love Flodesk and MailChimp for different reasons. According to our research, Flodesk is a fantastic option for aesthetic-driven independents with a direct client base. Flodesk offers gorgeous templates and basic segmentation that allows you to see what's working for who. They offer their services on a "freemium" basis—meaning try now, buy later. When it is time to buy, Flodesk is on the pricier end for basic email marketing and unlimited email marketing—before transaction fees. For this reason, Flodesk is best for luxury brands that are aesthetically driven.
MailChimp works well for independents too but offers more robust segmentation and email filtering than Flodesk. The lower-tier MailChimp offerings give you a lot of bang for your buck, with 5,000 monthly email sends for a low price. It's great for those still identifying their addressable market because of its segmentation capabilities and low cost.
Constant Contact is fantastic for first-time email marketers. Get your feet wet with a 60-day free trial, then pay per contact thereafter.
Great Human Resource Software for Your Small Business
At one point or another, you'll likely run into outsourcing and growing your team. Whether you hire contractors for temporary projects or full-time employees, you need the tools to set them up for success. 
Hiring and human resources tools can help you source and hire talent equitably, and manage the entire onboarding process once you bring them on board.
Namely: Business talent made easy
Tailor-made for medium-sized businesses, Namely is an HR and talent management tool designed to be simple and user-friendly, both for the HR department, and the people you hire. 
Why is it great?
With features ranging from payroll and benefits, time-tracking, performance reviews, and an employee database, if you're looking for an HR tool that pretty much does it all, Namely should be among the tools you're considering.
Who should use Namely?
Namely was designed with mid- to large-sized businesses in mind. Because of this, namely is best for established operations.
BambooHR: Growing people and culture
Calling themselves the "software with heart," BambooHR makes themselves all about your people. If you're growing your team, putting together performance reports, or dealing with time-tracking and paychecks, this multifaceted HR tool will make your life simpler. 
Why is it great?
BambooHR also puts a unique spin on HR with its additional focus on building culture and driving organizations' growth—you certainly don't see that every day! Plus, BambooHR offers reasonable prices for small businesses. Grow your team without the stress of breaking the bank!
Who should use BambooHR?
BambooHR is for anyone looking to onboard employees without burdening you with the nitty-gritty details of onboarding and offboarding compliance (with an upgrade to Advantage they'll handle that part). If your independent business is growing, then BambooHR will without a doubt make hiring easy.
Namely vs. BambooHR
BambooHR has made a name for itself in the last few years. It's supported on a variety of platforms and is designed for small to medium-sized businesses (this includes independents!) It's cost-effective, easy to use, and prioritizes company culture—whether you're a team of three or 300. For this reason, we recommend BambooHR.
How to Make the Most of Your Small Business Management Software
Before choosing any small business management software, consider all your needs first. Maybe you don't need something for every category listed above. If you can find one system that combines multiple needs, that's your best best. As it's important to remember that every tool you use needs to be managed and maintained, so ensure you only spend on what you need.  
It all depends on the way your business operates and the gaps you see in your current processes. With any software, try it for a few days before you decide if it's right for you. There will usually be a learning curve, but you should at least understand what the software can do for you once you're fully onboarded.
Some software, like HoneyBook, offers onboarding support and services that can teach you the most efficient way to manage your clientflow. The HoneyBook Pros is a marketplace of vetted industry experts that can help you with everything from systems setups and streamlining your workflows to business strategy, legal support, and much more.
HoneyBook, the best clientflow management platform for independents, streamlines everything you need to manage your business in one place. Manage projects, book clients, send an online invoice, and get paid through our online payment software. Peace of mind included.