Learn what an email domain is, the difference between a domain and an email alias, and how to create a custom email domain for your business.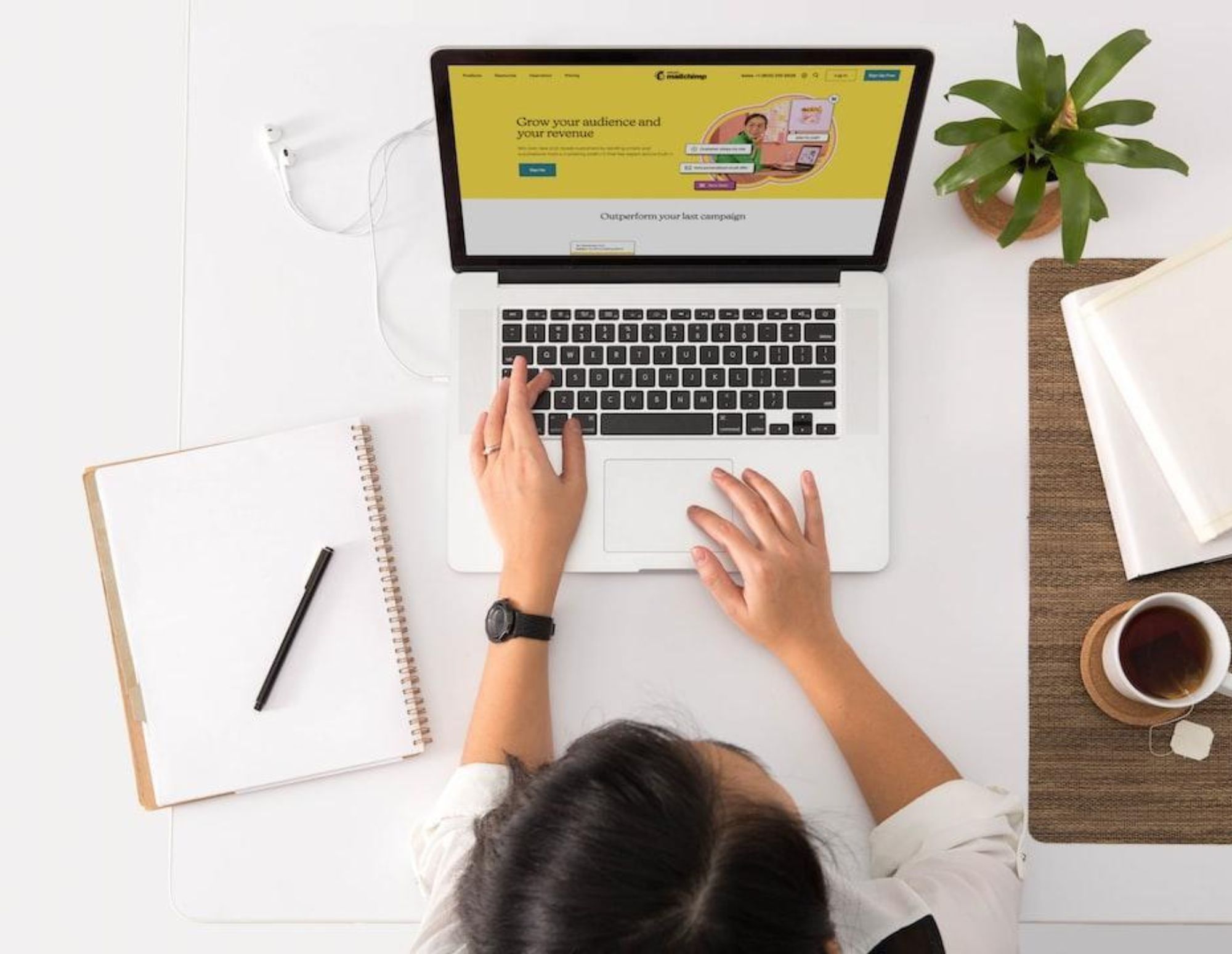 Email is the epicenter of successful business communication. Business owners use email for email marketing, customer service, and client communication. According to a study by Statista, email is the number one way all generations communicate with clients.
But some independent business owners still ask, "What is an email domain? Isn't my personal email address okay? What about a Yahoo! email address with my business name as the username? Like [email protected]?" Wondering why your business needs its own email domain? Read on to discover what a custom email domain is, why it's essential, and how to create a custom email domain.
Jump to:
What is an email domain?
An email domain name is the part of an email address after the "@" symbol. The domain tells you the origin of the email server receiving, processing, and sending emails for you. For example, in the email address "[email protected]," the email domain is "yourbusiness.com."
Basically, an email domain is a digital address for your email account, indicating where your emails are kept, managed, and delivered.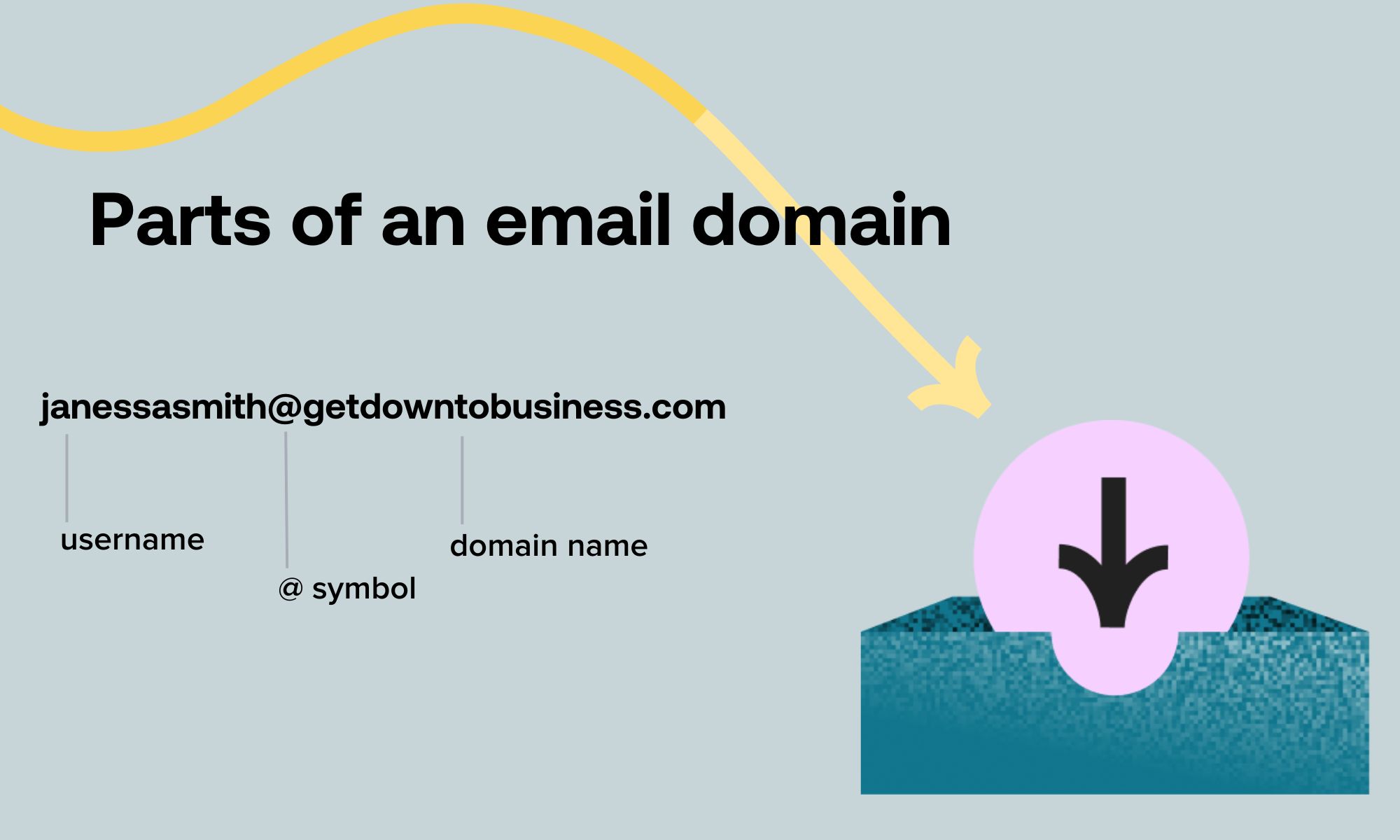 Why is a custom email domain important?
If you're starting or already running a business, communicating with your clients using an email domain unique to your business is important for several reasons.
Professionalism: When your business has a custom email domain, it looks more professional. Compared to using a standard personal email provider with an email domain name like Gmail or Yahoo, a unique business email address is more official and trustworthy.
Branding: A custom email domain is part of your branding process. Using your business name in the email address, such as [email protected], promotes your brand identity in all communications, which is important for keeping your services in clients' minds at all times.
Consistency: With a custom email domain, you can create multiple email addresses for different purposes, such as [email protected], [email protected], or [email protected]. This consistency in email addresses makes communication much easier for your clients because it helps you stay organized by keeping specific communications in specific buckets.
Scalability: As your business grows its operations and team, a custom email domain can expand to be used by all new employees and accommodate increasing demand without disruptions. This scalability is crucial for maintaining smooth and efficient communication.
How to create a custom email domain
If you don't already have a custom website domain that you can use to create an email address, it's time to start creating one. The first step is choosing your domain name—likely a clear and memorable version of your business name. Then, follow these steps.
Confirm your domain name isn't already in use
There are several ways to confirm that your chosen domain is available. First, you'll want to do a simple web search by typing in your domain and seeing if anything comes up. Try it with multiple domain extensions—.com, .net, .org, etc.—to see if there could be any confusion when clients go to visit your website.
Next, check with a domain registrar like Domain.com or GoDaddy. Domain registrars offer domain check tools to see if a specific domain name is already registered. They also offer suggestions for alternative domain names if your chosen one is taken. You can also check with web hosting providers like Bluehost or DreamHost in the same way.
Another helpful step is checking with the WHOIS public database. WHOIS is a protocol that provides access to the registration details of domain names, including information about the domain owner, registrar, and registration dates. Search for your domain using WHOIS' search tool, and if it can't find any data on the domain, then you're likely good to go.
Register your domain name with a registrar
Now that you've made sure someone else hasn't taken your domain name, you need to make it yours by registering it with a domain registrar. A domain registrar is a company that manages the reservation and registration of domain names on the internet.
Choosing the right domain registrar for you will depend on factors like price, expiration and transfer policies, and whether it offers any hosting packages. Most domain registrars will offer discounts if you register for longer stretches of time, so factor that pricing discount in when searching for one that meets your needs.
Some well-known domain registrars are:
GoDaddy
Google Domains
DreamHost
Domain.com
Namecheap
IONOS
Hover
Porkbun
Choose an email domain host
Once you have your domain registered, you'll also need to decide on a domain host—also known as a web host. A domain host is the platform where your website's files, data, and content are stored and made accessible to users when they visit your website. This also includes hosting your domain's email storage and delivery.
When selecting a host, consider factors like reliability, security, and the features it offers. Some domain registrars also offer hosting services and may even offer bundling deals, so be sure to thoroughly explore your chosen domain registrar for this option. Otherwise, begin by researching reputable hosting providers that specialize in email hosting services, such as: 
DreamHost
Zoho Mail
A2 Hosting
SiteGround
Bluehost
Whether you bundle a deal with your domain registrar or not, fortunately, email domain hosts are mostly affordable, averaging just a few dollars per month per user.
Verify domain ownership
After registering with a domain host, you'll need to verify that you own the domain before you can use it. Verifying domain ownership is a crucial step that ensures your business's email communication remains secure and your custom domain is exclusively linked to your email hosting provider.
Pro tip
 Email authentication protocols are one way email domain providers can identify that you are who you say you are. SPF (Sender Policy Framework), DKIM (DomainKeys Identified Mail), and DMARC (Domain-based Message Authentication, Reporting, and Conformance). These protocols stop spammers from faking your domain, which can severely damage your sender reputation.
This step differs for each specific domain host, but typically, you'll need to access your domain's DNS—Domain Name System—settings to add specific records provided by your host. Once you've added the required records to your domain's DNS settings, the email domain host will check for the presence of these records to verify ownership. The verification process doesn't usually take long, and once you complete it, you'll be able to access the email hosting features and set up email accounts with your custom domain.
This can be one of the more technical parts of creating a custom email domain, so be sure to follow your host's instructions, and if you run into any trouble, reach out to customer service for help.
Set up your accounts
Now that you're official, you can begin creating email addresses for your domain. Some suggestions for where to start are:
Setting up individual email accounts fosters a professional image for your business, allowing for personalized communication and enhancing credibility with your clients. Additionally, you and your team members will be able to access these accounts through third-party platforms like Outlook or HoneyBook to keep everything organized in one central place.
Add your clients
Once your custom email domain is set up and your email accounts are ready, add your clients to your contact list. Collect and organize everything—email addresses, phone numbers, and any other relevant contact details—and then add it to your email domain's address book.
Most email hosting platforms offer user-friendly interfaces that allow you to create and manage contact lists efficiently. Doing this as soon as possible enables smooth communication with your clients from the get-go and saves you from having to search for a client's contact information every time you make first contact through your new email domain. It will also streamline the process of reaching out with updates, offers, promotions, or any other business-related communications.
Test your custom domain
Before taking off with your custom email domain and using it to communicate with clients, test-drive it to identify and address any potential issues. Start by sending test emails to and from different accounts within your domain, including your own and those of any team members or colleagues who can help. Verify that emails are delivered promptly, without any delays or errors.
Be sure to check things like formatting, layout, and your signature in outgoing emails to ensure they align with your branding and how you want everything to look. Also, test the email functionalities, such as attaching files, adding hyperlinks, and using CC or BCC options, to confirm that everything works as it should.
How much does creating a custom email domain cost?
The cost of registering a domain and hiring a domain host can vary depending on several factors, including the domain registrar or hosting provider you choose, the type of domain you want to register, the hosting plan you select, and any additional services or features you sign up for.
Generally, registering a domain costs between $10 and $50. Your final price will depend on the following:
Your domain extension: Whether you want a common .com, .net, .org, or something more specialized like .io or .tech.
Your domain registrar: Shop around for who can offer you the best deal.
How long you want the domain for: The longer you register your domain for, the less it will cost per year.
The domain you choose: Some popular domains have already been registered and are auctioned off by their owners. These domains are naturally more expensive, while unused domains are more affordable.
Email hosting can be part of a larger web hosting package or a separate service. Prices for email hosting typically range from $1 to $10 per user per month. Some things that affect the cost of email hosting are:
Your hosting provider
Your number of email accounts
Storage space
Features like collaboration tools, extra security, and 24/7 customer support
Contract length
Additionally, the type of hosting you sign up for determines what your final price will be. You can choose:
Shared hosting
Virtual private server (VPS) hosting
Cloud hosting
Dedicated hosting
What are email aliases and how are they different from email domains?
An email alias is an additional email address created to forward emails to an existing email account. It acts as a virtual forwarding address, filtering out spam and allowing you to receive emails sent to the alias in your primary inbox without needing a separate mailbox.
For example, if your primary email address is [email protected], you can create an email alias like [email protected]. Any email sent to [email protected] will be automatically forwarded to your primary email account—[email protected]—without you needing to use a separate inbox or login.
Email aliases help your business maintain a centralized email account while clients use different addresses for specific purposes. They help organize your communication, simplify email management, and maintain a consistent professional image without the need to manage multiple email accounts.
Manage your email domain like a pro
Good client communication is critical to the success of your business. Using multiple platforms to manage client communication and client files can be time-consuming and confusing, but fortunately, you've got options. With HoneyBook, you can manage client communications, look professional, and grow your brand and business.
HoneyBook offers an all-in-one clientflow management platform that reaches all your client touchpoints. With HoneyBook, you'll have a central platform for client communication, invoicing, receiving payments, and leveraging email automation to use with your new custom business email domain.