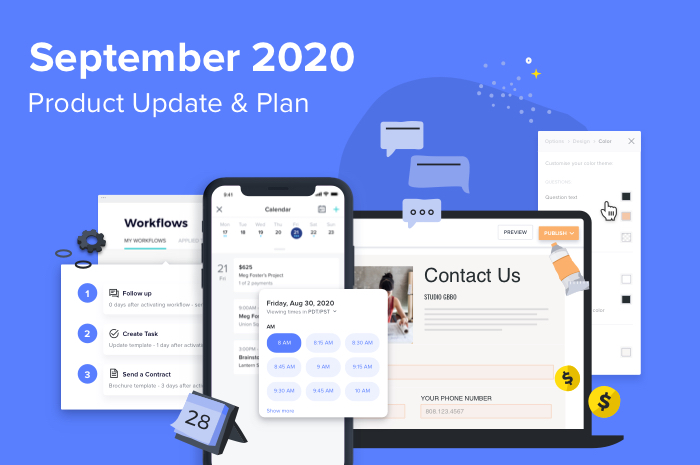 Last week was exciting: I almost got a haircut. But right as my hair stylist rang the doorbell, my son, Ari, fell and hit his lip. We wound up taking him to the hospital (he's fine, though he did need 3 stitches!), so, needless to say, I ended up rescheduling. In a way, it's the theme of 2020 with things not happening like we planned, as is appreciating the small things (like haircuts). 😄
Speaking of appreciation, we're grateful for each and every one of you, and I'm excited to share what's new in HoneyBook. With every update we strive to help you:
Organize all of your client communication in one place
Create a professional client experience that's authentic to your brand
Empower you to communicate quickly, personally and automatically
Provide an integrated and reliable payments system so you get paid—fast
Give you business insights that help you make informed decisions
We're constantly striving to make our product better for every one of our tens of thousands of members. Our hope is that every update, every feature and every built-in best practice makes HoneyBook easier to use than ever, while being balanced with the deeper customizations your unique business needs.
New Features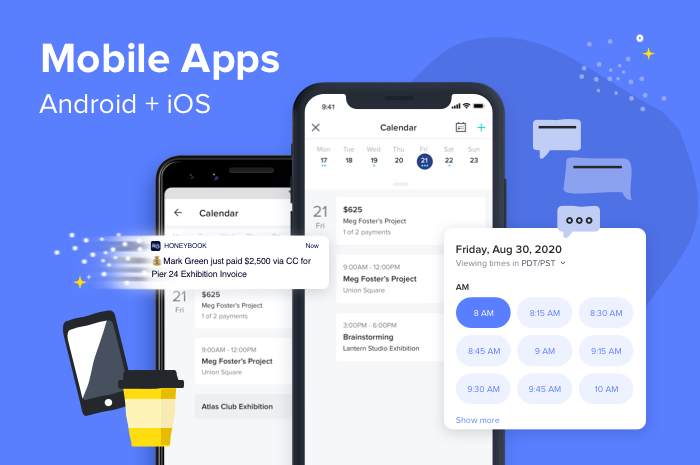 Mobile apps (Android and iOS):

A full screen view for meetings where you can dial into the meeting, start your video call or get directions to the meeting location [Tools > Calendar > Meeting]. Learn more.
When creating or editing a meeting you can choose to notify other meeting attendees or not. Learn more.
Edit contacts and project participants. Great for when you've made a typo or need to update their details.
Add, edit and view contact notes, so you can remind yourself of details beyond a specific project.
Keep tabs on a cold lead – now you can add a contact without creating a project [Projects tab > + button]
Easily copy your scheduling session links from the meeting scheduling tools. Share them anywhere or even add them to your social profile [Tools > Scheduling] Learn more.
Get push notifications when a client schedules a new meeting, reschedules a meeting or cancels a meeting. Learn more
See who opened your email, when they last opened the email and how many times they opened the email. If an email is undelivered, it'll be marked clearly in the app [Project > Email] Learn more.
Better preview of your sent emails in the Activity feed, so you can worry less about formatting. Just tap on an email to see a proper preview. [Project > Email]
Quickly add tasks and meetings from the Pipeline [Projects tab > + button]. Learn more.
Get a focused view of all of your tasks for a specific project from within the project [Project > Tasks].
Major Android performance upgrades to help the app run smoother and faster. Learn more.
Automations:

Triggers, triggers and more triggers to help you automate more of your projects, including:

After invoice is paid in full (Note: Mark-as-paid won't trigger this. Recurring payments will trigger this unless there is no END date.)
After the first payment is made (Note: Mark-as-paid won't trigger this.)
After a Brochure is submitted
After a project is moved to Completed stage
Before the project end date
After the project end date

Trigger Timing Flexibility: You can now specify trigger timing based on minutes, hours or weeks (previously only able to use days) [Tools > Automations].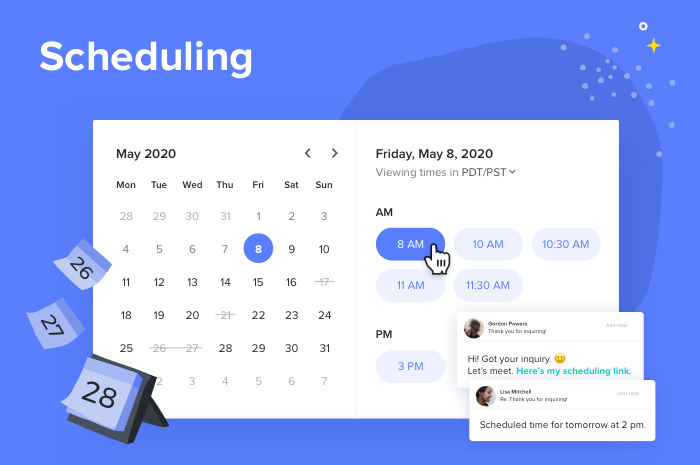 Scheduling:

When clients schedule a meeting using a scheduling link, a project will automatically be created if and only if that client doesn't already exist AND the project was created over 3 months ago [Tools > Scheduling] Learn more.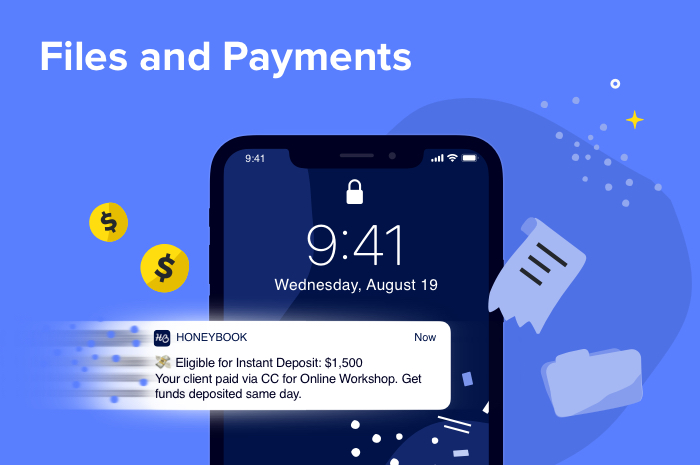 Files & Payments:

We now allow admins to expire files that they don't own [Project > File]
We added the option to choose the default file name when creating files for a specific project or via an automation [Company Settings > Preferences]
Instant deposits for payments – We added the option to globally enable all outstanding eligible payments to be instantly deposited once your client pays [Company settings > Bank details]. Learn more.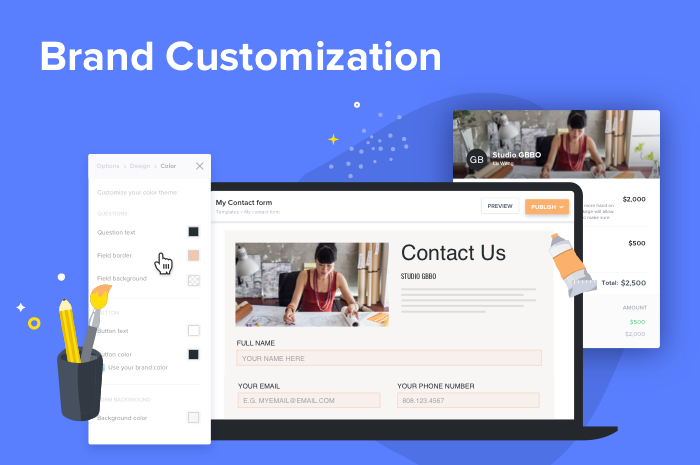 Brand Customization:

Your brand color now appears throughout the entire client experience, including: CTA's, underlines inside files (for both you and your client), file navigation, pay area and more. Learn more.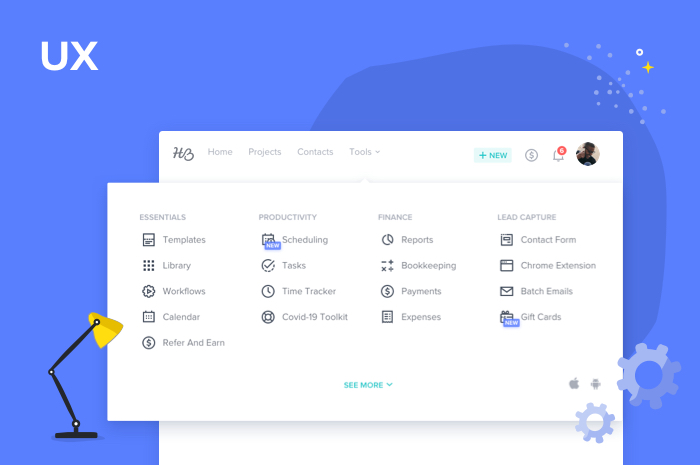 UX:

We redesigned the tools menu! We've grouped the tools into categories that should allow you to discover new tools and find ones you're looking for faster.
Performance—Faster loading on desktop and mobile apps.
What's Coming Up Soon
I'm also excited to give a sneak peek into future releases. As HoneyBook helps you organize, manage and grow your business, we know getting insight into what's coming up in the product can be really helpful. As always, your feedback is super important. Please share your comments and questions with us!
Custom Domain URL – Use your own domain for any client facing URLs. Any invoice, contract, file, contact form, client portal or gift card will show your custom URL.
Zoom integration – Prefer Zoom over Google Meet? Schedule Zoom meetings 2x faster with our scheduling tool.
Payment Milestones – Send invoices & payment requests based on milestones instead of predetermined dates.
Mobile –

Contacts tool – easily search and get info about any of your contacts.
Additional displays – Toggle on your calendar, payments, meetings, booked & tentative projects for quick access. Or toggle them off for a cleaner view within the app.
What's In the Works for 2020
Automations – More triggers, actions, flexibility, and a more intuitive user experience for creating automations.
Inspiration Templates – More file templates to inspire and jumpstart your creations.
My templates – More freedom and control for how you organize your templates.
Scheduling and Questions – The ability to add questions and other design elements to our scheduling tool.
Choose a service and book – We're adding the ability to let your clients select the services they want and immediately pay for them.
Impress your clients –

We're expanding our branding capabilities: more colors, more fonts, more customizations 🙂
Background images, videos, layouts, and multiple pages are coming to your favorite HoneyBook files.

Mobile apps (Android and iOS)

View your Google Calendar meetings in the app.
Push notifications for tasks due today.
Create and customize brochures from mobile.
More of our tools!

Performance – Faster loading on desktop and mobile apps.
Until next month…
We hope you're as excited as we are about our new features and updates. You can find out what's new in our monthly release notes on the blog and in our monthly member newsletter. And please keep giving us feedback at [email protected]. We build HoneyBook for you and we wouldn't be where we are without your help.
Any questions about the current releases? Head to our Help Center to learn more.
This post was updated in August 2021 when the HoneyBook Workflow tool was renamed to Automations. The HoneyBook Automations tool maintains the same functionality with the ability to automate communications, tasks and more. For more information about the Automations update, check our August 2021 Release Notes.