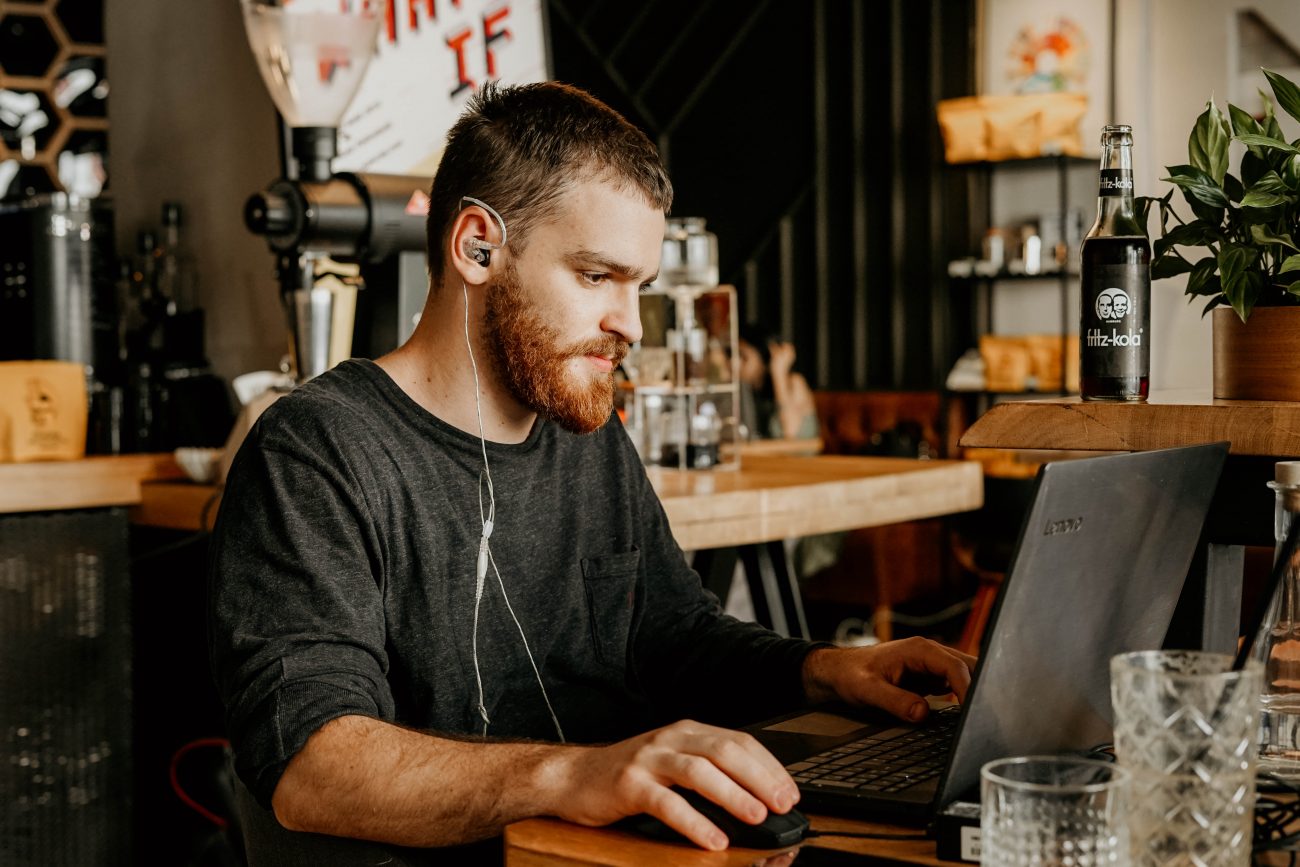 Yes, it's obvious — as a small business trying to grow, you need to get paid!
So out of all the available software (and there are a lot), what is the best payment processor for small businesses? How on earth are you supposed to choose one?
Well, that's a tricky question.
Though there are dozens of criteria you could weigh and analyze, some of the most important ones to weigh when considering how to choose a payment processor are:
What type of business do you run?
Do you sell physical goods? Are you service-based? Subscription-based? This will, in large part, determine what specific needs you have and help point you towards the most fitting software for you.
How do you most commonly accept payments?
What medium does the payment usually take? Do you get paid via email invoice? Credit cards? Cash?
And do you operate online? Do you operate purely in-person with a brick-and-mortar store? Or some combination of the two?
How your business receives most of its payments will help you determine what to look for in choosing the best payment processor for small business.
What are the qualities you value most?
Do you want to get up and running as fast as possible? Then you may want a software with the least amount of sign-up hassle. Do you want great customer service and support along the way? Then you'll need to know which software provides it reliably.
True, there are dozens of payment processors out there. It can be utterly overwhelming….
In the payment processing world, the various software tools all tend to do what they do best in their own specialized field.
And while it may be tricky to say which is the best payment processor for small business, we may be able to say which tools are better equipped for certain areas of interest.
Here, we'll take a look at six of the broader categories and see who the leaders of the pack are for each one.
Let's dive in.
1. Which Is The Best Entry-Level Payment Processor?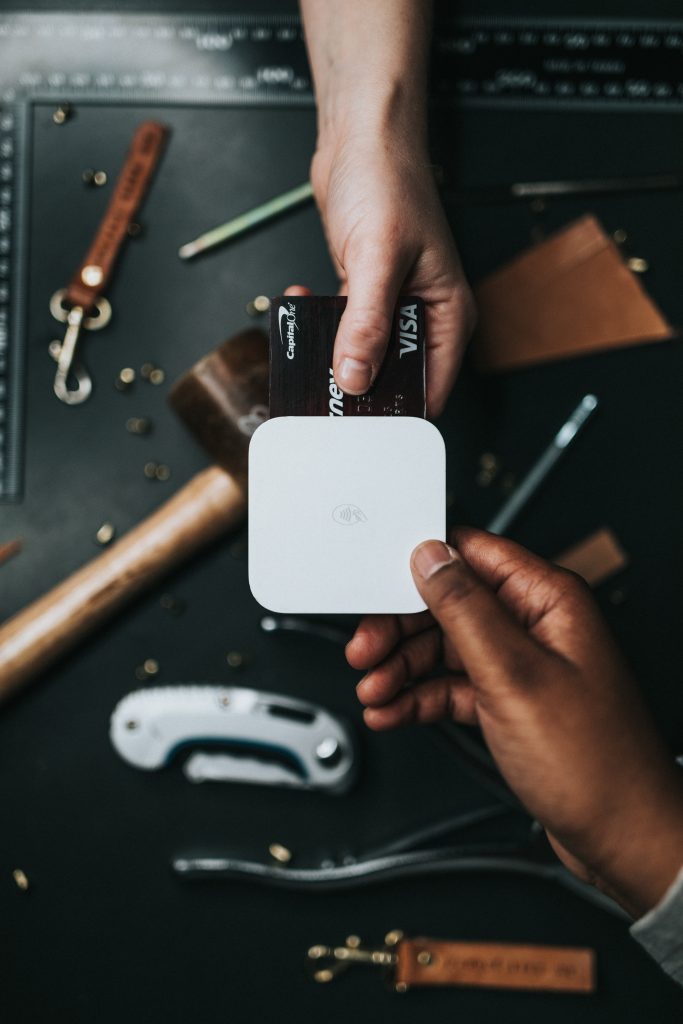 There are two players who really lead the field if you're brand new and need to pick a payment processor. In terms of user-friendliness, and basic features, one of these two may be just what you're looking for.
PayPal
First popularized through eBay in the 90s, PayPal is possibly the most well-known among top payment processors today, which is no surprise, since what it offers is very convenient.
Their PayPal Express Checkout service allows users to pay without using their credit card (using a virtual wallet.) This security level is one reason many customers may prefer it, since it means card numbers won't have to be shared with your business.
Pricing is transparent — PayPal charges a 2.7% flat charge on all transactions, and for purely online retailers, they charge 2.9% plus $0.30 of every online transaction. Other than that, there's no application setup, contracts, termination fees, or monthly fees at all.
PayPal makes it very easy to get started, and very versatile in its uses, so if you're new to small business payment processors and need something that's quick and painless to set up, this may be a great option to start with.
Stripe
Similar to PayPal in many ways, Stripe offers many of the same basic features, but with far more customizability. If you're setting up a website, and are still in the development stages, Stripe makes it very convenient to build payment options directly into your website, for a seamless and integrated payment experience.
When it comes to running an e-commerce store, Stripe has made a name for themselves as being readily-integrated with many different software tools commonly used with e-commerce, such as CRMs, marketing tools, and billing software, many of which now allow for Stripe signup right from the program.
Concerning their fee structure, Stripe is a pay-as-you-go model, with 2.9% plus $0.30 per transaction, and an additional 1% if you accept international cards. It's that simple. No hidden or monthly fees.
If you're looking for smooth integration and a high level of customizability, Stripe makes running an online storefront a total breeze in the "getting paid" department.
2. Which Is The Best Payment Processor for Freelancers and Service-Based Small Businesses?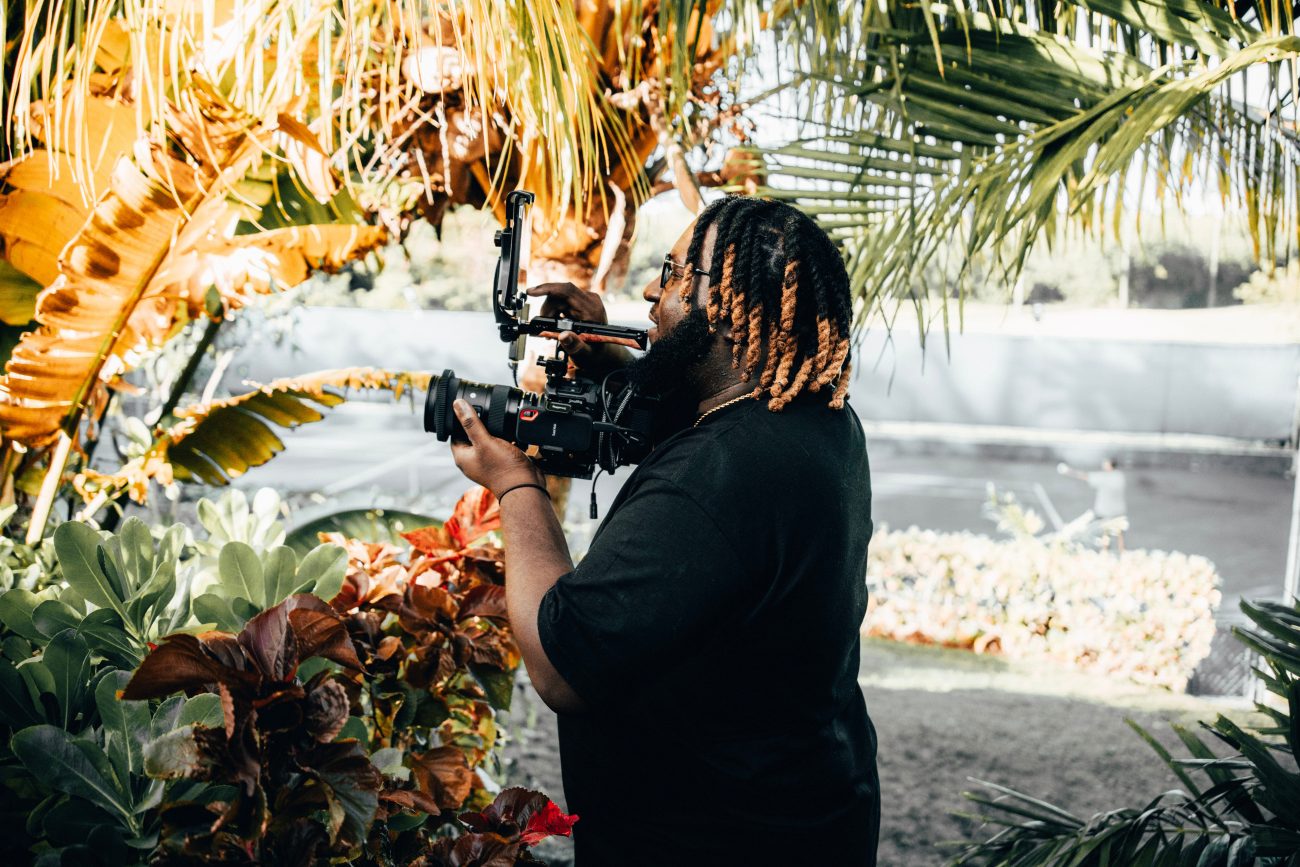 With 43% of the workforce expected to be freelancers in 2020, it's reasonable to assume that if you're considering this path, you might want to know what the top payment processors are for freelancers….
Freelancing can be hectic and frustrating… so many things to keep track of! Getting paid is important, true, but so is everything leading up to it! From proposals to client communication, when it comes to freelancing,
HoneyBook
HoneyBook really covers it all. Yes, HoneyBook is an online payment software — you've got that covered — but it's also an all-in-one tool that allows you to create proposals and online invoices, track your expenses, manage your time, and just about everything you might need to do business.
With annual and monthly pricing models, the business expense is really more than worth it — with templates that can save you hours of time and an app that allows you to work from anywhere, HoneyBook may just be the best payment processor for small business owners, period. 
For credit-card transactions, accept all major cards with a fee as low as 2.9% + 25¢ and no hidden spikes or changes in fees. There's no being caught off guard by changes due to payment method or credit card type.
If you want to be paid through ACH bank transfer (which isn't available for all payment processors), then there's another simple flat fee of 1.5%.
HoneyBook, a CRM for solopreneurs, helps you be more efficient and organized as a solopreneur or freelancer so that when you do get paid, you can ultimately get paid more!
Due
Due is an option freelancers should consider because it offers many additional features other than payment processing that are incredibly useful.
Their platform can process both domestic and international credit cards, and charges a flat-rate transaction fee of 2.8% for both. It also serves as a digital wallet and supports ACH payments.
If you need to track time for hourly jobs, create invoices, or store your money in a digital wallet, Due has you covered with that. Overall, it's a great tool that can help you save time and be more efficient.
3. Which Is The Best Payment Processor for Brick-and-Mortar Businesses?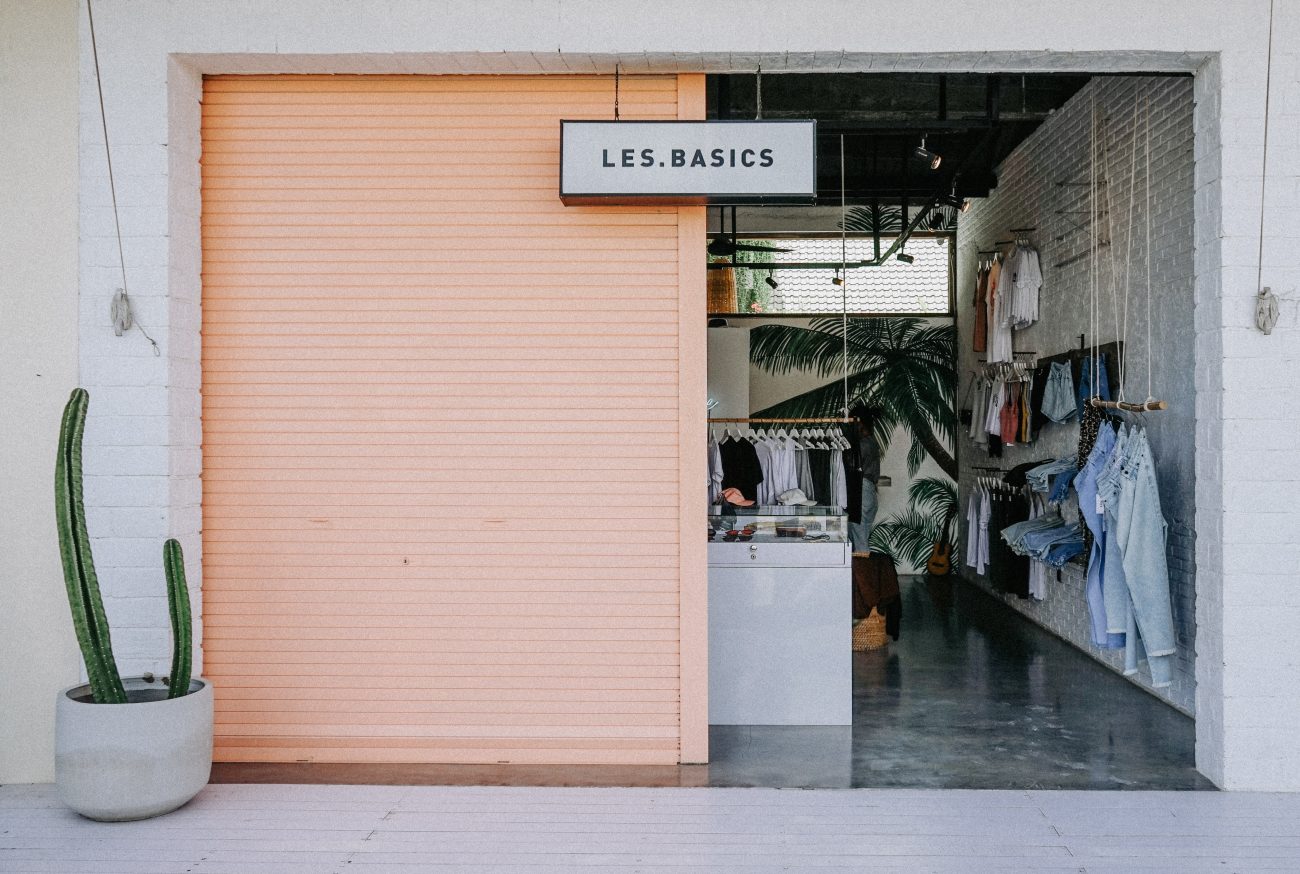 If your small business needs a way to physically scan or swipe cards, then you'll want to check out payment processors that offer both hardware (point of sale) and software solutions.
Clover
Clover is a streamlined hardware & software suite that allows you to accept all sorts of payments in-person — credit and debit cards, gift cards, even checks!
But don't let the hardware side of things blind you to the outstanding software features — the Clover system allows you to connect to services like Yelp, for business reviews, MailChimp, for email marketing, and QuickBooks, for easy accounting. And that's not even mentioning its other helpful features like sales monitoring, refunds, and analytics on customer spending habits.
Clover has several options for their monthly fee structure: a card & online payments only option (Payments Plus, $0), a basic option (Register Lite, $9.95/device/month), and a physical POS system option (Register/Classic, $29.95/device/month). But the Clover monthly fees are not the only costs involved. You'll also pay processing fees to accept credit and debit cards, which start around 2.3% + 10 cents per transaction.
Clover is a powerful small business payment processor for your in-person store, and with all of the features that come with it, it's so much more than that as well.
Square
By this time, Square may need no introduction. Chances are pretty good that you've already seen Square in its natural environment — in coffee shops, barbershops, or other small businesses around town.
Square is a fantastic small business payment processor, particularly well-known for their sleek mobile and chip reader devices that integrate directly into your smartphone or iPad.
In addition to being easy to set up, Square makes life easy for small businesses by doing away with monthly fees. Square charges a flat rate of 2.75% for swiped transactions, 3.5% + $0.15 for keyed transactions, and 2.9% + $0.30 for online.
If you're ready for a solution to your in-store small business needs, Square may just be the thing for you.
PayPal
Yes, it's true — PayPal also has a good in-person option also. PayPal's in-store mobile and chip reader components may be particularly appealing to those who are already using PayPal and want to keep their current setup.
If you're already hooked on PayPal's other services and are looking for a simple way to extend your services to your physical store, then this option may be perfect for you.
Keep in mind: PayPal payments are received into your PayPal account, and are not direct-deposited into your bank. This can mean a bit more time until you actually have the funds where you need them.
4. Which Payment Processor Has The Best Customer Support?
Sometimes, it can be a tad overwhelming to get started with a new software tool. That's why many companies have won over the hearts of their customers by providing excellent, personal support. Let's take a look at some of those here….
HoneyBook
As a small business payment processor, HoneyBook always makes sure you get any questions you have answered quickly, so you can navigate payments confidently.
HoneyBook's in-house concierge team has several helpful ways they offer help, should you need it. Should payment disputes occur (as they sometimes unfortunately do), rather than automatically refunding the dispute without understanding what happened, the team will work with you to sort things out, which is rather unique in the world of payment processing.
If you ever had questions about using HoneyBook, it would honestly be hard not to feel helped right away with their extensive library of helpful material available right on their website. Almost any question you might have about using HoneyBook is just a quick search away.
But if for some reason, you didn't get your question answered, you have the option to chat live with a member of the HoneyBook team right from their site. (Awesome!)
HoneyBook also offers free webinars for face-to-face training on a variety of aspects of the HoneyBook software, which is helpful if you're just getting started. So if you're worried about getting past the learning curve with a new piece of software, rest assured that HoneyBook won't leave you hanging!
Dharma
Dharma Merchant Services has shaped their entire company culture around "right living" and service. The company strives to be socially conscious and active in the community with outreach and donations from its profits each year to various non-profit organizations.
As such, it should come as no surprise that their payment processing software comes with well-reviewed customer support and excellent reviews on many top review sites. It's very clear that Dharma makes taking care of its customers a priority!
As far as costs go, Dharma doesn't include interchange in their displayed pricing, so there's a 0.20% fee plus $0.10 for an in-person sale, and 0.30% plus $0.10 for an online purchase. When you factor interchange back in, you're looking at somewhere in the 1% to 2.5% range in fees, per transaction.
That's if you're a non-profit. If you're not a non-profit, you'll pay a bit more than this. With Dharma, you'll generally end up paying less than most other credit-card processors – but only if you're a non-profit.
Payline Data
Particularly popular when it comes to e-commerce payment processing, Payline Data has become quite reputable for their customer support. Having been recognized by many review sites and the BBB as having excellent service, this choice for a payment service is quickly growing in popularity.
Payline Data's customer service and sales teams have proven to be friendly, reliable, and professional, and it has definitely paid off! If you're wondering whether you'll be able to handle the challenges of switching to a new payment processor, Payline has you covered!
Like Dharma, Payline Data offers discounted pricing for 501(c)(3) charities. All Payline Data plans come with a monthly minimum fee, and, not counting interchange, cost 0.2% + $0.10 per transaction (when card is present) and 0.3% + $0.20 per transaction (when card is not present).
5. Which Payment Processor Is The Easiest To Sign Up For?
This may be a consideration if you're used to the standard process of going through underwriting and the lengthy process that's required to get a merchant account.
Payment processors, such as Authorize.Net, Braintree, and many others require an underwriting process that can take two or more days to complete.
If you want something quick, easy, and ready as soon as possible, then here are the options that might work for you:
HoneyBook
As soon as you connect your bank account (which takes only minutes), so you can securely receive funds via direct deposit, everything else is fast enough to be considered just about instant. HoneyBook is amazingly easy to sign up for, and after just a few clicks, you'll be ready to go, fast.
With a free trial, giving you access to the full set of features for the your first 7 days, you won't even have to enter your own payment information right away. You can just start running your business!
Get ready to send your customers a personalized proposal, online contract and invoice so you can start getting paid as soon as possible!
Stripe
Stripe is extremely easy to set up and start using. It doesn't require any complicated processes, and once you have your account set up properly (including connecting your bank account, which can take 7-10 days the first time round), you can begin right away to start charging your customers.
In terms of how easy payment processors are to sign up for, Stripe is definitely among the easiest out there.
Square
Although you may have to wait for the physical card-readers to be shipped to your door (if you're choosing to use the in-person option), the actual sign-up process is quite fast. If you started right now, you could be ready to go in less than an hour, and could be receiving funds in your bank account as early as 36 hours from now, once your account is verified.
6. Which Is The Best Payment Processor For Recurring Payments?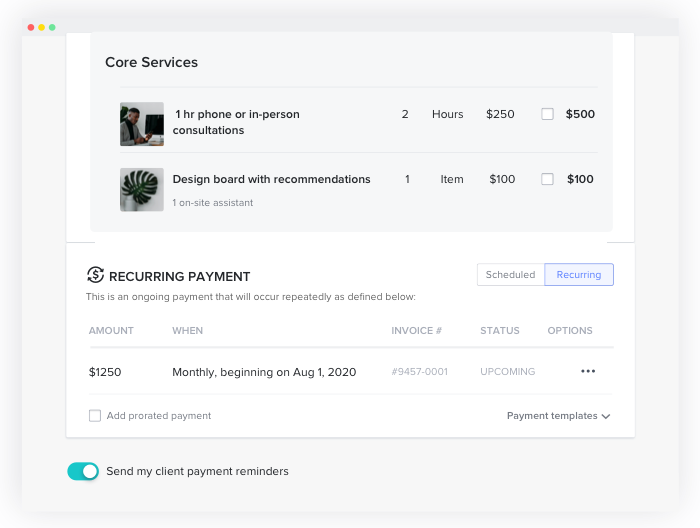 HoneyBook
For freelancers or service-based small businesses that need to charge on a recurring basis, HoneyBook makes life much easier by saving you and your client time.
Not only are there no added costs to make a payment recurring, you can also let your clients securely enable auto-payment for each payment on their own, so it's always on time, which is great for cashflow (and peace of mind).
If you have contracts that have your client paying a fixed amount every month, as with a retainer or subscription plan, on your selected date each month, HoneyBook will automatically bill your client, and save you the trouble of remembering to invoice!
This also saves your clients the trouble of repeatedly approving new invoices. So by being able to send and approve a payment schedule just once, both you and your client win!
If you're a freelancer or small business owner who needs to charge regularly, then HoneyBook is likely best payment processor for recurring payments on your scale.
Recurly
Recurly is a payment processing platform built specifically for larger subscription-based businesses (usually 25-500 employees).
They say that they "use machine learning based on hundreds of millions of successful transactions to improve billing continuity." Meaning that they help you reduce the number of credit card declines and lower the number of subscribers you lose over time.
Overall, Recurly is well reviewed and may be the best payment processor for recurring payments for companies that are a bit on the larger side.
Fattmerchant
Fattmerchant is a simple payment processor that targets small businesses. Their spin on the payment processing game is to use smarter, leading-edge payment processing technology to make their pricing lower than many other payment processors.
They offer excellent service for all standard-risk, subscription-style businesses, and offer a tracking and analytics dashboard for all payments and customers. Their very own pricing is subscription-based membership, and they ensure with easy, flat-fee processing, you're paying the lowest possible costs of interchange.
If you're looking for a subscription-style payment processor, why not take it from those who've mastered it themselves?
The Final Word on Small Business Payment Processing
It's totally understandable if you're scrambling to find the best payment processor for small business. Hopefully with the information presented here, you now understand a bit more about which tools are good in certain strengths and have a better idea of which ones may help you the most.
If you run a service-based small business, and you still haven't made up your mind, you can try HoneyBook free for 7 days. Not convinced? Take a look at why solopreneurs and freelancers love running their business on HoneyBook.
HoneyBook, the best crm for solopreneurs, streamlines everything you need to manage your business into one place. Manage projects, book clients, send an online invoice and get paid through our online payment software. Now peace of mind comes with just one login.