Online payment portals allow your clients to pay invoices easily and securely online using multiple forms of payment. In this article, we'll go over some of the most popular online payment processors that independent businesses can use to process their clients' payments.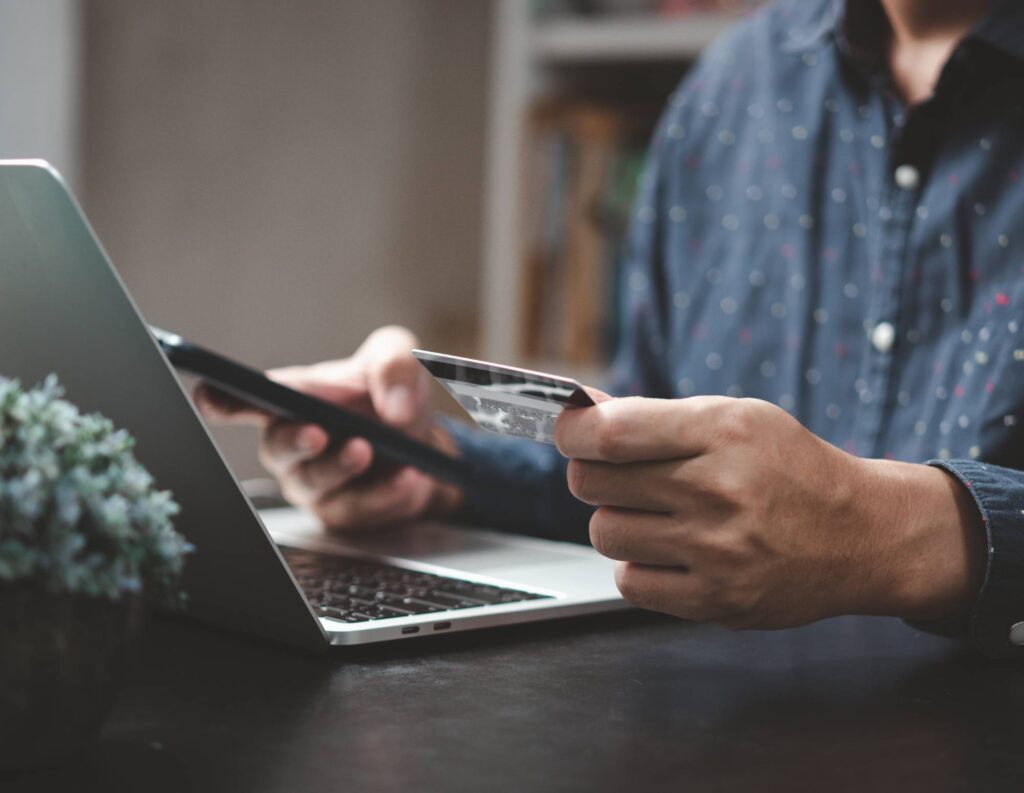 Online payment processing using reputable software is the fastest and most secure way to get paid for your services as an independent business owner. Businesses of all kinds, including consultants, marketers, coaches, and cleaners, whether fully online or not, can use online payment processing to accept payments from their clients.
In this article, you will learn about using online payment processing, along with some examples of online payment portals. You'll also learn how to use software like HoneyBook, an all-in-one online payment portal that conveniently combines payment processing with contracts, proposals, scheduling, invoicing, and more.
Jump to:
What is an online payment portal?
An online payment portal is a platform that allows clients to pay their invoices online. The client can choose their payment method and track the status of their payments all in one place.
You can securely process your clients' payments using online payment processing software whether you offer your services online or in person. Accepting payments via bank transfers, credit cards, debit cards, online platforms, and payment processing apps make it convenient for clients to pay their invoices.
How do online payment portals work?
Your clients will pay your invoices more quickly if you accept a variety of payment methods. Accepting credit and debit cards is essential since many consumers prefer using cards to pay for their products and services.
The payment processor charges fees for processing the payments and providing access to their platform. Rates for merchants on payment portals are typically between 1.4% and 3.5% per transaction, sometimes with monthly fees.
The following is a summary of the online payment process:
The online portal requires accounts for both the merchant and the client.
When a client pays with a debit card, the money is transferred instantly from the client's bank account to the merchant's account.
When a client pays by a credit card, the payment is issued and then the client is charged for the payment.
The card is verified by the portal and the credit card's issuing bank authorizes the transaction.
Automatic Clearing House (ACH) transfers are similar to paper check payments, except the transaction is carried out electronically.
The client gets a receipt after the payment goes through.
Pro tip
Give your clients freedom and convenience by allowing them to use any form of payment they choose, such as credit card, debit card, or ACH transfer.
What are some examples of payment portals?
There are several payment portals to choose from, some of which are listed below. Objective information is included for each so you can pick the best payment processor for small businesses.
1. HoneyBook
HoneyBook is a payment portal, invoicing platform, and clientflow software all in one. With HoneyBook, you can write and send legally compliant contracts and accept multiple forms of payment, including credit cards and ACH transfers.
Create and send invoices that your clients can pay on the go–there's no need to log in to another service like PayPal or Square. You can set up recurring invoices as well as automatic payments and payment reminders for long-term clients, or create a custom payment schedule to meet their needs.
Along with payment processing, HoneyBook also provides a meeting scheduler that integrates with your calendar, reporting, and customizable files. Personalize your entire booking process and streamline it into one step.
2. Stripe
Stripe is a payment processor designed specifically for online businesses to accept online payments easily. When you set up an account with Stripe, you have access to tools to customize your payment processes. APIs are provided that allow you to create on-demand marketplaces, subscription services, one-click checkouts, and crowd-funding platforms.
One drawback is that to be able to take full advantage of the platform's APIs, you need to hire a developer who can code in languages such as Java, PHP, and Python. Benefits include support for numerous currencies and pay-as-you-go pricing.
3. Payline Data
Payline Data is a payment processor for businesses of all sizes, from startups to established Fortune 500 companies. The software integrates with Quickbooks for easy accounting and invoice tracking. Pricing is based on service type, such as in-person payments or online stores. Payments can be accepted with the Payline mobile app.
Benefits of using Payline Data include mobile app integration, a low monthly fee, and built-in fraud protection.
4. PayPal
PayPal is a payment processing platform that has been handling payments between individuals or businesses for over 25 years. With PayPal, you can send customized online invoices to clients with the email addresses linked to their PayPal account.
The benefits of PayPal include the ease of using this long-established and trusted platform. Drawbacks include high chargeback fees and higher-than-usual merchant fees.
5. Square
Square is a payment processor for businesses of all sizes that specializes in in-person point-of-sale payments taken with payment processing hardware. Square boasts over 2,000,000 active sellers using its point-of-sale system.
The benefits of using Square include no fixed monthly cost. That said, Square may not be the best option for small businesses that don't offer their services in person, such as business coaches, online consultants, or marketing experts, who don't necessarily need a point-of-sale payment system.
Pro tip
Though we didn't mention it in this list, a lot of business owners are interested in using Venmo for business transactions. Keep in mind that peer-to-peer money transfer apps like Venmo are more limited for business owners, so they won't provide as much robust services.
Steps to use an online payment portal
Follow these steps to get started collecting payments through an online customer payment portal:
Research and choose an online payment portal, such as one of the options listed above.
Set up a merchant account and add your bank details.
Let your clients know that you accept payments through the portal.
Invoice your clients and provide them a link to the page where they can process payment.
If your business is online, integrate the portal into your website.
Keep an eye on transactions and make sure payments are being processed smoothly.
Understand liability for fraud and disputes. Use payment portals that can help with dispute resolution.
Best practices for accepting payments through a payment portal
Your clients will have the best invoicing experience if multiple payment methods are available, including credit cards and bank transfers. The best way to do that is to let them pay with an online payment processor that accepts multiple forms of payment.
Consider using an online payment portal that combines invoicing and payment processing on one convenient platform so your clients won't have to go back and forth between an email, an invoice, and a separate payment site.
One other important part of accepting payments from clients is acknowledging the risks of chargebacks and other potentially costly disputes. Chargebacks can be avoided by establishing trust, vetting clients, documenting proof of service, and keeping good communication.
Payment processing, invoicing, and contracts on one platform
With an online payment processor, you won't need to send paper copies or PDFs of invoices or require your clients to visit another website to make payments. On a platform like HoneyBook, all communication, invoicing, and payment processing can be done in one place.
On HoneyBook, you can:
Use our legally compliant contract templates
Get notified when clients sign contracts
Use online invoice templates to get started invoicing
Send invoices and get notified when clients pay them
Process payments for credit and debit card transactions as well as ACH transfers