Use these five reports for a business year in review. Learn how to look at your data to set goals for next year. Grow your leads, clients, and revenue by optimizing for success!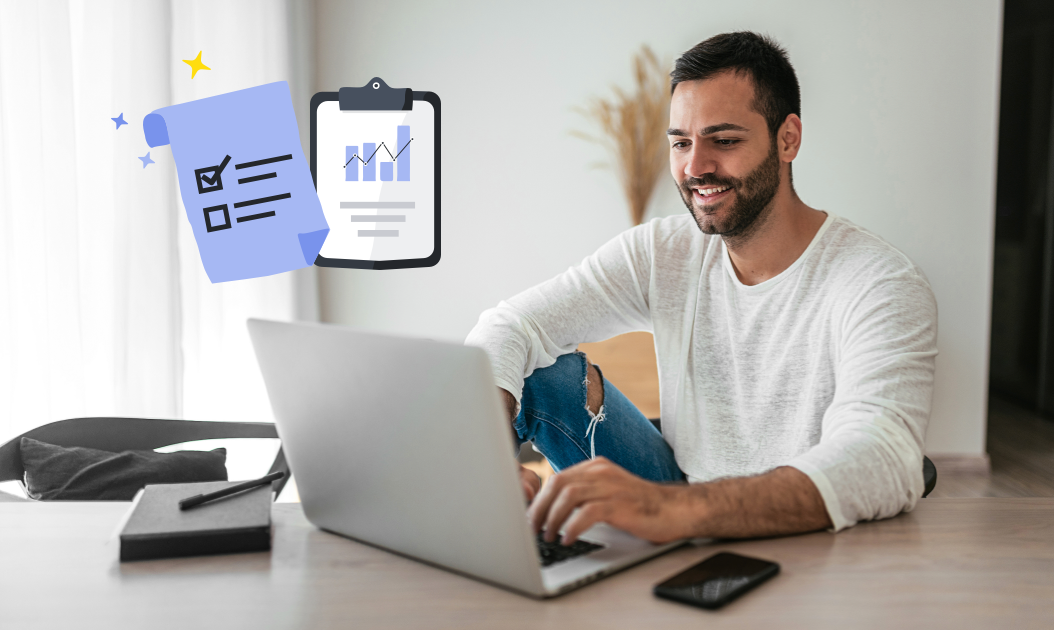 For some business owners, a new year is an exciting time to refresh and rethink your goals. For others, it can be overwhelming to think about everything that needs to be done. If you're in the latter group, the right tools and reports can help make the year-end review and planning process a stress-free, valuable experience. 
The key to organizing your business for next year is conducting a year-in-review with the right reports and data. Without that direction, it's easy to get lost in everything you've done and accomplished throughout the past year. 
Using just five reports, you can create new business goals around lessons learned from the prior year's lead nurture, conversion, finances, and more.
1. Lead sources
One of the first reports to look back on this year is your lead source report. It's critical to learn from because it tells you how leads and clients are finding your business, and it can help you better determine where to allocate time and resources next year.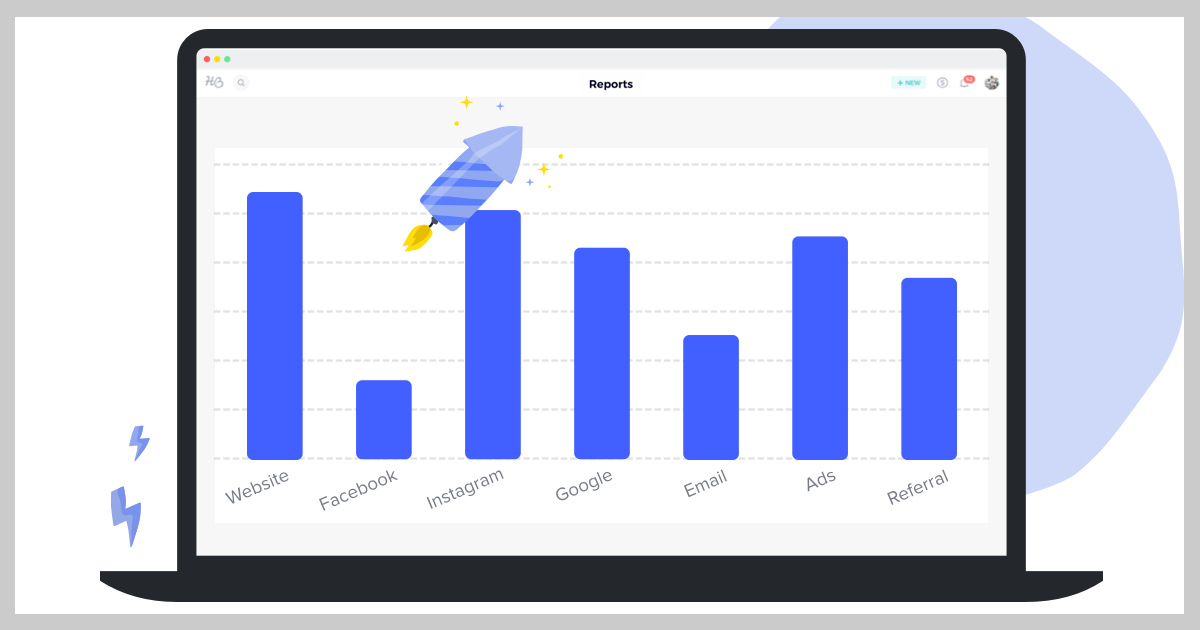 Most CRMs will let you track your lead sources automatically, but you can also use UTM parameters in your digital campaigns and Google Analytics to see where leads are coming from online. 
If you use HoneyBook, you can customize your lead sources as you're setting up your account so your lead source report is fully aligned with your business processes and goals. 
For most independent business owners, you'll likely have leads coming from social media, your blog, your website landing pages, and word of mouth. 
HoneyBook lets you add a lead source question to your contact forms so you will always automatically know where someone is coming from. If you do a lot of in-person networking and events, you can also add leads manually and track them with another specific source name too. 
When you look at your lead source report, consider the strong outliers and the channels that aren't performing well. Compare these outcomes to your efforts from the past year. Does your top-performing lead source align with your efforts? If not, you'll know you need to add more resources to the top-performing channel. 
Say you've worked extra hard on your email marketing campaigns, but you're seeing more leads come from your SEO efforts. Rework your focus for next year so you're putting resources toward the right channels.
2. Profit, loss, and cash flow
One of the most important things to do during your year-end business review is to analyze your finances, so the next report to review is your profit, loss, and cash flow. Look at your income from client work and/or products as well as the total loss. Did you make a profit this past year?
If you aren't profitable yet, don't worry – the majority of small businesses aren't profitable for at least their first year, but those numbers are always changing as new businesses enter the market and others begin to scale up. If you haven't hit that milestone in your business yet, this year is a good opportunity to set that goal.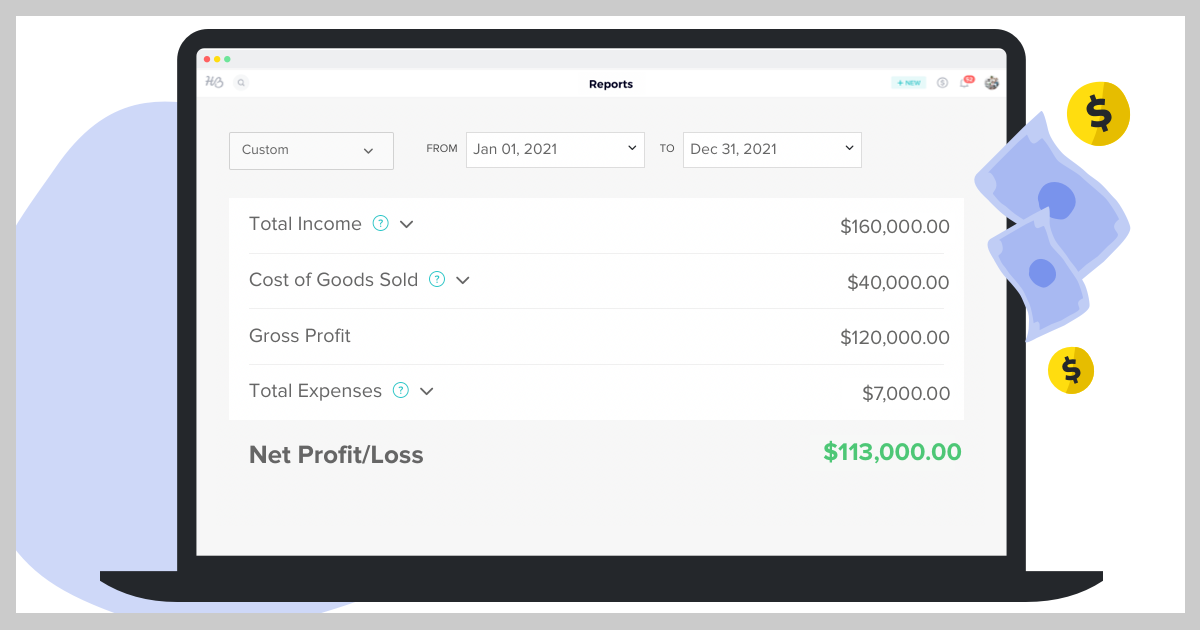 Consider how you can scale up your income while minimizing your loss. It's a great idea to increase your prices at least 3-5% each year, but your current business operations might call for even more. If you're offering more services, an improved client experience, or more expertise (to name a few), these are all value-adds that call for higher prices. 
While you look at your loss from the past year, understand instances that interrupted your cash flow. Did you run into issues with late payments and refunds? If so, it's a great time to reevaluate your payment terms and refund policies for next year. There may be outlier situations (like COVID), but in general, you should have a refund policy in place that covers your cost of goods/services and prevents loss.
3. Expense report
Next, take a look at your expense reports from the past year. Are you spending more money than you're bringing in? If some of your largest expenses include the things necessary to keep your business running (team members, office space, tools, etc.), but you're spending too much, it's time to raise your prices.
The end of the year is also a great time to audit your tools and software. Many business leaders often spend too much on platforms they aren't using to their full extent. Consider all the software subscriptions you pay for, including scheduling tools, CRMs, payment processing, project management, and communication tools. 
You can save money next year by switching over to an all-in-one business management platform and consolidating your tools into one system. For instance, if you use Accuity for scheduling and Zoho for your CRM, you could eliminate both in favor of HoneyBook, which offers multiple tools in one. 
In general, you want to make sure your expenses are either going toward priorities for operating your business or investments that will help you grow. By investing in the next big thing for your business, such as new equipment and employees, you're strategically spending your money on the things that will help you earn more money in the long run.
Investing in your business doesn't have to mean draining your bank account, and a small business loan can close the gap between you and that next big thing for your business. With the right lender, you can take on low-risk loans appropriate for your current level of income and revenue. If you use HoneyBook, explore our capital options to see if you qualify and access funds for your business.
4. Monthly conversion rates
By looking back at your monthly conversions, you can more easily identify trends in your business. Within your conversion rate report, do you see certain seasons where you were converting more leads? These likely align with your busy seasons. Some business owners, like photographers, may already know their seasonality, but others may find patterns they didn't know existed.  
Think about how to leverage these learnings to your advantage. Use this information to start thinking about seasonal promotions that can help you fill the gap during your slow season next year.  And, if you know when things will be busy, you can make sure you're prepared to take on more business by outsourcing or growing your team in advance for example.
5. Average time to book
To wrap up your monthly reporting, assess the average time it takes you to book clients. The time will include all of the steps in your clientflow, such as providing a new lead with information, helping them through service selection, and setting up an intake meeting. 
If the timeline for nurturing leads takes too long, shortening the process can help you deliver a better client experience and convert more clients. If you're wondering "how long is too long?", it really depends on your niche and industry, but having a big-picture view of your pipeline can help answer that question.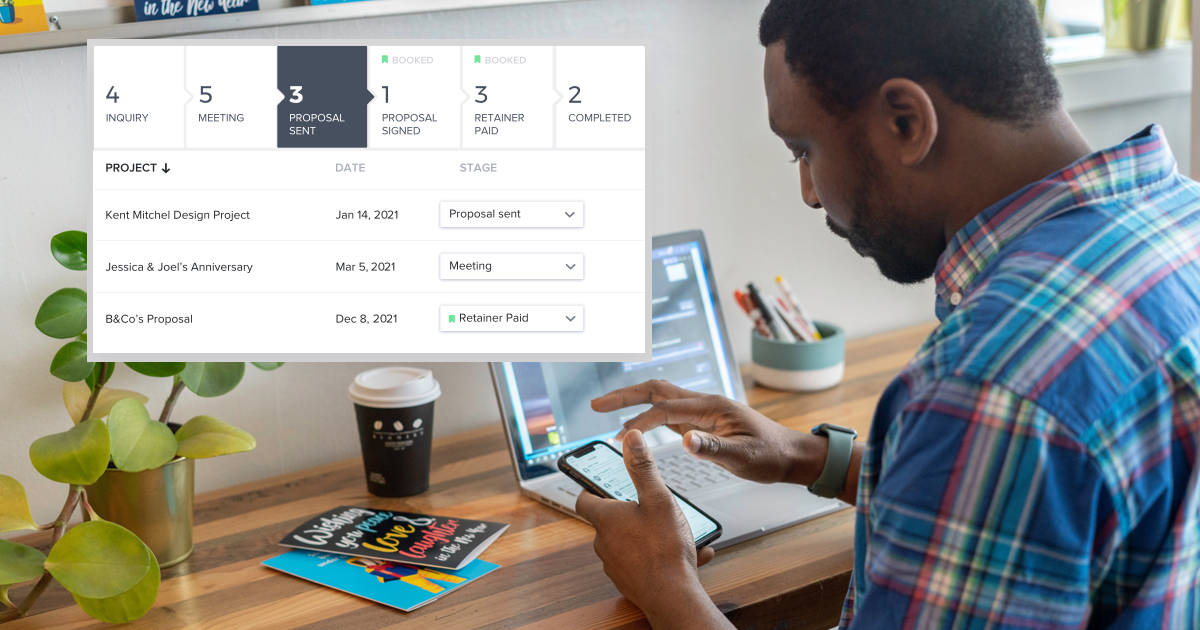 If you discover that you consistently have more leads in the inquiry or follow-up stage of your client flow, this can be an indication that you need to update your process. It might be that you don't currently have enough resources to nurture your leads in a timely manner. Outsourcing some of this work can help, but setting up business automation is an effective way to fill any gaps in your client communication. 
Also, consider if there's a step your leads tend to get stuck on. Perhaps you find yourself going back and forth for too long to help them determine which services they need. If so, you can optimize your process by offering more information in a concise way. 
Create branded brochures to send as soon as someone inquires so they have all the information they need upfront. You can also make your process more interactive with questionnaires. This tactic can help engage leads and move their conversation forward faster while also providing your business with valuable information about your potential client. 
Setting goals based on your year in review
Now, take a big sigh of relief. Year-end reports are no joke, but they are vital to helping you set more realistic goals and move your business forward in the long term. Once you've reviewed the reports above and noted your insights, you can look forward to the new goals you'll achieve next year. Some examples include:
Pricing and Profit – Looking at your profit and loss, cash flow, and expense reports should have given you a good idea of where you need to be spending less and where you can gain more income. For next year, try setting some of the following goals. 
Generate X new clients at a higher price tier
Increase income and total revenue by X%
Lower overall expenses by X%
Leads – By pulling your lead source report, you can set goals based on generating more inquiries next year overall and per channel. 
Increase total leads by X%
Generate X leads from [goal channel] (e.g. email, referral, Instagram etc.)
Conversion – Analyzing your conversion rates and time to book is key to turning more leads into clients and doing so with an efficient process. For next year, consider the following goals. 
Decrease lead nurture time by X%
Increase conversion rate by X%
Increase total clients per year by X%
How to achieve your new year's business goals
Using a clientflow management platform like HoneyBook, you can achieve your goals more efficiently next year. Complete with tools to generate and track leads, send interactive files, and manage your pipeline, you'll have everything you need to reach new heights. 
HoneyBook also offers all of the year-end reports listed above, so you'll have everything in one place for next year's annual review. Make life easier for 2023 and get started with HoneyBook today!