Learn how to sell a service by focusing on personalization and consistency. With a 4-step process, you can turn prospective customers into paying clients.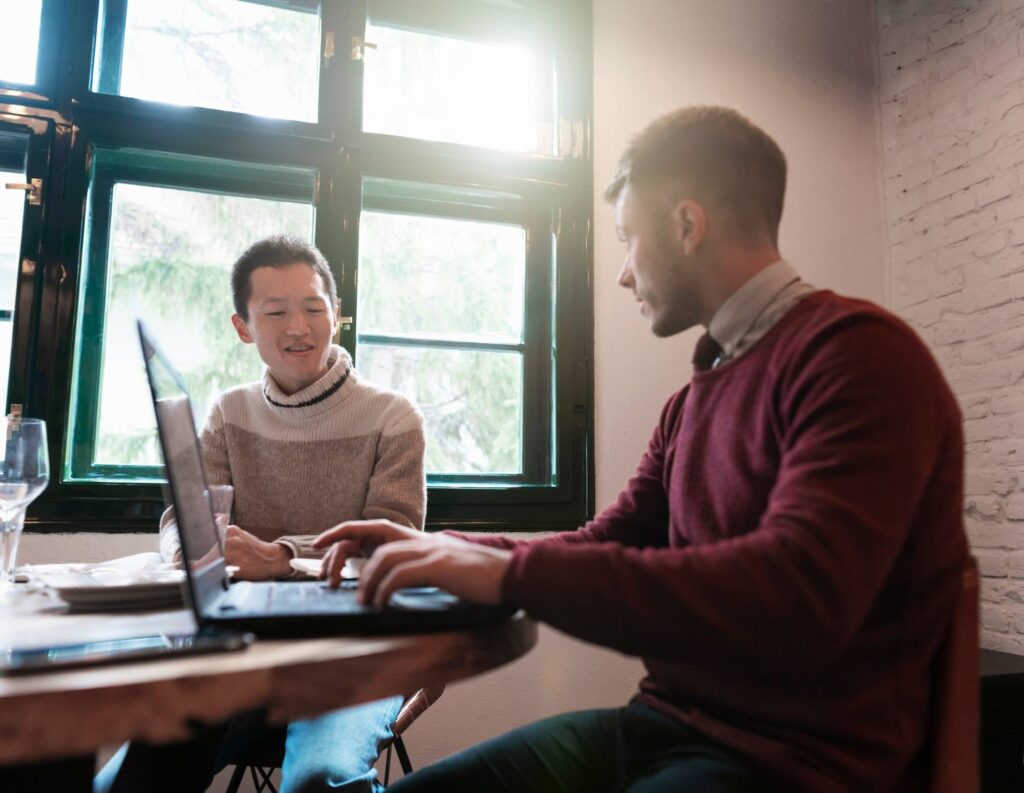 As an independent business owner, selling customized services is core to what you do. It all starts with those vital first steps in your clientflow, which include capturing new business and qualifying leads to successfully sell your services. 
If you master the process of selling your services, you'll unlock the key to growing your revenue and ensuring consistent cash flow.
Though your broader sales process should include lead generation and nurture, selling your services can happen as soon as you have interested, qualified leads. These five steps will intuitively connect your sales and booking process and improve the efficacy of your clientflow.
1. Evaluate prospects based on your target audience
Once you start building prospects (thanks to your lead gen strategy!), take the time to evaluate customer fit before you move forward with any potential clients.
This step is key to your sales process because you don't want to spend valuable time on leads who clearly won't convert or become valuable clients for your business. Consider your leads and prospects compared to your ideal client profile. Are they a complete fit, a workable fit, or no fit based on the types of clients you're targeting?
When a lead you've nurtured starts to show interest, consider if they're a qualified lead or if they might need more information before entering your sales process.
Ideally, you want to move potential customers forward who won't take too much time to book. If you start selling to every inquiry, you may spend a lot of time answering questions, offering more information, and qualifying leads in real time.
Be sure to compare your new inquiries to your target audience to determine if they're the optimal client for what you offer.
2. Understand your prospective clients' needs
Once you decide to move forward with a client, you need to understand the nuances of what they need. At this step, you might want to schedule a discovery call so you can speak to them in person and ask discovery questions. You can also send a client background questionnaire if you want the process to be more hands-off.
Explore their goals, expectations, and pain points in-depth. Using their answers, you can personalize your sales pitch and offer more tailored solutions.
3. Make the sale using your brand value
When you're ready to make your sales pitch, prioritize presenting your brand and the overall value you provide. It can be tempting to give as much information as possible upfront, including all your different packages and the work you provide—but you don't want to overwhelm your client before they give you the green light to book.
Providing too much information could actually work to your disadvantage and scare them away. As you make your case, focus on the solutions you provide, the outcomes you strive for, and how together these tactics will solve their problem.
Other companies may offer similar services, but you need to show potential clients why yours will provide the best value for what they need.
4. Guide clients through service selection
Once your client clearly states their interest, it's time to transition into the booking phase, which starts with service selection.
Using the information gathered from your client questionnaire or discovery call, offer a personalized sales brochure or a pricing guide that offers direct solutions. Instead of overwhelming them with a web page of all your services, providing specific, relevant options makes the selection process more efficient for you both.

Pro Tip: Don't build your brochures or pricing guides from scratch with every client. Instead, use a template that you can personalize quickly each time you send it. With HoneyBook, you can even include a sales video to walk your clients through your service options and save time. Enhancements like this will make your brand stand out and improve the experience for your clients.
Guiding your clients through service selection is another opportunity to showcase your strengths, pitch your business, and address any immediate concerns or questions. You already know your client is ready to purchase, and explaining each offer is one way to ensure they're happy with what they're getting.
As you assist each client, include helpful examples, like case studies about each of your services. Offering enough information at this stage will also help you set expectations and avoid misunderstandings down the road about what you include in your services.
5. Make your booking process as seamless as online shopping
If you buy a product online, it usually takes a few clicks and a couple of minutes, right? When selling a service, you should aim to design the same experience for your clients.
By connecting your sales process with your booking process, you'll eliminate unnecessary back-and-forth to create a better experience for your clients and a faster way for you to get booked and paid.
You've already spent enough time nurturing your leads, evaluating their fit, qualifying them, and presenting your services. When they're ready to book, all that work should allow your clients to book almost instantly.
Your current process might look something like this:
Send your brochure
Follow up via email
Get on the phone to answer questions
The client makes their selection
You send an online contract
After they sign, you send an online invoice
The client makes their payment after a final reminder
Instead, why not create a more cohesive, repeatable process like this:
Send interactive brochure for your clients to review (and discuss on the phone if needed)
Client makes their selection from the brochure and signs the contract within the same file
Once the online contract is signed, using the same file they started with, they can easily pay online
All you need to streamline your sales and booking is an all-in-one system that does it for you. HoneyBook is the leading clientflow management platform and with it, you can create dynamic, interactive files. Using a single feature, you can combine multiple steps in your clientflow–such as service selection, contract signing, and deposit payment–to optimize your booking process.
Best practices for your sales process
As you create your strategy for selling services, keep some best practices in mind. Regardless of the process you use, these tips will help you sell with greater impact and efficiency:
Strengthen your lead generation – Promote your services at the top of your sales funnel and create a strategy for your top lead sources. If you know a lot of clients come in through social media, make that a priority for offering lead magnets and other content to capture emails.
Brand the entire process – From your intake questionnaire to your sales brochure, you want to make sure your entire sales process is branded with your fonts, colors, tone, and more. A strong brand helps demonstrate your professionalism and gives potential clients an idea of what it'll be like to work with you. Even if they don't work with you, your brand may also stick with them to share for future referrals.
Leverage social proof – Ask your current and former clients to talk about their experience with you and share it however they're comfortable. A TikTok video could go a long way to build your brand awareness and reach new audiences, while a testimonial can help convert the leads who are already in your sales process. After all, consumers tend to spend 31% more on businesses with excellent reviews.
Focus on value – As you're selling your service, always focus on the "what" more than the "how." Through your sales narrative and your data, you should highlight results clients can expect, rather than detailing the work you provide.
Make the process more interactive – Engage your clients in your sales process as much as possible. Instead of sending stale, static files, offer interactive files that include photos and video. Empower your clients throughout the process by asking engaging questions that lead them to select their best-fit services.
Leverage business process automation – You and your sales team don't have to be intimately involved with every single step of selling your service. Instead, automate where you can. You can schedule a questionnaire to send to your inquiries so you can vet them automatically, and schedule your sales brochure to send as soon as you've had a consultation call.
Optimize sales to improve your clientflow
Selling your services is just one part of your clientflow. When done well, you can bring in more qualified clients who are a good fit for your business.
Good client fit increases the chances they'll become return customers and that means you'll eventually have to spend less time selling your services to attract new clients. Now you've got more time to put back into your business or spend on some well-deserved "me" time!
The best way to optimize your sales process is to use a clientflow platform like HoneyBook. With HoneyBook, you have the tools to manage every step of your clientflow. And when every step in your clientflow works together seamlessly you'll land more clients and bring in more revenue.