I began as a wedding stationer/hand-letterer and now focus on licensing to other designers. I license patterns and prints to larger companies through an agent, working on an ad hoc basis for ad agencies and small businesses alike, while also drop-shipping merchandise.
Here are some things I have learned so far about successfully creating passive income:
Passive income is not really passive at all.
"Passive income" is kind of a misnomer—it's incredibly active and it takes a lot of dedication and perseverance to make passive income work. I sell on Creative Market and the algorithm (like most) favors those accounts and shops that have a more routine posting schedule and more items for sale. If you're a photographer or graphic designer who wants to begin licensing digital goods on Creative Market, I recommended that you post one pack a week for 10 weeks rather than post a bunch of packs immediately. The algorithm favors dependable and disciplined shop owners, so you can't sit back and ignore your "passive" income stream.
Never assume people know what you're selling.
If you are an established photographer who is selling curves or presets, never assume your audience knows that you're selling these. You have to constantly remind your audience about your shops and what they can buy there. However, you shouldn't bombard your audience with pages of links they have to search through—I use a Linktr.ee account to change my profile links so I only have three to four going at a time. Keeping your audience informed about your products and services and allowing quick access to them can be extremely helpful in generating consistent passive income.
Take the time to create strong sample images.
Did you know that Vegas hotels use ugly carpet to get people to keep their eyes off the ground and on the machines that can give them a lot of money? Well, you want to do the opposite of that. Creating strong images that showcase how customers can use your work can spur them into a purchase. Although bigger businesses often have designers who can visualize how patterns and designs will look in the final product, many people find it easier to see examples. Creating great mock-ups of your work can help you find agents and licensees if you choose to license your patterns or designs.
Create work that can be used in multiple ways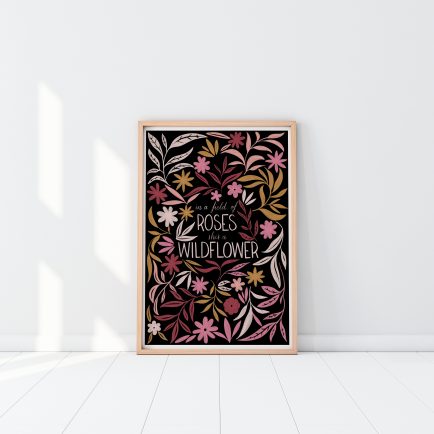 This goes for client work, too—as long as you retain the rights and get the necessary contracts in place (especially for photographers), don't be afraid to use what you create in different markets. For example, if you're taking photos for a styled wedding shoot, ask the models to be really expressive, toss a bouquet, kiss passionately, or laugh—this can lead to great footage for stock photos. You can then potentially license these to designers and other wedding professionals or use them to create beautiful "before" and "after" examples for presets or curves.
A personal example: I recently worked with a bride on a beautiful custom wedding suite, which involved creating a botanical drawing of a few different flowers. I specifically made sure to create the leaves and flowers on various layers, which has allowed me to and create and sell wallpapers, a pack of digital clipart, wrapping papers, art prints, and stationery. The designs are a different style than what I normally create, but they've been really popular and help display my breadth of work.
Consistency is king.
No matter what markets you choose to diversify in, you have to be consistent. Invest your time wisely and be selective of where you put your energy. Only create that Etsy store or Creative Market shop if you can see yourself investing the same amount of time two years from now. It takes a massive amount of dedication to begin to see results, but those who are consistent will win out.