It takes 18 hours to drive from Houston, Texas to Moab, Utah. I know this because my husband and I have done this drive 5 times in the past year. We spent almost two years with a home base in Texas, but our thoughts and dreams were always in the Moab desert, or Yosemite Valley, or seemingly anywhere but Houston. We've talked about leaving for years, but it is never that easy and we have an incredible family and tribe of people in central Texas that we love, but after logging nearly 50,000 miles in one year we made the decision to ditch the home base and live out of our car full-time. 
We ended up selling and donating most of what we owned, storing the small bit that was left, and moving only the essentials into our 2013 Subaru Outback and a tiny little camper that is essentially a full-size bed and a surprising amount of storage. We are now full-time wedding photographers with hopes of booking weddings with adventure-minded couples across the western US and planning our travels based on what we've now dubbed our "wedding tour schedule." We live on canned food, granola bars, and coffee and make our bed in free campsites while chasing good weather and grand adventures. The bedroom is sparse, the kitchen almost non-existent (we do have a gas-powered stove), the garage is difficult to access, but the backyard absolutely can not be beat.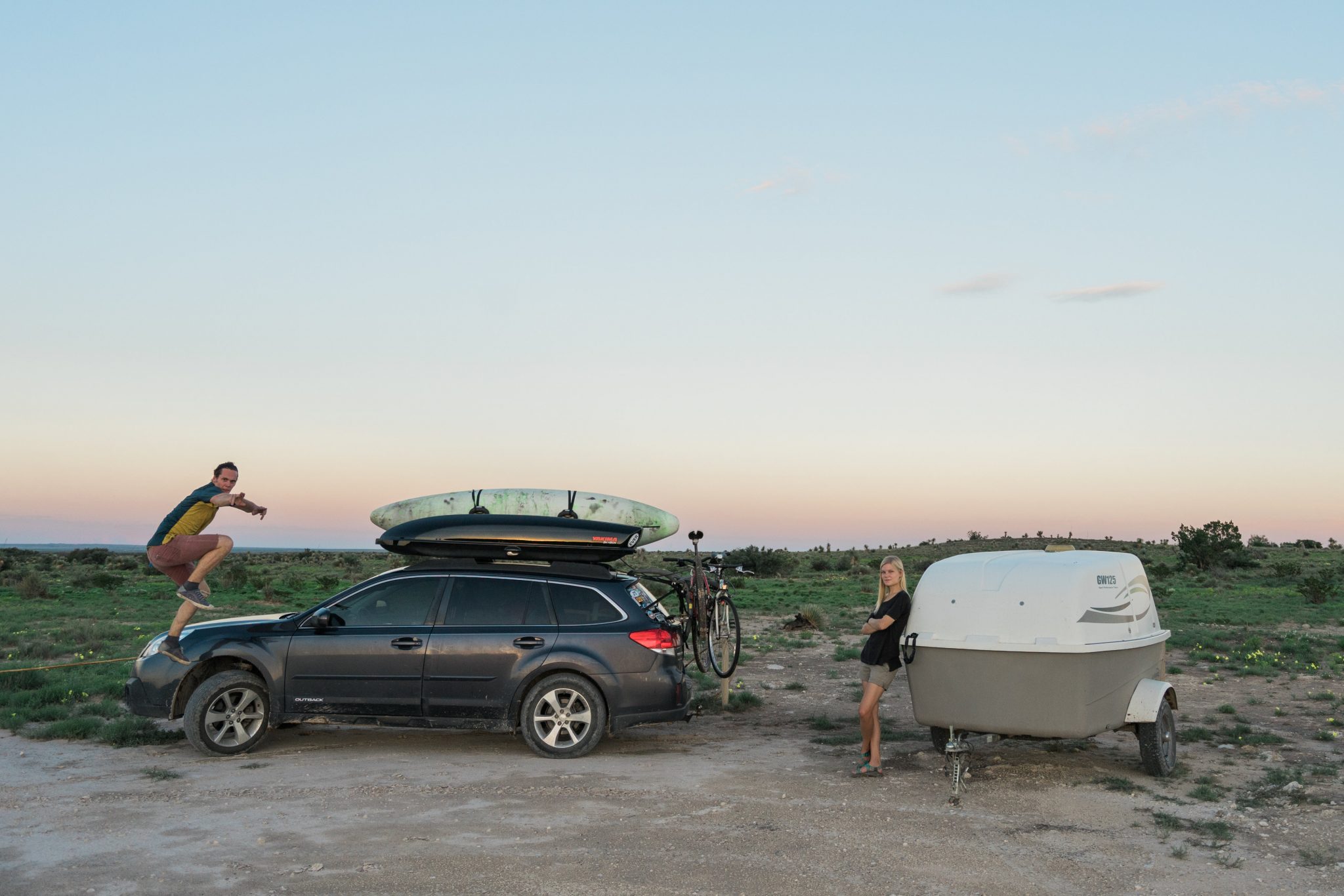 One of the big things we had to figure out was how we'd charge for travel when we didn't have a specific home base we were traveling from! We considered picking a place we'd be most often and charging based on that, but the point of moving into a camper was the freedom to call many places home, so we quickly realized we wanted to choose simplicity. We picked seven states that we knew we'd frequent anyway and decided to create a base wedding price that was high enough for us to feel comfortable waiving travel charges in those seven states (Utah, California, Oregon, Washington, Wyoming, Montana, Colorado). This keeps it simple for most inquiries and because weddings are booked so far out, we can plan accordingly (for instance, we probably wouldn't book a Montana wedding the weekend after a Southern California wedding) and we get to have rough itinerary available on our website for potential clients interested in booking smaller sessions. We also try to be vocal on social media about where we'll be a month out, so we can try to book small sessions during the week. 
Another huge hurdle for us was photo storage and backup solutions. I didn't want our mobile lifestyle to compromise our organizational integrity. Honestly, we were already so mobile before that our systems are almost all the same as they were when we had a home! After shooting a session or wedding, I use Photomechanic to copy RAW files from the cards to my computer and an external hard drive. Then, I do a time machine backup of my computer to another external hard drive. After that I edit the photos and export the jpegs to the two external drives, then upload the jpegs to a PASS gallery for the client. Once the jpegs are in the pass gallery, I feel comfortable clearing the original cards for use. I love using PASS because they keep the gallery online for 10 years, so if my client looses their photos, they can re-download them from the gallery. 
As far as blogging, social media, and client planning goes, we run everything online so it can be done in the car, in a coffee shop, or in the bathroom of a national park (wherever we can find electricity!). We use Honeybook for all client contact including contracts, e-mails, payments, and timelines, and I'll often type out blog posts or edit photos while Callen drives so they're ready to be posted as soon as we are somewhere with wifi. 
Our last major concern was simple…showers 🙂 While we have a number of solutions we turn to when on our personal adventures, I was adamant about having a secure place to shower and get ready before every wedding so we book a hotel room for the night before. This guarantees we wake up refreshed, with plenty of sleep, and with camera batteries charged! The hotel nights are a good way to guarantee we meet the professional expectations we set for ourselves and that our clients expect of us. 
There are always kinks to be worked out and new challenges met, but I've realized that is just part of running a business whether its out of a brick-and-mortar in town or a little camper parked in the desert. While it's not always easy, and we certainly have difficult days where we'd love a home base to crash out in, it's totally worth the experiences we're having, the people we're meeting, and the places we're getting to see on the road! Be sure to follow us on Instagram @abbihearne and @callenhearne, and always feel free to ask us any questions you might have about business, social media, the outdoors, or finding free campsites!