HoneyBook's Chief Evangelist Natalie Franke asked our HoneyBook Pros for a 2023 trend forecast. Here's what they have to say.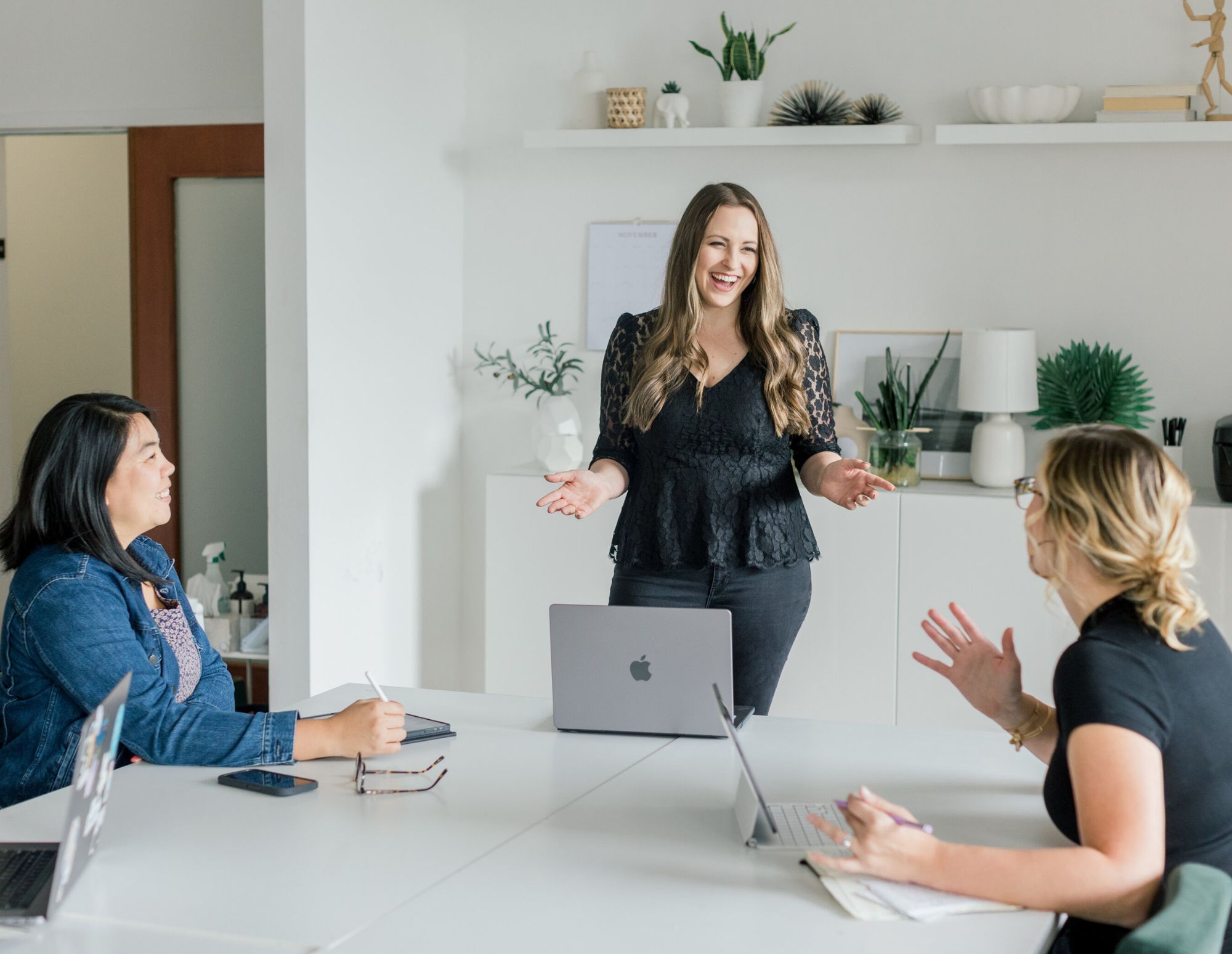 That's it; we're here. It's 2023 and the new year is in full swing. The end of the year can feel like a climactic moment, but in reality, we're at the base of the mountain and the view is so much better from the top.
In partnership with author, small business advocate, and HoneyBook's Chief Evangelist Natalie Franke, we've put together some expert tips and tricks to support your independent business in 2023. It's our mission to help you reach your goals and we'll be by your side every step of the way.
At the end of last year, Natalie asked six HoneyBook Pros about the top trends they predict will take 2023 by storm. Keeping your clientflow optimized, organizing expenses, and self-care are some of the biggest themes. Are you ready to reach new heights this year? We've got you covered. Drumroll, please…
Jump to:
Geily Romero of Cutting Edge Financial Solutions
Track all of your business transactions from the start of year using an automated process to ensure you don't miss any tax write-offs in 2023. — Geily Romero
This is what we call "evergreen advice." And we couldn't agree more. Keep track of everything you spend money on that is related to your business. This includes everything from office supplies and software to gas and rent. If you do this, you can take advantage of every applicable write-off, lowering your tax liability and saving you money! If you need help tracking your expenses, we've got you. HoneyBook has a number of resources dedicated to tracking expenses, including integration with QuickBooks Online.
If you're just getting started with expense tracking, try out our expense tracking tool. If you need help getting your taxes ready this year, we also have a tax filing checklist that will point you in the right direction for gathering documents and categorizing the expenses you've already tracked. Lastly, Geily Romero specializes in assisting photographers, social media managers, and designers manage their finances. If you need help with your business finances, reach out to Geily.
Diana Wei Fang of The Finer Points
Set aside time to map your client journey (even if you have done it before—things likely changed in 2022) so that you can serve with clarity and purpose. — Diana Wei Fang
Diana Wei Fang of The Finer Points is a systems specialist who has mastered clientflow optimization. She helps you pinpoint areas in your business processes that you can optimize and improve. When it comes to email configuration and integration, questionnaire design and setup, and branding, Diana can guide you step by step to a seamless clientflow.
You may be wondering: What is a clientflow exactly? Your clientflow is the complete process of selling and delivering your personalized services to clients. It includes both your back-end processes and client-facing ones. If you're still not entirely sure what is and isn't a part of your clientflow, we recommend mapping it out. If you're spending a lot of time answering emails and sending invoices on the back end, your clientflow could be optimized.
HoneyBook is a clientflow management platform offering all the tools you need to manage every step in your clientflow all in one place. Connecting with a HoneyBook Pro like Diana can help you optimize your clientflow and bring joy to your clients.
Latrice Prater of The Virtual Pro
Leverage technology to automate and delegate. — Latrice Prater
If you feel like you spend more time building systems in your business than using them, Latrice Prater's advice is for you. Latrice helps CEOs and independent business owners build systems, strategies, and business solutions. Sound familiar? Latrice is an expert in the backend of your clientflow.
Time is your most valuable asset. If you're spending all of it making sure every part of your business runs smoothly, how will you have enough to actually provide your service? Latrice is all about creating space for you to tap into your "genius zone," and so is HoneyBook. Automation is key to saving time while ensuring your back-of-house business operations run smoothly.
HoneyBook has straightforward automation capabilities. If a client sends an inquiry through your website, are you rushing to send the follow-up? No need. Automate a response that sends a follow-up with a client questionnaire and next steps without you placing a single finger on the keyboard.
Matthew Eriksen of Good Brand Partners
Work less, rest more. Prioritize taking time for yourself. — Matthew Eriksen
The jury is no longer out: self-care is good for you. Matthew Eriksen is a champion of this advice and his services can help you with this too—in style! Good Brand Partners offers branding and design services so your brand looks sharp even while you're relaxing on a beach or spending time with family.
Plenty of studies show that taking breaks during the workday promotes mental health, increased work satisfaction, and boosts creativity. Taking time for yourself can prevent creative burnout and keep your creative juices flowing all year round. Here are a few tips independent business owners, like Matthew, strongly recommend to create more space for you this year:
Communicate boundaries with your clients
Find a self-care accountability group
Take deliberate breaks
Be comfortable saying no
We're advocating for leveling up with conscientious growth. Let 2023 be the year you grow your business sustainably for your heart, mind, and bank account.
Octavia Elease of Octavia Elease Designs
Refresh your copy across the web and update your imagery. — Octavia Elease
Refresh 👏 your 👏 marketing. You (hopefully!) didn't hear it here first. If you're looking to thrive in the year 2023, this advice is for you. Take a fine-toothed comb to your media and do a website audit. Our own Chief Evangelist Natalie Franke just did a brand revamp to elevate her digital presence, and her site is looking fresh.
Why are we (and Octavia!) encouraging a copy and imagery overhaul? There are a few key reasons.
Brand consistency: If your brand has evolved this year, your business has grown, or you've raised your prices, you want to attract the clients that fit the new you. Sometimes growth doesn't mean more clients, it means better clients. Your branding should reflect who you want to market to.
Professionalism: If you've got out-of-date contact information or broken links, it's a red flag for clients that you may be out of touch with the times, or worse, sloppy. You want to look as professional as possible, which means your contact and links should, too.
Peace of mind: Most branding can be a set-it-and-forget-it endeavor so long as you don't set it and forget it forever. Reassess your look and voice to get this cumbersome chore out of your way so you can stop worrying about it!
Need help with streamlining your processes so you don't have to be in the thick of email follow-ups all day long? Need email copy and web design help too? Octavia Elease can help.
Stacey Hooker of Sweetly Simplifies Systems
Heading into 2023, clients want a more personalized experience. Examine ways to level up your clientflow and don't be afraid of using automations to do it! — Stacy Hooker
You may have picked up on this 2023 trend by now: automation, but keep it personal. Automation and personalization are more important than ever in 2023 for two distinct reasons:
We want you to save time and money because you will have clients flowing into your pipeline without a prolonged back and forth. Your time and funds are more valuable than ever during times of economic uncertainty, and automation takes busy work out of the equation.
Personalization matters more as digital engagement increases. Clients want to feel an affinity for your brand. The more individuals feel distant from a product or a service, the less likely they are to feel their needs are being met. A study done by McKinsey shows that 71% of consumers (this includes clients of independent businesses!) expect personalized interactions from companies. Accomplishing personalization pays off, too: If services are personalized, 78% of consumers are more likely to recommend your services and 78% are more likely to consider repurchasing.
Fortunately, with HoneyBook, automation and personalized engagements aren't mutually exclusive. Try setting up an email automation that generates a personalized response and includes a consultation booking. When a prospective client reaches out interested in your services, set up your HoneyBook automation to trigger a detailed follow-up with a request to book. Easy peasy.
2023 is your year
2022 is a wrap and HoneyBook is here to help you elevate in 2023. Here are our key takeaways from the pros:
Track your transactions and expenses from the start of the year using an automated process. HoneyBook integrates with QuickBooks so you can track your receipts with the 📸 of your camera.
Map your client journey so you can serve clients with clarity and purpose.
Leverage delegation, automation, and technology.
Take time for self care, self reflection, and family.
Level up your clientflow with personalized automations.
With HoneyBook, business flows your way. Take it from our pros: optimize, personalize, and automate for a successful, low-stress 2023.