Learning how to automate your clientflow is key to working more efficiently throughout the entire process of selling and delivering your services. Here's how to make it happen.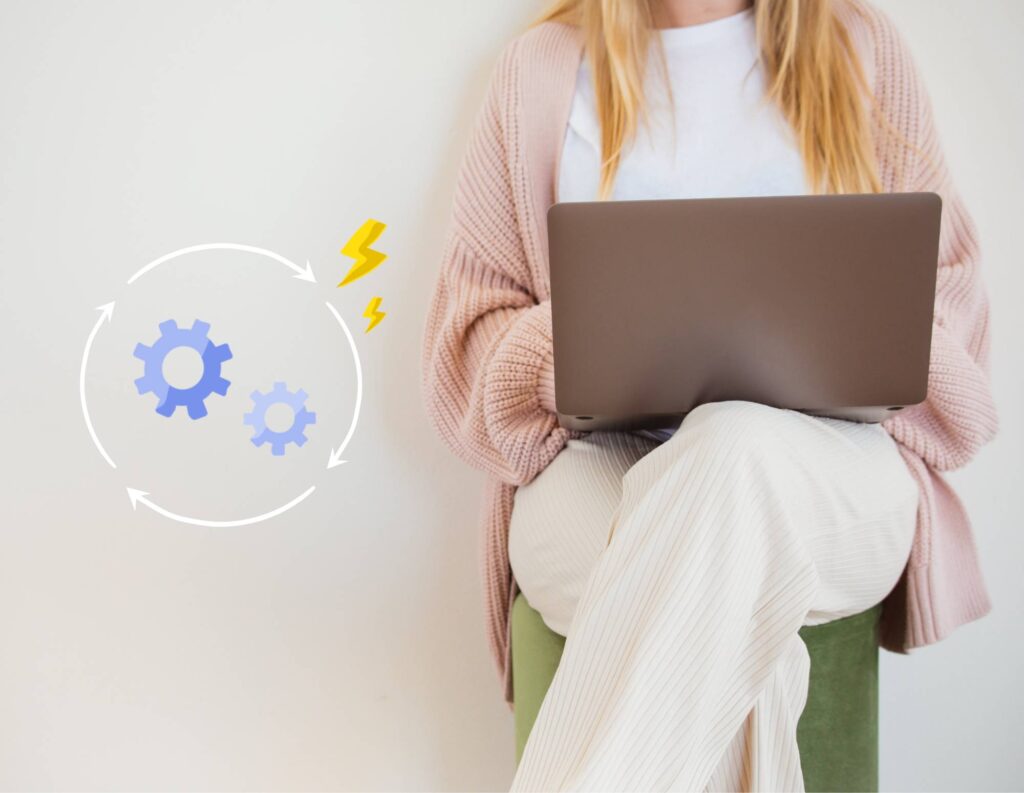 The key to growing your business is getting out of your own way. That means removing yourself from the back-office busywork and focusing on serving your clients, setting goals, and planning for the future. That's not to say it isn't important to know how your business runs day-to-day, but you shouldn't be spending the majority of your time responding to inquiries or chasing down payments.
Along with delegating and outsourcing where you can, the secret to success is business process automation. For independent businesses like you, automation can fit into every stage of your clientflow.
From vetting inquiries to selling your services, booking, and managing projects, there's plenty you can automate so that you can take your hands off the wheel without slowing down your business.
To get started, we recommend mapping your clientflow. This will help you better understand your unique processes, and dependencies, and identify the areas where you're spending too much time. Then, use this guide to automate each step.
Jump to:
Automate parts of your sales process
Depending on your business, your sales process can be very personal. So you may not want to automate it. However, they are different steps that you can take off your plate, regardless of your industry or types of services.
How many inquiries do you get per week? How often does it take for you to respond? Now, ask yourself how many inquiries typically convert into clients. If it's a small percentage, your process for responding and moving leads forward may be the cause.
Capturing new business
Instead of making your inquiries wait, automate your process right after capturing new, interested business. Set up an automated response for anyone who fills out your contact form to ask about your services.
With HoneyBook AI, you can even send a personalized response with 0 work on your end using the AI composer.
At a bare minimum, you should thank them for reaching out and give an estimate for when they can hear back from you.
Depending on your sales process, you can speed things along further by sending a scheduling link with your availability that updates automatically.
Or, respond to new inquiries with a sales brochure and questionnaire to automatically start nurturing your leads about what you offer and evaluate them for client fit.
Pro tip
Map out your process for selling services right after initial contact. For some services, you might need to speak to potential clients first. But for others, it might be better to capture information from them first before you schedule a meeting.
Qualifying leads and offering services
Before you can move forward with booking, you need to determine which leads are most qualified to work with your business. To do so, you can send an automated questionnaire to new leads or a scheduling link for a discovery call.
With more information, you can prioritize new inquiries more efficiently and provide a more personalized sales process.
Next, build a workflow that includes your pricing guide so your clients can select services immediately. Consider also including a sales video to provide more detail about your services without having to pick up the phone (or sacrificing a personal touch).
Connect each part of your booking process
Automating your booking process means your clients can book quickly without unnecessary back and forth. Without automation, you need to manually stay on top of which inquiries have received a contract, which still need to sign, and which need an invoice.
Instead, why not automate and combine everything into one step? Once your client submits a questionnaire or brochure from the inquiry stage, set a trigger to send a file that includes your contract, invoice, and payment. 
Pro tip
If you want to automate your clientflow even further, try connecting your sales and booking process. HoneyBook is the only clientflow management platform that lets you combine the actions you want your clients to take in one interactive file.
You can still send a sales brochure on its own, but why not let your clients book immediately once they know which services they need?
For even more streamlining, let clients view your brochure and business information, select services, sign a contract, and pay.
Building a custom booking automation all depends on how much oversight you want to have into this process, or if you want to provide instant booking that lets your client choose their services and pay immediately. You can always offer a more streamlined, automated process for some services while saving your 1:1 time for other high-touch packages.
Automate task and project management
As a business owner, you already have a lot going on in terms of leading your business operations and strategy, communicating with clients, and providing your services. It's understandable if some tasks slip through the cracks. But, a missed email here and a missed internal task there can add up over time creating inefficiencies that can be detrimental to the success of your business.
While you're managing your projects, you can automate some of your work to make sure you aren't forgetting anything.
Pro tip
If you use HoneyBook, you can use Zapier to integrate with your preferred project management tool. For instance, you can create new Trello cards whenever a client books with you, create Asana tasks as your client moves forward in your project, and more.
Start with setting up internal task reminders. Have you recorded your project expenses? Is your onboarding packet for a specific client ready to go out? Reminders like these can ensure that you're completing tasks successfully throughout your clientflow.
You can also schedule emails to send automatically at key milestones throughout the project. At a minimum, schedule a payment reminder so your client never forgets to pay their invoices (and you don't have to worry about reminding them).
Other emails you can consider automating include:
Meeting reminders
Monthly check-ins
Canned emails about your policies
What's coming up in your project
Streamline project closure and maintain client relationships
Once a project is complete, there's a lot of feedback and information you still need to capture. If this part of your clientflow isn't streamlined, it can be overwhelming for you and your clients.
With HoneyBook, you can create an automated workflow that begins as soon as you close a project. Start by sending a thank you message along with a feedback questionnaire. If applicable, you can also include information about renewal or ongoing services.
Thereafter, set an email to trigger after a few days that encourages referrals or reviews by offering a discount on future services. After all, word of mouth is one of the most reliable ways to attract new clients to your business
By automating key steps in your project closure process, you can ensure that you're collecting important feedback and strengthening your client relationships without having to think about it. As you're getting started on your next project, your automated workflow is gathering valuable feedback, referrals, and reviews from your clients. 
Build and automate your clientflow with HoneyBook
Throughout this article, we've discussed ways to automate and streamline your clientflow. You might now be wondering which platforms on the market can help you get it all done.
HoneyBook is the leading clientflow management platform that helps independent businesses professionally sell and deliver their services online.
HoneyBook offers everything you need at each stage in your clientflow. Create a branded contact form to capture leads, build custom intake questionnaires to gather important qualifying information, and book clients with contract and invoice templates, and payment processing.
What sets Honeybook apart is the ability to build interactive files that allow you to combine different actions into one. It's easier than building a landing page and much more engaging than a PDF.
Now imagine the time and energy you can save by adding automation on top!