Your work as a coach is filled with exciting opportunities to help people grow beyond their expectations of themselves. Yet as much as you'd love to spend all of your time making a difference in people's lives, your business won't run itself. Invoicing, marketing, and client intake are all necessary, but can also be incredibly mundane activities that rob you of your most productive hours.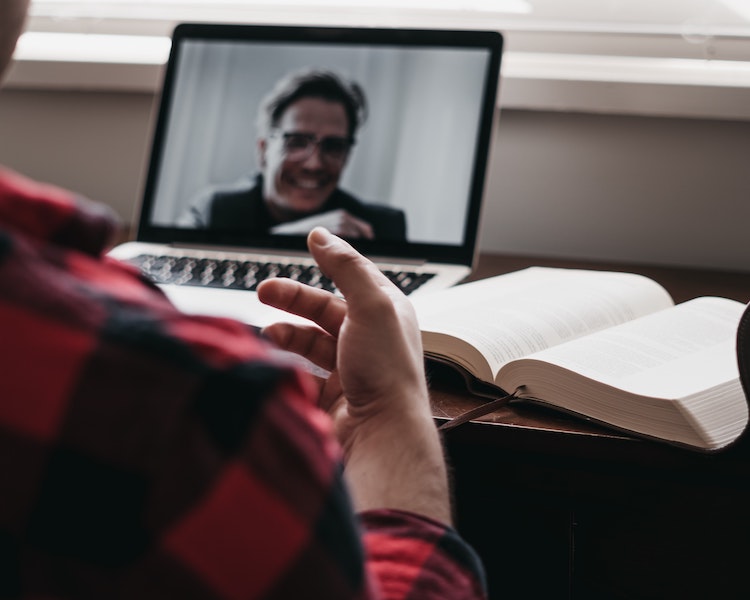 Instead of letting your schedule run you, take back control of your business with customer relationship management tools. Among the many options available, HoneyBook has earned its reputation as the best CRM for coaches.
What is CRM for coaches?
Coaching is an incredibly human endeavor. Whether you're a life coach, health coach, wellness coach, or personal coach, your goal is to work 1-on-1 with individuals to help them improve their lives. To that end, everything you do fits into the broader concept of "customer relationship management".
But as you've likely already discovered, your relationships with customers don't begin and end with each session. There's also the "business side" to client interactions, which can include:
Negotiating contracts

Goal-setting and tracking

Scheduling

Invoicing

Payment tracking

Bookkeeping

Inbound marketing

Client Communication
While you pour as much energy as possible into your work, your client relationships can falter and hurt your business if the management side of things becomes overly complicated and unwieldy.
This is why customer relationship management is more than just a how-to guide on customer service. The concept now encompasses all of the technology, software applications, and tools you use to help manage the business side of that customer relationship. Keep reading to discover the best CRM for Coaches in 2020.
You're not alone in your CRM struggles
According to the iNLP Center, there are several common mistakes individuals make when starting a life coach business. Of those, most are grounded in different aspects of business management. Their list includes issues such as:
Failure to treat life coaching as a business

Not investing in marketing strategies

Marketing to the wrong crowd

Spending too much time planning

Pitching clients the wrong way

Not sharing your story
If any of these issues speak to your journey as a coach, you're not alone. There are thousands of life coaches, wellness coaches, and health coaches working to make people's lives better. Most are small business owners trying to navigate the complexities of business management, just like you.
Although many coaching softwares provide specific tools that cater to select parts of your business, like scheduling or invoicing, the best CRMs combine multiple tools into an all-in-one small business management platform that helps you organize and automate scheduling, payments, communication, client intake, and more.
High-powered options like HoneyBook is not only inexpensive but are designed from the ground up with small business owners in mind.
Consequently, many coaches turn to CRM tools for the same reasons you're considering using one now. You started your coaching business because you have a deep passion to help people, but the business side of things quickly gets in the way. And since you always focus on helping your clients simplify their approach to life, you might as well simply for your approach to business management.
Are you a health, wellness, or life coach? Learn how health coach software and life coach software can help you stay organized and book more clients.
Essential CRM tools for coaches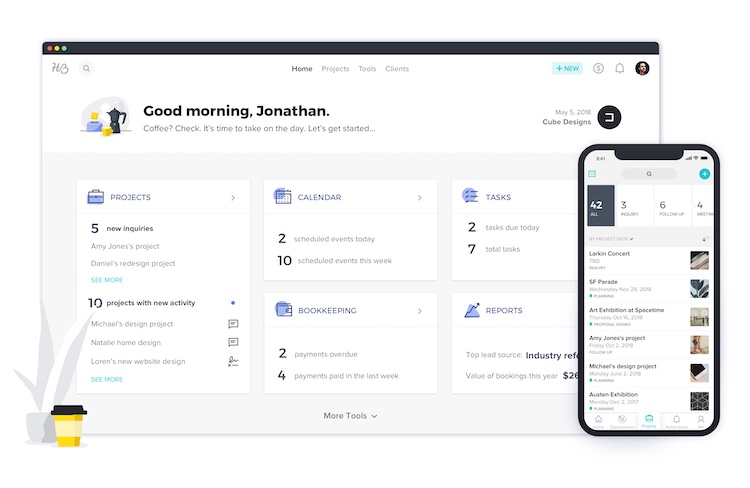 HoneyBook is incredibly versatile. As a CRM for health coaches, life coaches, or business coaches, it'll help you manage your schedule and market your experience. And, HoneyBook can empower you to automate communications and set up recurring payments for long-term clients.
When we cycle back to some of those key areas of struggle that iNLP Center identified as common among new coaching businesses, we find HoneyBook has an answer to all of them.
Not properly treating yourself as a business? HoneyBook's all-in-one suite of software will put you into the correct mindset with customizable branding that lets you present a professional look and feel to all aspects of your client communication. You can also maximize your revenue with HoneyBook's online payment software.
Unsure of how to market yourself? HoneyBook has several features specifically for marketing purposes, including brochure templates and contact forms you can embed into your professional business website.
Getting poor response rates? Refine your marketing language with questionnaires and brochures that filter out the noise and help you target the right audiences. Plus, set up automatic follow ups to reply to clients quickly.
Taking too much time to plan your schedule? Automate the scheduling process with HoneyBook's online meeting scheduler (similar to Calendly or Acuity), and use HoneyBook's task management tools to organize your day and stay on track.
Let's take a deeper dive into some of the most critical features that make HoneyBook CRM the best health coach software and life coach software available.
Hands-off scheduling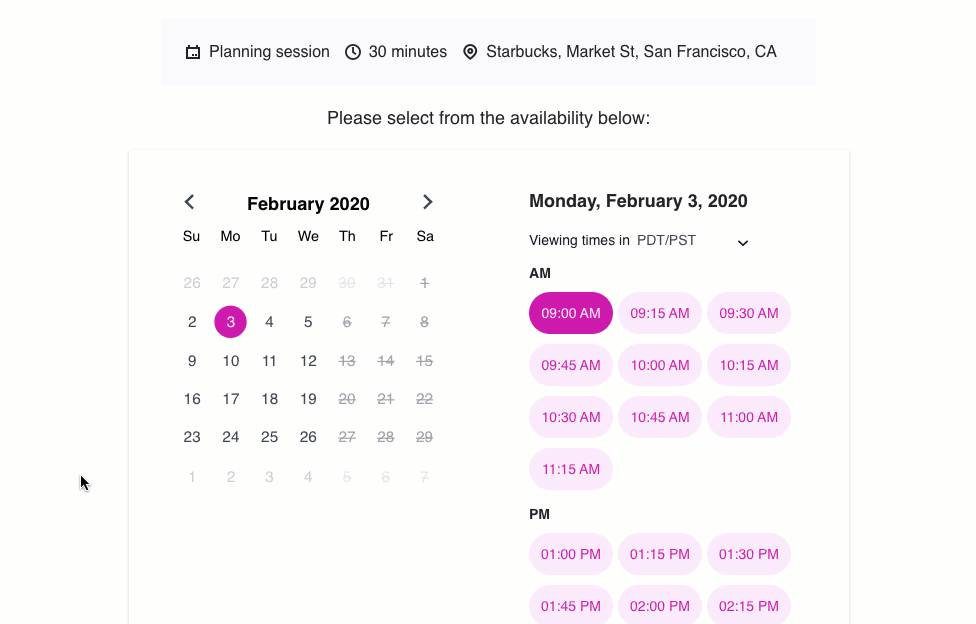 As your business takes off, you'll quickly find scheduling is among the most complicated challenges. Many of your clients work 9 to 5 jobs, so they may try to squeeze coaching time into early mornings, lunch hours, or late afternoons, evenings, or weekends. To that end, you need to be flexible to meet their needs, but you also need offer them some clarity regarding when you're available. The last thing you want is for clients to get frustrated about your seemingly sporadic availability.
HoneyBook's online meeting scheduler is the perfect solution to this on-going problem. With Scheduling, clients can see when you're available in the days or weeks to come. You set your availability, and clients can book time in advance. Once clients book time with the online meeting scheduler, it's automatically added to your calendar and task manager.
You can also impress your clients with customizable branding and an integrated interface that allows them to select from a list of services. Clients can self-select time slots and pay invoices all in one place.
Don't worry; everything is private. Clients won't see who has scheduled time with you. Once a block of time is scheduled, it'll be noted as unavailable from other clients' view. Only you can see who scheduled time, adding to the type of privacy that your wellness coach business offers and that clients usually prefer.
Trackable invoicing with payment reminders
It's easy to feel just a bit guilty asking for money in exchange for helping people improve their lives. Still, you can't work for free, and you need to maintain a steady cash flow to keep your business running properly. Part of that means sending invoices in a timely manner and making sure those invoices get paid without having to get into uncomfortable conversations about money.
HoneyBook's online invoicing tool has several features that allow you to put a professional and friendly face to payment requests, speed up payments, and ensure better client relationships.
Set up your HoneyBook invoice using the customizable template. Add your branding, input the client's information, and then schedule your invoice to send. Include automated payment reminders that will chase down late payments for you.
HoneyBook also allows you to set up recurring invoices. You can have invoices sent on a schedule that both you and your client agree upon. Clients can also choose to autopay recurring bills, so both you and your clients don't need to worry about trying to remember the billing schedule. If you're new to invoicing, check out our walkthrough on How to Create an Invoice.
Your HoneyBook invoices are completely digital. Accept online payments from clients via credit card (VISA, MasterCard, American Express, or Discover) or through direct bank transfers.
Keep track of all of your incoming payments through HoneyBook's dashboard, which offers visual records of your earnings, as well as paid, current, and past-due invoices.
Related: The Best Time Tracking Software for Small Business
Automated on-brand marketing
Chasing down leads and trying to market yourself is time consuming and draining. HoneyBook facilitates your need to increase your client list while reducing the number of individual contacts you need to make with several marketing tools.
Create a contact form on your website that will generate leads that feed directly to your HoneyBook Automation. Once an inquiry comes in, the automated workflow will send a friendly response you've prepared in advance. Set up your automation to send prospective clients your customized questionnaires that help you better understand the client's needs, or deliver digital brochures that elaborate more on your personal story and coaching brand.
Should you and prospective clients wish to proceed, send a contract or a 3-in-1 proposal that also includes a contract and invoice. HoneyBook also allows you to streamline the process by letting clients select from and pay for a list of available services during the automated workflow.
Lead generation with HoneyBook puts you and clients on the fast-track toward developing strong and lasting relationships in minutes.
Connect more, manage less
Coaching is all about connecting. As you scale your business, you'll find that the stress of business management makes it increasingly difficult to form lasting and deep connections with clients. Automate the business side of your client relationships with HoneyBook so you can be 100% present for your clients.
Ready to get started? You can try HoneyBook risk-free for 7-days (no credit card required).
This post was updated in August 2021 when the HoneyBook Workflow tool was renamed to Automations. The HoneyBook Automations tool maintains the same functionality with the ability to automate communications, tasks and more. For more information about the Automations update, check our August 2021 Release Notes.