"Almost all good writing begins with terrible first efforts," Anne Lamont declares in Bird by Bird.
When composing your website copy feels more akin to hacking away at keys than blissful copywriting, that sure is a helpful line to remember.
That, and the real secret to better website copy.
The secret? Storytelling matters.
As creative millennials, we bring a unique paradigm on storytelling to the table: sure, we grew up on bedtime stories, Laura Ingalls Wilder and Ramona Quimby, but then came Oregon Trail, AOL Instant Messenger, and chat rooms before we really even mastered lipgloss application. Learning to diagram sentences with ballpoint pen pressed into college-ruled notebook paper in high school English was juxtapositioned with breaking all those same rules with short texts and wall posts. We learned to write stories at a very interesting time.
Strong imagery for our brands matters greatly to our Rising Tide Society community. Pristine, charming little squares on our feed are like magazine pages of which we each are our own elected editor-in-chief, and those images are an important part of brand storytelling!
But I want to argue the reasons why words still matter in our visual world. Words hold hefty weight simply because story still matters, and you've probably felt this tension if you've sat down and struggled with what to say for your website, about page, or sales copy.
Let's talk about what storytelling on your website is, why you need it, and how to do it.
What is Website Copy Storytelling?!
First, back, back, back it on up: storytelling is a few thousand year old communications "best practice." Storytelling is so woven into the fibers of our humanity that the practice traces to our species, predating farming and agricultural practice. In fact, storytelling is so innate,that you likely spend 30% of your day daydreaming (not counting pillow-rested, silk eye-mask dreams!). Statistically, a mind viewing a film or catching up on Netflix rarely daydreams: the screen does it for you.
I love how it's woven in us to gravitate toward storytelling. Our brains are wired to connect soul to soul when there's a tale woven in the mix.
Why You Need Storytelling on Your Website
Storytelling looks a lot less like you being the hero than it does your client being the hero — and you coming in as the guide to assist on her path to greatness. On your website, you're not just communicating YOUR story, but you're communicating to a sweet bride how your planning, calligraphy, or photog services will enhance her wedding day story. You're a creative attorney expressing how you can help your client dream up a business story bigger than she has ever dreamed before, given the right licensing tools. You're a graphic designer showcasing that the right typestyle and palate can propel your client into attracting her ideal client.
Simply put, in this story, you're the guide equipping your hero client.
Storytelling can exist in your home page, about page, services, contact page, blog posts, Instagram captions, client email templates, pricing guide, and more. Especially in light of Instagram algorithm changes, it all comes back to your owned assets. Social media will always be changing, so your website and email list newsletter are where the bulk of your story and messaging should live.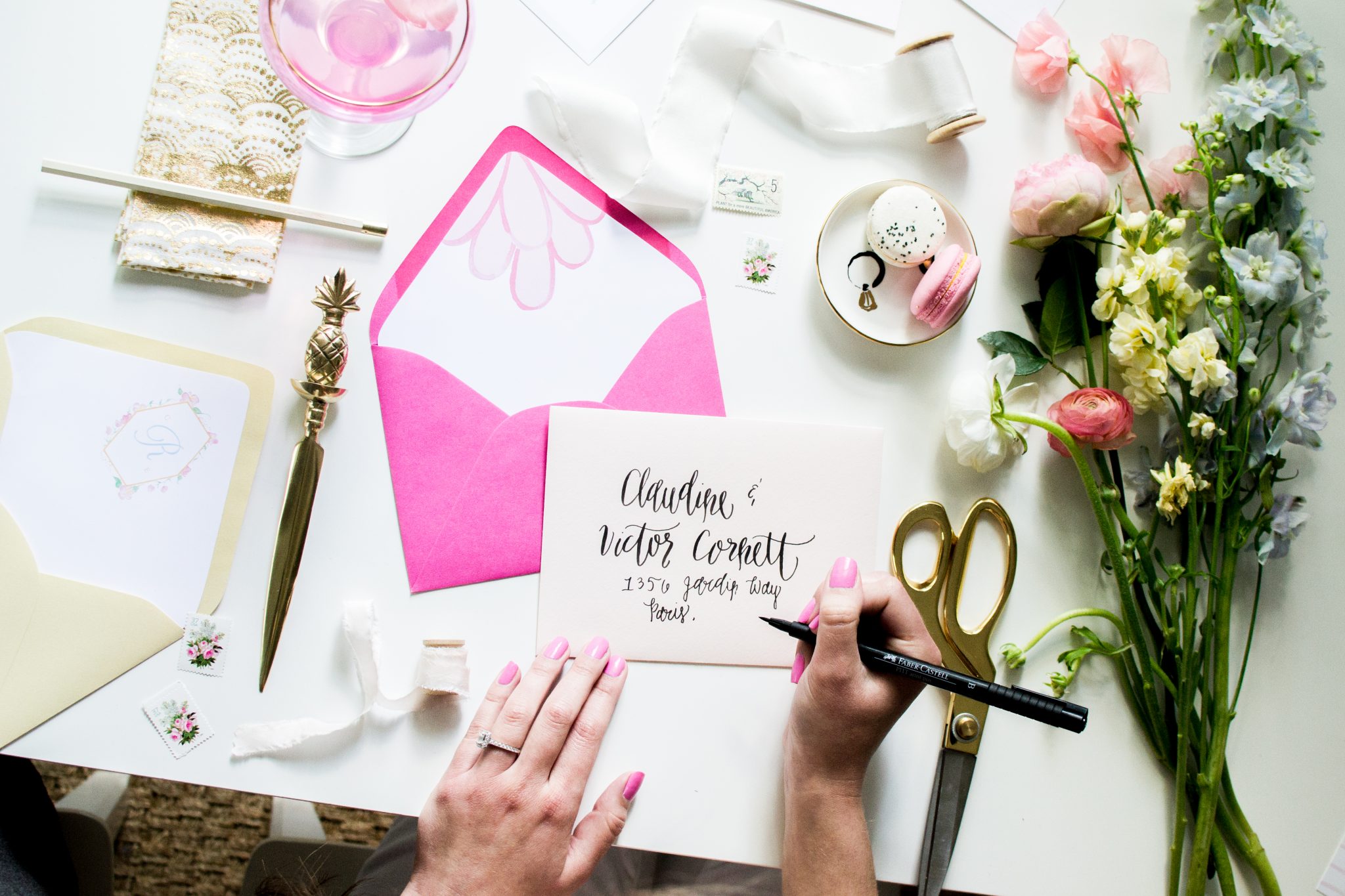 5 Tips for How to Tell a Story on Your Website
But how do we actually implement these thoughts? Here are five take away homework tips for you to tackle in your website copy:
Know your character, and speak to him or her. Have that ideal client mapped out to a "T," and target her external, internal, and psychological problem. For example, if I were writing copy as a wedding photographer, I'm writing to solve these problems 1) Suzy (external) needs her wedding documented, 2) Suzy (internal) wants someone her fiance and wedding party are comfortable enough around to be themselves, so the pics look authentic and awesome, and 3) Suzy (psycholgoical) tends to get insecure about having herself photographed, and wants to feel beautiful when she looks back on these memories.
Offer champagne. One of the quickest ways to communicate part of your story on your website is to offer up a free content upgrade on your homepage, or, as I like to think, a little glass of champagne. The story is that you know your ideal client has a problem, and you're the man or woman for the job to help them on their journey. Why not build a free tool and allow them to grab it in exchange for their email address?
Show empathy and a plan on your sales page. You're talking about money, but in tip 1, you saw how there's always a deeper need to us making a purchase. Powerful story triggers an action or investment. Write to show two things on your sales page: empathy and authority. Then, give a specific plan. Threes are good. "We'll do Step 1, Step 2, and then you'll be so happy with Step 3 results."
Clarity attracts, confusion doesn't. There's a saying in copywriting: aim for clarity over cleverness. If we're having honesty hour, that's one tough cookie of an assignment for me — I'd rather plumb the depths of word play, leapfrog jump from poetic device to a vocab word from fifth grade Wordly Wise. But alas, clairon is king. Smart, sharp writing matters because there are so few solid, tight writers on the internet. You'll stand out. A good writer knows when to "kill her darlings," and edit something out.
Write a better about page, or get one written for you. Google Analytics tells us that this is statistically the most viewed page on your website. If you're not comfortable with yours, find a copywriter who can build you a bio you're proud of.
"I heard a preacher say recently that hope is a revolutionary patience; let me add that so is being a writer." That's a quote from one of my favorite writers, providing the toughest part truly is sitting down to write. Look for ways to weave storytelling about your business or blog into your next copywriting assignment, let the words rest for a day, and come back and edit with fresh eyes before you hit publish.
Want to get on track to write a better about page? Click here to join a free, 6-day course, and write a better bio for your website in less than a week.