Watch us build a booking process with a HoneyBook member, and read on to learn how you can do the same! HoneyBook Pro Diana Wei Fang shows how you can create your ideal client journey and save time.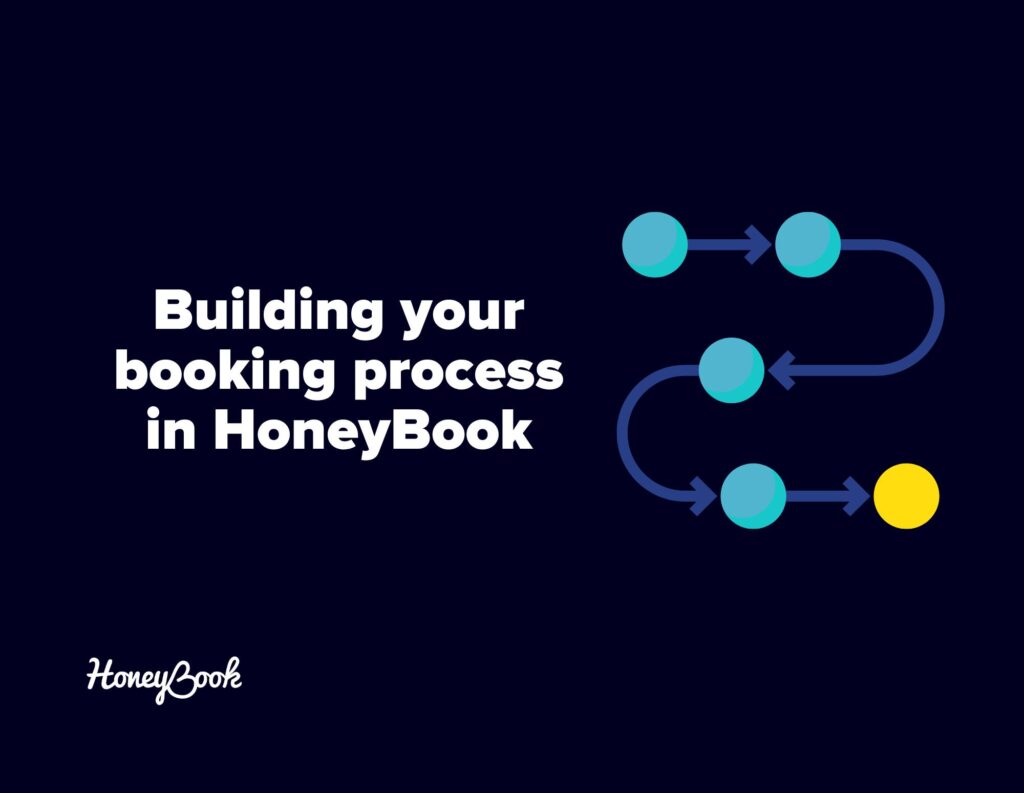 Jump To:
With HoneyBook, you can build your entire booking process from inquiry to project completion. If you're used to conducting everything with multiple types of software, you can easily translate each step of your client journey into a HoneyBook account to consolidate and save time.
We recently sat down with HoneyBook Pro Diana Wei Fang to help walk a new member through each step in mapping their process. Watch our video above, or read on below to learn how you can use the same tips to translate your unique processes.
Understanding Your Client Journey
First, consider what you want your ideal client journey to look like. For example, our HoneyBook member wanted to connect with her inquiries through scheduling a phone call first, then follow up with them through automations.
Once you have your ideal client journey, you can begin to make the connections between how you interact with clients and which tools in HoneyBook can make each step easier. Ask yourself the following questions:
Where do your leads come from?
Do your leads mainly come through social media, your website, phone calls or a referral site? All of the above?
How do you follow up with your leads?
Maybe you send a simple email to go back and forth and schedule a call, or you might send pricing information immediately. Also, consider how long it takes to follow up with leads after they reach out to you.
How do you collect a contract signature and payment?
Are you sending each separately and collecting payment via check or cash? If you're sending each separately, how long does it usually take to collect both?
Do you have a typical billing schedule?
This may vary by project, but your billing schedule may be 50% upfront and 50% at project completion, monthly payments or more.
Do you have steps after collecting payment?
Once the client sends their final payment, do you follow up with them after? This might be through a project thank you email or questionnaire to gather their feedback.
Jot down your answers to these questions and start to consider where you can save time and effort. Perhaps it's answering your leads quicker through automations and creating an easier way to schedule meetings with an online meeting scheduler. You might also find that you spend a lot of time waiting for clients to sign online contracts and submit their payments. Whatever gaps you have in your process, you can use HoneyBook to help fill them.
Part 1: How to Set Up Your Lead Capture Process in HoneyBook
Whether you've written it down or have it in your head, now it's time to set up your ideal client journey in HoneyBook. In our webinar, we walked through the Online Meeting Scheduler, Contact Form, Automations and Proposal to help our members streamline and save time. For your process, keep in mind that there may be other HoneyBook tools that offer a direct connection to your current efforts.
Sourcing Leads Through the Scheduling Tool
Do you use Accuity or Calendly to schedule all your calls and meetings? You can easily do the same with HoneyBook to keep track of your leads and existing clients all in one place, without all the back and forth.
In the webinar, our HoneyBook member used a "Book a Call" link as a lead source on her website. If you have a similar CTA (Call to Action) on your website, syncing with HoneyBook's online meeting scheduler can be more beneficial since the leads who book with you will automatically be added to your pipeline.
The HoneyBook Scheduling Tool syncs with Gmail and Google Calendar, so you can see all of your appointments in either place. If you have the HoneyBook Unlimited plan, you'll also be able to add team members to your calendar so you can round-robin appointments and view everyone's schedule easily.
To create a great client experience, develop session styles and block out your time. For instance, you can create an introductory "Get to Know You" session that's always available during evening hours. By blocking time, you'll eliminate all the back and forth that usually goes into scheduling.
Include meeting instructions that help set expectations for your clients and leads. When a reminder email is sent to them, they'll know how to prepare and if they need to bring anything.
Capturing More Lead Info With the Contact Form
If you want to gain more information from your leads upfront, you can also use a HoneyBook contact form. Instead of letting them go straight to scheduling a meeting, the contact form will give you more information about them and their needs so you can mutually decide if you're a good fit sooner vs. later.
What's great about the HoneyBook Contact Form is it allows you to save information about your leads directly in HoneyBook. With the information they provide, you can also set up automated emails that move them forward in your process.
After you build a contact form, you can embed it onto your website or use a direct link to send to inquiries. The link is perfect for directing all your leads to the same form, even if they inquire outside of your website. Include your link in canned social media messages as well as your profile bios to direct more leads to inquire.
Sending Automated Information to Your Inquiries
When you mapped your ideal client journey, was automation a big part of it? It's often something that business owners need the most, and it can help save a lot of time.
To automate your communications using client workflow automation software, you'll need to set up project types within your HoneyBook company settings. From there, be sure to include a project type question in your HoneyBook contact form. Whenever someone fills out your contact form, you can ask what project or services they're looking for, and the question will automatically include a drop-down menu of your project types.
When your lead chooses a project, it categorizes them so you know how to move forward. Within HoneyBook Automations, you can trigger a specific sequence of messaging or files that are relevant to their needs. If you don't need specific messaging, you can also create an automation for everyone who fills out the contact form, regardless of project type.
Part 2: How to Move Leads Toward Booking
As part of our webinar, our volunteer explained her two-step process for moving leads toward booking. She uses a file to outline expectations with her clients and ask final questions. With this step, she's checking they're on the same page before moving forward. Once everyone agrees on the project scope, she then sends the project contract and online invoices.
When translating this process to HoneyBook, she can use two files– the Brochure and Proposal, which are actually built to work hand-in-hand.
Using a Brochure File to Clarify Needs
If you typically think of proposals as a sales tool or quote to send to leads, the HoneyBook Brochure file would be the best fit for that purpose. You can customize a digital brochure to include your services as well as any combination of text, images and questions to drive home the value of your services and set expectations. Creating a brochure gives your clients a great visual aid and interactive experience.
To help save time, build your brochure templates with as much information as possible and leave placeholders to customize for each client if you plan to use it as a customized quote. Like our volunteer, your brochure might include different sections, such as a project description, examples of similar projects and an outline of services.
After including everything you've discussed previously with the client, you can drop in a question at the end asking if they're ready to move forward. At this step, you'll know if you can send your project proposal.
If you tend to spend a lot of time creating responses to clients who say no or that it's not the best time, we recommend creating specific email templates for these scenarios. Instead of moving forward with a proposal, you can easily send out one of the templates and direct them to schedule another call or utilize one of your different services, such as a digital product.
Creating and Delivering a Project Proposal
When you've reached the booking phase of your client journey, HoneyBook's Proposal Software is the most powerful tool to use. The file includes a contract and invoice, so your clients can review your scope of work and terms before providing payment to kick off the project.
Within the proposal, HoneyBook will automatically include information you want to sync from your contact form, such as the project type, project completion date, client contact info and more. If you used a brochure in the step above and included service selections, your clients' selections will automatically populate into a draft proposal.
No worries if you need to make any adjustments before they're ready to sign–you can always edit the proposal draft before sending it to your client. You can even continue to edit the proposal after it's sent if necessary, that way you always have complete control without having to start from scratch.
Once your client submits your proposal, you're ready to kick off your project!
Take Advantage of HoneyBook Customization
HoneyBook's customization is what makes it so powerful for your business. Everyone has a different idea of what makes their client journey ideal. Instead of shaping everyone into a one-size-fits-all solution, HoneyBook empowers you to develop the process that works best for you and your clients.
For more HoneyBook help, visit our webinar series on YouTube. Each webinar, we sit down with expert business owners to help you solve specific problems by using your HoneyBook account.
If you're looking for one-on-one assistance with your account, you can also connect with our HoneyBook Pros. They'll help you think through your client journey and implement it while maintaining your specific business goals.
HoneyBook, the best crm for solopreneurs, streamlines everything you need to manage your business into one place. Manage projects, book clients, send an online invoice and get paid through our online payment software. Now peace of mind comes with just one login.