It's great to help out fellow entrepreneurs, but what does a collaboration really look like and why does it help you? In January I got my first taste of collaborating and have been hooked ever since! Rachel , a fellow Rising Tide member, asked me to work as a stylist on a photo shoot for a feature in Style Me Pretty Living. The result was a built­in lesson on collaborating with other businesses and pros. I designed an outdoor party and included all kinds of things; from a local boutique's pillows to floral arrangements, to a duo of blogging tequila enthusiasts called The Cocktail Bandits.
I learned that when you provide other businesses with some great photos and content for their website or blog, most of them find benefit in giving you plenty of love on social media! In general, this started to result in my work being on the radar of other vendor's Instagram followers, blog readers, etc. I liked this "share the love" approach and started including other vendors when I took photos for my own products (Turkish towels and weekend inspired goods). When staging one of my Turkish towels as a picnic blanket, I might borrow items from a store that has cute accessories like games or tableware. Then instead of just having great pictures of my own products, I have photos that others want to share (and in turn, we promote each other).
This spawned me to start a series of monthly photo shoots called the #holycitychicks, where we photograph 5 bloggers that agree to wear accessories from participating vendors. When the photos come out everyone is inclined to share the great photos on social media, resulting in more traffic and growth for all of us. Here are 3 things you should know about collaborating for your own business or blog: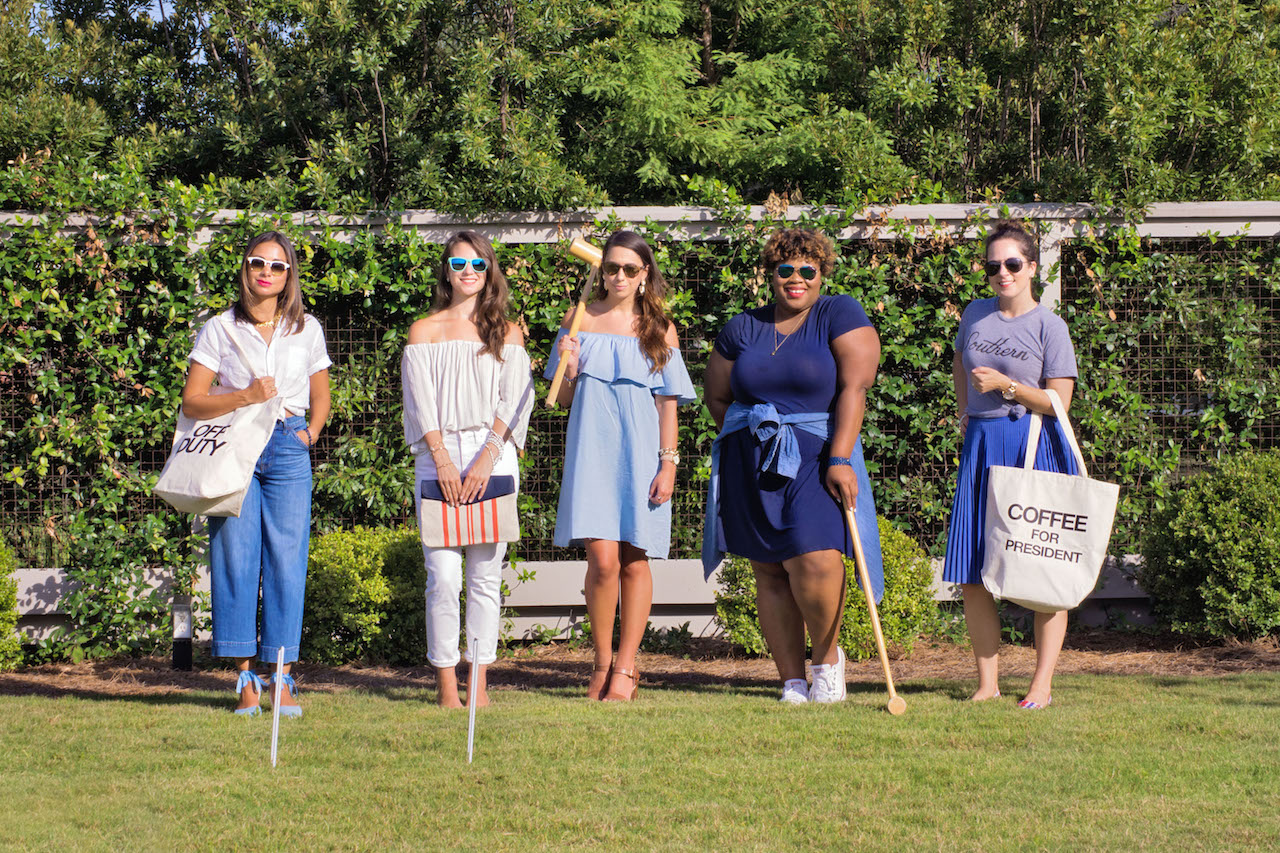 Photograph by: Jennifer Collins Photography
Here are 3 things you should know about collaborating for your own business or blog:
1. Ways to collaborate:
If you have access to a professional photographer, creating a styled shoot is a great idea. For instance, if you own a coffee roaster, stage some photos that include cute tabletop products or people enjoying your coffee. Incorporate a blogger as your model, an arrangement from a local florist, and some tableware from a home store nearby. This doesn't necessarily need to cost you a lot. Team ­up with a photographer that is looking for more cross ­promotion themselves, and ask a store to borrow their items in exchange for providing them with the photos. If you have products to sell, why not ask a store in your neighborhood if you can have a pop­up shop with other artisans you know? Recently I was a vendor in a themed pop-up with some local artisans that also have cotton­ related products at the Charleston West Elm. Collaborations requiring less planning include featuring someone on your Instagram account or blog as a "Woman Crush Wednesday" or "Follow Friday".
Also, consider asking a blog you love if you can be a guest writer on their page (oh haaaaay Rising Tide Society!).
2. Who to Team Up With:
Sometimes you meet a great entrepreneur you want to work with, but it just doesn't make sense for your company. Stick with collaborations that are on­ brand for you, meaning people who you share the same customer base or genre with. I met a great bridal shop owner, but wedding dresses don't really have anything to do with my products or blog right now. The shop location, however, was perfect for me to host my last Instagram coaching small group at to help make her location known. My company is called the Charleston Weekender, so I like to feature fun coffee shops or companies with entertaining related products. A local restaurant would probably be better served by pairing with a food blogger for a project than by reaching out to me.
3. Set Expectations From the Start:
What will everyone gain from this joint venture? This includes YOU! Be clear about what you expect to achieve when you incorporate someone else in your photo shoot/pop-up shop/blog post. I like to clarify that I want the participant to share the photos on their social media and tag me for my styling work or products. I wish I had been more clear about expectations for my Style Me Pretty Living feature, because the more people willing to share the love the better. If they don't want to promote you, there is definitely another business who will! Also be upfront about what you have to offer them. Some people may not be keen on the idea at all or may want monetary compensation to feature your products or services. Others will be happy with having great new content with professional photos to use.