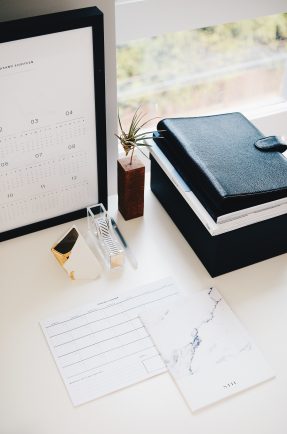 Let's be clear: your clients are craving structure and direction from you. They always want to know the next steps and hear your advice, knowledge and guidance. They likely hired you because they know you are going to help them look their best, help them feel their best, ease their stress, or give them more free time. So let's make sure we're doing our part to make that happen!
Below are three simple steps to take to automate your workflows and put processes in place. In doing so, you'll be able to serve your current and future clients more consistently and efficiently—ultimately leading to happier clients, five-star reviews and more referrals.
STEP 1: To be more efficient… keep it simple
For right now, keep it simple—you don't need fancy technology to get started. Open up a blank document and make a list of every single touchpoint you have with a client, from start to finish, throughout an entire project. This should be your dream process, so add in the things you're not doing, but want to start doing (i.e. a welcome email, an onboarding gift, a review request at the end, etc.). Often, creating one process may lead to creating 2-3 follow-up processes. This list may end up being quite lengthy, depending on how many interactions you have with a client or tasks you need to complete. The list will also continue to change over time as you discover better ways to serve your clients and will increase your productivity in the long run by starting simple and mapping out your touchpoints.
STEP 2: Categorize your touchpoints
Once you've laid out the overall framework in step one, you'll be able to see specific areas where you can create processes. Each touchpoint will likely fall within one of the following four overarching areas:
Emails (to potential clients, current clients or vendors/colleagues) 
From responding to a new inquiry, to sending a online contract and onboarding a client, to requesting a vendor's pricing or availability, you will save yourself time in the long term by creating "copy and paste" templates to fill in and customize as you see fit.
Internal documents
Look for moments in your processes where you've found yourself saying, "I should have taken better notes" or, "oh shoot, I forgot to ask them ____". To provide a consistent client experience, create internal documents to fill these gaps that you can use during meetings or phone calls. Internal documents can also include checklists, after-action reviews (which can help you see areas for improvement), budgets, or spreadsheets.
External documents for clients to fill out and send back to you
What do you want or need to know about your clients? Are there questions you can ask them before a meeting to help yourself prepare for a meeting? This may also include a client profile questionnaire to help you get to know your clients early in the process. Or, if you're a photographer or DJ, you may create a shot-list template or a song/music template.
External documents to help educate clients
You're the expert and your clients hired you for a reason. So, help guide them, educate them, and keep them on track by being that expert. These documents can be developed by asking yourself: "How can I help set my clients up for success?" "How can I help them be prepared and know what to expect?" "How can I get better results and make MY life easier by helping them?"
STEP 3: Time block your schedule to write
You may find this to be the hardest step; finding time to actually write the templates and documents. Start by setting aside a few hours each day for a couple weeks until you get to a point where you feel the processes are starting to work for you. This is the key to becoming more efficient in the process! It's really important you keep the momentum going on this project. Processes and systems work best if you can build upon them. It's like the snowball effect of workplace efficiency, you may write one email template and find it leads to two more follow-up email templates, which is an amazing thing!
Lastly, I don't believe that automating your business has to be complicated. You don't need any fancy technology or software to write out these processes or put systems into place. However, there IS some awesome technology out there like HoneyBook's small business management platform that can help you manage each touchpoint and ensure you are following through, which is worth every penny of the investment.
Want to learn more about work efficiency, systems, & workflow?
Get our Ultimate Guide to Work Efficiency, Business Systems, and Automation here.
Plus, 5 more posts you might like: