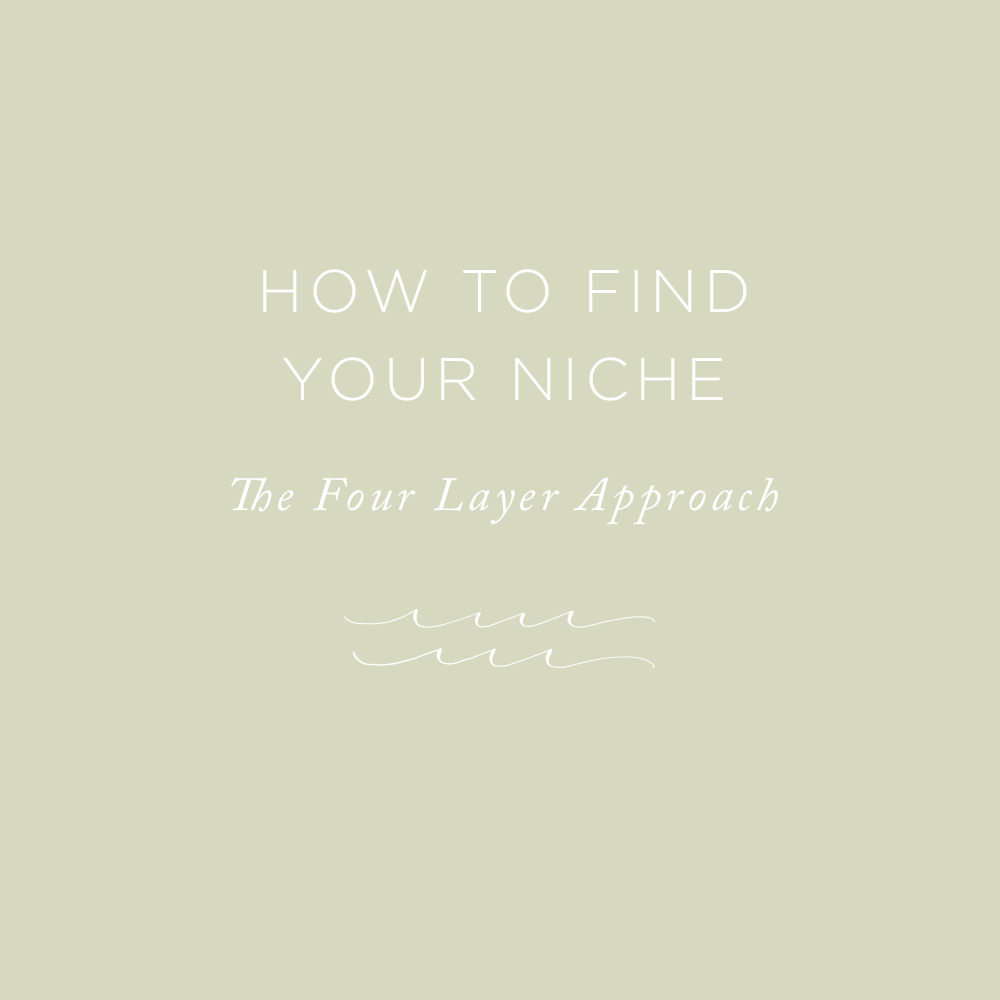 We've all heard that the key to exponential success as a business owner is finding your niche within your industry. Many people never push themselves to niche because they have a hard time getting past the fact that niching will likely require turning down work. Fear of loss of clients can be crippling and keeps many creatives in a holding pattern that will never allow them to rise above their competition. For others, they just don't know exactly HOW to go about finding their niche (or they think that they have one but it's not working) and it is that group of people that I want to address right now.
I want to give you a simple but possibly game changing way to define your niche.
The goal is that when a potential client goes looking for a particular product or service, you are the first and only name they think of. I learned the following mind blowing way of thinking from successful internet marketer Ryan Lee who contributes regularly to Entrepreneur Magazine. What I am about the share with you is possibly one of the most game-changing strategies I have ever implemented in my business.
Are you ready?
In order to establish a true niche in your industry you need to go at least 3 layers deep in your specialization. Three is the minimum. In general, the more you drill down your specific offering and target audience the more potential you have for exponential business growth. Let me give you an example.
Layer 1: Suzie is a Photographer
Layer 2: Suzie is a Portrait Photographer
Layer 3: Suzie is a Portrait Photographer Specializing in Children between the ages of 2 and 10
Alright…not bad…but were not at the "special sauce" yet.
Layer 4: Suzie is a portrait photographer who specializes in special needs children between the ages of 2-10.
BAM. That layer, my friends, is where the magic happens. Childrens portrait photographers are a dime a dozen. But when mom-of-3 Marissa is talking to her friend Taryn on the playground about her frustration with past portrait photographers who don't understand how to work with and photograph her special needs son Luke; Taryn (who doesn't even have a special needs son herself) recalls hearing about this amazing photographer who specializes in just that and passes on her name to Marissa.
I will add a side note here that I fully believe that your niche should have everything to do with your unique story and passions as an individual. So, in this case, let's say portrait photographer Suzie grew up with a younger brother with severe Autism and has a special understanding of and passion for special needs kids that she thought was irrelevant to her passion as a photographer.
Let's look at one more example.
Layer 1: Sarah is a graphic designer
Layer 2: Sarah is a graphic designer who does "brand design"
Layer 3: Sarah is a graphic designer who does brand design who specializes exclusively in designing stunning collateral marketing pieces
Ok…not bad…already deeper than most of the graphic designers you know? But it can get even better!
Layer 4: Sarah is a graphic designer who does brand design and specializes in killer collateral marketing pieces made out of wood.
Wait, what?
It turns out, Sarah's dad was a carpenter and as a kid she used to take the scraps and shavings of wood from her dad's shop and burn designs onto them that she would sketch out by hand. Now she is completely innovating in the market with everything from exclusively designed paper thin wooden business cards and gift boxes to custom store signage. And when the new hipster coffee joint opens downtown and wants to lead out with an earthy hand-crafted vibe they know exactly who they are going to call to create something magical for their brand because they remembered seeing her work two years prior long before they ever had need for it.
So now it's your turn. All it takes is 5 minutes and a scrap piece of paper. What are your layers and how deep and authentic can you get? Once you figure it out never look back friends!