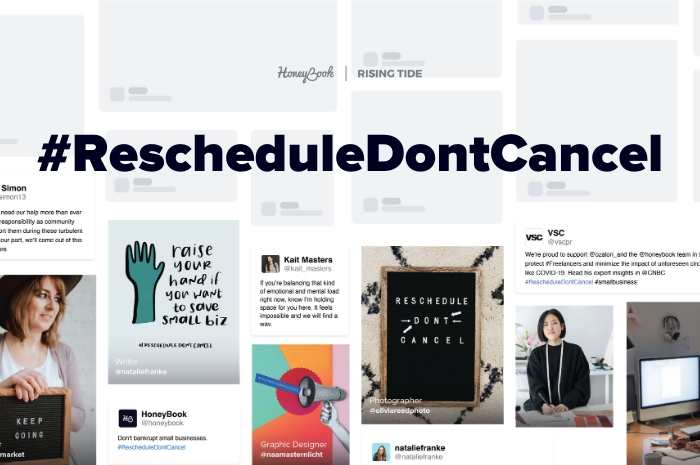 If there is one thing that I've learned while at the helm of HoneyBook, it's that community has the power to carry you through even the most challenging of times. We are facing challenges today, but I take comfort knowing that by coming together to support one another, we will emerge stronger.
For us at HoneyBook, that means doing everything in our power to support the small business community — the self-employed service providers at the heart of the American economy.
Since day one of the coronavirus pandemic, we have focused 100 percent of our efforts on creating the tools and resources they need to navigate the uncertain road ahead. From updating our product to launching our real-time resource library on the blog, whenever we identified an opportunity to serve small business owners, our team jumped into action to make it happen.
But we knew there was more we could do. During my calls with Honeybook members I repeatedly heard from them how important it is for clients to reschedule their projects instead of cancelling them. In doing so, they are securing future income for a business that may otherwise be barely holding on.
While we have taken steps to address rescheduling in HoneyBook and will continue to do so, it was clear that the solution would require more than we alone could provide. This was a plea for consumers at large to stick by small business owners. So we decided to use our voice at HoneyBook to amplify this message.
What started with a post on Instagram, imploring consumers to #RescheduleDontCancel their projects, is today turning into a national movement. It's a rallying cry to stand behind the small businesses that bring so much to all of our lives.
This nationwide effort will raise awareness for the challenges that small business owners are facing and empower consumers to support them by pledging to reschedule and postpone events instead of cancelling them, buying gift cards or pre-paying for future services.
Small businesses need your support today and here's how you can help:
Visit rescheduledontcancel.com to pledge and join the movement

Share your support on Instagram, Facebook, Linkedin etc.

Encourage your friends, family and community to pledge and share
We need to support each other now more than ever and although the virus is keeping us apart physically, it cannot stop up from coming together to overcome this challenge.
Thank you for your support.
Oz Alon
CEO and Co-Founder, HoneyBook
#RescheduleDontCancel